Sacramento Resident Hits Real Estate Investment Goldmine
Let's be honest. Many of us have dreamed of an easy way to earn extra crash for a multitude of reasons, such as early retirement. It feels especially necessary today given disheartening economic factors like high inflation rates.
Fortunately, we've got the perfect solution! Accessory dwelling units.
Adding an ADU to your property is a sizable investment to make, but it's quickly offset by their fantastic ROIs. Renting out an ADU in either the short-term or the long-term is one surefire way to earn substantial passive income that can go towards various end goals, like paying off your mortgage or early retirement!
After all, that was exactly Nima's thought process, and he hit the goldmine of all investment opportunities!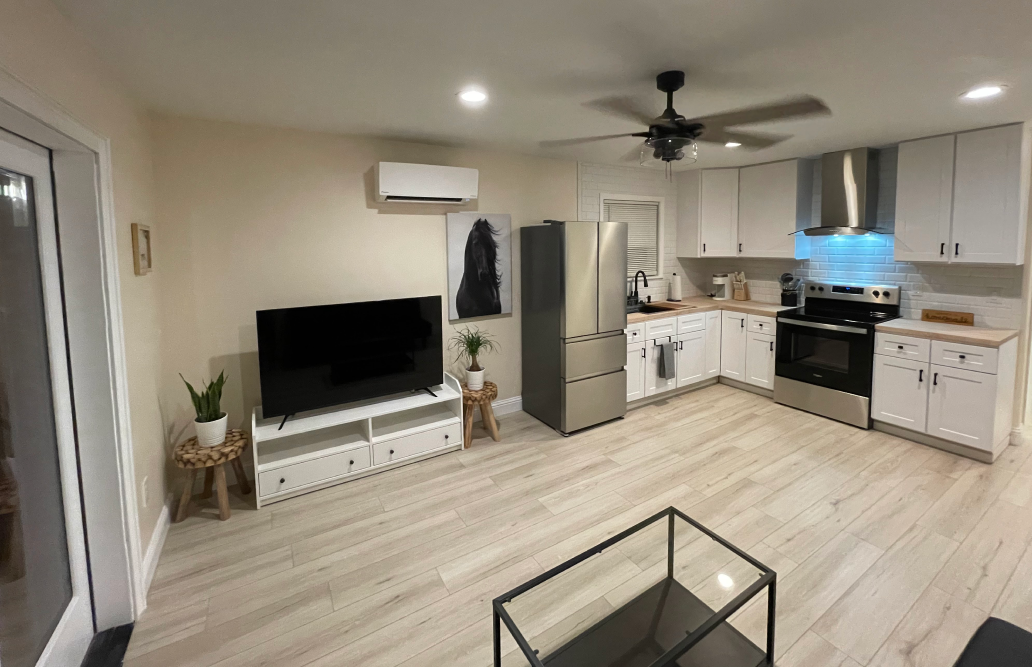 How the Project Started
When Nima found this property, he truly hit the investor's jackpot. But from an outsider's perspective, it probably didn't look like it at first!
The 10,000 sq ft lot was previously home to a hoarder, so a lot of work had to be done to clear the property and prep the yard for construction. But with a pinch of TLC, the once junky lot soon transformed from disastrous to… a starting point. Clearing the property was only the beginning.
Despite its initially rough exterior, any investor could spot the phenomenal potential of the property. The lot started out as a triplex; there was a 3 bed/2 bath main house with a duplex in the backyard.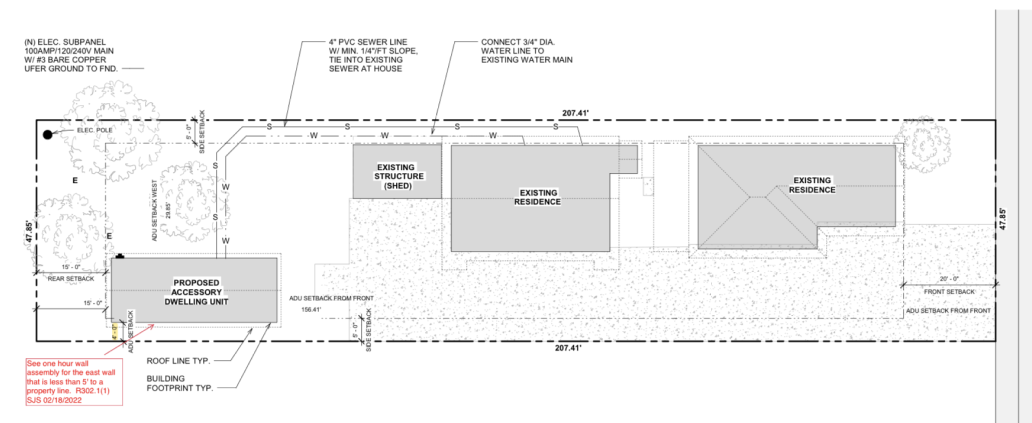 Nima and his wife lived in the main house and rented out the duplex long-term. They pulled off a great house hack by having the duplex offset their mortgage payment from day one. And with a little increase in rent, they soon had a small monthly cash flow of a few hundred dollars.
Never shy away from a good house hack!
"For anybody trying to get their first property, I always recommend looking for a house hack. This is a situation where your house is either big enough to rent out some rooms, if you're comfortable with that, or get a multi-unit like we did," Nima advises.
Looking at the remaining 4,000 sq ft of unused space in the backyard, Nima knew it only made sense to add an ADU there, too, to generate even more passive income. Thus, the ADU idea materialized.
How the ADU happened
Prior to building his ADU, Nima had been involved in several renovation projects that taught him valuable building knowledge and ultimately sparked his interest in tackling a lot of his ADU himself. After all, who doesn't love a good challenge?
Even so, Nima knew that it couldn't be just a one-man show. He subbed out certain phases of the project, like the foundation, framing, and sewage.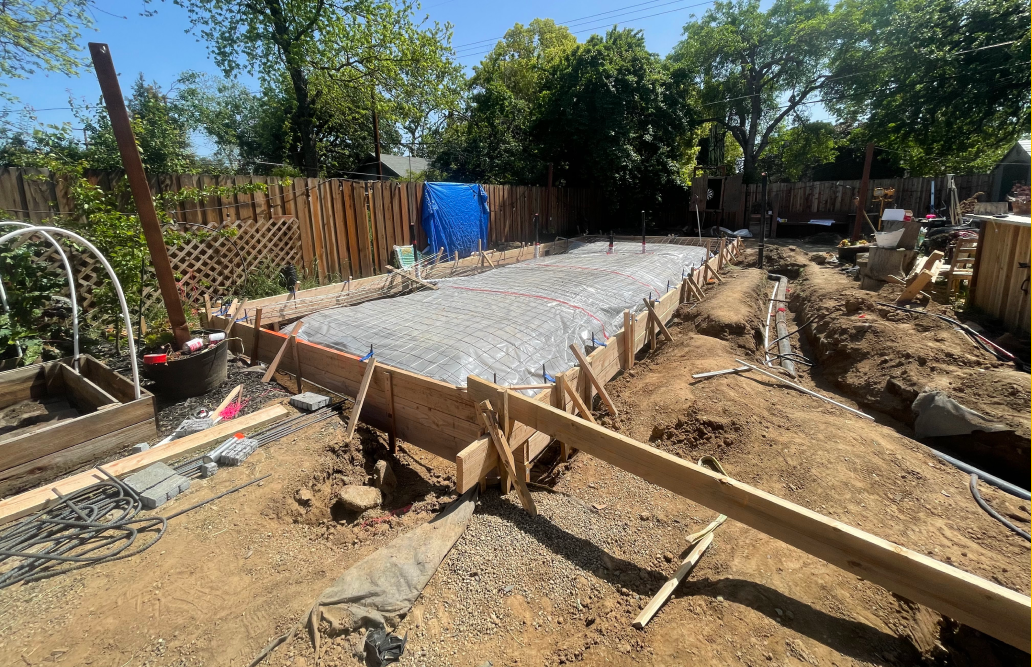 And to have an extra set of eyes on his project and someone to direct any questions, he worked with Tom, a General Contractor. Not only did Tom prove to be a wealth of knowledge after more than 10 years in the business, but the two worked so well together that they later decided to form a partnership called NorCal Builders ADU!
Many long nights were spent bringing the ADU to completion, on top of a full-time job. But Nima pulled it off, producing a fabulous 504 sq ft, 1 bed/1 bath detached ADU. The finished product is truly top-tier with stunning finishes like a kitchen backsplash that climbs to the ceiling, a tiled bathroom oasis, and convenient butcher-block countertops.
Privacy in an ADU is also an understandably huge selling point for tenants. Nima made sure to keep this in mind when he decided to install a privacy fence around the perimeter of the ADU. Now, future tenants have the luxury of staying in what feels like their own, personal sanctuary. What's not to love?
Let's talk numbers…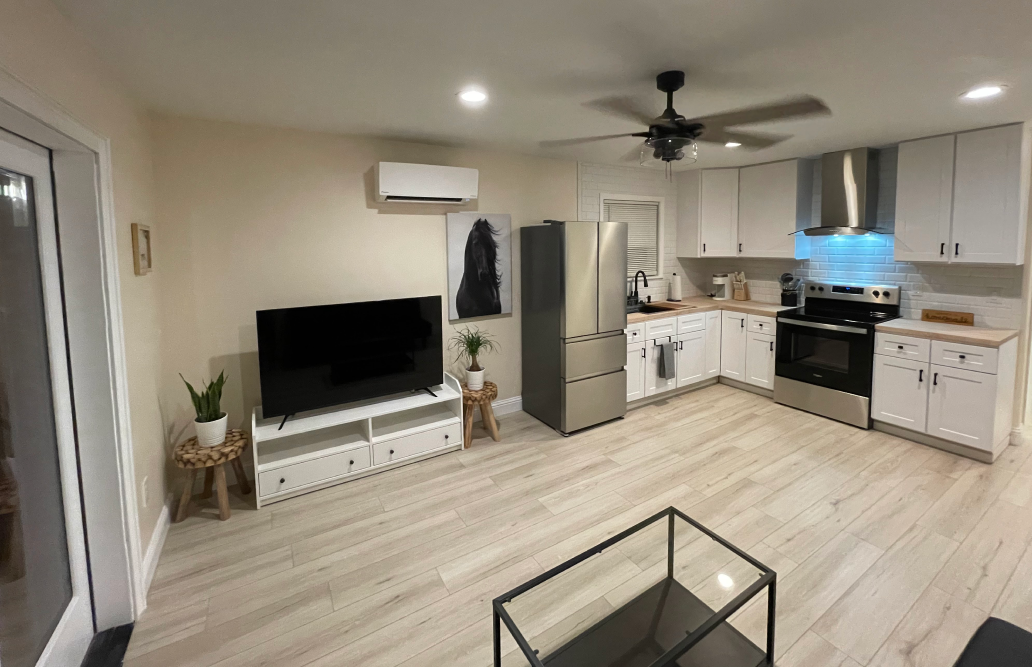 This project was no doubt an incredible financial opportunity. But just how incredible was it?
The all-in cost of Nima's ADU was just under $76k, including finishes, permits, and other fees. However, had Nima hired a general contractor and not taken the owner-builder route, the price tag for this project would've been anywhere between $135k and $185k. So, Nima saved somewhere between $59k to $109k! His wallet is definitely thanking him for that.
Note: Nima has a background in construction and has the experience to do a lot of the work himself. Moreso, you will need to devote a lot of time to the project. We only recommend doing owner-build if you have the time and experience.
"That definitely came at the expense of a lot of long nights, a lot of effort, and a lot of sweat that went into it." -Nima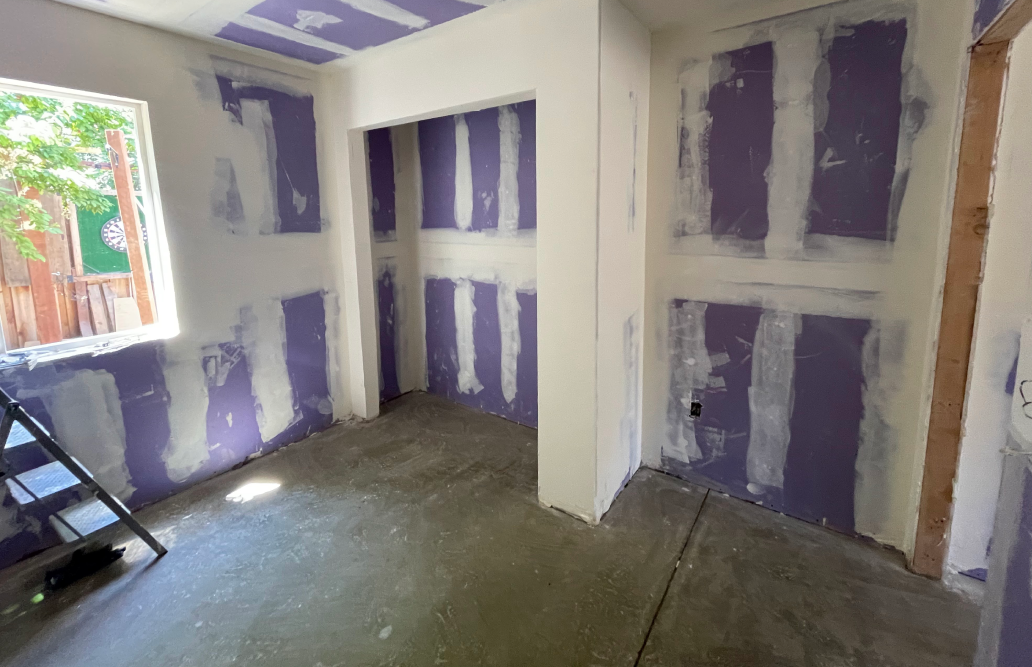 As previously mentioned, Nima chose to take the short-term rental route for his newly-constructed ADU. While the main house was being completely paid for by the duplex rentals, the ADU was generating about $2,500 monthly at 70% occupancy. This is unsurprising given that after just three days on AirBnb, the ADU was already booked for over 15 days in the next 5 weeks!
What can we say…ADUs are a hot commodity.
With the income coming in from the other units on the property, Nima and his wife were able to purchase a new home for themselves to move into. This freed up all four units on the property (main house, two units in the duplex, and the ADU) to become revenue streams. That's some seriously smart investing!
The net income for all four properties on the lot is approximately $5,000. Quite the monthly cash flow, that's for sure.
For anybody looking to generate passive income, rentals are undoubtedly the route to take. As Nima points out:
"It's all about the passive income. If you're not doing that, then you're going to be an active victim."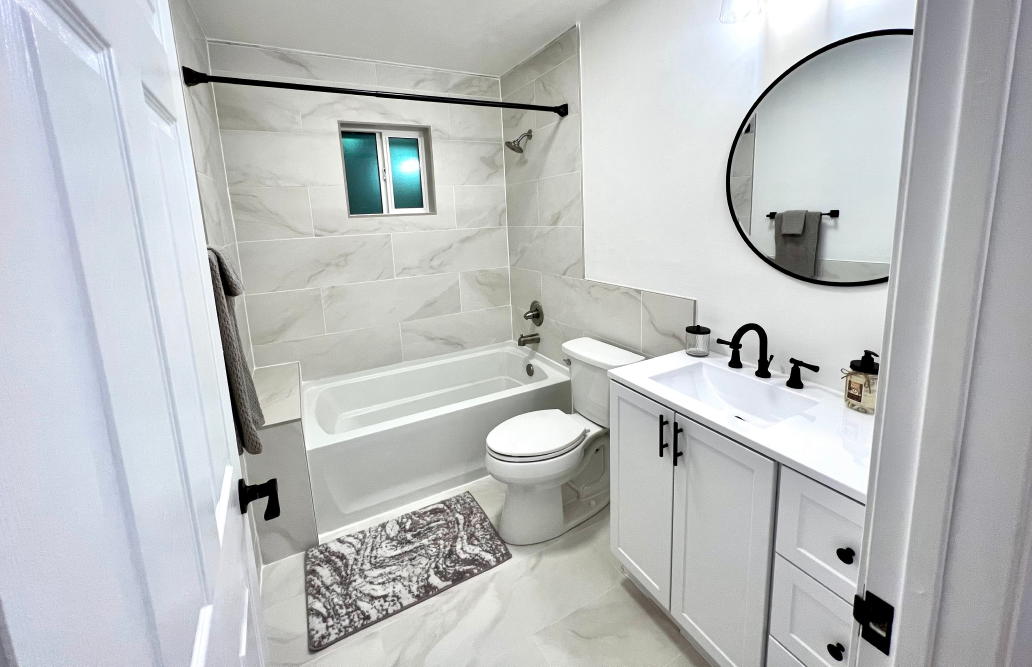 From start to finish, the project timeline was just under 5 months. City delays caused some bumps in the road that extended the initial timeline. But overall, not too shabby for the years of passive rental income they will accrue!
Nima's story speaks for itself. Building an ADU isn't always a cakewalk, but it's well worth the effort. Although Nima faced some challenges along the way, he didn't let them deter him from seeing the bigger picture.
"I think if you have the ability to add an ADU to your property, definitely do it. It's a no-brainer in my case. You're adding value to your property. A family member could live there, you could use it as an extra hobby room…But either way you're adding property value to it. And if you do take the passive income route, you're making that one step closer to retirement."
Even with this project now behind him, Nima has no plans to hop off the investment train quite yet. In fact, he is now working on a duplex that's being upgraded into a fourplex!
"It was just a crazy learning process. I am really thankful to have gone through the whole process to see the details and intricacy that's involved behind these different aspects…"
This was just the beginning, and we can't wait to see what else Nima has in store in the future!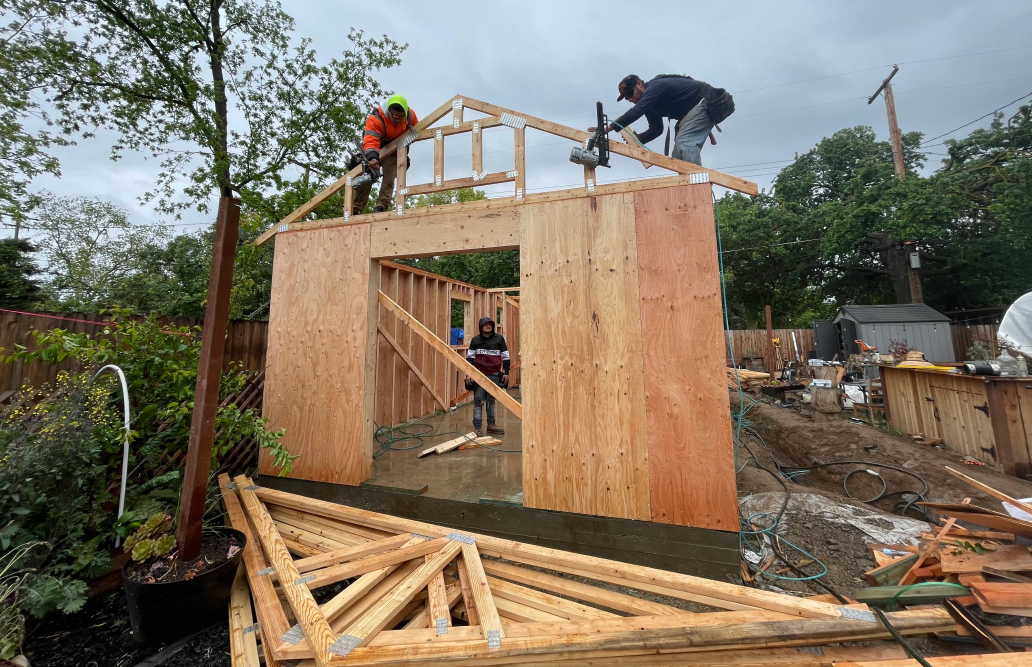 Plan, hire, and manage your ADU project with Maxable
No matter your level of experience or building knowledge, there are always bound to be tiny snags in any ADU project. Even Nima dealt with some bumps in the road involving Title 24 regulations and subcontractors.
"Subcontractors can be hit or miss, and that's the important sense of building good teams and having good networks," Nima smartly pointed out.
At Maxable, we couldn't agree more. That's why we have a vetted team of lenders, designers, and builders to match you with. That way, your ADU project is handled with the proper care and expertise you deserve. We'll handle any headaches so you don't have to.
Tell us about your project and we'll match you to some of the top ADU designers and builders in your area. Click here to get started!