Should you go the prefab ADU route? Are they legal in your area? Can you afford one? Here's all the info you need to get started!
What is a prefab ADU?
"Prefab" is short for prefabricated, meaning the accessory dwelling unit is partly or entirely constructed in a factory. Then it's transported to your lot and installed.
The beauty of a prefab ADU is that it involves much less disruption on your property than building an ADU from the ground up. Instead of an average 7-10 month timeline for construction, you'll probably have a few weeks of site prep and a few days to a week for installation of the unit.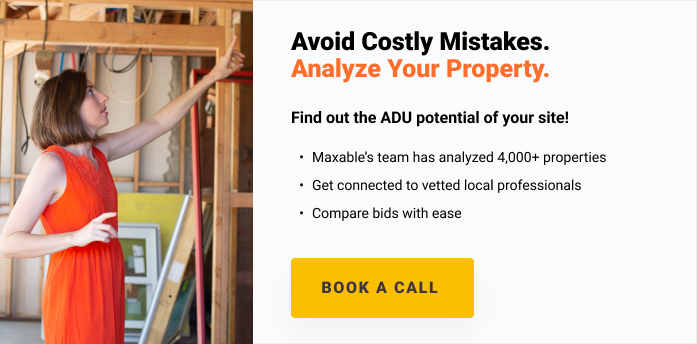 Types of prefab ADUs
There are two types of prefab ADUs: modular and panelized.
Modular prefabs
Modular prefabs are the most common—they're what most people think of when they hear the term "prefab." These arrive at your site as a complete unit or units and are either lifted into place by a crane or rolled onto the site.
Most modular prefab companies offer studio, 1-bedroom and 2-bedroom ADUs. Modular prefabs have specific floor plans that you can't alter. The companies usually offer several choices of flooring, roofing, exterior cladding, and other finishes.
Panelized prefabs
Panelized prefab ADUs are created in wall sections that are shipped to your property on a flatbed truck and then assembled on-site. The electrical and plumbing are added after assembly, as are the interior and exterior finishes and the roofing. With panelized prefabs, most of the build takes place on your lot, but having the wall sections and roof trusses created in the factory eliminates some of the noise and disruption of on-site framing.
Panelized prefab companies often have a wide range of floor plans you can customize, and some even let you bring in a set of plans from your own architect.
Can a prefab ADU be used as a legal dwelling?
Absolutely! Prefab companies design their models to meet the building code requirements of ADUs in the areas they serve. The codes stipulate things like:
Maximum and minimum size limits
Kitchen requirements
Bathroom requirements
Connectability to city utilities: electricity, sewer, water, natural gas (being phased out in many areas)
Structural requirements
Energy efficiency requirements
A prefab ADU that meets the required building standards is legally deemed part of your real estate property. This is extremely important in terms of future value, because in California some legal ADUs are not part of your property.
For instance, movable tiny homes can be built off-site (so they're "prefab") and are considered legal ADUs. But because they are not physically connected to the property, they're not considered real estate. That means they won't add value to your property.
Prefab "sheds" are different from prefab ADUs. It's legal to use them as a home office but not as living space, so they'll add much less value to your property than a prefab ADU (although they'll also cost less if they don't have a kitchen or bath).
Prefabs require all the same building permits as custom ADUs and must pass the same city inspections. These inspections take place on the factory floor, as the ADU goes through its various stages of construction. You'll have a few inspections on site, but most will take place at the factory, meaning you won't have to be involved with the process or wait around for the city inspector.
We're in a Golden Age of prefab ADU design!
From sleek contemporary models, to modern farmhouse, to traditional ranch and bungalow styles, prefab ADU manufacturers keep expanding their portfolios.
Prefab ADUs range in cost from modest to extravagant, so whatever your taste and budget, there's probably a prefab for you. The companies are happy to let you tour model homes so you can walk around inside the units and see the quality of the construction and finishes.
Walk-throughs are super helpful when it comes to envisioning space. Even if you mark out 800 square feet in your backyard, you're not going to get a sense of what that volume feels like until you're standing inside a physical room. That's another huge advantage of prefab ADUs: you'll get to truly sample the space.
You can also visit the factories where the ADUs are manufactured and witness the process firsthand. Representatives from the manufacturer will explain all aspects of the build and show you different interior and exterior finishes. It's fascinating and can go a long way toward making you comfortable with the idea of buying a prefab.
How big can prefab ADUs be?
Prefabs must conform to the same size limits as any other accessory dwelling unit. In California, every single-family home is allowed an ADU that is at least:
800 square feet, regardless of FAR (floor area ratio), lot coverage, open space, or minimum lot size requirements
16 feet in height
4-foot rear and side setbacks
150 square feet minimum
Those are the minimum requirements. But California state law has a maximum of 1200 SF, and many jurisdictions support that. Many also allow you to build 2-story ADUs (16 feet high is only going to be one story). If your city does not have a specific ADU ordinance, you are allowed to go by the state regulations.
Modular prefab ADUs usually come in three models: studio, one bedroom, and two bedroom. A few companies offer three-bedroom models.
Are prefab ADUs more affordable than custom ADUs?
A big myth about prefab ADUs is that they're cheaper than stick-built ADUs. That is not usually true. In most cases, prefabs and stick-built ADUs of a similar size and quality cost about the same.
Going on most prefab manufacturer sites, you'll often see pretty affordable quotes that are lower than what custom stick-build ADUs are going for, but keep in mind that they're most likely showing you the cost of JUST the unit itself. Remember, you'll still have to pay for site prep, transportation, installation, and more.
There are a few companies that specialize in low-cost prefabs, and they're worth checking out if your budget is tight. But keep in mind that if their factories are hundreds of miles from your lot, the cost of transportation may eat into your savings.
Read about the comparative costs of prefab vs. custom ADUs here.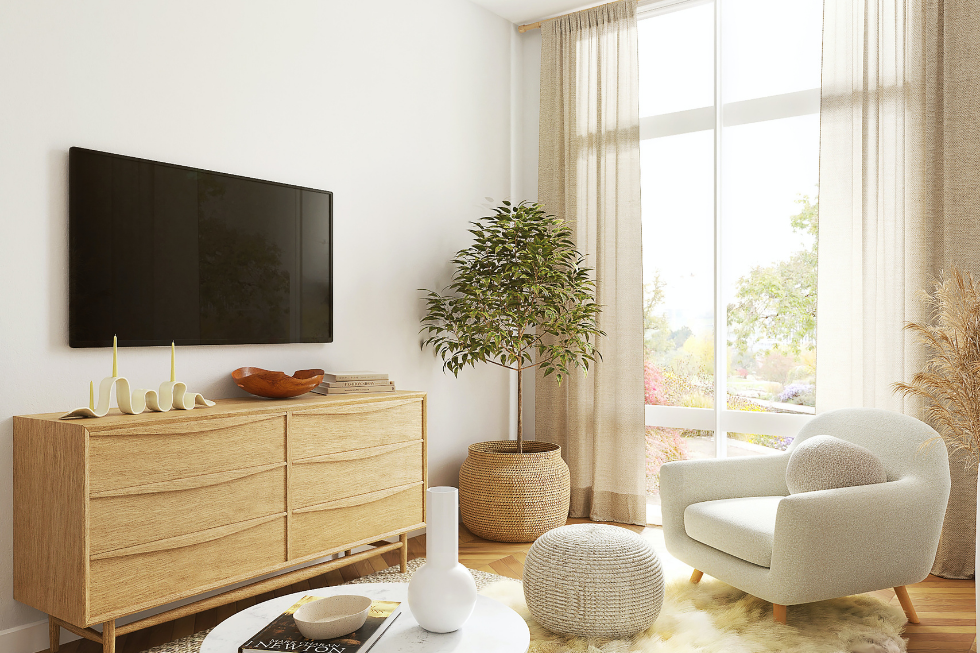 Price ranges for prefab ADUs including installation
Studio, approx. 350 SF: $190,000-$304,000
1-bedroom, 400-450 SF: $219,000-$320,000
2-bedroom, 600-670 SF: $290,000-$347,000
2-bedroom, 775-1,000 SF: $343,000-$410,000
These are approximate price ranges. Keep in mind:
Cost of materials fluctuates from year to year, and even over the course of one year.
The prices above reflect both very high-end and more modest units.
The prices include the installation of the ADU–very important because it's quite different from the prefab company's "base price." The base price may include the unit but not the installation or certain other construction phases.
Prefab companies should give you a current itemized quote that clearly states which costs are included in the base price and which are not.
Our blog on prefab pricing is an absolute must-read before you speak to any prefab companies. Need help choosing a company? Talk with one of our ADU consultants.
Ideal lots for a prefab ADU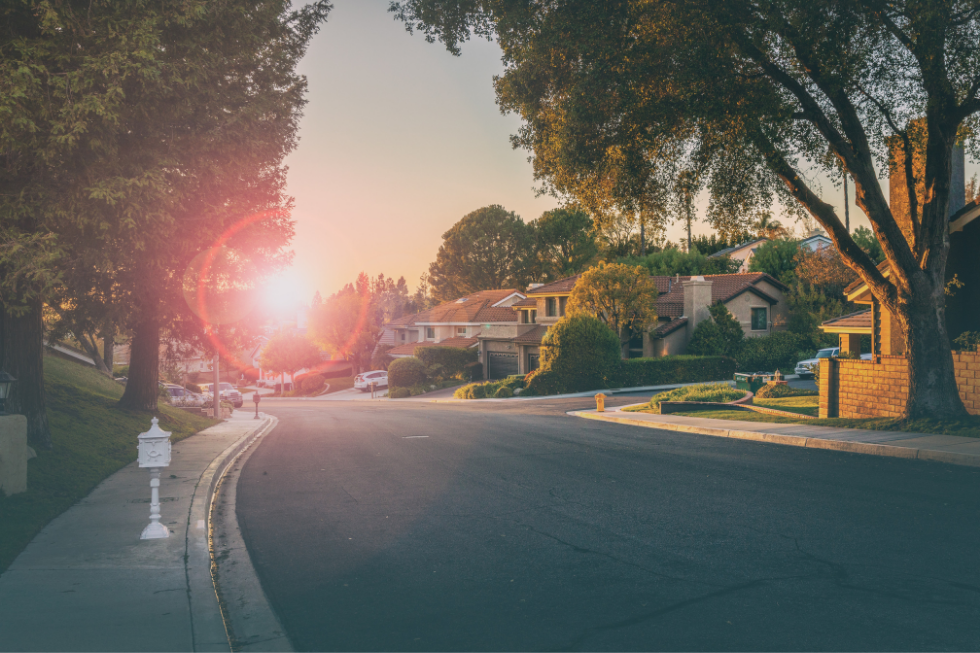 You don't need an enormous flat lot in order to install a prefab ADU. But some lots are especially well suited to prefabs:
Flat or gently sloping land, not a steep hill. Property with a slight slope can be leveled and retaining walls built, but hillside property can be too expensive to prepare or not geologically sound enough to meet building code requirements.
Wide street. Large trucks and equipment are used to deliver and install prefab ADUs, so your street must be able to accommodate them.
Straight access streets. The trucks need to get to your house, so there must be fairly straight streets on the route as well as directly in front of your property.
Large driveway (not required, but it helps). The closer the trucks can get to your backyard, the easier it's going to be to install the prefab ADU. If there's plenty of room in your driveway, a modular ADU may be moved into place on rollers. Otherwise it will have to be lowered in on a crane. Panelized prefabs arrive in sections rather than modules, so they are easier to move into place, but a large driveway means less chance of other parts of your property getting dinged during installation.
Minimal or no power lines in the path of the crane. Power lines are the bane of ADU installation in many urban areas. With either custom or prefab ADUs, you may need a special permit to build within a utility easement. But physically craning the prefab into position may be impossible if power lines on your property are blocking the access. Even if you are willing to risk craning it over the lines, city and county utility companies won't let you do it.
Modular prefab ADU installation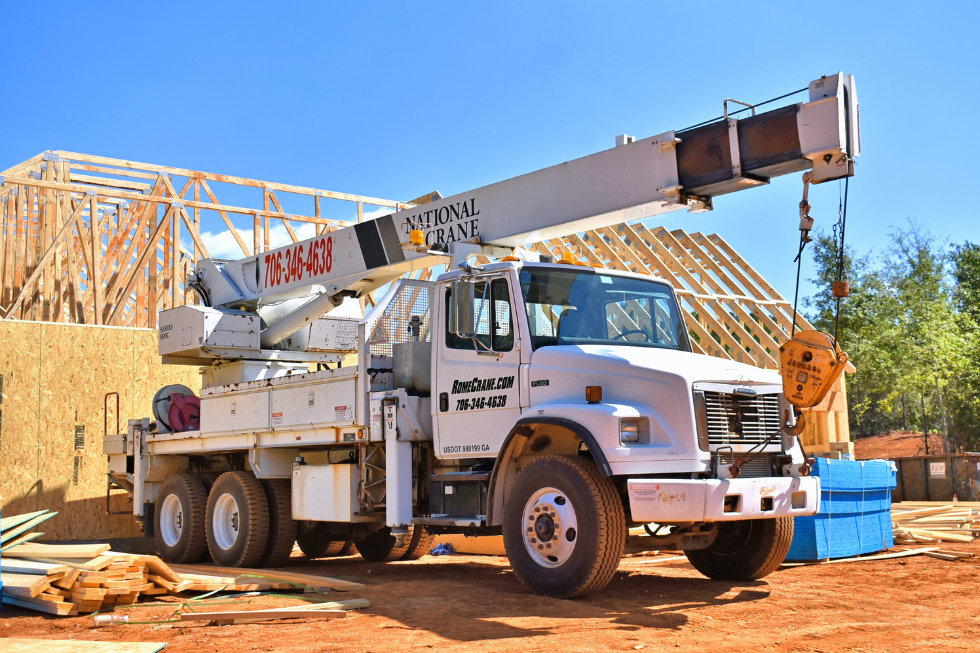 Here's an overview of the main elements of prefab construction and installation that explains why prefabs don't save you all that much over a custom ADU—that is, if the size of the ADU and quality of the finishes are similar.
1. Choose your design
All the prefab ADU companies have websites with photos, drawings, and floor plans of their ADU models. Most allow you some level of customization, which means you're choosing among a few options they provide, not customizing with your own finishes or unique floor plan.
Most companies have enough choices in exterior cladding so that you're able to find one that matches or complements your main house.
2. Site prep and pouring a foundation
Whether you're building a custom ADU or a prefab, you'll need to prep the site. That may include demolishing an existing structure (like a garage) or removing trees. This step may or may not be included in the prefab company's base price. They may charge you extra to do it or direct you to a local contractor that can provide the service.
All prefabs will require a poured cement foundation. If you're doing a garage conversion custom ADU, you may be able to use the existing foundation, which will save money over a prefab.
3. Utilities trenching and installation
Trenching for the sewer pipe from the ADU to the city sewer line depends on the location of the ADU. It will cost about the same for custom and prefab.
The same is true for hooking up water, sewer, electricity, and natural gas. While some prefabs have very innovative designs, such as a core utility module that gets dropped into the unit, the cost is rarely going to be less than that of installing utilities in a traditional build.
Upgrading the electrical panel, which is often necessary when adding an ADU to your property, will cost extra whether you have a prefab or a custom unit.
4. Transportation
Modular prefab ADUs save some costs by being built entirely on the factory floor. That speeds up construction and also allows the prefab company to buy some materials in bulk, which saves money.
But that savings is offset by the cost of transporting the prefab to your lot. The farther you live from the factory, the higher the transportation fees will be. For large prefabs you may also need to pay for a police escort on the highway.
5. Installing the prefab
Not every prefab gets dropped onto the foundation with a crane; some can be rolled into place. If yours needs a crane and it isn't included in the prefab's base price, you'll pay separately for it and possibly for permits to block off the street when the unit is being delivered.
6. Done!
All you have to do now is add furniture and move in. Or add nothing and rent it out. Or call your mom and dad or your kid and move them in. The possibilities are endless!
FAQs
Can prefab ADUs be customized?
Most can be. Nearly every company offers two or three levels of finishes, from basic to more high end. Some companies specialize in luxury finishes and offer a wide range of things like countertops, cabinets, lighting fixtures, flooring and more.
Modular prefabs will require you to choose among their finish options. With panelized prefab companies (where the "prefab" parts are essentially the walls and roof framing), you can select your own finishes.
Are modular prefab ADUs durable?
Just because prefab ADUs are built in a factory doesn't mean they're more susceptible to weather or earthquakes.
It's just the opposite!
Not only must prefab ADUs meet exactly the same building code standards as stick-built homes, they must also be able to sustain those standards after being transported hundreds of miles to your site. For that reason, prefabs may be built even tougher than state regulations require.
What are the benefits of a prefab ADU?
Less stress, less noise, less uncertainty, less disruption to your property: these are the main reasons folks choose prefabs over custom ADUs.
You're also likely to have a shorter timeline from beginning to end of the project. This isn't to say prefab companies are immune to supply chain delays. They're not. But the companies tend to keep a regular crew of tradespeople who move quickly from unit to unit, and the units are all familiar to them. There are few surprises when you've built the same ADU multiple times before. The same applies to city inspections, which take place at the factory. Few surprises mean very few glitches with inspections.
Another big benefit: There are no weather delays with prefabs because they're built indoors.
Overall, prefab ADUs offer a more predictable experience than custom ADUs.
Installing a prefab ADU tends to be less stressful than living with construction in your backyard and with the revolving cast of contractors, tradespeople, and inspectors that are involved.
Do prefab ADUs lose value?
As we talked about earlier, prefab ADUs are considered part of your real estate just like custom ADUs are. So you're really looking at how much your overall property value will increase with an ADU as opposed to without one.
The generally accepted wisdom is that if you plan on adding an ADU and selling your house within the next several years, you may not recoup the cost of construction. But over the long run, an ADU is likely to give you a great return on investment. A 2021 Porch Survey found that in the Pacific region of the U.S., homes with an ADU see an average 35% increase in resale value over homes without an ADU.
Are prefab ADUs worth it?
Most people build ADUs not for the long-term increase in property value (although that's a wonderful benefit) but to house a family member or to rent out for income. Prefab ADUs have some big advantages over custom ADUs: They're more predictable and less hassle than building from the ground up. For people who want a relatively stress-free experience, prefabs are definitely something to consider.
There are pros and cons to prefab ADUs, to be sure. In the end it depends on your property's characteristics, your timeframe, and you! What's really important to you? It's a lot to think about…
Call Maxable for more prefab ADU info!
Our prefab ADU blogs are a great way to start learning, but why not confer directly with one of our ADU experts with an ADU Planning Call? We'll get you on the path to understanding your property's ADU potential!
Maxable is California's leading ADU marketplace. After writing state laws, educating thousands of homeowners, and completing hundreds of ADU projects, we know accessory dwelling units better than anyone! Get in touch when you're ready to explore your custom or prefab ADU options.