Interested in turning an underutilized garage into living space? Here's your definitive guide to everything you need to know for your garage conversion.
Can a garage conversion become a living space?
Yes, your garage conversion can most definitely become a living space!
To legally do this you must convert a garage by turning it into either a guest quarter or an accessory dwelling unit. A guest quarter is a living space that has a bathroom and a wet bar, but no kitchen. These units may not be rented out long term, but can be used by family members or guests.
An accessory dwelling unit is its own fully functional apartment. It has its own entrance, kitchen, bathroom, and living space.
Fun fact: Thanks to new statewide regulations introduced in 2020, you can now build an accessory dwelling unit on either a single-family lot OR a multi-family lot.
We make planning, hiring, and building your accessory dwelling unit simple.
Maxable has been on the front-end of a lot of these legislation changes, and we've already helped thousands of homeowners realize the potential of their property, whether it's a multi-family or single-family lot.
Join in on one of our free monthly webinars, where one of our ADU Experts does a deep dive on how to get your project off the ground and choose the right general contractor for your ADU. You can register here.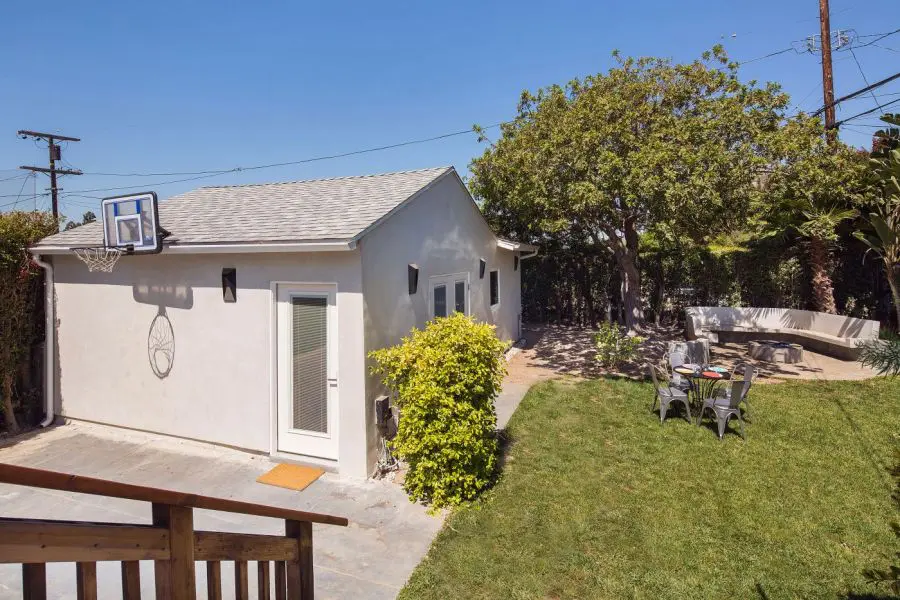 Do you need planning permission to turn a garage into a room?
Yes, you need planning permission to do nearly any kind of remodeling in your home.
In the case of a garage conversion, you need to conform to building regulations, fire safety, and local zoning codes.
A lot of people illegally convert garages into living spaces without complying with the local building code.

Not only is this extraordinarily dangerous for anyone living in an illegal unit, but it's also dangerous for the homeowner because it leaves them open to lawsuits. Imagine you are renting an illegally converted garage to someone and they start a fire.
Not only are you 100% liable for the damage, but if they injure themselves you are on the hook for their medical bills and leave yourself open to a serious lawsuit.
It's extremely risky! Check out our article for legalizing an illegal ADU if you already have one on your property.
How much does it cost to convert a garage into an apartment?
Generally, you can expect a garage conversion to cost between $120,000-180,000 if you're in a major metropolitan area.
Cost varies based on geographic location.
In addition to the hard costs, which would be your construction costs there will be soft costs associated with your project which would include things like design fees, permits, title 24 calculations. See a sample budget below.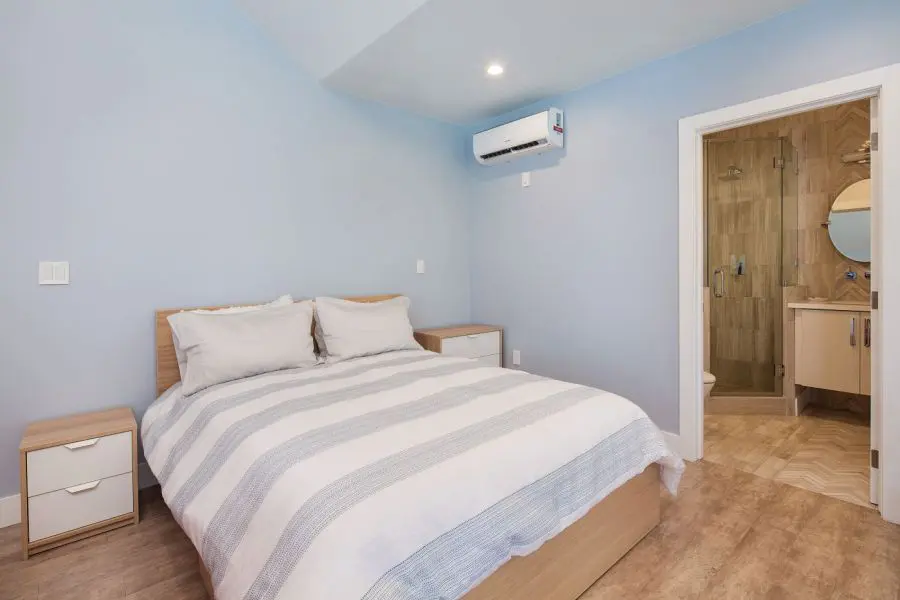 Garage Conversion Costs:
Soft Costs:
Design Fees (feasibility study, schematics, CDs): $8,000-$13,000
Builder's Risk Insurance: $2,000
Title 24 (Energy Calculations): $250
Hard Costs:
Waterproofing, retaining walls, or site work: $2,000-10,000
Construction Cost: $110,000-140,000
Appliances that are not included: $2,000-$4,000
Fees & Permits:
Is that more expensive than you were anticipating? You're not alone. Not only do people dramatically underestimate the cost of a garage conversion there's a ton of incorrect information circulating the internet! HomeAdvisor.com lists a garage conversion from $5,986 – $19,163.
Wait. What?
Where are they getting these numbers from? I think the disconnect is people adding flooring, some drywall, and throwing a couch in. This does not increase property value and cannot be used as a "habitable" living space.
We've helped hundreds of homeowners legally convert their garages into rentable apartments, allowing them to bring in passive rental income and maximize their property. We can help you too!
Check your address here! Depending on your goals, budget, and your neighborhood, Maxable will connect you with the best-fit ADU companies for your needs. Our network consists of heavily vetted designers, builders, prefab companies, and more.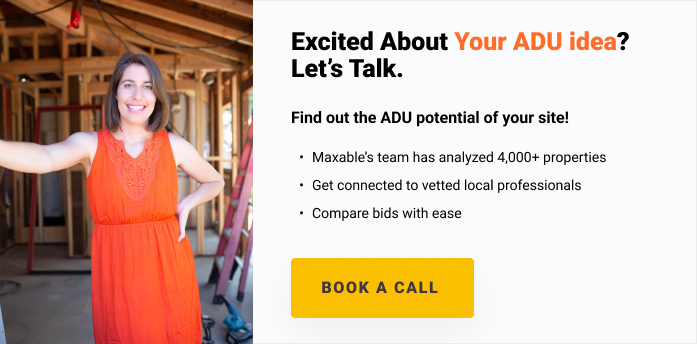 What is the process of converting a garage to an accessory dwelling unit?
Let's take a look at a real garage conversion project.
Andy from Los Angeles contacted us to tell us about his project. Just like so many other homeowners that have fallen victim to false information online, he thought he could convert his garage to a legal, habitable living space for just $20,000.
"I was shocked when I was told that the cost would likely fall in the six-figure range and I almost didn't want to do it anymore, but the Maxable consultant assured me that despite the cost, I would still be able to bring in quite a bit in passive rental income if I rented it out long term."
From there, he realized the safest choice was to evaluate his lot to get a better idea of how much his garage conversion will cost for his specific property.
Remember, just because your neighbor next door was able to do their project for $90K, does not mean your project will be the same. There are a lot of factors that come into play like:
Slopes
Powerlines
The structural condition of the garage
How you want to expand the garage
We go more into detail about these types of hidden costs in our blog.
After settling on a comfortable budget, Andy's Maxable consultant connected him to a reputable loan company and secured his financing.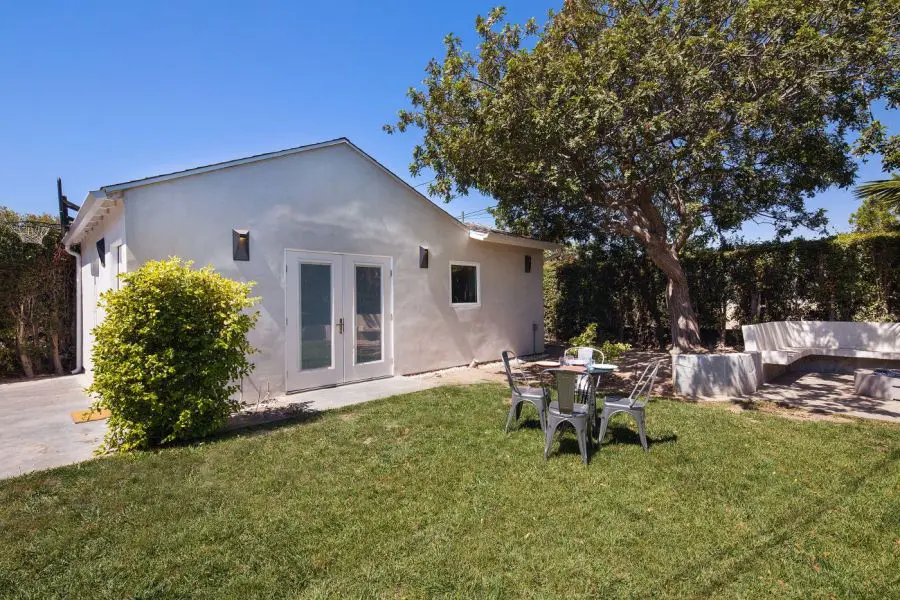 Next came the fun part. Andy was matched to a reputable local ADU designer and they came up with a gorgeous one-bedroom unit that we estimated would bring in about $1,800 a month in his area. Not bad! Andy didn't even have to worry about permitting or dealing with the city. His designer handled it all.
Finally came the time to select a general contractor, but in such a saturated market, how do you know that you're hiring the right team for your project? You can get an idea in our blog about choosing a general contractor, but Maxable also has already done the legwork of weeding through companies in your area and finding only the best.
Not only did we connect Andy to our network of reputable general contractors, but we also looked through the bids with him until he reached a final decision.
Construction started shortly after and the rest is history! We periodically checked in on Andy during the garage conversion to make sure everything was running smoothly.
He now rents this beautiful one-bedroom unit for $2,000 a month. Let's look at the cost breakdown:
Garage Conversion Cost:
Structural plans: $3,000
Plan Check and permits: $6,000
Construction, labor, fixtures, and finishes: $125,000
Total budget: $134,000
Andy estimates he will have the whole project paid off in three years. Then he'll be bringing in an additional 22K a year.
That's an amazing disposable income!
Does turning a garage into a room add value?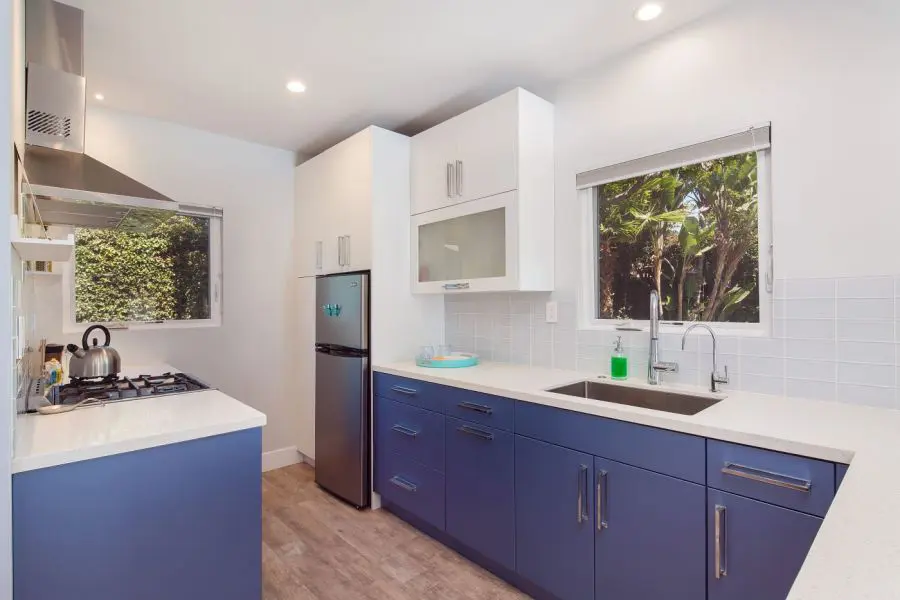 Absolutely! Although there's a lot of debate on HOW MUCH value it adds.
The greatest ROI from a garage conversion comes from homeowners that plan to own their property long term.
In fact, we've calculated that a $130,000 garage conversion that's rented out long-term brings a 1.5 million dollar investment over a 30-year period. That's a 12x ROI.
This is assuming that the garage conversion is then rented long-term. This also takes into account an increase in property value as well as inflation.
House flippers see garage conversions as a way to quickly increase property value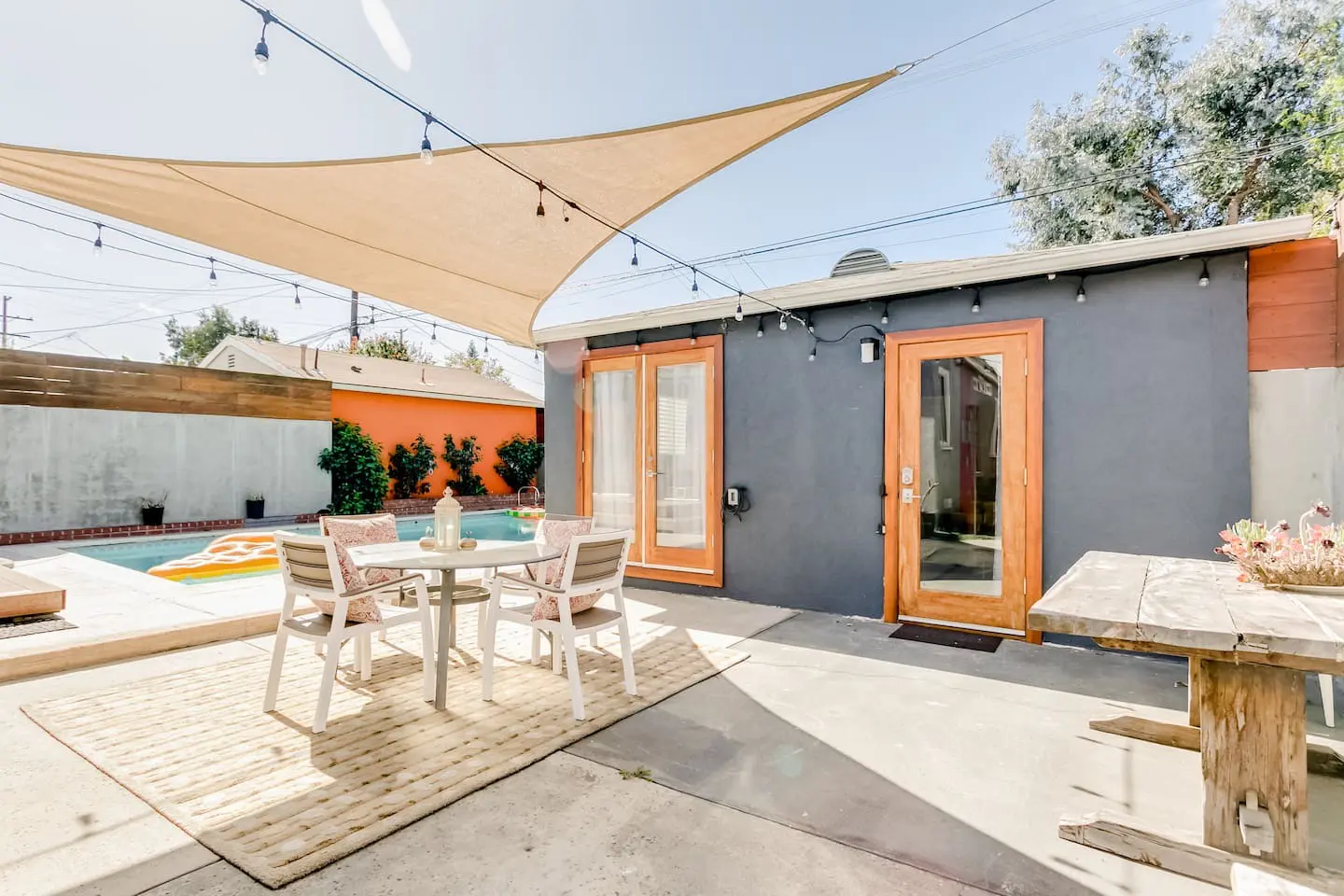 In fact, people are so sure that converting a garage into a livable space adds value that flippers are starting to look for properties with detached two-car garages and converting the garage as part of the flip of the home.
Since the additional space is now treated as additional square footage it can dramatically increase the price of a home.
In some cases, appraisers may even take an income-based approach to appraise the property. This means they treat it like they would a duplex by determining the fair market rent of each unit based on comparable rents for other properties—how much income can be generated by the property.
Investors are also hungry to get into the ADU game. They see it as a relatively easy way to increase the income of a rental property.
Using a garage conversion to help your family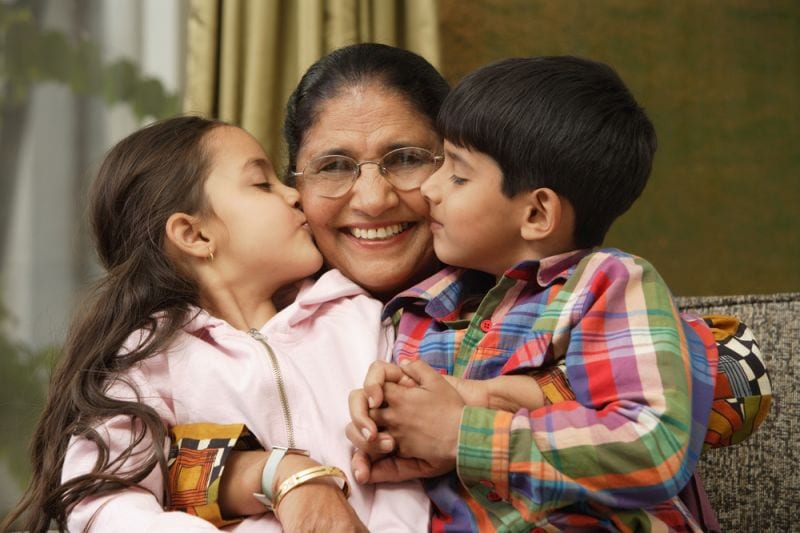 In addition to generating rental income, some homeowners are interested in converting their garage to help an aging family member.
According to SeniorAdvice.com assisted living costs in California range from around $33 to $300 per day, with an average expense running about $125. The monthly cost averages roughly $3,750 or about $45,600 per year.
Wow! That's a lot…
Nursing homes are even more expensive. The average cost of a private room in a nursing home in Los Angeles is $9,125 a month or $109,500 a year.
Turning a garage into a living space for an elderly family member still allows them to maintain independence while being able to stay close to the family who can help out. Families with young children often benefit from having grandparents close by to help watch children.
In fact, the number one reason we see people interested in building an accessory dwelling unit (granny flat) is to house an aging family member.
Pro Tips for a Garage Conversion For Aging Family:
Research universal design. (Universal Design is the design and composition of an environment so that it can be accessed, understood and used to the greatest extent possible by all people regardless of their age, size, ability or disability.)
Make doorways wider to accommodate wheelchairs
Eliminate thresholds. It can be very difficult to cross thresholds that are even 1/2″ high when using a walker.
Keep countertop color and the floor color in high contrast. So if you use light wood flooring install darker countertops.
Avoid shiny high-gloss surfaces
Converting the garage into living space floor plans
Here are some sample garage conversion layouts that are ideal for one-bedroom or studio spaces.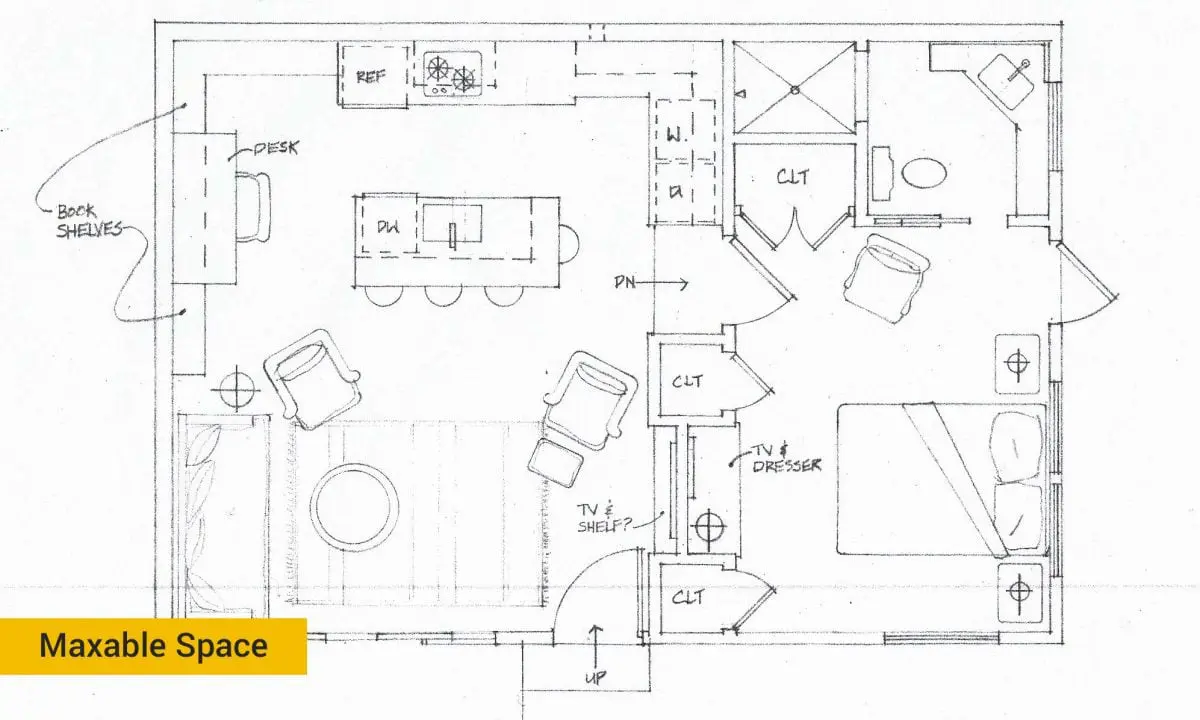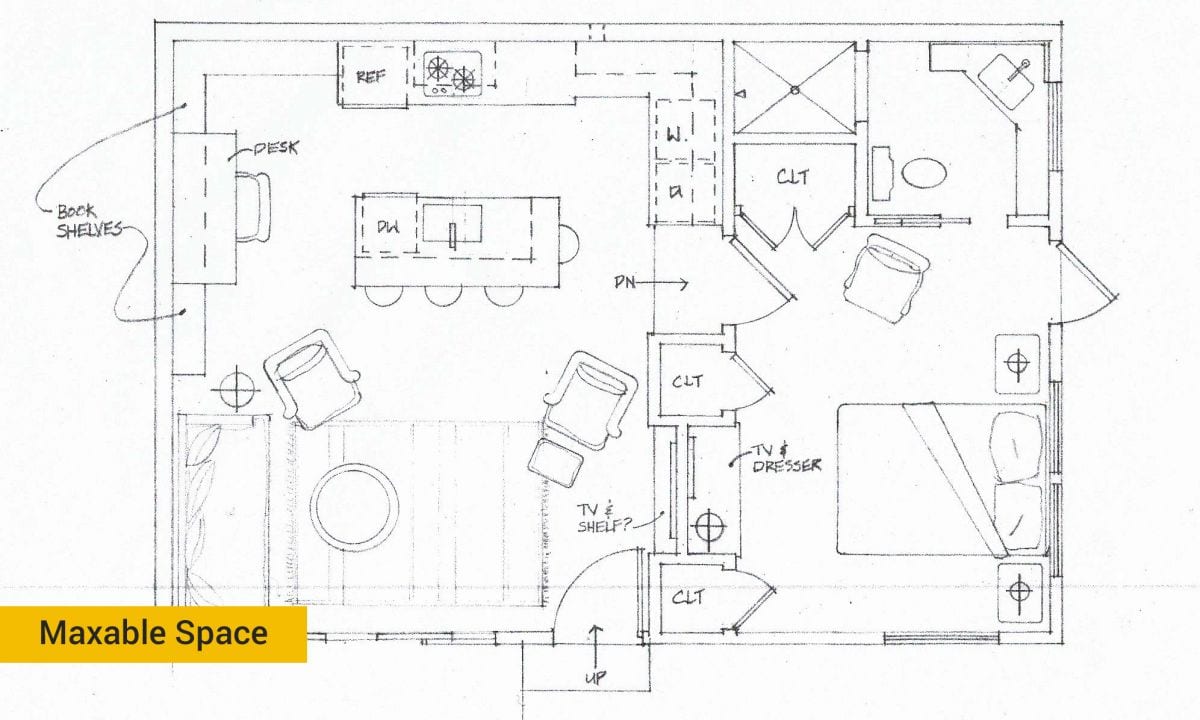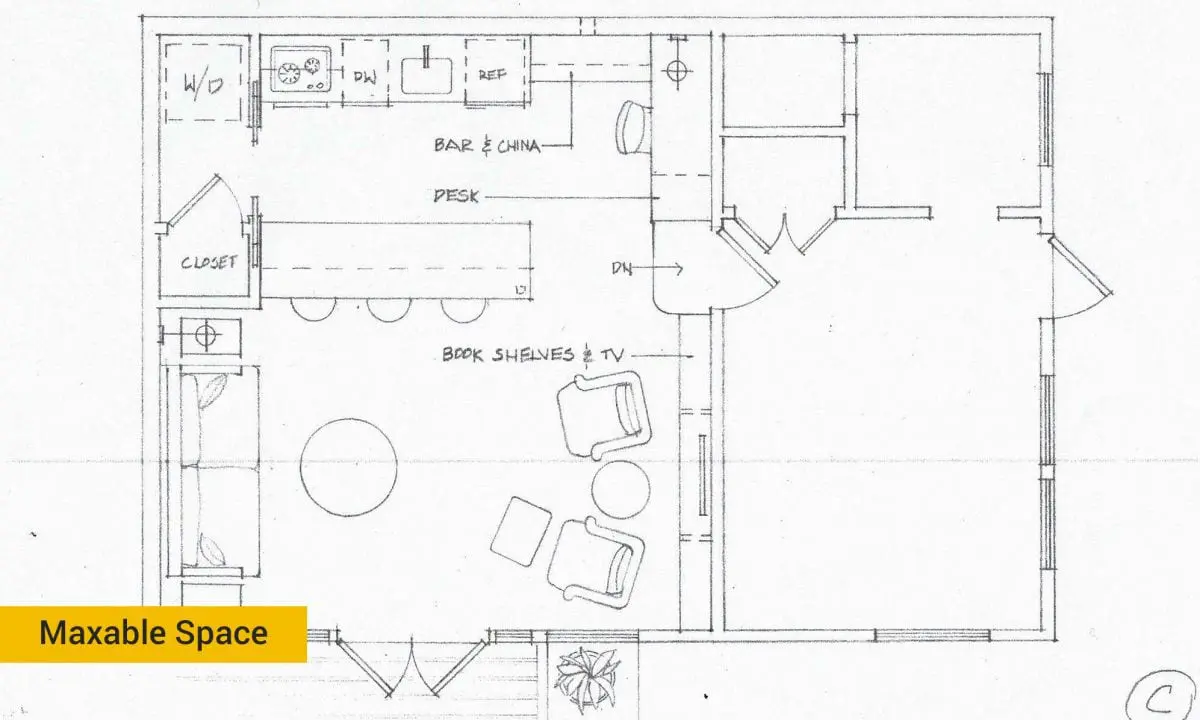 Can you convert a garage into an accessory dwelling unit?
Yes! In fact, converting your garage into a granny flat is one of the only ways to LEGALLY turn it into a living space.
In California, Washington, Portland, Austin, Denver, Boulder, and other places across the United States converting an existing permitted structure, like a garage, has never been easier. If you want some advice on your garage conversion download this free guide to get started.
A legal granny flat has a bathroom, living space, its own private entrance, and a kitchen. Want to learn more about granny flat basics? Check this article out.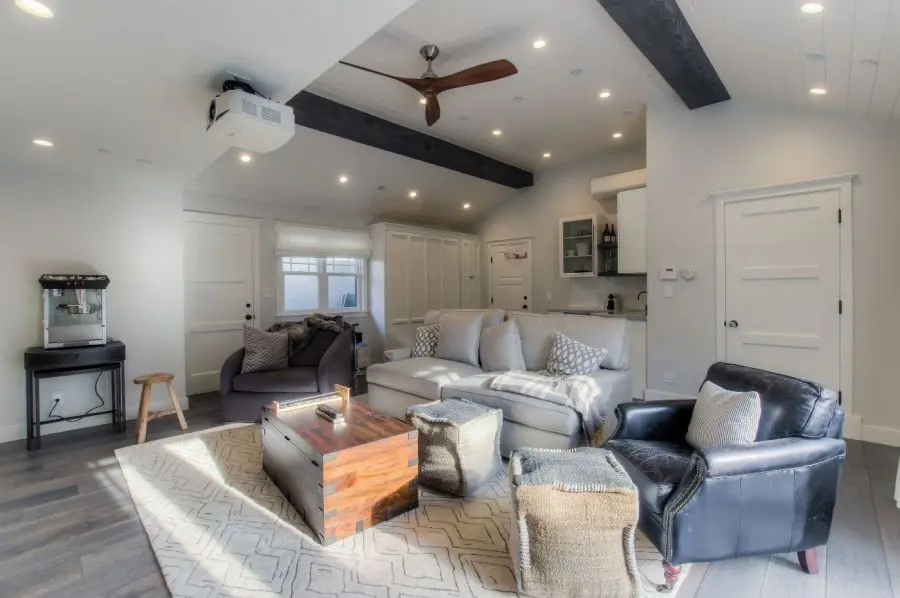 Can you put a bathroom in a garage?
Yes. To legally convert a garage you must turn it into an accessory dwelling unit. By law, an ADU has a bathroom, kitchen, living space, and a separate entrance.
What do I do with a driveway after a garage conversion?
In most cases, you can leave the driveway as is.
It creates easy access for the renter or family member living in the converted garage. If you want to create some separation from the driveway and the unit you can create a little deck area that gives the occupants access to outdoor space.
This can also make it seem like the converted space is part of the original home design.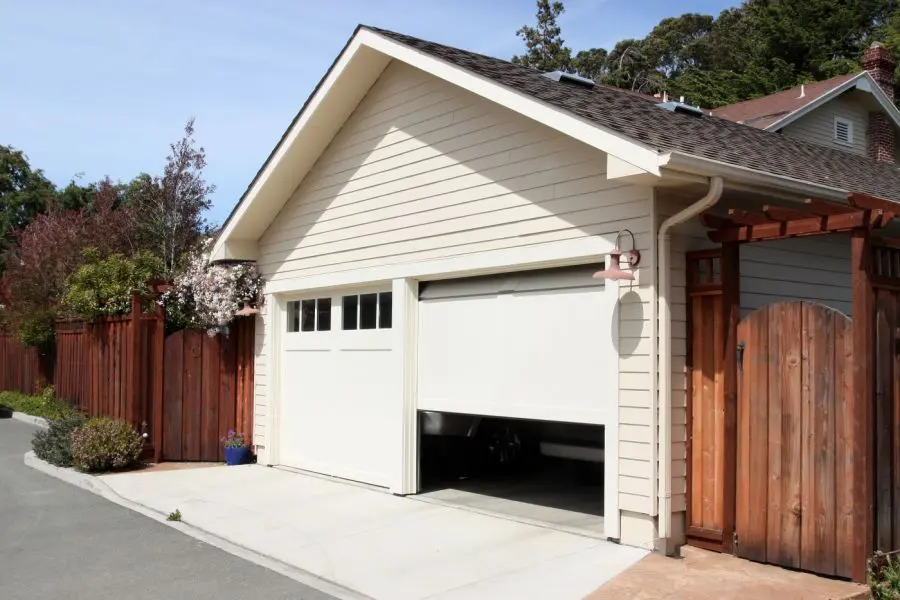 Do I need to replace parking with a garage conversion?
If you live within half a mile from public transit or ride share, you are not required to replace parking!
If you are not within half a mile, luckily, the driveway can count towards your parking requirement. Different cities have different requirements for a parking spot, but generally, it's a 9×18.5′ space that's been hardscaped, meaning it can't be dirt.
Another good piece of news, parking can be tandem in the driveway. So you can leave the driveway as is.


Cheapest ways to convert a garage:
Stay within the existing building envelope. If you start tearing down load-bearing walls your costs will go up quickly.
Use Craigslist to find used appliances.
Check your local Habitat for Humanity Resell shop.
Make sure to get several general contracting bids. The bid should enumerate everything that's included as well as a scope of work. Review this carefully.
Do some of the finishing work yourself. Putting sweat equity can save money on a project. Just remember you're often trading cost/time. A professional can generally do the work faster and more efficiently than you can. So what's your time worth?
It's tempting to cut corners on a project like this, but remember that your home is the largest investment you'll make in your lifetime and you get what you pay for.
Hiring the right team might seem more expensive, but in the end, they will save you from nightmares with the city, unforeseen budget blow-ups, and keep you from tossing and turning at night.
Maxable makes planning, hiring, and building your accessory dwelling unit simple
Still need help figuring out where to start? Whether you're still exploring options or you're ready to hit the ground running, our team is here to help.
Maxable is California's leading ADU educator and after helping hundreds of homeowners complete their ADU project, we know what it takes to get through the hoops and obstacles.
Check your address here and access our vast network of ADU professionals in your area.