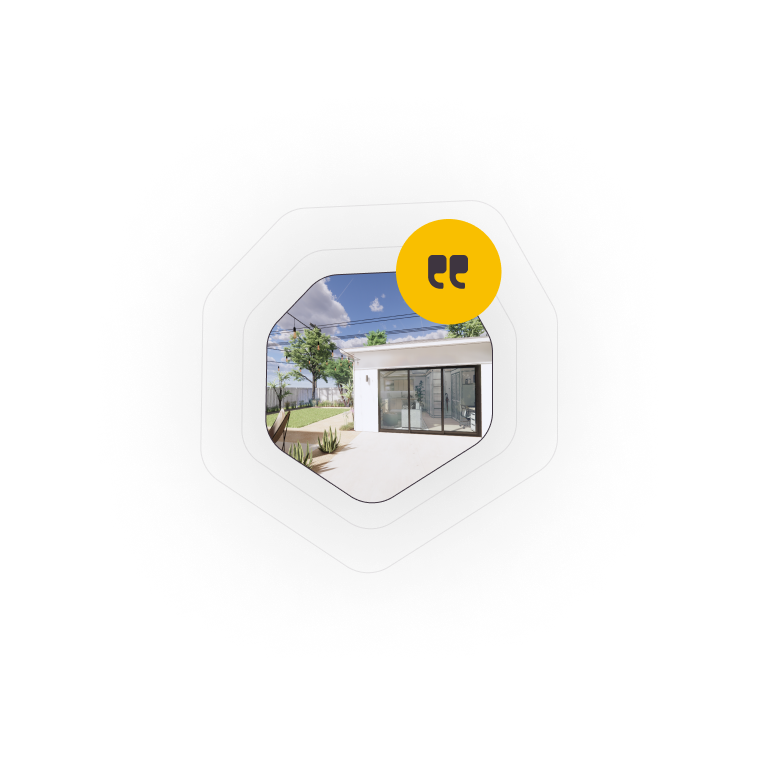 Hiring the right ADU team is well worth the investment!
"If you want the ADU to be a special addition to your property and work well with your existing home, I would highly recommend you engage an architect for your project. The cost of hiring an architect for these small projects relative to the overall cost is considerably low, while the services of the architect will be invaluable to the homeowner.
The architect will also act on their behalf throughout the construction process in the efforts of protecting their interests."
The Backstory
With a newly expanding family, this homeowner was looking to add some extra space to their property. By converting the detached garage into a functional ADU, a secluded office space that met every work-from-home need, as well as a potential guest suite for visiting family was erected. This multi-purpose ADU added some ease to living, working, and entertaining at home, especially given the homeowner's newborn and toddler who currently rule the roost! 
We sat down with architect, Mark Nichols, AIA to hear about his process throughout this gorgeous project!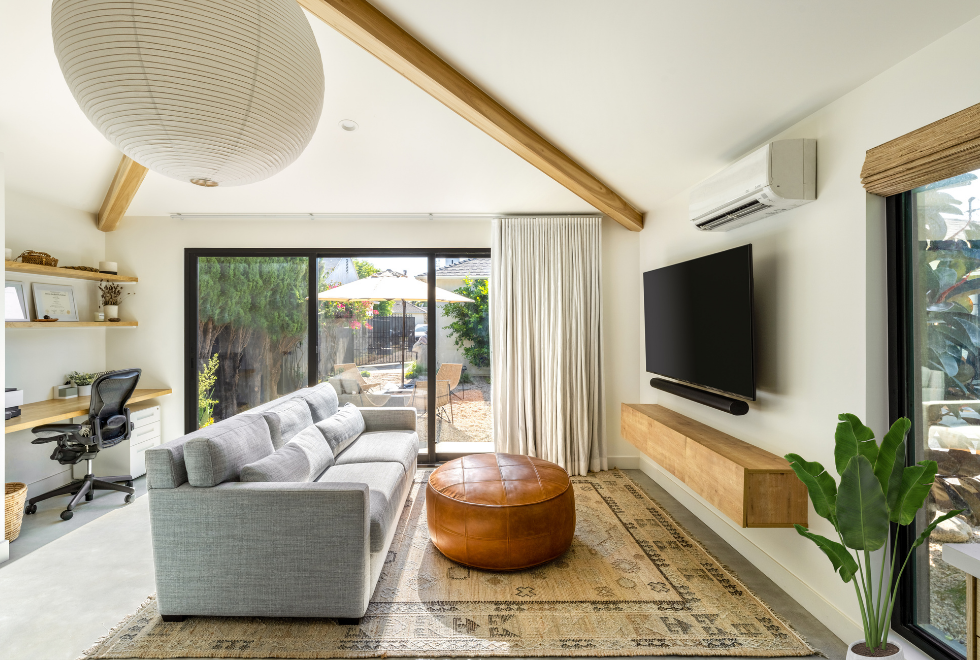 Small but Mighty Los Angeles ADU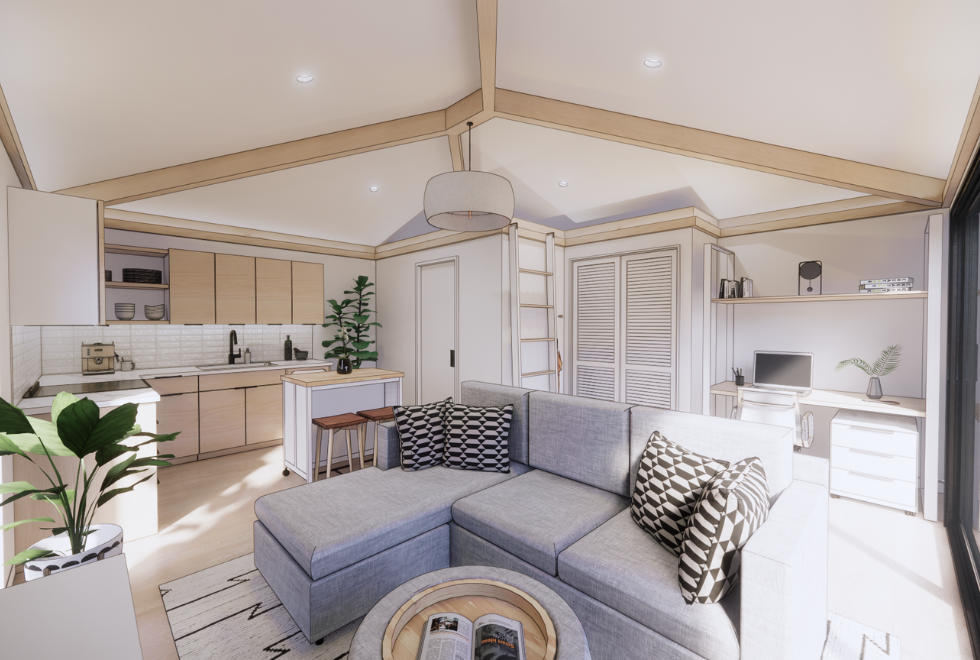 Almost every great thing once started out as something small! This ADU project was no exception.
"Working together with Jamie B. Interiors, we held meetings with the client throughout the design process to understand what they were trying to accomplish and what they envisioned their detached ADU project to be. Questionnaires as well as browsing inspiration imagery helped us hone in on exactly how the client wanted to use their proposed ADU and what it would look like. This helped us provide an initial design which we then received input on and tweaked so that it fit the clients needs (i.e. making the kitchen as open as possible and freeing up as much of the floor plan as possible).
Jamie B Interiors provided material samples and furniture selections that would help accomplish the desired aesthetic as well as adaptability of the space. Jamie B Interiors successfully zeroed-in on the clients taste and was able to produce an aesthetic that they liked early on. This led to the quick development of the Design and ultimately is permitting and construction."
The result came in the form of a 364 square foot, studio-style ADU with an open, adaptable floor plan and simple aesthetic. Smart design choices like building the kitchen along the exterior walls and adding a moveable island helped make the most of the limited square footage. Without any division of space, this ADU felt extra roomy!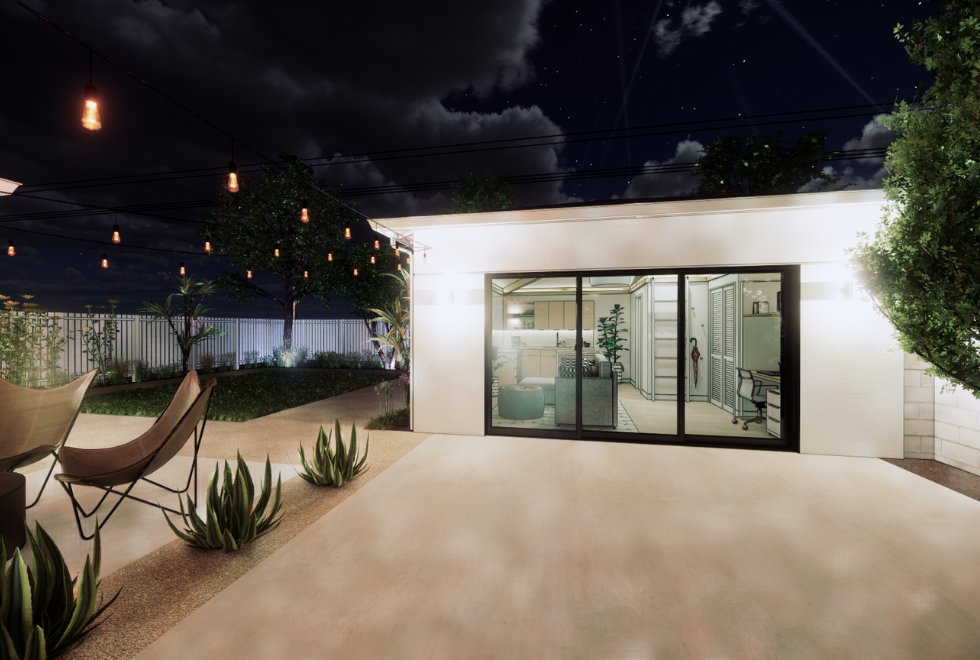 The sense of spaciousness inside was also achieved through vaulted ceilings. This addition gave volume to the ADU, a clever sensory trick for relatively compact spaces.
"The most unique feature of the detached ADU is the vaulted ceiling with exposed decorative beams located at the hips of the ceiling. In order to achieve the vaulted ceiling without needing to alter the existing roof framing, two custom trusses were ordered that fit directly underneath the existing 2×6 roof rafters and supported the new 2x4s below that served as the structure for the vaulted ceiling.
There was a bit of gymnastics going on behind the scenes in order to make something simple, like a vaulted ceiling, work in a space that wasn't originally intended for it."
Despite the technical workarounds required to include the vaulted ceilings, it was well worth the added effort!
Now for the details! The interior design features a sensible and refined palette consisting of soft colors and warm wood accents to provide some natural texture. This simple aesthetic keeps the ADU cozy without feeling too busy. It's all about balance!
Hot tip: Design your ADU with the future in mind. In this case, having a minimal aesthetic that avoids loud colors or excessive patterns provides a blank slate for future tenants to customize to their liking, should the homeowner decide to rent out the ADU in the future.
Now that you have an idea of what was accomplished inside the space, let's break down the costs.
Design: $24,500
Permits & Other Fees: $2,600
Construction: $122,000
Grand Total: $149,100
It's incredible how an initially simple plan transformed into such a fantastic, useful space to meet all the homeowner's specific needs!
Mark, any further advice for homeowners wanting to build an ADU?
"Thoroughly research your general contractor, it's kind of like the Wild West out here when it comes to GC Selection and the requirements for obtaining a GC license are not as rigorous as you would think, given the amount of damage and costs they can potentially cause a Homeowner. It's difficult for a good design to survive a bad GC."
You can say that again!
Unfortunately, we've seen too many homeowners get swindled by inexperienced general contractors, which is why we've founded Maxable.
By signing up with Maxable, you'll get full access to our network of vetted ADU professionals, including great designers and prefab companies, that have gone through our rigorous vetting process. Tell us about your ADU dreams here to get started!
Special thank you to MNichols Design for their contributions to this post.
Interior Design by Jamie B Interiors
Photography by Hunter Kerhart