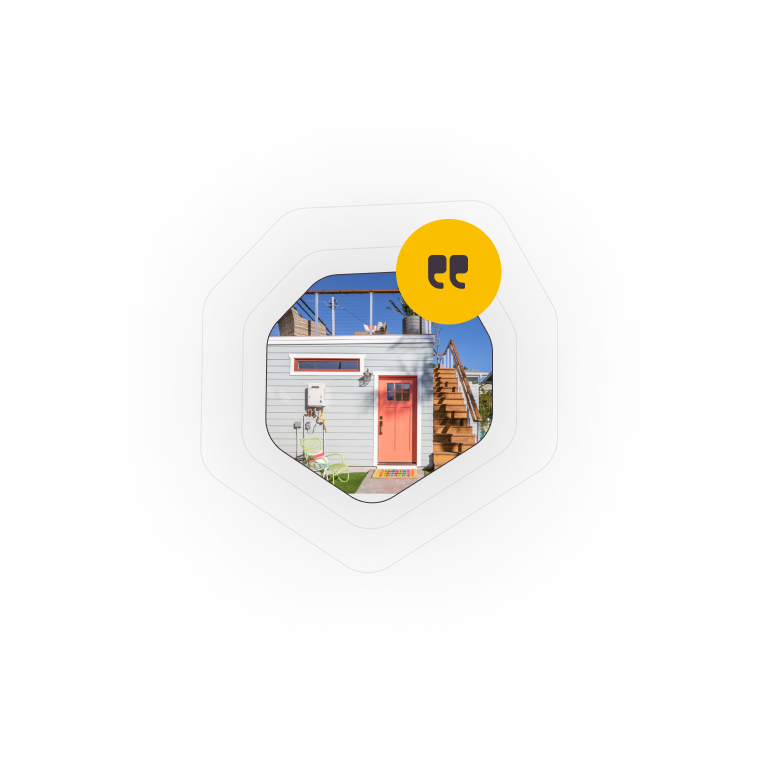 Erin and her husband have always had a knack for entertaining guests and their ADU just took their parties to the next level.
Entertaining guests has always been kind of a big part of our world and so we wanted our ADU to become a space for guests to grab a drink, use the bathroom, or use it as kind of an indoor-outdoor space. We've really maximized it as much as possible. Because of the pandemic, we've been limited on having friends over, but as of right now it's become a workspace for my husband. We've gotten a lot of use out of our ADU already and we're so glad we did it.
The Backstory
After doing a complete renovation of their main home, Erin and her husband decided it was time to expand the remodel to the rest of the property, starting with a new pool and the tiny garage situated in the back of their yard. After evaluating the structure, they cleared the clutter, tore it down, and got to work in maximizing the space to become the ultimate entertainment space for friends and family.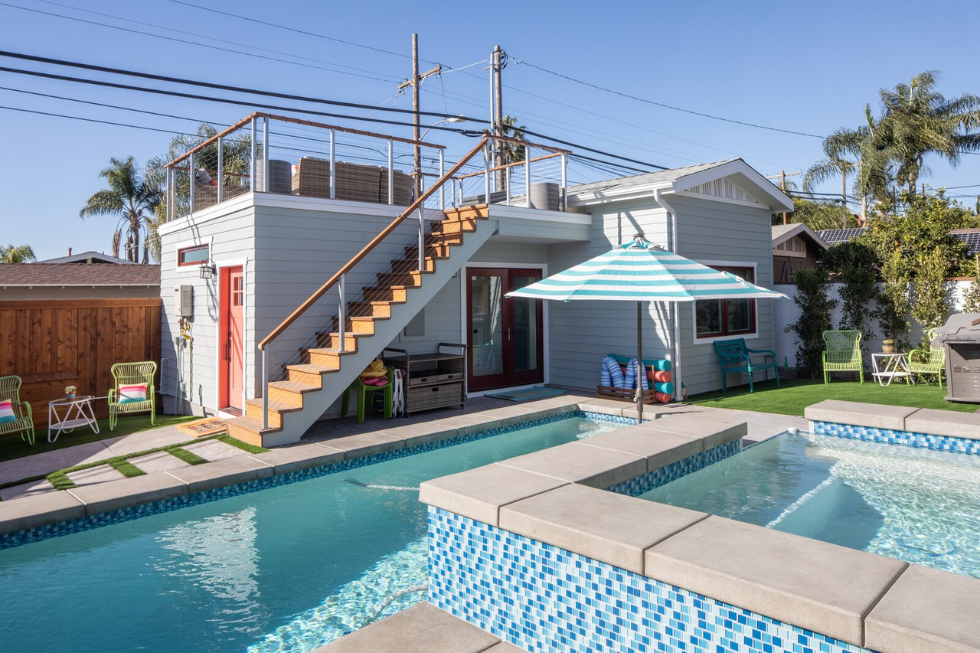 The ADU with Unlimited Uses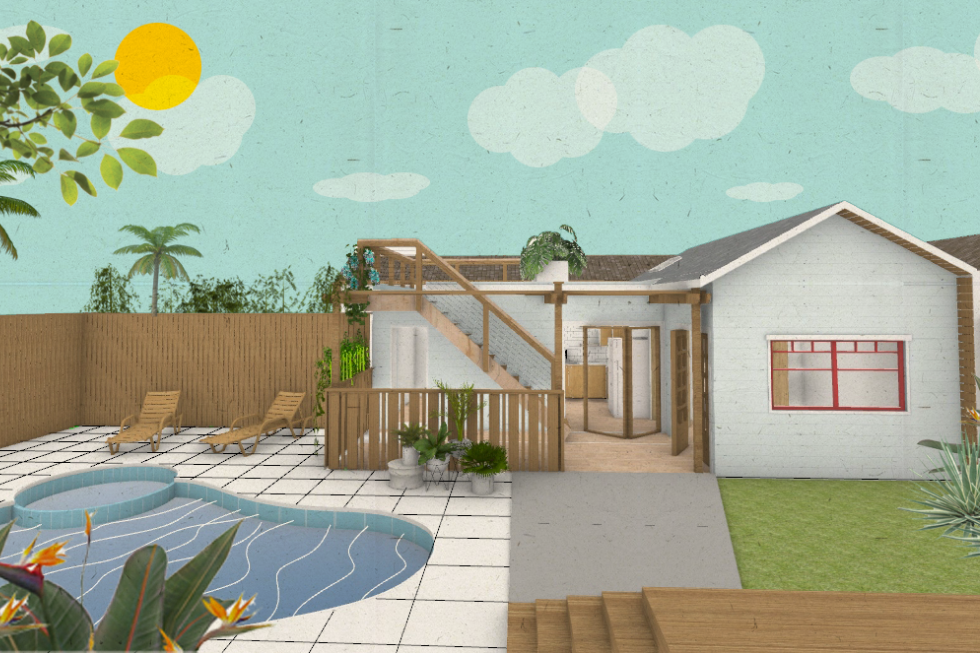 Photo Courtesy of Meryl Walden
Loving the work that their architect obrARCHITECTURE did on their main home remodel, the couple was happy to work with the team again to design their dream ADU.
"We started the process working with the same architect who did our main house. In the process of that, we decided along the way that we wanted to add a pool to our backyard. So then the idea for the ADU, which was originally kind of an additional space if we wanted to hang out, came to be. Our main house is fairly small, about 1400 sq ft and it's an open floor plan so there weren't a lot of places in our main house to separate so we wanted another space for entertaining.

Once we got the idea for the pool, we thought it would be kind of cool to have a pool house so that guests have a place to grab a drink without having to go into the main house or use the bathroom or chill out and use as kind of an indoor outdoor space. Essentially right now it's intention is combination poolhouse, guesthouse, hangout space for us."
This ADU's crowning feature, the rooftop deck, has already gotten daily use.
"The rooftop deck is something we definitely use almost daily. We're up there all the time after work with a glass of wine watching the sunset. It'll be a really great guest space for when people come to visit."
Advice from Erin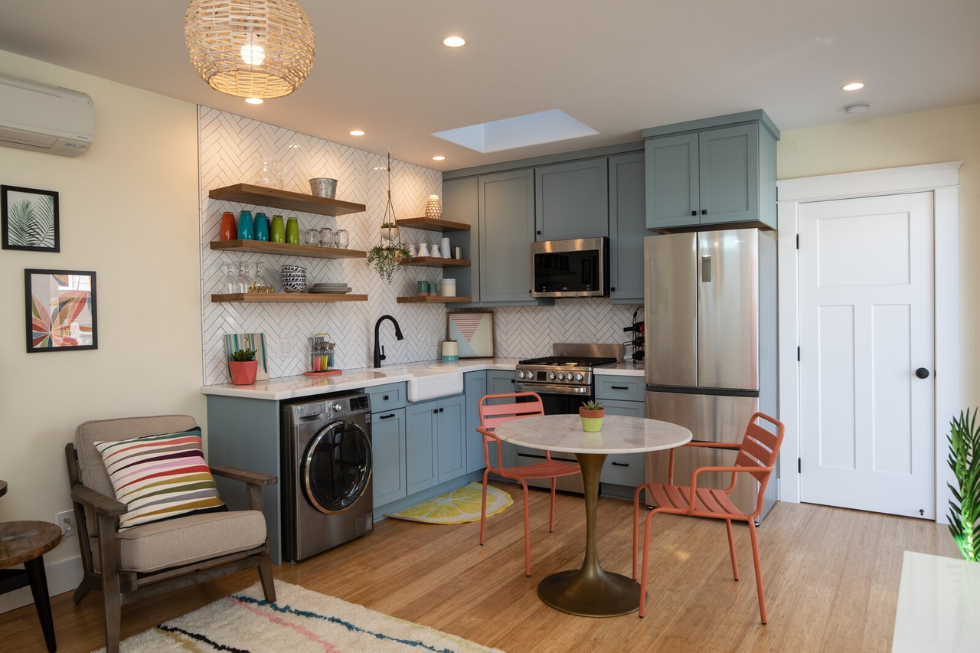 No two custom-built ADUs are going to be the same, especially when you take intent into consideration. The couple had very specific goals for their ADU and this definitely played a part in the final product.
"For us, it was really important to have a space that was flexible, so by really clear about your intentions. If you're going to rent it out, that's one type of design. If you're planning on using it for yourself or entertaining, that's another design. Be really clear about the usage. Having that clarity before you get into it with your designer is really important because sometimes we think we have a clear idea in our heads but things change or you realize things you hadn't noticed before."
And finally, have fun!
"I had a lot of fun designing the interior space of the ADU. What's nice about an ADU is that you can get a little bit more fun and whimsical than you would with your main house. For example, I really love the bathroom. It's a very simple bathroom, but the design choices that we made were very charming like the bubble tile behind the sink."
Photography by Kevin Walsh
Design by obrARCHITECTURE
Build by Michael Doyle (semi-retired)
Plan, hire, and manage your ADU project with Maxable.
At Maxable, we believe that building an ADU should be fun and exciting. You shouldn't have to be the one to deal with confusing obstacles like permitting snafus or ever-changing regulations. We'll be by your side every step of the way and connect you to experienced designers and general contractors in your area to make sure your project goes as smoothly as possible.
Leave the headaches to us! Check your address and see what Maxable can do for your home.