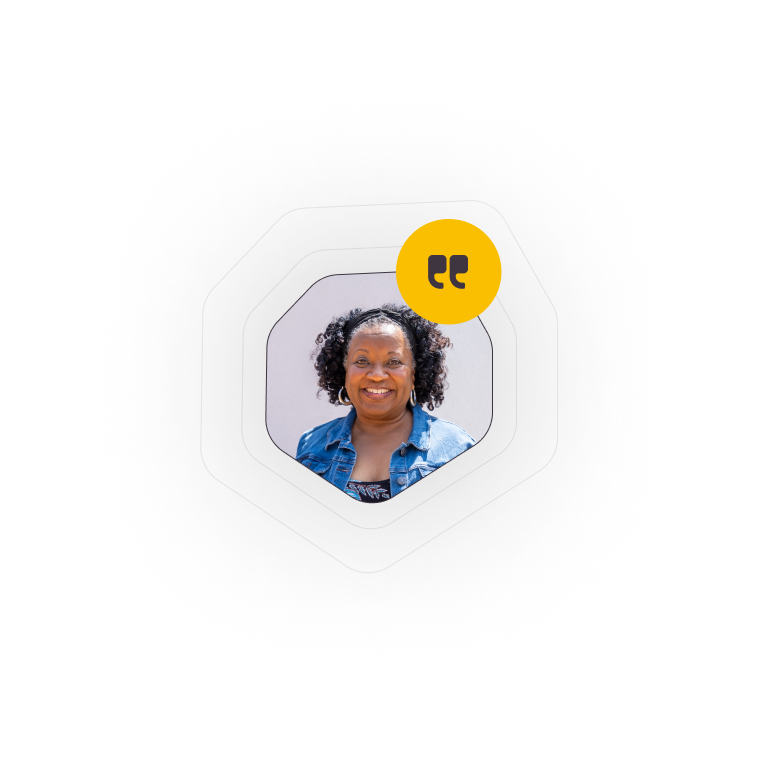 ADUs are a big project! Luckily, Felicia had a helping hand the whole way through.
"I didn't have a clue about hiring personnel for my ADU or what I should be looking for. The fact that Maxable was able to give me a shortlist of contractors that I could interview cut down on a lot of time. I could feel pretty confident that the three contractors that they sent me were already vetted and had already worked on Maxable project before. I knew that if I chose any one of the three I would be satisfied.
I work, I didn't have the time, and I don't know anything about building an ADU. It was worth it to have Maxable take that burden off of me."
The Backstory
Felicia originally wanted to turn her garage into a simple she-shed, but when she learned about ADUs and the amazing benefits they could bring, she couldn't resist jumping on the ADU bandwagon.
Working with Maxable's design team and her contractor, Felicia really made the project her own with nods to her love for nature, a unique dutch door, and fun splashes of color throughout.
The possibilities were endless for her ADU. Her original plan was to rent it out, but the project was completed just in time for something special.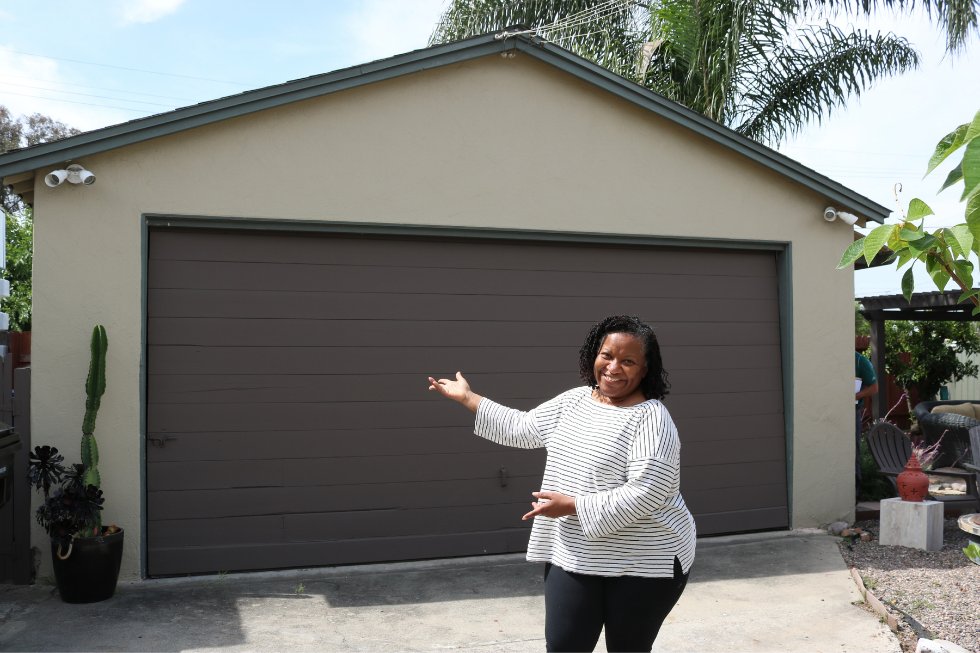 An Homage to a Childhood Memory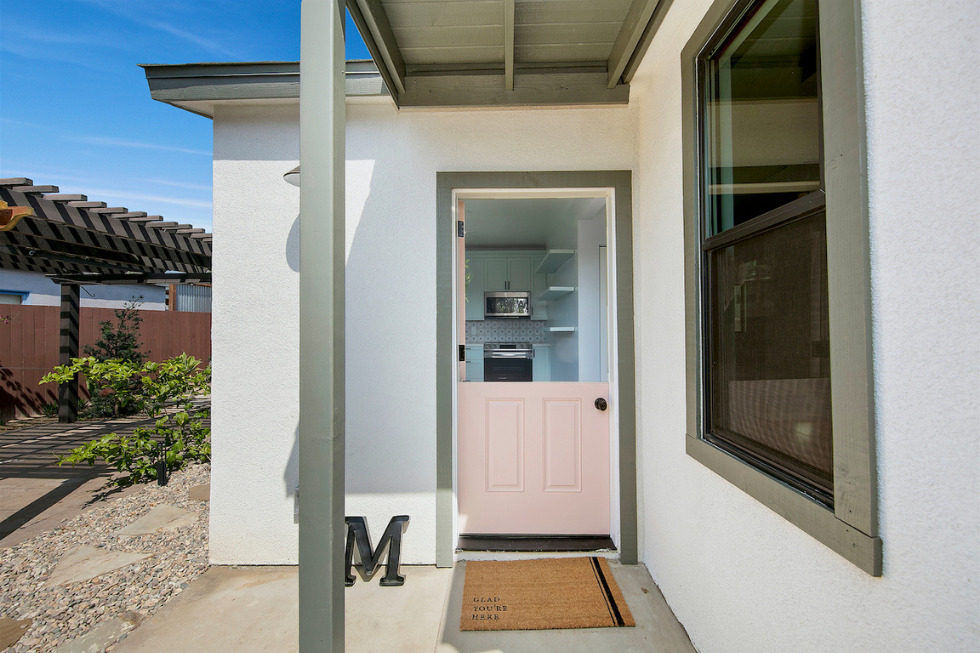 General Contractor: Zapara & Sons
This wasn't any old garage conversion. Felicia decided to expand the front of her 400 sq ft garage to give her tenant some extra space and comfort, increasing the overall square footage to just shy of 800 sq ft. This allowed some extra space for a spacious bedroom instead of designing the space as a studio.
Taking privacy into consideration, rather than placing windows facing into her neighbor's backyard, the designers at Maxable added several skylights to bring in plenty of natural sunlight. The adorable mint green-colored kitchen overlooks the patio that comes with a large trellis lined with gorgeous greenery.
Thanks to a clever suggestion from her contractor, Zak Zapara of Zapara & Sons, they also installed a dutch door, a door in which the top and bottom halves of the door can be opened individually. What may seem like a minor detail actually was a childhood dream come true for Felicia. The pink door is an homage to her favorite show as a child, Mister Ed, a sitcom about a talking horse that always pops his head through his dutch door with something to say.
Just goes to show that your ADU can be a reflection of your style and personality!
The Perfect Home for Mom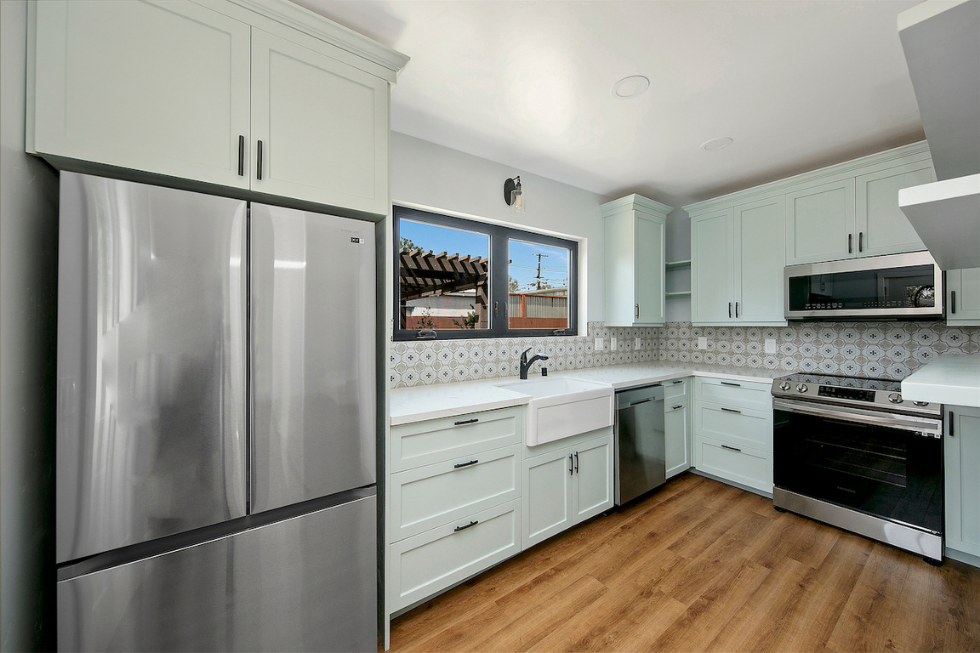 Felicia's original plan was to rent her ADU for passive rental income, but when she heard her mother, who lived with Felicia's brother on the East Coast, was yearning for her independence again, it was a no-brainer to invite her to stay in her brand-new ADU.
A real granny flat! How about that! – Felicia
There's no doubt she'll say yes to moving in. Who wouldn't want to live in this gorgeous home, complete with Felicia's gorgeous personal touches?
The whole project clocked in at about $225,000 which is on par for this type of project with these finishes in San Diego.
Plan, hire, and manage your project with Maxable
Working full-time, Felicia didn't have time to go through the researching, vetting, hiring, and permitting process by herself, but Maxable was able to step in and handle everything so that she barely had to lift a finger. If you've always dreamed of building your own ADU, but worried about not having enough time or knowing where to even start, hop into an ADU Planning Call with one of our ADU agents! We have a full network of trusted ADU lenders, designers, and builders, ready to take on your project.
Click here to take the first steps towards building your dream ADU.
Credits
Design: Maxable
General Contractor: Zapara & Sons