"That can't be my garage!!" Oh, but it is. These stunning garage conversion accessory dwelling units (ADUs) will make you a believer in your garage's potential. Here are 6 shocking garage conversion before-and-after photos and the stories behind their awesome transformations.
What's an ADU?
Accessory dwelling units, or ADUs, are also known as granny flats, guest houses, casitas, or back houses. They're legal dwellings that are separate from your primary house and have their own kitchen, bath, and entrance. An ADU can be detached from the main house or attached to it.
There's an ADU boom going on nationwide, spurred largely by the housing crisis. ADUs are supremely flexible: from housing your kids or parents, to renting it out for extra income, to moving into the ADU yourself and renting out your main house (hello, early retirement!), an ADU will increase your property value and your options for years to come.
Lofty studio garage conversion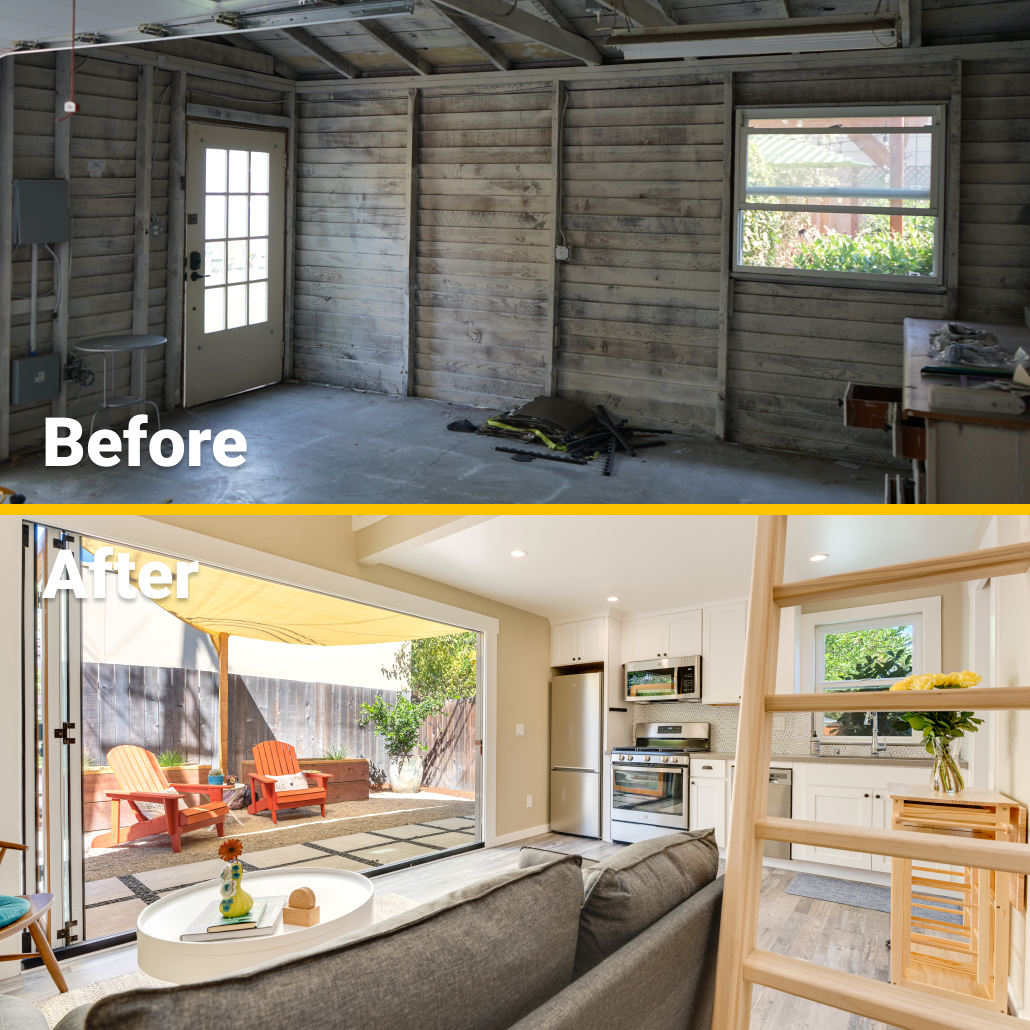 Cecilia and John's garage, sitting at the rear of their Bay Area lot, was useless for cars and had devolved into a fancy storage shed. At 400 SF it would have worked fine as a studio, but the couple maximized their ADU with a loft that brought the square footage to 489.
Lofts are typically a splurge feature, but there are easy ways to save costs in other areas of your garage conversion. Check them out in our Splurge Vs Save blog.
Fold-away glass doors open an entire wall of the studio onto a private garden complete with shade sail and Adirondack chairs. So cool!
Cecilia and John were originally going to rent out the ADU for passive income, but the couple's daughter fell in love with the space and decided to return home after college and enjoy it for herself. We get it—this garage conversion is irresistible!
View the full video tour and get all the details about this project here.
From unpermitted garage apartment to storybook ADU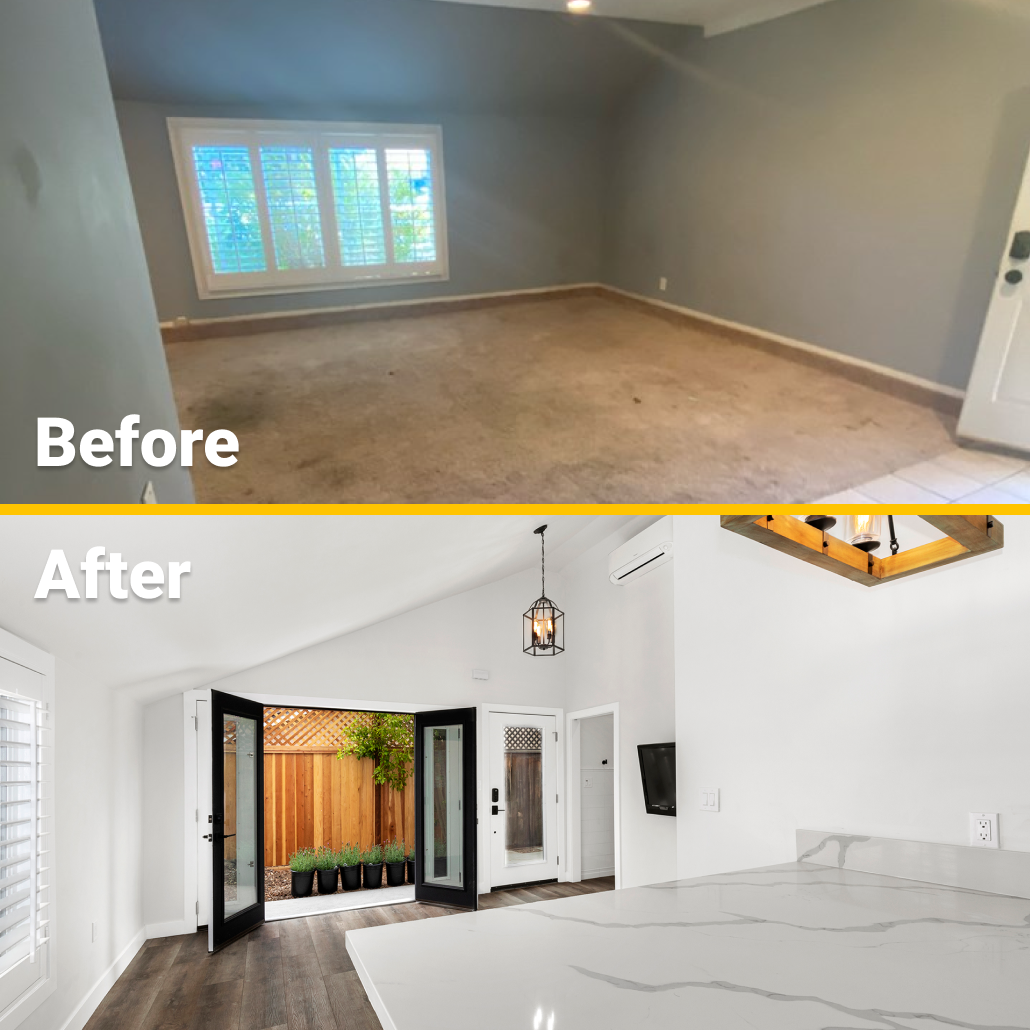 Gloria and Tony's house came with a shabby illegal garage apartment when they bought it. It's a common situation since people everywhere are desperate for housing. But the garage had incredible bones, what with the vaulted ceiling and storybook-style architecture.
The final product is this gorgeous one-bedroom, one-bath ADU. And the couple can now rest easy knowing they no longer have unpermitted work on their property!
The vaulted ceilings make the ADU feel far more spacious than its 432 square feet. If your garage has a pitched roof you'll have this option, although it can be pricier than installing a flat ceiling.
To complete the modern farmhouse look, Gloria and Tony finished off the unit with black cabinet handles, a farm sink, and rustic chandeliers. As they live near a university, they plan to rent the ADU to visiting professors.
View the full video tour and get all the details about this project here.
From cluttered garage to eclectic getaway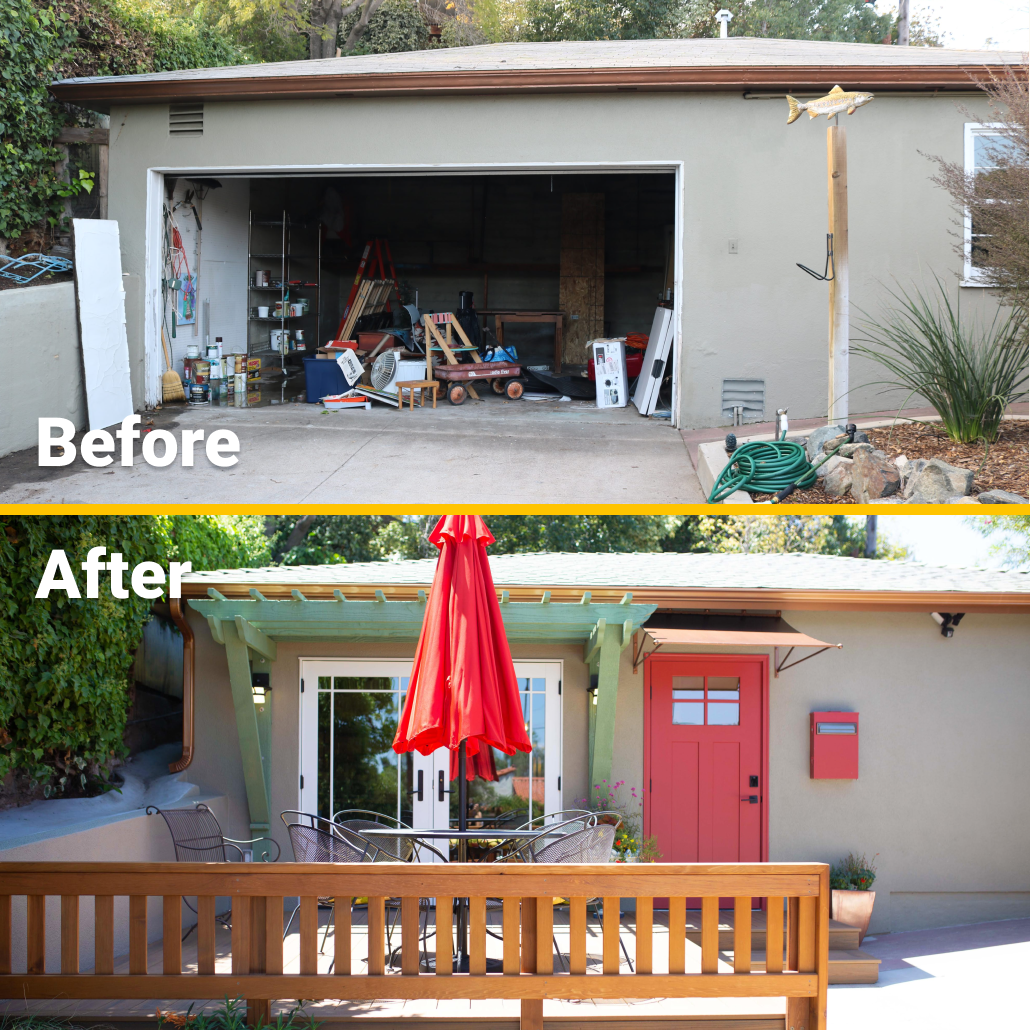 Lynn's garage had followed a familiar path: from storing cars to storing junk. Nearing retirement, Lynn vowed to turn her garage into a magazine-worthy AirBNB rental.
The plan was to take the garage and a run-down attached guest quarters and remodel the whole space into a 600 square foot one-bedroom unit. In the process, Lynn added a deck to enjoy the San Diego sunshine, as well as solar for the ADU and main home.
The final result has guests oohing and the rental calendar packed! Building a deck over part of the former driveway was a genius move. Check out other ADU outdoor room ideas here.
View the full video tour and get all the details about this project here.
A perfect home for Mom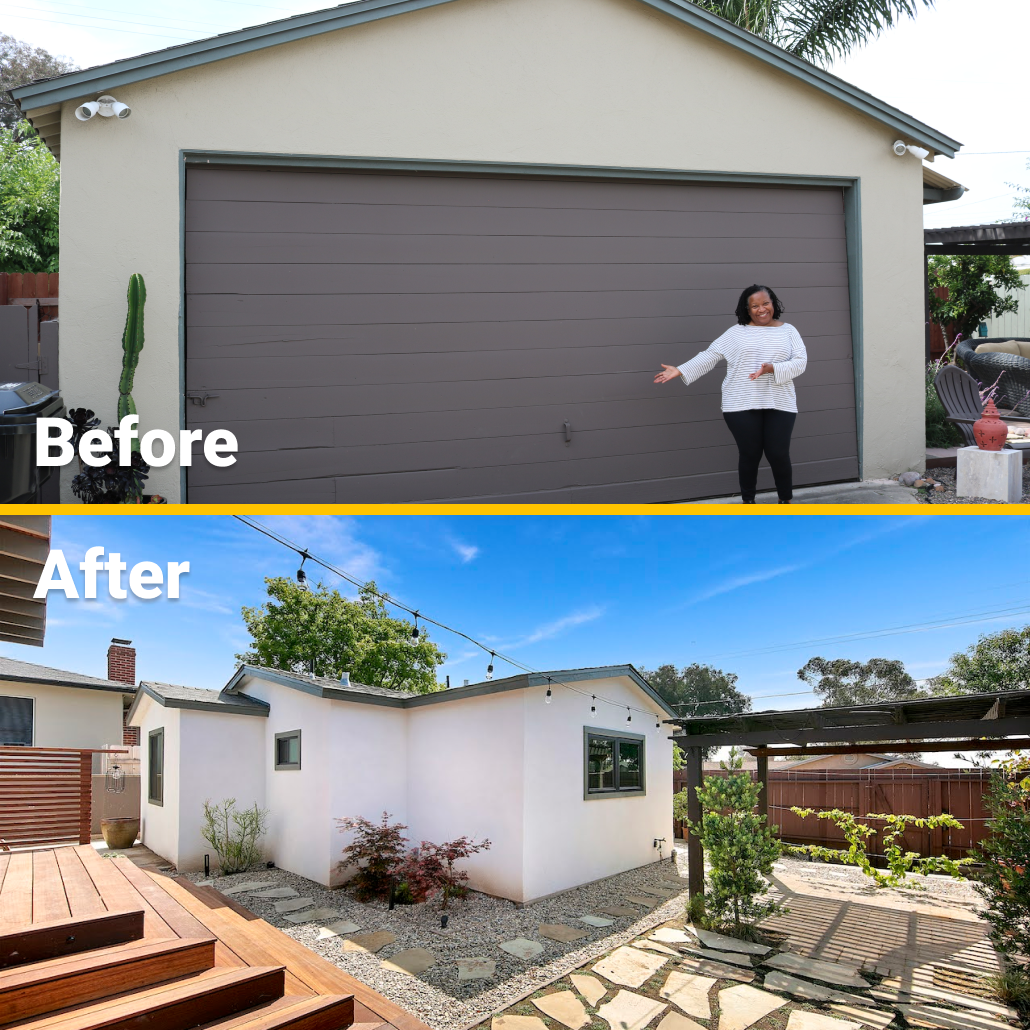 Felicia originally intended to rent out her garage conversion ADU for income. She decided to increase the footprint of the 400 square foot garage to just shy of 800 square feet, allowing for a spacious bedroom instead of designing the ADU as a studio. More space and comfort for that future tenant!
To avoid windows that faced into the neighbor's backyard, the designers at Maxable preserved privacy and natural sunlight by installing several skylights. The adorable mint green kitchen overlooks a patio with a large trellis lined with gorgeous greenery. And the pink Dutch door is a nod to Felicia's favorite childhood sitcom, Mr. Ed.
The ADU turned out so well that Felicia's mom, who was living on the East Coast, couldn't resist asking if she could move in! It's a happy ending for everyone.
Felicia's garage conversion is a great example of what an experienced ADU designer can do with a garage. Read all about how to hire an ADU designer here.
View the full video tour and get all the details about this project here.
Cozy studio with spacious patio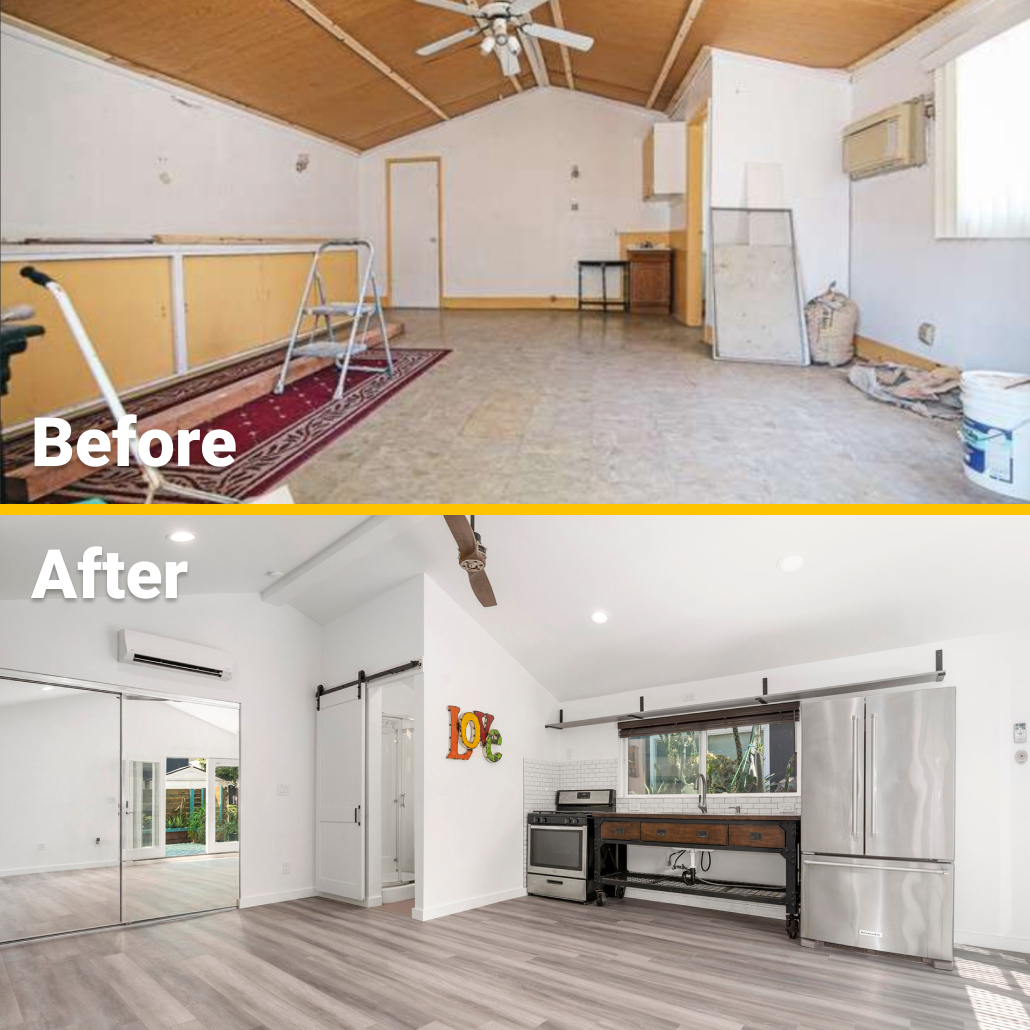 Denny turned his 450 SF, two-car garage into a beautiful studio ADU, complete with a Murphy bed for versatility. The Maxable design team added a beam to support the 15-foot vaulted ceiling, making the ADU feel much larger.
French doors that open out into a patio visually expand the feel of the studio inside and give Denny's tenants 250 SF of sunny outdoor living space. These design tips for small spaces will help you maximize your garage conversion.
View more photos and get all the details about this project here.
Stunning two-bedroom ADU over the garage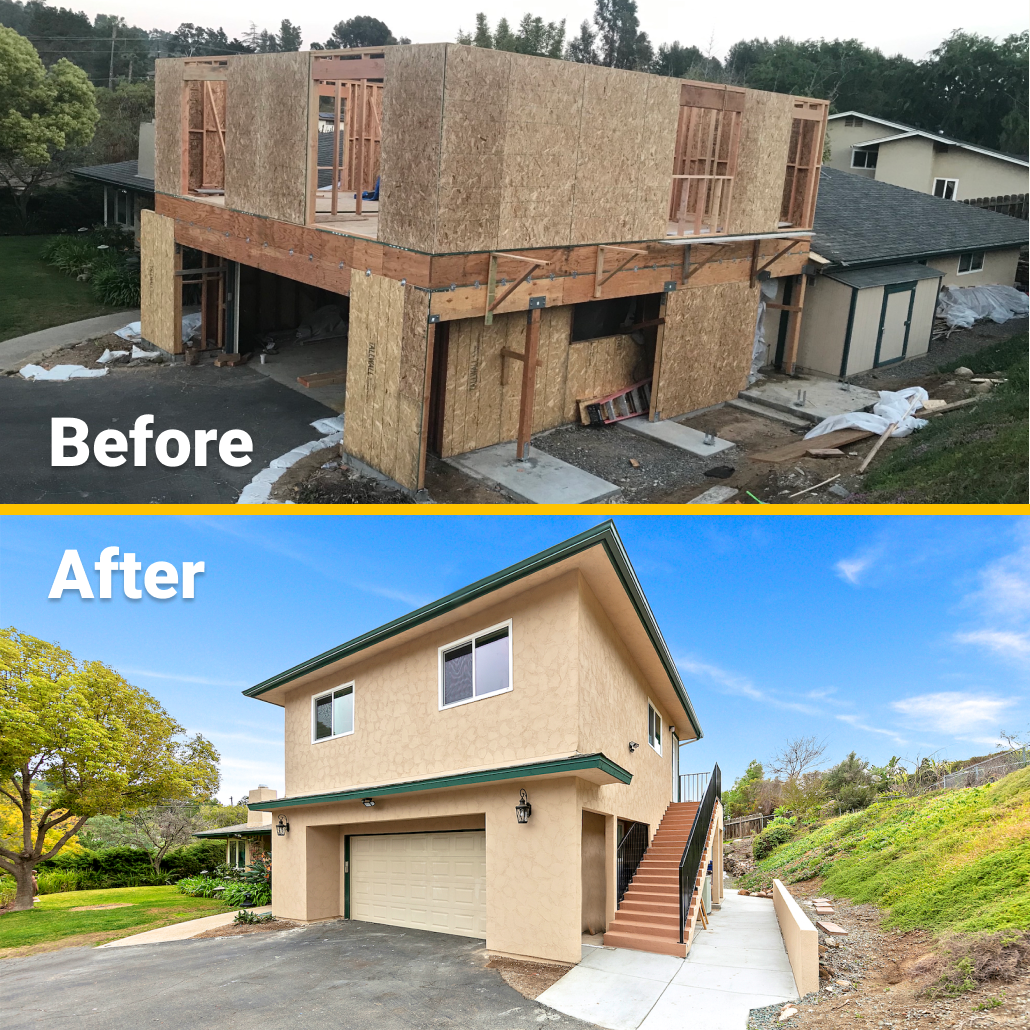 While not technically a garage conversion, we think this gorgeous ADU deserved an honorable mention on our list.
Tom and Kate wanted to give their son, a recent college grad, somewhere to live while he established a career. Compared to buying a condo for him, building an ADU was a bargain. But there wasn't room in their backyard for a stand-alone ADU, and the couple didn't want to lose the use of their large garage/workshop. So they built a 650 SF ADU over it!
The two-bedroom, one-bath unit includes a full washer and dryer and extra-large windows, making it feel even more spacious. The final result is a contemporary home where their son and his best friend/roommate can relax after a long workday.
Treetop views, deluxe finishes, privacy for everyone—and the family can still share meals.
Over-garage ADUs are more expensive to build, but they're worth it to many homeowners. Our granny flat over the garage blog dives into the costs and benefits.
View the full video tour and get all the details about this project here.
FAQs
What's a garage conversion?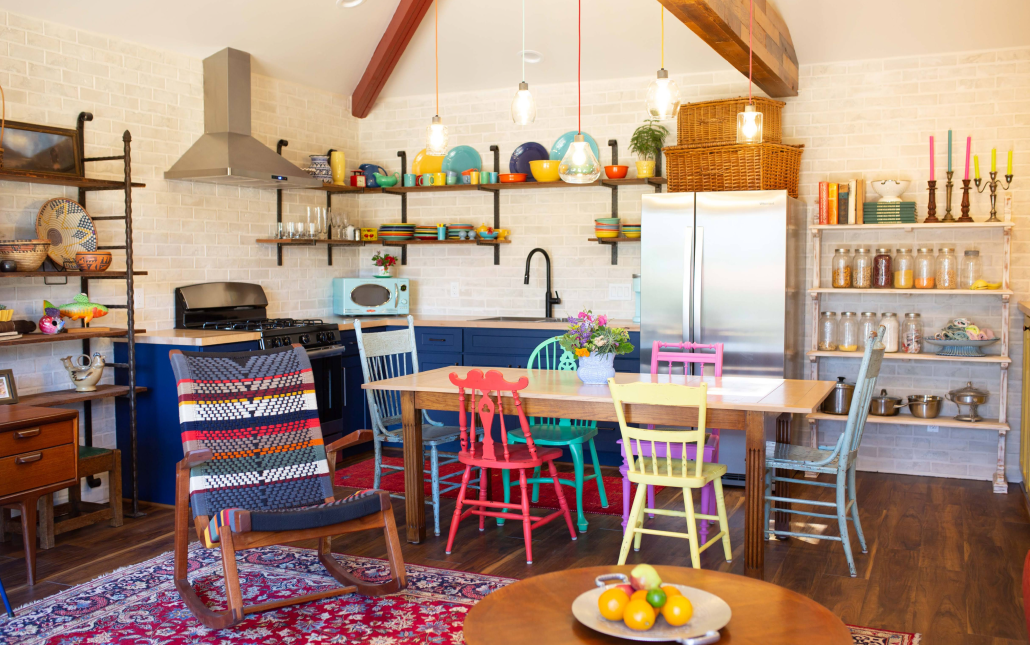 With a garage conversion ADU, you use the structure of your garage as the starting point for your accessory dwelling unit. Garage conversions are hugely popular because by using the garage's existing foundation, framing, and roof, you can save thousands on construction. This makes a garage conversion the least expensive type of ADU to build.
Your garage conversion ADU does not have to be exactly the same size as your garage. You can extend the footprint and still save a lot of money. Or you can build an ADU over the garage—not as cheap, but a popular choice with folks who don't want to give up the use of the garage.
For a deep dive into garage conversions, check out these 15 crucial garage conversion questions. What does a garage conversion cost? breaks down all aspects of transforming your garage to an ADU.
And if you're itching to find out what's possible on your specific property, you can check your address here. We'll connect you with a dream team of ADU professionals to get your project off the ground.
As these photos prove, there is no garage that can't be transformed into a stellar living space!
Is it a good idea to convert your garage?
Like any decision about ADUs, the answer depends on your purpose and budget. If your garage is in good condition, you'll save money by converting it as opposed to building from the ground up or buying a prefab ADU.
Most homeowners have immediate financial incentives for building an ADU. According to a 2021 nationwide realtor survey conducted by Homelight:
61% of homeowners build an ADU to house their aging parents
35% build an ADU to house their adult children
32% build an ADU for rental income
If converting your garage will either save you money (for instance by housing a relative as opposed to paying rent) or earn you passive income (by renting it out), it's probably worth investigating. Only you can decide what's right for your situation!
Does converting a garage devalue your house?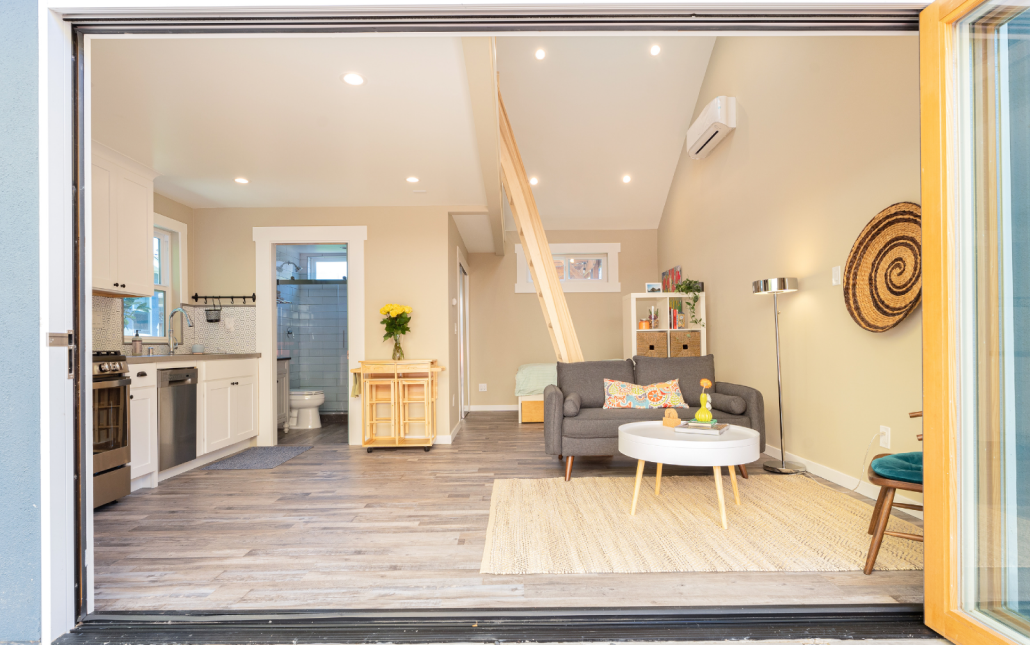 Not at all! It ADDS value. Although there's a lot of debate on how much value it adds.
The greatest ROI from a garage conversion occurs if you plan to own your property long term. We've calculated that a $100,000 garage conversion that's rented out long-term brings a 1.5 million dollar return over a 30-year period. That's a 15x ROI.
This is assuming the garage conversion is rented long-term. It also takes into account an increase in property value as well as inflation.
The additional living space from a garage conversion is treated as additional square footage, so it can dramatically increase the price of a home. As ADUs become a vital part of our cities' efforts to increase housing stock, appraisers are starting to take an income-based approach to properties with ADUs. This means they treat it like they would a duplex by determining the fair market rent of each unit based on comparable rents for other properties—how much income can be generated by the property.
Garage conversions may garner slightly less increased value for your property than a stand-alone ADU because you've lost the garage. But a rentable living space is ultimately much more valuable than a place to park cars.
Is it better to convert a garage or build an extension?
Building an extension to your home is much different than converting a garage to an ADU. An ADU is a separate legal dwelling, and a home extension is not. Permits for a home extension renovation are generally quicker to obtain than permits for an ADU.
Garage conversion ADUs will need everything a home has: kitchen, full bathroom, separate entry. Home extensions won't need these, although you can add them if you want.
The most important questions to ask yourself are:
Why am I building an extension or ADU?
What are my future plans for this space?
How much money can I spend?
A garage conversion ADU will probably cost quite a bit more to construct, but it also has the potential to earn you substantial passive income every year. It all comes down to your needs and budget!
Do you have to raise the floor in a garage conversion?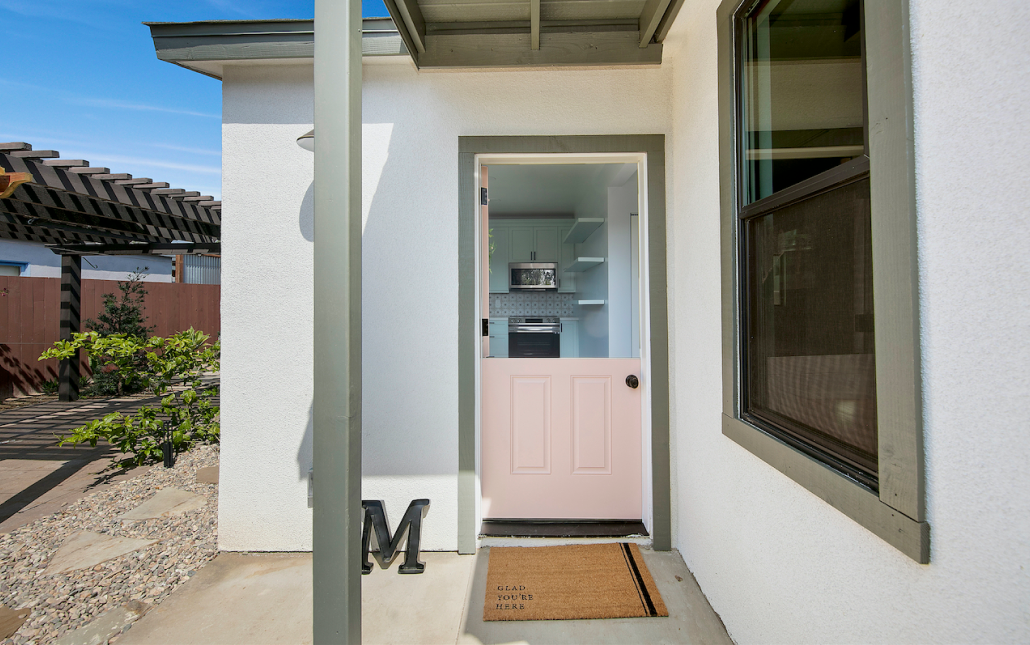 Garages are usually built on a concrete slab. You don't necessarily have to "raise" the slab, but you may need to reinforce the foundation (it's called underpinning) if the existing slab doesn't meet your jurisdiction's code for habitable dwellings.
The age and condition of the garage are key in determining what will be required to bring the foundation up to code. The same is true of the framing and roof trusses. If the garage is very old or in bad shape, it will probably need to be demolished.
In some places you'll still get advantages for building a garage conversion even if you have to demo the original garage. Example: in California you can use the footprint of the original garage even if it's right on a property line. ADU regulations are complex, and it really pays to work with professionals who know the rules in your city.
How long does a garage conversion take?
If only there were a reliable answer to this question! But certainty went out the window sometime in 2020.
Supply chain issues, personnel shortages at city planning departments, scarcity of skilled tradespeople…so much of an ADU's time frame depends on the region where you live and how available labor and materials happen to be when you begin construction.
In a perfect world, it takes about 4-6 weeks to design a garage conversion, 2-4 months to get it permitted, and about 5-8 months for construction. We've seen the process take much longer, and occasionally we've seen it move faster.
Your best bet for a reliable current estimate is to contact Maxable to get matched with an experienced ADU designer or design/build company in your area.
Is it easy to convert a garage into a room?
Converting a garage into a room is one thing. Converting it to an accessory dwelling unit is something else altogether!
A lot of people go down a money-wasting road when they start improving a garage only to later decide they want it to be a legally rentable space. Some drywall here, an unpermitted bathroom there, flooring, paint, windows—it all adds up. But it's not a legal dwelling, and if the improvements are not to code they will need to be replaced if you want to legalize it.
If you're going to invest in your garage, at the very least consider converting it to an ADU. Maxable has blogs, free tools, and video tours to educate you on every phase of financing and converting your garage into a fabulous, flexible ADU!
Maxable is your garage conversion wizard
We've hundreds of homeowners complete their garage conversions, and we'd love to share our expertise with you! Every garage has its own unique properties, and our ADU experts can tell you if yours is a good candidate for conversion.
Reach out and we'll do the research and help you find the best choices for your property. Knowledge is power—get yourself some garage conversion know-how today!