Home offices used to be a luxury. Now they're a must-have!
Since the pandemic, working remotely has become a permanent part of the employment landscape. Even before 2020, 44 million Americans were self-employed and rented office space or worked from home.
The ideal home office is one that's entirely separate from the main house—away from kids, chores, snacks, TV, and all the other distractions that eat away at a productive workday.
An accessory dwelling unit fits the bill.
Yes, an ADU will cost more than converting the dining room or turning your garage into a "rustic" office. But the potential ROI is phenomenal.
An ADU gives you the home office of your dreams and also the opportunity to earn passive income. On top of all that, you'll be increasing your property value. You don't just work in your office, your office works for you.
Why not just "fix up" the garage?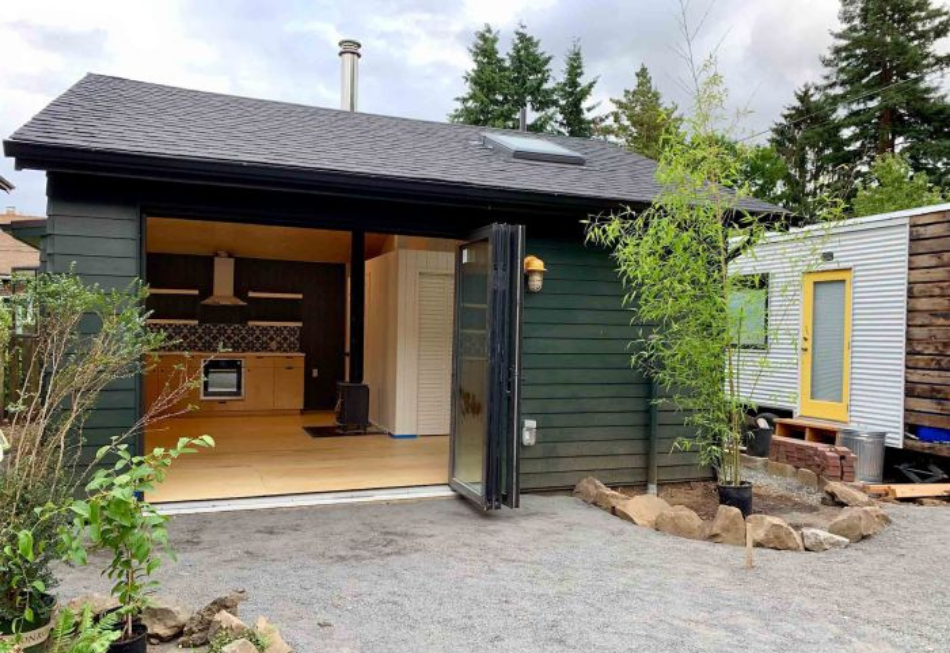 A standard move for people unhappy with working in their house is to set up an office in the garage. That's OK in a crunch, but if your remote work or self-employment will be ongoing, it's time to seriously consider converting the garage to an accessory dwelling unit.
Once people have been working in a garage for a while, they tend to start fixing it up because garages are dark, dirty, and depressing. If you need to see clients, it's worse.
You need to work in a space that's clean and professional, and in a perfect world, your clients wouldn't have to trek into your house to use the bathroom. So over time, these garage offices often morph into unpermitted ADUs.
But money spent on garage improvements—new flooring, drywall, paint, windows, or garage door, not to mention a bathroom—is probably money down the drain if you do eventually convert it to an ADU. The building codes for accessory dwelling units will very likely require you to alter or replace those improvements.
Maxable clients who have legalized their unpermitted ADUs have felt that financial sting!
Unless you're absolutely positive you will never want to convert your garage to an ADU, don't put too much money into cosmetic or structural fixes.
We crunched the numbers and did the research to show you exactly what it costs to create a garage conversion ADU home office you and your clients will love spending time in.
If you're self-employed, an accessory dwelling unit home office can save you thousands in rent
As of 2019, nearly 30% of U.S. workers were self-employed. Post-pandemic, the number is surely higher. Many of them rent office space at considerable expense, depending on the business and location.
Walter, a Los Angeles psychologist, forked over $3200 a month for an office and parking space. After he and his wife built their stand-alone studio ADU, the added amount to their refinanced mortgage was $500 a month.
That's a monthly savings of $2700, and the money is going toward their own property rather than a commercial landlord. Walter is happier and so are his patients, who no longer have to circle the city blocks looking for a parking spot.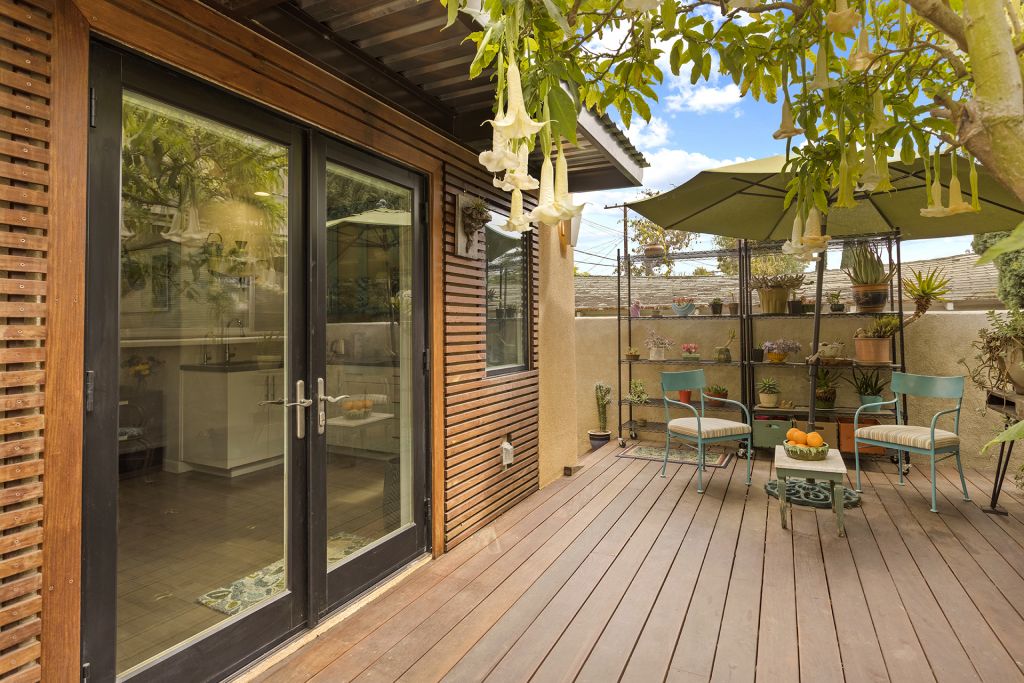 My accessory dwelling unit home office story: from writer's refuge to passive income generator
My own accessory dwelling unit started life as a home office back in 2005. I needed a place to write in peace, away from my then 12-year-old son. He got the run of the main house but I definitely wanted to be on the property in case something went sideways.
My mom lived across the country, and I built a one-bedroom unit so she'd have a comfortable private place to stay when she visited.
Mom loved the ADU! She visited much more often than she would have if she had been bunking in my den in our (small) main house.
Six years later my son graduated high school and was off to college. Mom wasn't traveling as much by that time. I decided to rent the accessory dwelling unit and move my office into the den.
The rent from the ADU paid for a large part of my son's college tuition and living expenses.
Fast forward to 2015. My son graduated college and I began putting the rental income from the accessory dwelling unit toward my retirement savings, living expenses, and vacations. I still do!
That's some great ROI.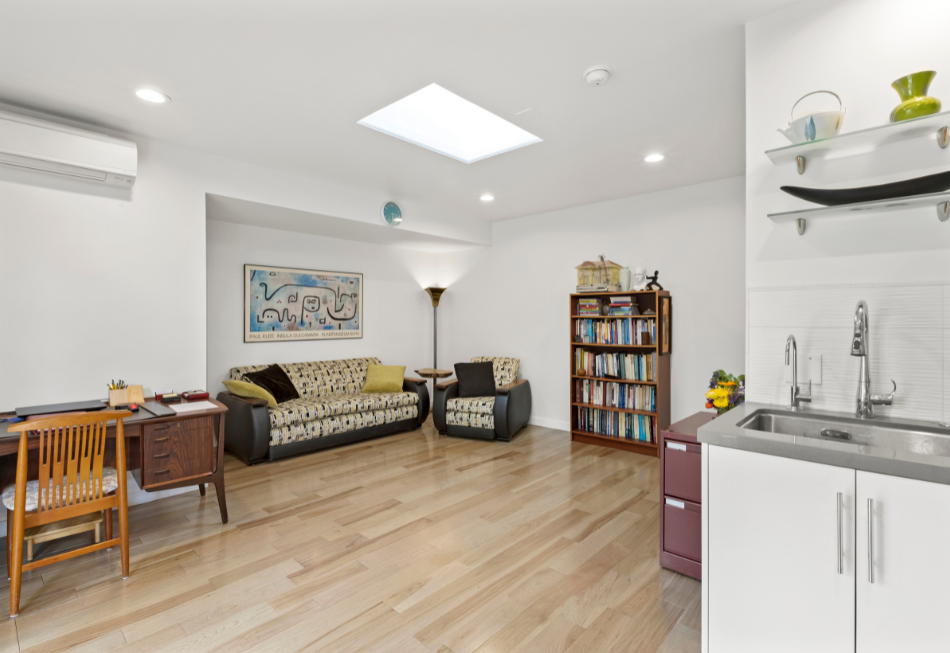 Design features for an accessory dwelling unit home office
In California all accessory dwelling units are required to have:
Minimum square feet established by your jurisdiction
Kitchen
Bathroom with shower or tub
If you'll be using your ADU as an office, consider including these features:
An entry path that's clearly separate from the path to the main house
Windows and doors designed for privacy from the main house
A separate address
Separate utility meters so you can easily deduct those bills as business expenses on your taxes
An outdoor waiting area for clients
Sound-proofing insulation–desirable if you want to ensure quiet while you work or if you'll be making a lot of noise yourself (for example, if you're a musician)
Kitchen cabinets that can double as office storage
Parking for clients
Many ADU home offices are converted garages. Check out these cool garage conversions for inspiration!
Maxable makes ADUs easy
Maxable is California's leading ADU marketplace. After writing state laws, educating thousands of homeowners, and completing hundreds of site evaluations and ADU projects, we know accessory dwelling units better than anyone else! Get in touch when you're ready to find out more about converting your garage to a home office or building a stand-alone ADU.
It all begins with an ADU Planning Phone Call.
Statistic source: "Survey: Nearly 30% Of Americans Are Self-Employed," Forbes, May 30, 2020.