Update as of March 8th, 2023
Huntington Beach council-members reconvened on March 7th and agreed to begin accepting accessory dwelling unit (ADU) applications.
The following was written on February 27th, 2023.
Huntington Beach is on our ADU shame list.
According to Huntington Beach's official city website, the city has ceased processing all new ADU and SB9 applications as of February 21st, 2023.
The question you may be asking is, 'Can they do this?'
Absolutely not. The city is legally required to allow ADUs up to 800 sq ft on all single-family properties. This is state law that was introduced in 2020 and all cities in California must comply. No if's, and's, or but's.
The action was brought forth by Councilmember Pat Burns, during a City Council meeting held of February 21st, 2023. Councilmembers met again on March 7th to discuss the decision to refuse ADU applications, but the decision was split and will be addressed again on March 21st, 2023.
Huntington Beach argues that state laws interfere with Huntington Beach Zoning and Subdivision Ordinance (HBZSO) Section 230.10 which heavily regulates the development of ADUs with restrictions like:
ADUs are not to exceed 650 sq ft
ADUs cannot have more than one bedroom
ADUs must be attached to the main dwelling
Properties with ADUs must be owner-occupied
If you're not familiar with California state regulations, just know that all of the above restrictions are in violation of current state laws and cannot be legally enforced. Our free ADU tool kit includes a state ADU Regulations Cheat Sheet which you can download by clicking below.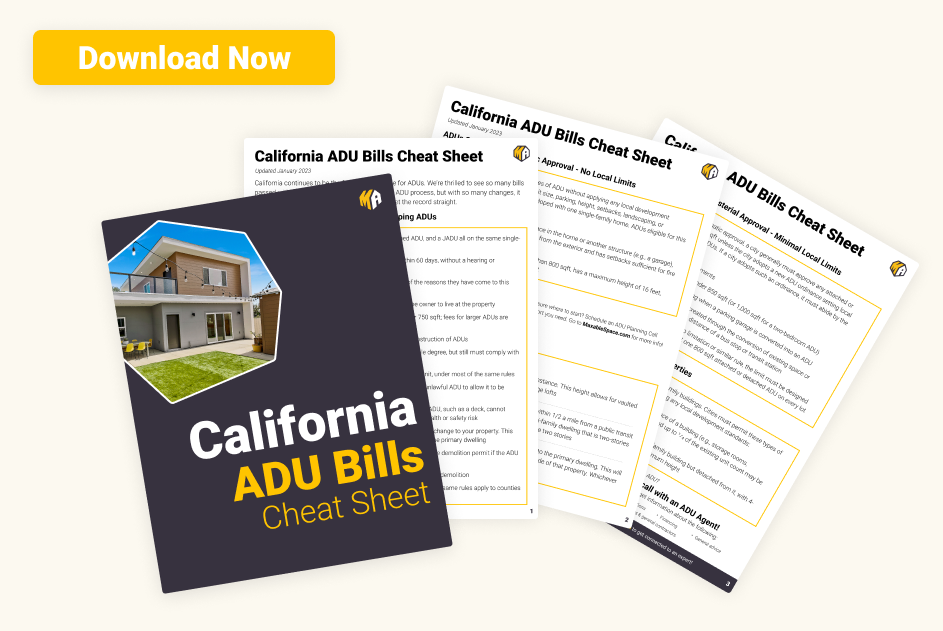 The city also wanted to file a lawsuit against the state over the requirement to allow ADUs on all single-family properties and the mandate requiring the city to build 13,368 affordable housing units over the next few years. Fortunately, they ultimately decided to not go through with the lawsuit.
What this means for Huntington Beach residents
Aside from the obvious that much-needed affordable housing won't be built, homeowners that had hoped to build ADUs and have already gone through the design process with a designer or architect will have wasted thousands of dollars on plans that can't be submitted.
Design fees for ADUs can range from $8,000 to $20,000. That's a lot of money to spend on designs that a city won't even look at!
The city has not stated when they will start accepting applications again, so who knows when those homeowners will be able to put those plans to use.
Huntington Beach's Tumultuous Housing History
Unfortunately, Huntington Beach has been a NIMBY (not in my backyard) city for quite some time and has gone to some lengths to slow the development of housing for several years, despite the desperate need for homes.
The average home in Huntington Beach is priced at $1.2 million and the average rent for an apartment is about $2,714.
According to the Kennedy Commission, Orange County ranks among the top ten least affordable metropolitan areas in the country and needs a minimum of 124,514 affordable homes to be built to house lower-income families in need.
Speaking of the Kennedy Commission, a community-based non-profit that works with organizations to increase the supply of affordable homes in Orange County, Huntington Beach currently owes $3.5 million in attorneys' fees to the non-profit as a result of losing a lawsuit filed by the Kennedy Commission in 2015.
The lawsuit addressed Huntington Beach's Beach and Edinger Corridors Specific Plan Amendment (BECSP) which violated the California Housing Element Law, the California Constitution, and state fair housing laws.
What you can do
The California Department of Housing and Community Development (HCD) is responsible for making sure cities are complying with current state regulations, but action can take time.
Huntington Beach Councilmembers will meet again on March 21st, 2023 to discuss whether they will begin accepting new ADU applications.
In the meantime, the best thing you can do until then is email the City Council and voice your concerns. They need to know that there is a demand to build more housing, including ADUs. You can email them at City.Council@surfcity-hb.org to reach all seven City Council members.