A memo hoping to boost the supply of affordable housing was signed by the Mayor of San Jose, Sam Liccardo and co-signed by fellow City Council members Sylvia Arenas, Magdalena Carrasco and Pam Foley on May 15th.
This memo describes a program that will make building ADU's even easier for homeowners by offering forgivable loans and waiving fees for residents willing to construct and lease an accessory dwelling unit to low-income renters for at least five years.
What is an ADU?
An accessory dwelling unit commonly called a granny flat or in-law suite must exist on a lot that's zoned single-family. It has its own entrance, separate from the primary house, as well as a kitchen, bathroom and living space. These units can be rented, year-round, and add a lot of value to a property. Accessory dwelling units take different structural forms. They can be garage conversions, stand-alone units, attic or basement conversions, or be attached to the main house.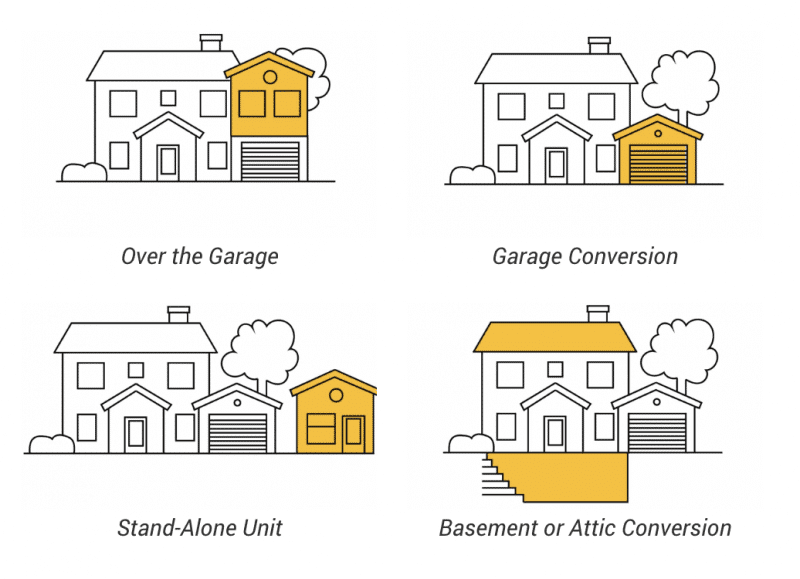 Want to learn more about ADUs and stay up to date on regulations, policies, permits, fees, and more? Download our free tool kit here!
ADU Applications in San Jose Up
In 2018, San Jose received 350 ADU applications, up from 49 in 2016. But the city issued just 190 permits. As of the end of April, San Jose had received 212 applications in 2019 and issued 104 permits.
This program which could drastically improve these numbers could be approved as early as this summer and would mean allocating almost as much as $5 million towards the initiative.  This money would then be transferred to each eligible homeowner with as much as $20,000 available to cover permit fees and construction costs.
Liccardo was quoted at a news conference Wednesday morning, "We need to disrupt the market to find a more innovative way of getting housing built in our very expensive city".
The Mayor references "untapped potential" in reference to the city's acres of landscape that is going underutilized in the neighborhoods. While ADUs are consistently referred to as granny flats and often do house aging parents or in-laws, there's been a rise in younger generations moving into these units as their first home after moving out of their parents. Young couples, seniors, and single persons find ADUs to be the ideal living space.
He notes that the main deterrents for homeowners are construction costs, city fees, and financing. This initiative would help mitigate these factors.
This is not the first time Liccardo has attempted to tackle the housing crisis, several years ago he had set out to build 25,000 homes in the city (10,000 of which would be affordable) by 2022. However, currently, this goal is struggling and is unlikely to be met.
In February, San Jose pledged to devote $100 million in affordable housing projects over the next few years. These would be primarily built as apartment complexes for vulnerable groups like formerly homeless residents and low-income seniors.
This new plan suggests partnering with the Housing Trust Silicon Valley to manage the project and help minimize the financing gap homeowners are currently facing. Around 120,000 homes have ADU potential, but only a fraction are actually building or planning to build.
Considering building a ADU on your property. It all begins with a free ADU Planning Phone Call. Talk to you soon!