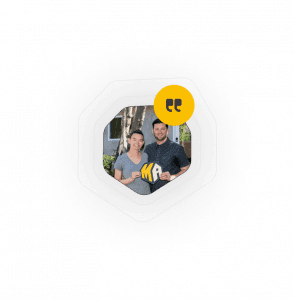 Finding a reputable general contractor or ADU designer doesn't have to be headache!
"The main thing I found valuable was getting those recommendations for the designer and the contractor. I really wouldn't have known where to start with finding a designer that could do an ADU, and the contractor too.
Getting those recommendations and being able to compare quotes was helpful. We love our ADU. It's given us so much flexibility for additional workspace and additional income and it just brings so many possibilities for us."
The Backstory
Justin and Lauren are proud owners of a stunning home just steps away from the iconic Little Italy neighborhood in San Diego. As most people witnessed in the wake of the pandemic, they were in need of some extra living space. That need doubled when they found out their first baby was on the way!
The gears started turning when ADU regulations allowed for more possibilities and suddenly that empty patch of grass behind their pool was looking more and more inviting for a cozy ADU. That's when Maxable came in.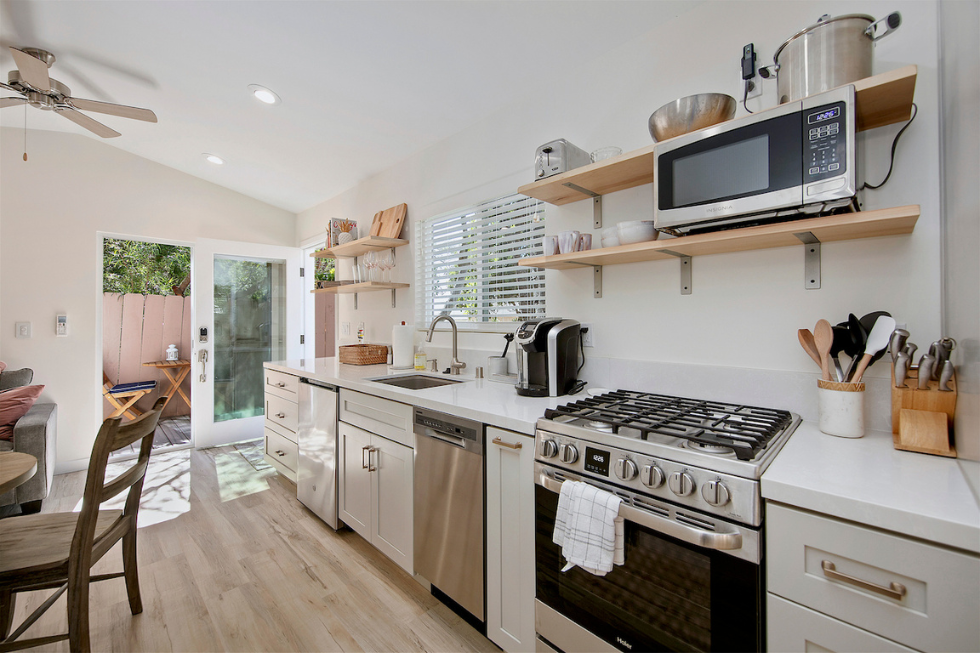 Clever Design Can Make Almost Any Space ADU-Worthy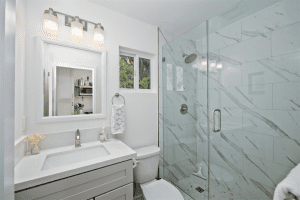 Every lot is unique and is going to come with its challenges, which is just one of the reasons why having an experienced ADU designer to take on your project is crucial. The proposed space for the ADU was a bit narrow and they ran into a bit of an issue with easements, but the designers of Ruland Design Group were able to come up with a design that fits perfectly in the space. Not to mention, they were able to make it into a one-bedroom rather than a studio, which is tough to do with 344 sq ft!
Some final touches that really tie the space together include a stackable washer and dryer, a patio, and even an outdoor shower for when guests stop by for a swim. That's definitely a feature we haven't seen before!
Maxable tip: Get creative with your ADU! Remember that this will be a structure that will be on your property for decades, so you want it to be a space that you love. Check out how this homeowner tied in a childhood memory into her ADU.
Construction broke ground with ADU Builder Pros in July 2021!
ADUs Come With Limitless Opportunities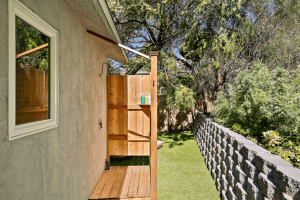 Wanting to add the finishing touches themselves, Justin and Lauren recruited help from family to finish the patio, some custom shelves, in the kitchen, and a few other details to really make the space feel like their own.
Lauren used her eye for interior design to select cozy colors and decor that compliment the tropical setting of the ADU. The project was finished with gorgeous landscaping to tie the whole space together.
Since completing their ADU, it's brought nothing but benefits! They now have a home right in their backyard for when family and friends visit. The extra workspace is a plus too!
Let's break down the costs:
$8K Permits
$12K Design
$125K Construction
Total Cost: $145K
Not a bad price for a fully functioning home!
Plan, hire, and manage your project with Maxable
Justin and Lauren had read up on the regulations, but knowing who to hire for your ADU project is another battle in itself. Luckily, at Maxable, we already have a network of vetted lenders, designers, and builders ready to tackle your project. If you've always dreamed of building your own ADU, but worried about not having enough time or knowing where to even start, hop into an ADU Planning Call with one of our ADU agents!
Click here to take the first steps towards building your dream ADU.
Credits
Design: Ruland Design Group
General Contractor: ADU Builder Pros