ADU Permit Sets (also called "plans" or a "construction drawings") include all the information your jurisdiction requires to issue building permits for your accessory dwelling unit. When the city approves these plans, you'll be ready to build.
You'll need a set of these drawings to share with general contractors so they can give you an accurate construction estimate for your ADU. You don't need to wait for the city's approval to share the plans with contractors.
In fact, your search for a GC should begin around the same time the plans are submitted. With some luck, you'll be ready to hire a contractor by the time the plans are approved.
We're going to take you through a real ADU permit set for a unit designed by the Maxable design team. Be sure to scroll down to see photos of the completed ADU that was built from these plans!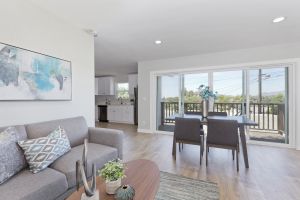 ADU Permit Sets
ADU permit sets can seem indecipherable to people who aren't designers or builders. They're highly technical and you don't need to understand every word and symbol. But it does help to have a basic grasp of what the plans contain.
No matter how airtight a set of plans is, you can expect the city to return them with a few corrections. That's totally normal, and often the requested changes are minor. Your designer will make the changes and resubmit the plans to the city.
The city may return the revised drawings much more quickly than they did the first set of plans because this time around they're only reviewing the changes.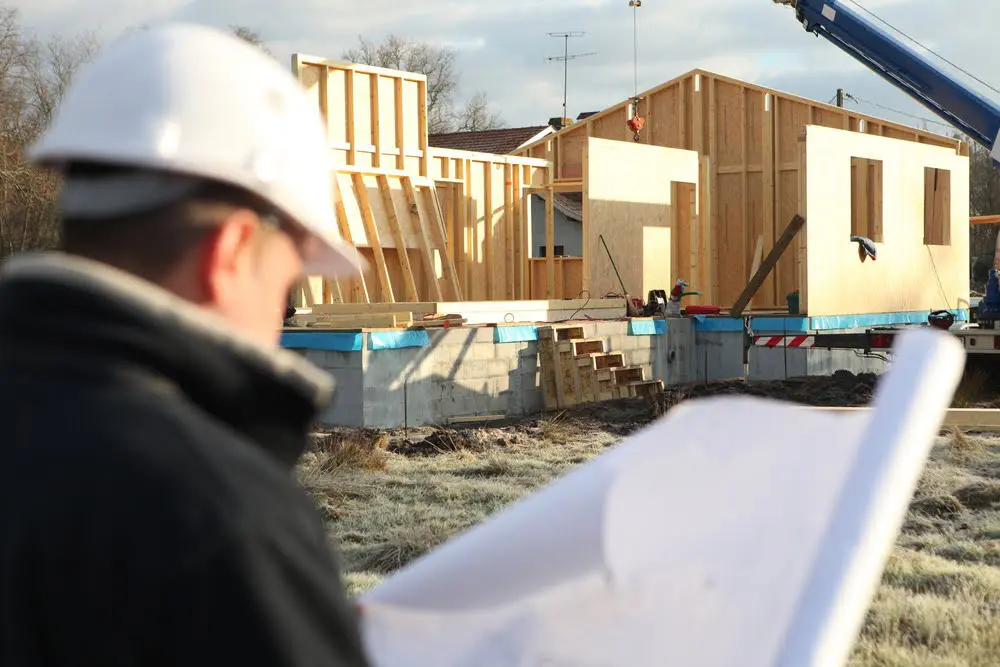 Every jurisdiction is different. The set of Maxable drawings you'll see here is for the city of La Mesa, California. Your city may have slightly different ADU requirements, but your designer should already have a good grasp of those requirements. This is also why we highly recommend you hire a local designer or architect.
Luckily, we can connect you to designers in your area based on your budget and property characteristics. Click here to check your address.
The plans for this ADU are for a fairly simple one-bedroom, 700 SF unit. You won't be able to read some of the type on the reproductions because in real life the plans are large (24 x 36 inches).
Site Plan/Title Sheet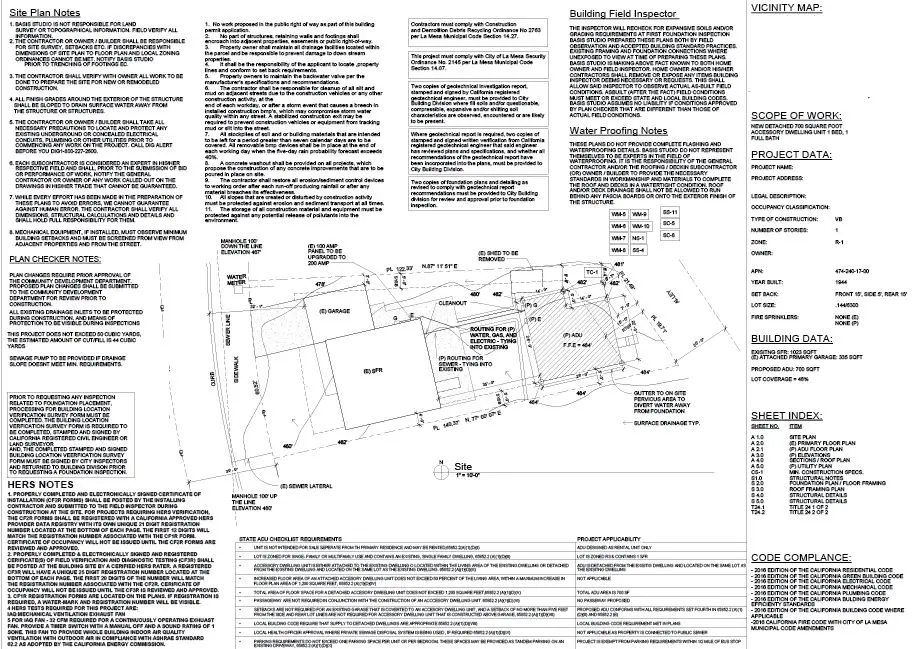 There's a lot of content packed onto the title page:
Site plan. A drawing of the existing site including the primary home, the future ADU, setbacks, utility locations, etc.

State ADU checklist. Included on the title page so the drawings can get through plan check more easily.

Project size, lot coverage or floor plan ratio, data about the primary dwelling, and other info required by the city.

BMTs (best management practices). Water management info specific to the type of project and time of year.
Floor Plan of Primary Residence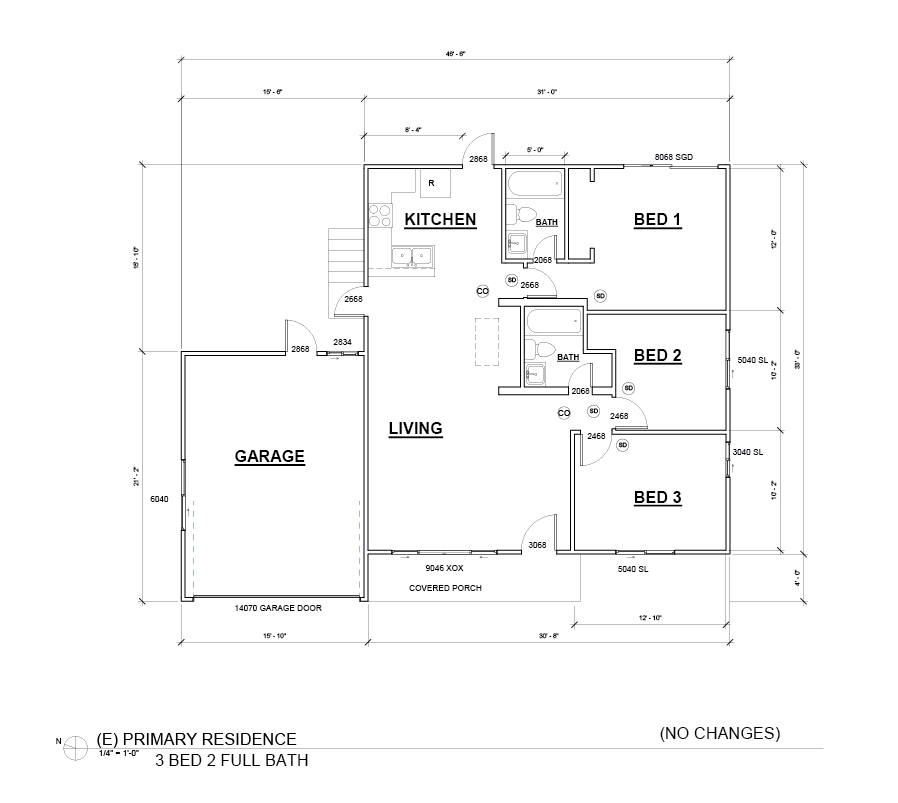 This is required by the state of California for all ADU projects to show the size of the existing structure as well as things like smoke detectors, carbon monoxide alarms, and water fixtures.
ADU Floor Plan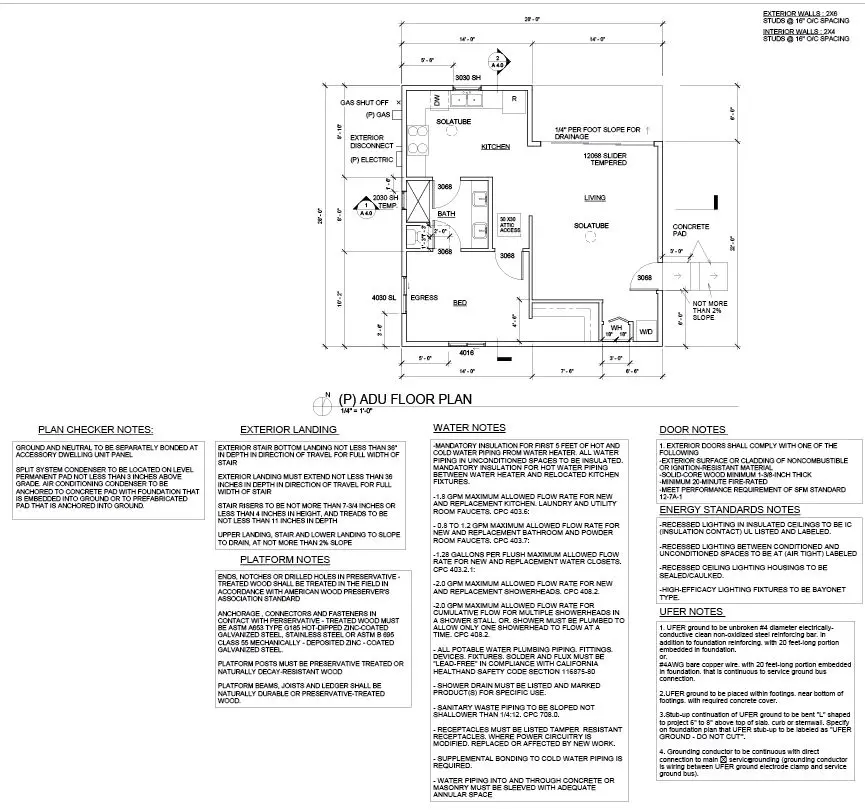 You'll recognize this from your design meetings. This is the final, detailed drawing of your ADU's floor plan. It specifies every inch, down the clearance space around the toilet, as well as things like which windows may be used for egress in case of emergency. Additional notes describe water fixtures, door construction, energy efficiency, and other ADU features.
Elevations for the ADU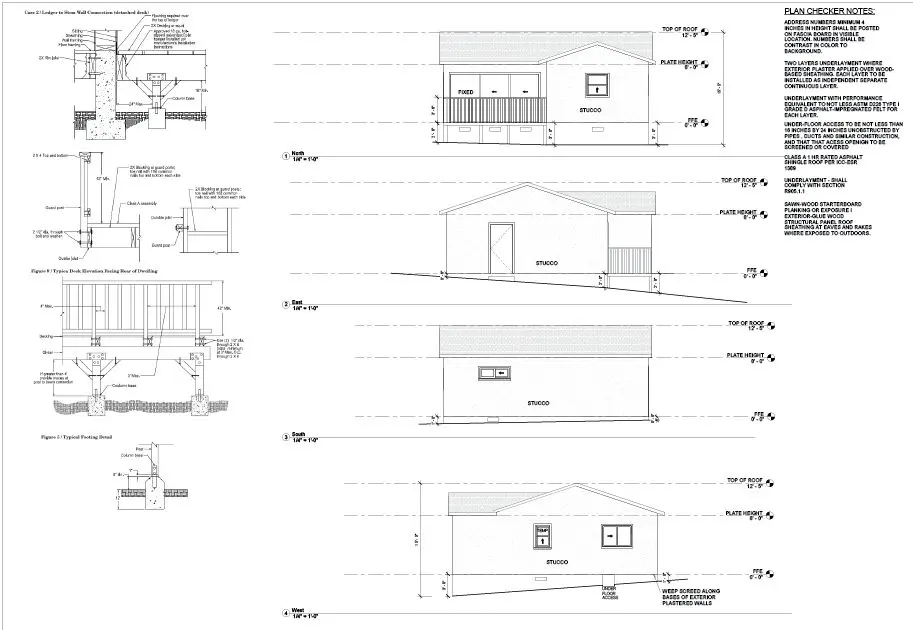 These show the height of the ADU, each side of its design, placement of windows and doors, and how the unit will sit on the site. This particular set of drawings also shows construction details for a deck that will attach to one side of the unit.
Sections and Roof Plans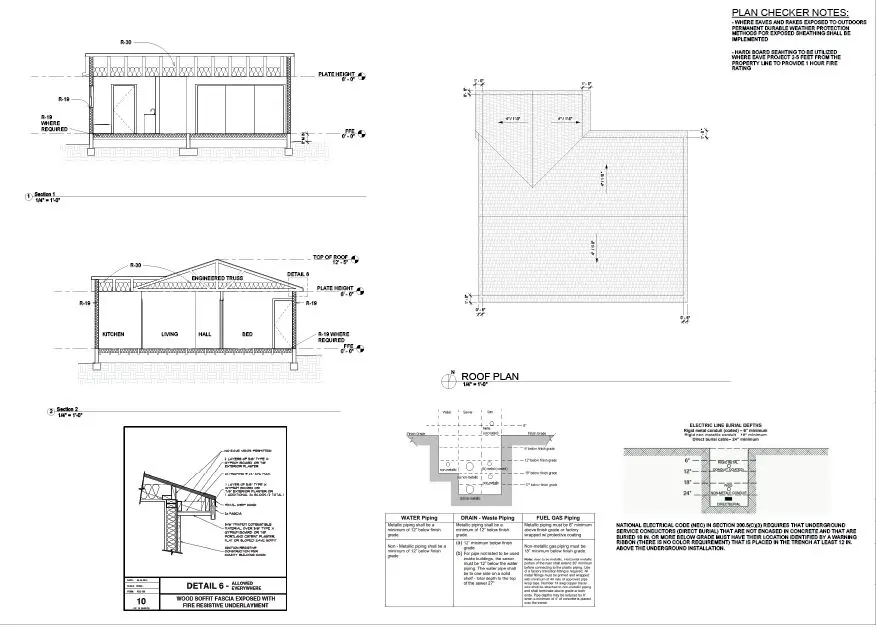 This page illustrates sections of the proposed construction, including the roof. There are also a few miscellaneous details added to the page, such as piping diagrams for water, waste, and gas pipes.
Utility Plan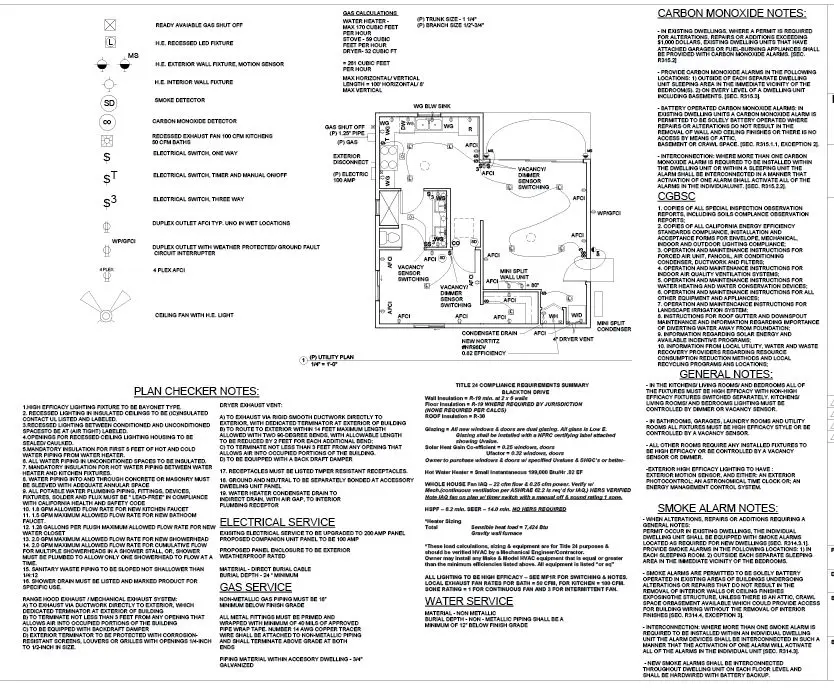 This is a very note-heavy page. It specifies the placement of the electric, gas, and water fixtures—important info for the contractor. It also notes the Title 24 energy efficiency requirements.
Minimum Construction Specifications
This page contains no drawings, only specifications in type too small to be helpful here. Your designer will use standard specifications on simple projects. For a more complex ADU, you would hire a structural engineer who would provide construction notes for your unique project.
Foundation Plan and Wall-Framing Plan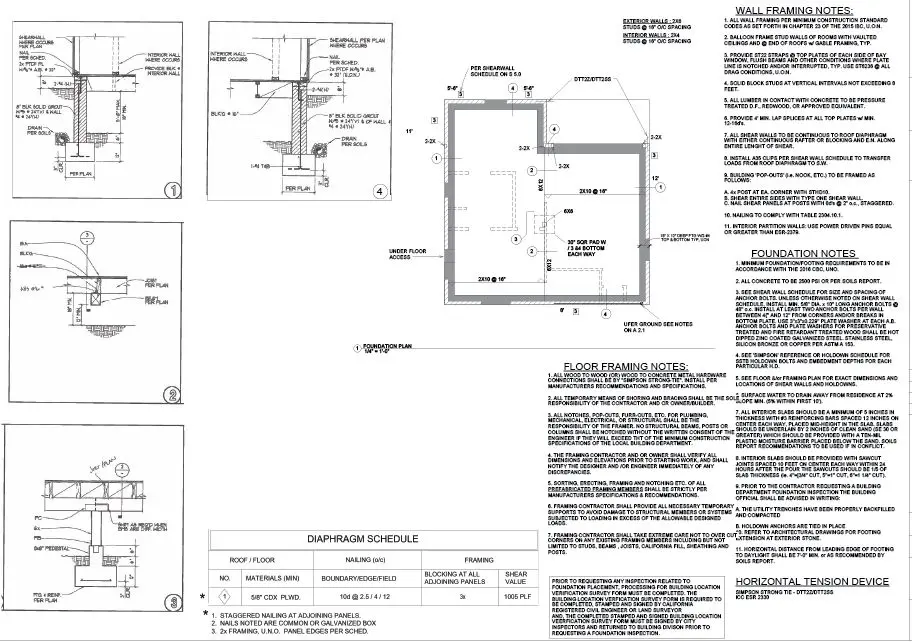 Structural drawings of the foundation, its framing, and the wall framing. The notes give additional specifications that comply with city and state building codes.
Roof-Framing Plan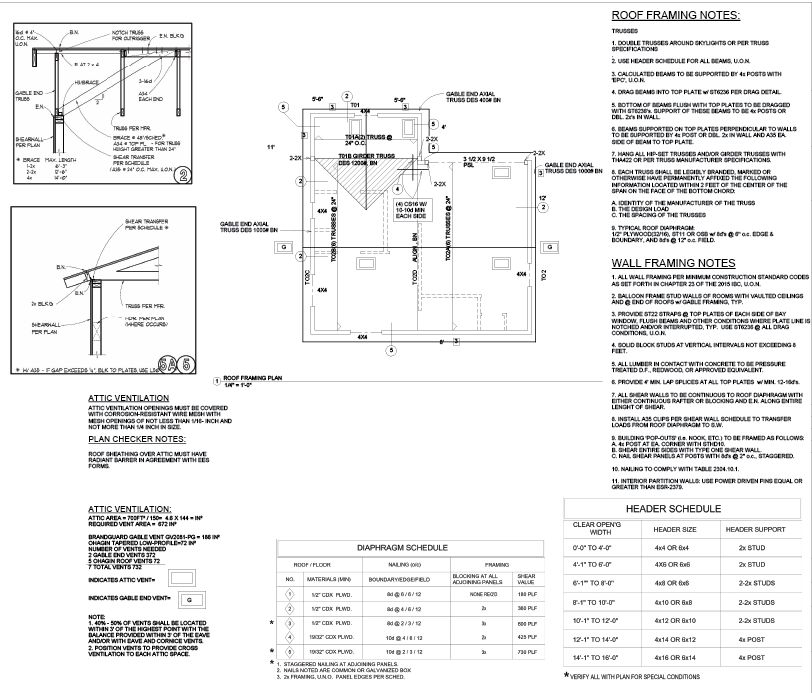 Structural drawings of the framing plan for the roof, along with notes.
Title 24 Forms
Accessory dwelling units in California must comply with Title 24 energy efficiency standards, and a page of the drawings is devoted to that.
Title 24 standards cover everything from the size of doors and windows to heating and cooling systems, water heaters, and solar power panels for new-construction ADUs. The type is too small to be helpful here.
These are the basic elements of ADU permit sets. More complex or larger ADUs will have longer, more complex plans.
Here's the completed ADU!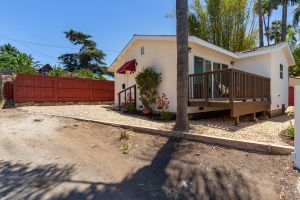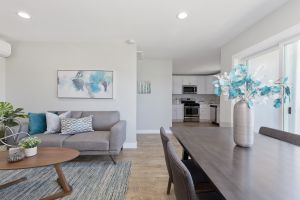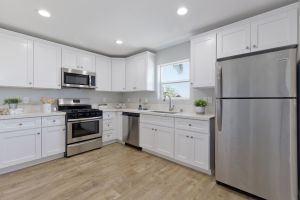 Maxable makes planning, hiring, and building your accessory dwelling unit simple
Want to explore your options on how to get started on your ADU? Our team is here to connect you to the best local designers and builders for your ADU project. Check your address here.