Photos courtesy of Open Homes Photography.
The housing crisis in California is escalating every year. Luckily, legislation was passed in 2017 making it easier to build multiple units on a single-family property.
This has opened up many opportunities for homeowners and renters alike. We spoke with homeowner Rebecca, who has 8 years of experience buying and flipping properties in the Bay Area.
She is currently in the process of selling her home in San Mateo for just under 2 million after purchasing the property earlier this year. Rebecca converted the garage into a 2-1 accessory dwelling unit and renovated the main home.
There's a huge opportunity for flippers to add major value to properties before selling through the addition of an accessory dwelling unit.
Let's explore the logistics of building an accessory dwelling unit in San Mateo and the greater South Bay region.
First, we'll start with some background information.
What constitutes an accessory dwelling unit?
ADU housing (accessory dwelling unit) is an attached or detached unit built on the same property as the main house.
Depending on the county that you live in, size requirements for your ADU housing vary.
If you are building a stand-alone unit, it can be up to 1,200 square feet. If you are building an attached unit, the new addition can be up to 50% of the new existing home.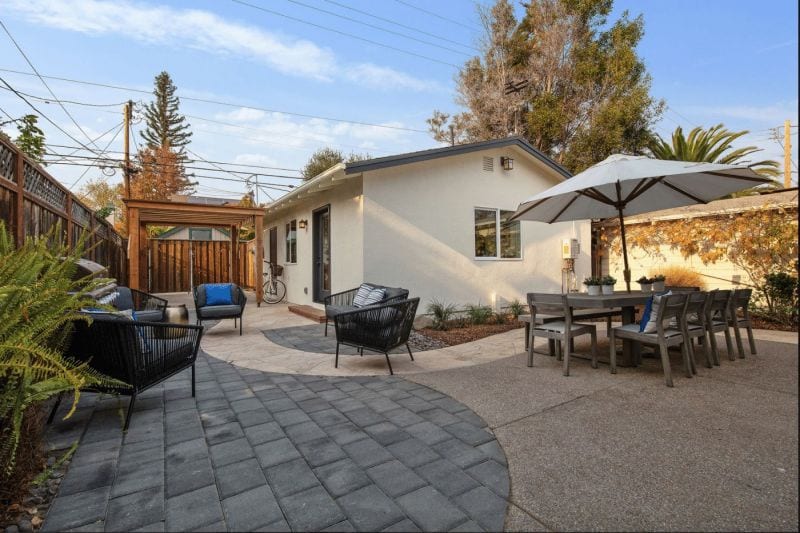 To start building your ADU housing, you need to acquire the correct permits. That is why the legislation passed in 2017 (Senate Bill 1069), is so important because it made getting permits for ADUs more affordable and easier.
The only circumstance where permits are not required is if you build a unit less than 120 square feet and the unit does not have electricity. That would be considered a shed and does not meet the legal requirements of an ADU.
Can ADU's & House Flips Go Hand in Hand?
This is the first time Rebecca has added an accessory dwelling unit to a home she's flipping, but it probably won't be the last. She purchased the property with the intent to build an ADU, renovate the primary home and put the house back on the market.
"ADU's are looked at as an advantage to the owner or investor. As a flip, permitted ADU's are more appealing and a safer investment. Also here in the San Mateo area ADU's are definitely a benefit as there's limited single-family spacious homes so long as the investment is not on the high side."


The property she purchased was a single family, two bedrooms, two bathrooms home with a detached garage in the backyard. She intended to reside in the home as her primary residence but wanted to do all the upgrades since she has experience in flipping homes so decided to take on the project of converting the detached garage into ADU housing to have a nanny live in or to rent out.
"When I found the project, it wasn't exactly what I was looking for but I saw the potential. A lot of times when I look for homes I either look for larger garage spaces typically, like what you find in San Francisco where there is extra large garages or have additional space around the garage area for the ability to expand."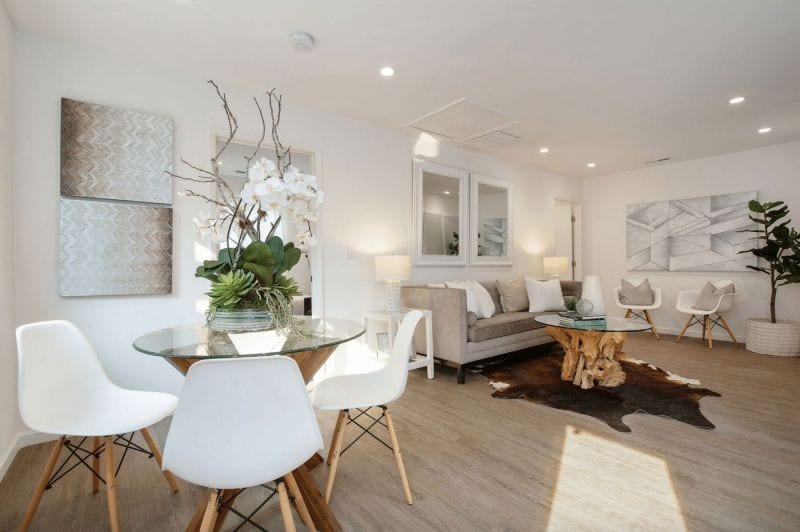 To her surprise, the local government was very supportive of her decision to add the additional square footage to the home.
""I had an idea of what I could do for short term and long term and I saw the potential with the detached garage. I did quite a bit of research with the city prior to putting an offer in and sitting in escrow and realized that the city is really supportive, in San Mateo county, of expanding single family homes because of the housing shortage."
What Type of Properties Are Ideal for ADU Housing?
For those people interested in purchasing a property with the intent of building an ADU check out these 10 Characteristics You Should Look For.

What is ADU Zoning?
ADU zoning is legal zone requirements for different neighborhoods. Depending on what zone your property is located in will change what permits you are required to obtain.
Different types of zones include school zones, public transportation zones, and community zoning.
For Rebecca, her property was located in a zone with school and transportation fees. This added an additional $1,500 – $2,000 per zone requirement on top of the $1,500 to purchase the permit to convert the garage.
"The permit itself for the ADU was not that much, it was about $1,500. But there are transportation and school fees depending on where you are located in the county…Each of those cost around $1,500 – $2,000."

So, How Much does it Cost to Build an ADU?
The thing that not many people realize about ADU housing is that you have to treat the project like building a full-size house. That was one thing that Rebecca realized quickly after taking on this project.
"The cost [for a detached ADU] was a little different from expanding an existing home. You already have your plumbing, your sewage and a lot of your bases. For a detached unit, you kind of have to treat it like a whole new home….so the cost went a little higher than I had intended."
The Bigger Your ADU the Cheaper the Cost Per Square Foot Will Be
The smaller your unit the more expensive your cost per square foot will be.
Building cost will vary dramatically by region. We recommend having a budget ranging from about $200,000 – $350,000 for a detached unit in the South Bay (Garage conversions would be significantly cheaper).
There are a lot of factors that will change the final cost of building like square footage, location, and layout but it's good to have a realistic sense of what building ADU housing costs.
This may seem like a huge investment but you have to factor in the value that it adds to the property once you decide to either rent it or sell it. For Rebecca, her potential goals were clear from the beginning.
"I'm going to end with a goal of trying to make money on expanding the square footage."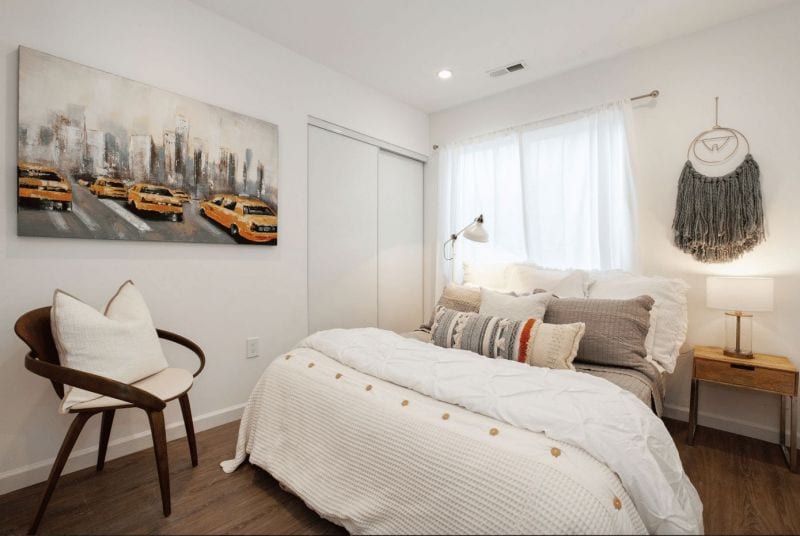 Let's dive a little deeper into the value that it adds to your property. In the San Mateo neighborhood where Rebecca purchased her home, houses can sell for around $1,100 – $1,400 per square foot.
When you multiply $1,100 by the 640 feet that Rebecca converted into living space, that's a potential added value of $704,000!
Of course, there are many other factors that will determine the added value of an ADU, but as you can see, flipping a house and adding ADU housing really increases the value of the property.
ADU Housing Timeline
Another factor that needs to be considered before you decide to build ADU housing is time constraints. Can you commit the time to build an ADU?
For Rebecca, her timeline from start to finish was relatively quick. She was very organized with scheduling workers and communicating with her architect.
"I started actual construction on the ADU end of September and finished it around the second weekend of November…For permits, typically it would have taken about anywhere from 1 to 2 months if you have everything in line. We went through two additional revisions and then the architect was out of town so it took a little longer than it normally would have. It took about 2 to 3 months."
The entire conversion lasted around 5 months, just in time to put the house on the market in mid-November. She gave us a helpful piece of advice that helped her expedite her project.
"If you do your homework and go in to the city to consult before you actually officially submit [your permit request], so you can avoid revision time…Doing your homework before, during and after purchase is key. There's permit regulations that may pop up later and it's better to be informed before it's too late so you can budget, preplan and make sure your investment is worthwhile."
This is also why we recommend working with architects who have experience in ADUs. Additional revisions with the city cost time and money, using someone who knows what they are doing saves you both.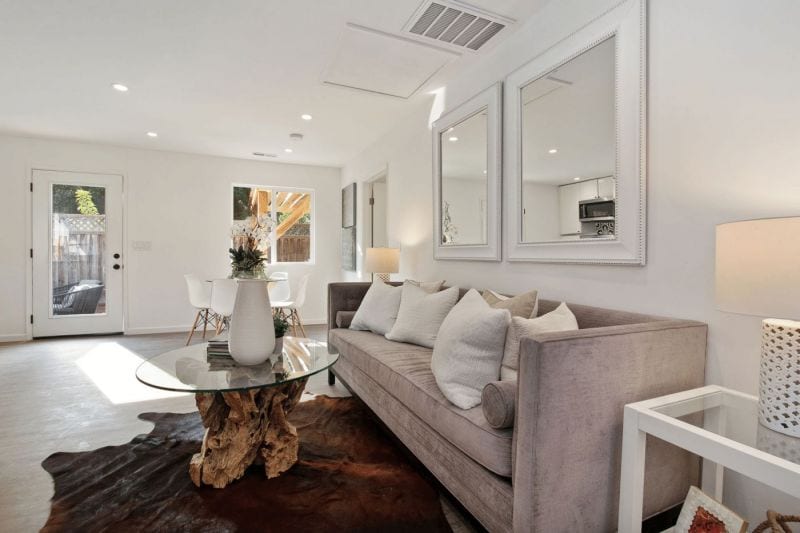 After hearing first hand some of the logistics of garage conversions in the Bay Area, does adding ADU housing seem like a good investment to you?
Download our free Maxable tool kit today to get started!
Plan, hire, and manage your ADU project with Maxable.
At Maxable, we believe that building an ADU should be fun and exciting. You shouldn't have to be the one to deal with confusing obstacles like permitting snafus or ever-changing regulations. We'll be by your side every step of the way and connect you to experienced designers and general contractors in your area to make sure your project goes as smoothly as possible.
Leave the headaches to us! Check your address and see what Maxable can do for your home during a free ADU Planning Call.