Several ADU bills have been introduced over the last few months and are currently in review. It'll be some time before we see any of these bills take effect if they pass. Still, it's a good idea to stay updated so that you know what's possible for your ADU in the future.
If you haven't already, we highly recommend first checking out the latest bills that went into effect in 2023 or downloading our comprehensive California ADU Regulations Cheat Sheet.
Without further ado, let's dive in.
AB 1033 (Ting) – Affordable homeownership units
This bill essentially removes the current ban on selling ADUs separately from the primary residence. Instead, it would leave the decision in the hands of individual cities and counties to decide. If approved, this would be a huge advantage to homeowners!
Why? Astronomical housing prices. With average home prices between $700k – $1M, Californians are understandably jumping ship and looking out of state for better (and more) opportunities. With this bill, medium-income working families would actually have a shot at homeownership in California.
This would essentially come in the form of condominium ownership, which is a means of creating homeownership opportunities in both new and existing buildings. Allowing a condominium sale of ADUs is a fantastic way to offer reasonably priced starter homes.
Not only is this bill realistic, but it is already working in other locations! Some notable success spots include Seattle, WA, Austin, TX, Portland, OR, and Princeton, NJ! In fact, they have been succeeding at this for years, helping to offset the widespread housing crisis.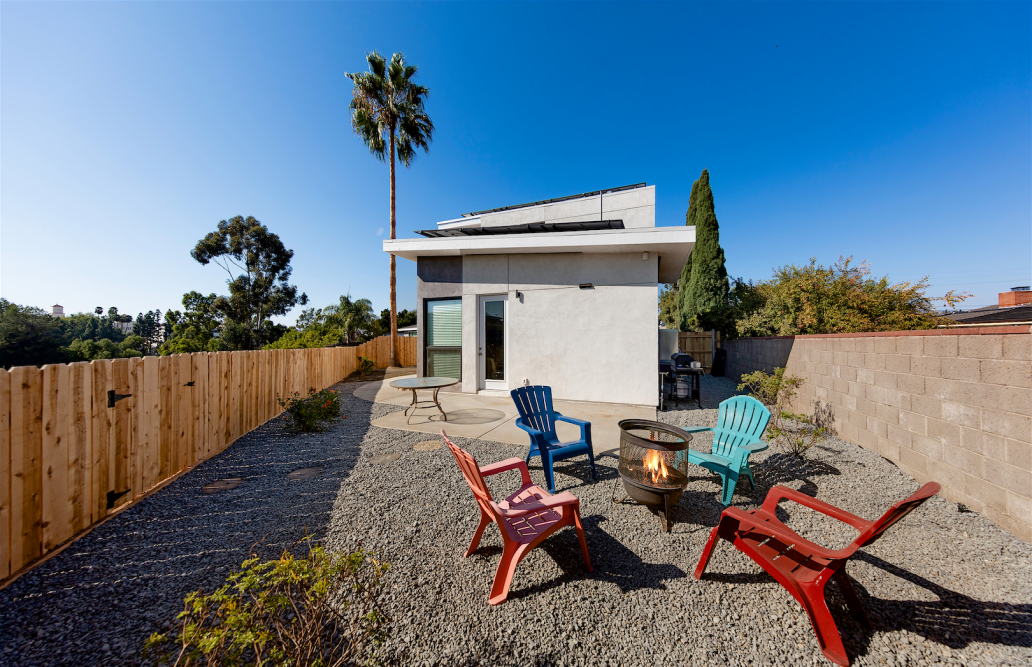 AB 976 (Ting) – Permanently prohibit owner occupancy restrictions
Right now, state law prevents cities and counties from requiring ADU owner occupancy. But this soon expires, meaning that inconsistent policies across the state could emerge and threaten ADU financing options as early as January 1, 2025.
So, what is owner occupancy?
In so many words, it requires that the owner of the property live on the property, either in the ADU or in the main house. This massively undercuts potential rental income that could be otherwise leveraged.
Put plainly, this could be a nail in the coffin for financing opportunities.
How? Owner occupancy requirements mean less potential rental income. This potentially signals to banks that there is a greater risk for homeowners to default on their loans. This would disincentivize banks to lend money for ADU constructions.
Worse yet? Some local governments could really bring the hammer down and prevent both the ADU and the primary residence from being rented.
Banks aside, owner occupancy often dissuades homeowners from building an ADU in the first place, as well. With less passive income to offset the costs of building an ADU, homeowners may decide it's not financially viable.
Studies show that where owner occupancy restrictions are in place, ADUs just don't get built. So, take action now to pass this law and prevent this major roadblock for homeowners looking to build and finance ADUs.
AB 1661 (Bonta) – Separate metering for ADUs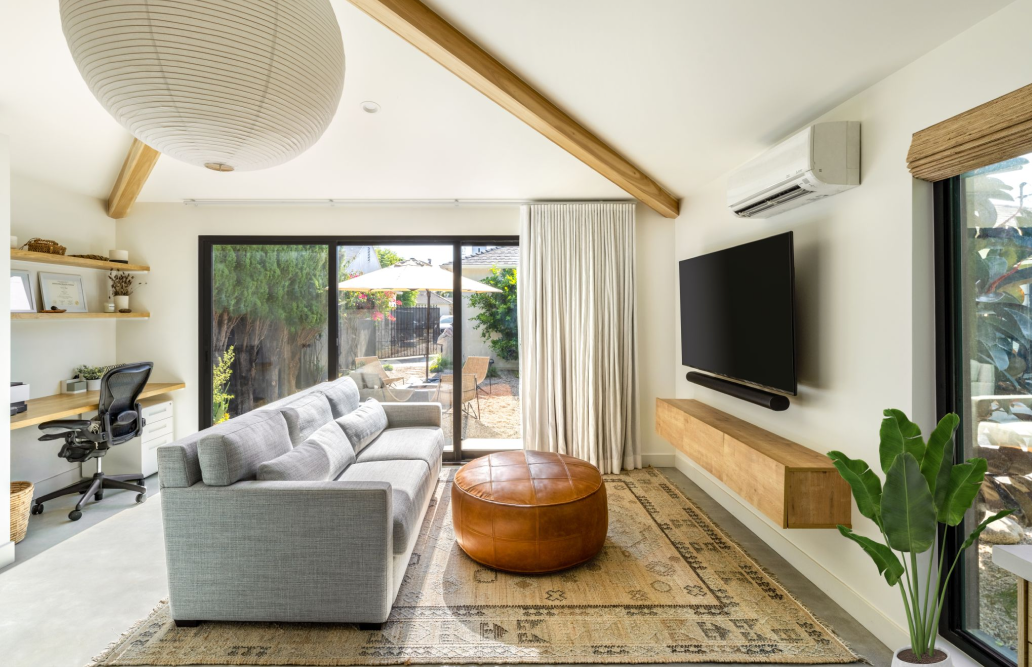 AB 1661 discusses a new amendment to an existing law that gives the Public Utilities Commission regulatory authority over public utilities, including electrical and gas corporations. The original law required all residential units in certain types of buildings to have individual meters for electrical and gas services. However, the new amendment exempts accessory dwelling units (ADUs) from this requirement.
If a property owner chooses to have the ADU's electrical and gas services metered through existing or upgraded utility meters on their property, the ADU will not need to have its own individual meter.
AB 932 (Ting) – Requires CalHFA to report on ADU funding results
By now, you've probably heard about CalHFA's $40K grant that got everyone buzzing. It was a huge success, with the $100 million pool being depleted in just a few months.
The government had granted an additional $50 million to CalHFA since there is still so much demand, but ultimately decided to pull this money for other incentives, BUT with bill AB 157 going into effect on January 1st, 2023, the group is being asked to develop a working group to develop recommendations to assist homeowners in qualifying for loans to construct ADUs and JADUs on their property and to increase access to capital for homeowners interested in building ADUs. Click here to read more about the bills that went into effect in 2023.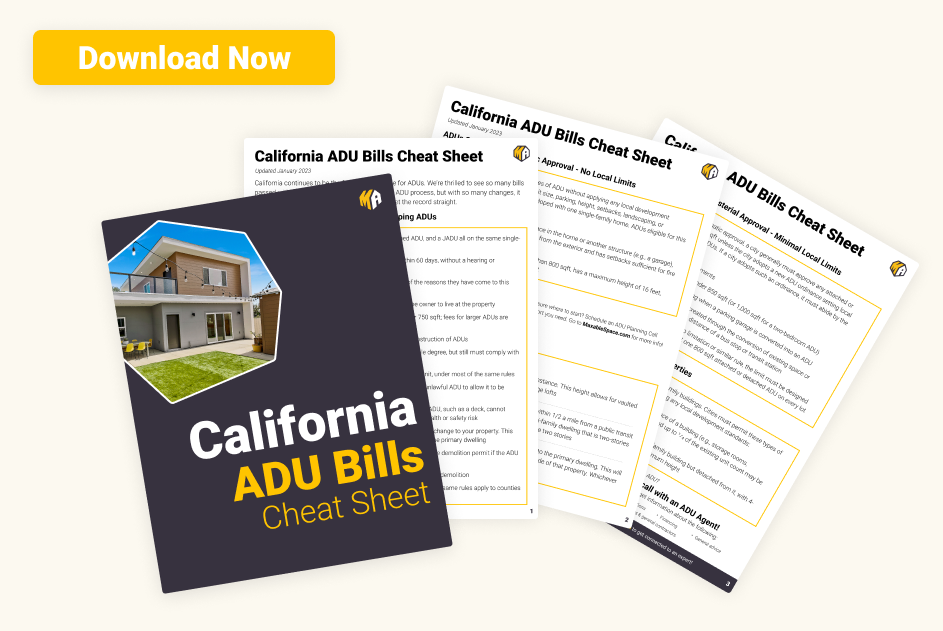 With AB 932, there will be an additional requirement for CalHFA's working group to report its recommendations to the Legislature by January 1, 2025, as specified. This means that the working group will need to submit a report to the California Legislature detailing their recommendations for the ADUs by this date.
What does this mean? Mostly nothing for now, but depending on the success of CalHFA's working groups, this could mean even more positive changes to legislation and incentives after 2025.
AB 42 (Ramos) – No sprinklers for ADUs under 500 sq ft
Fire sprinklers are a big hindrance for homeowners wanting to build an ADU as they can be costly to install. Thankfully, bill SB 897 already got a head start in getting rid of this requirement by no longer requiring a group R occupancy change for properties with ADUs.
If AB 42 passes, habitable dwellings (including tiny homes) under 500 sq ft will no longer need be required to have fire sprinklers either. Fingers crossed that this one passes too!
AB 671 (Ward) – Separate ADU sales for community land trusts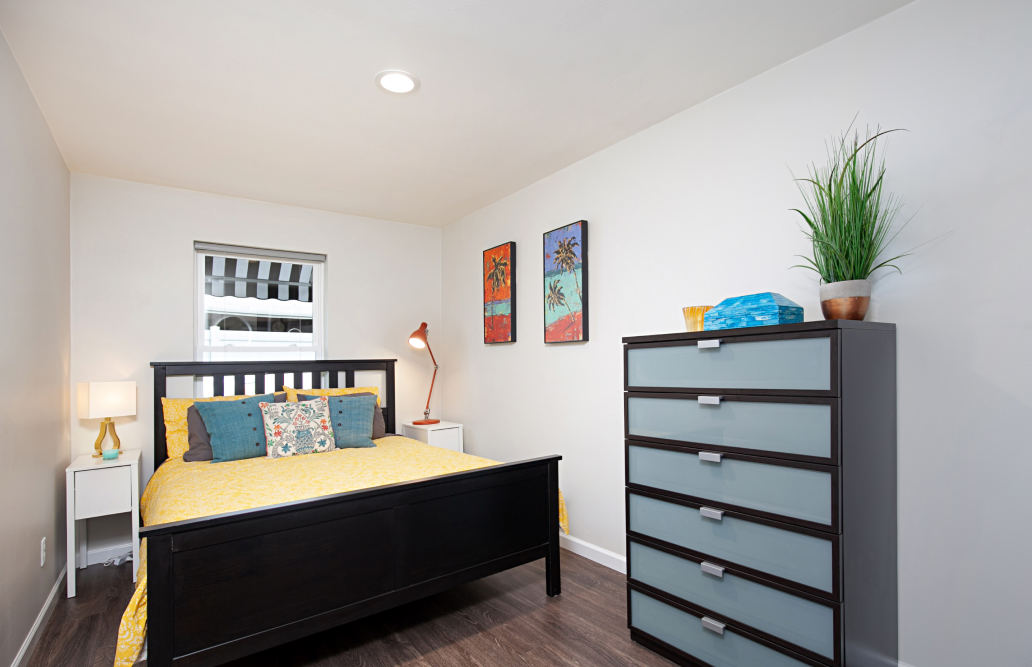 AB 671 discusses a new amendment to the existing CalHome Program, which is designed to support homeownership programs for lower and very low-income households in California. Administered by the Department of Housing and Community Development, the program provides funding to help households become or remain homeowners, and to provide disaster relief assistance to those in need.
The new amendment requires the department to allow community land trusts that receive program funds to purchase residential real estate and construct accessory dwelling units (ADUs) or junior ADUs on the property. Community land trusts are non-profit organizations dedicated to providing affordable housing. Once constructed, each dwelling unit can be leased or sold separately to different households.
The aim of this amendment is to make it easier for community land trusts to create more affordable housing options in California. By allowing them to use CalHome Program funds to construct ADUs and junior ADUs, they can increase the supply of affordable housing in a cost-effective manner. This is an important step towards addressing California's housing crisis, particularly for lower and very low-income households who struggle to find affordable housing.
High hopes for these bills
Remember, these bills are still in review and they have a long ways to go. However, we have high hopes that at least some of these will pass.
We love to see these improvements, but these rapid changes can sometimes be a double-edged sword. Historically, we've seen city planning departments struggle to keep up with changes, causing a lot of headaches for homeowners and designers trying to get permits.
Finding an experienced designer that is well-versed in state and local regulations is going to make your ADU process a lot easier. How do you know you're hiring a quality designer?
Check your address with Maxable. We've built a powerful network of designers, architects, builders, and lenders through our rigorous vetting process to make sure we're matching you with only the best in the ADU industry. Find out what our clients have to say about working with Maxable in this exclusive ADU tour!