Special thank you to Chris Dulnikowski of Ruland Design Group for lending her expertise for this blog.
There's hardly a better place to build an ADU than in California! With stunning ocean views to take advantage of and the need for more affordable housing options, hundreds of California homeowners have already made the move to add an ADU to their property.
So, what is an ADU? It stands for accessory dwelling unit, which is essentially an additional housing structure built on the same property as a main home or main structure. You may have heard them referred to as granny flats, casitas, guest houses, or in-law suites.
ADUs can be built on a single-family lot or a multi-family lot (e.g., apartments, duplexes, etc.). But to be considered an ADU, the structure must have its own, separate entrance from the primary house, as well as a kitchen, bathroom, and living space.
In California, anyone with a single-family home in a residential zone or mixed-use zone can add an attached ADU, a detached ADU, and a JADU, all on the same property! Additionally, state law says that your jurisdiction must allow you to have an 800 sq ft ADU regardless of other development requirements. That being said, you may be allowed to build bigger depending on your specific ADU and city. For more information, here are 10 things you need to know about building an ADU in California, including ADU-specific laws and regulations.
When building an ADU close to the ocean in California, it is very important to be familiar with coastal overlay zones. So, let's break down what this means and talk through what adding an oceanside ADU in these areas might look like.
Understanding Coastal Overlay Zones in California
Coastal overlay zones are essentially swaths of land close to the beach that run all up and down California's coastline. The California Coastal Commission serves to protect these wetlands, beaches, and ocean access points. Therefore, there are certain building requirements and restrictions for anyone looking to add an ADU in these areas.
Some common constraints are parking requirements, height restrictions, and view corridors. You are often not required to provide parking for your ADU in California. But the exception is within certain coastal overlay zones, which can require it. Also, view corridors are closely monitored to prevent homeowners from adding a three-story ADU on a hill, for example, that could potentially block a neighbor's gorgeous ocean view. Certain height restrictions can sometimes also exist.
It's important to note that each municipality treats these zones differently and has separate building requirements. These zones are mapped out online, so it's a good idea to find out exactly where your property falls within them. In fact, we've heard of homeowners who weren't even aware that they were living within a coastal overlay zone at all! Having said that, expect building regulations to be more restrictive the closer to the beach you are.
To learn if you are in a coastal overlay zone, reach out to your local building department or check out this map.
Steps for Building an ADU in a Coastal Overlay Zone in California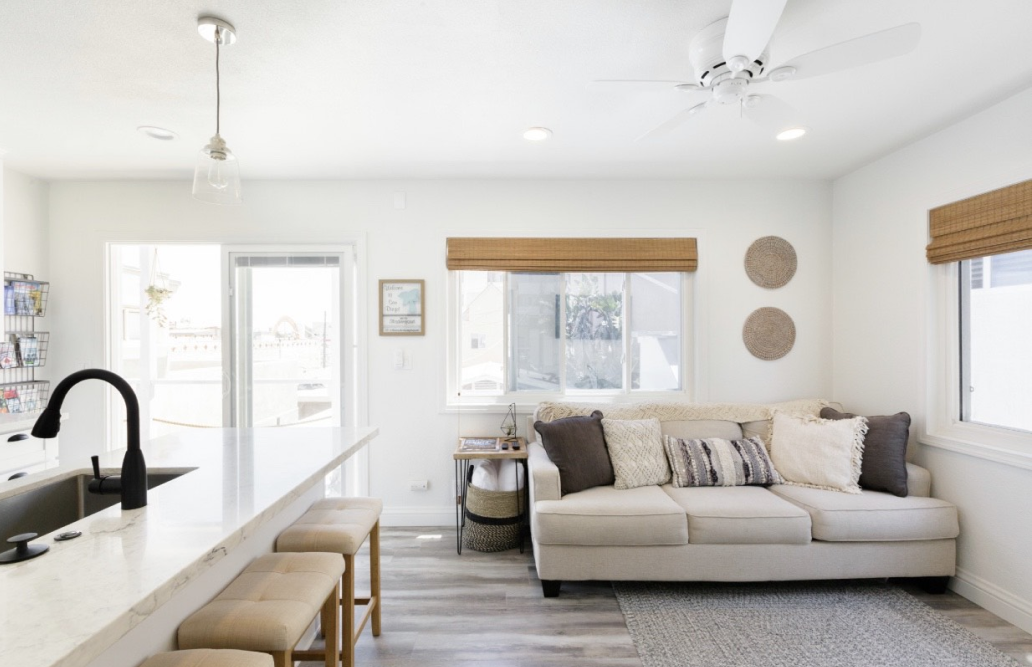 If you are thinking about tackling an ADU project in a coastal overlay zone, there are certain steps and considerations along the way.
Step 1: Research Local Zoning and Building Codes
As mentioned earlier, different municipalities have their own regulations you must follow. Since this will impact how you design and build your ADU, make sure you have a firm understanding of what you can and cannot do in your area. Even the next town over could operate totally differently!
Step 2: Get Your Permits
Once you hire a designer and draft up construction drawings, it's time to get your ADU permitted. This is where the traditional ADU timeline becomes quite extended. For ADUs in coastal overlay zones, you will need to obtain both a standard building permit and a coastal overlay permit.
A building department review is required for every ADU in California and is necessary to acquire a building permit. It is separate from the coastal department review, which is needed for all ADUs looking to get permitted in coastal overlay zones. Building department reviews typically happen concurrently with the coastal department review. However, within very specific areas of the coastal overlay zone, the building department review happens first. Fortunately, having the two reviews occur simultaneously saves time, provided there is not too much back-and-forth.
When it comes to your coastal department review, there is unfortunately no one-size-fits-all timeframe. Areas closer to the beach can be more complicated, which means longer, more expensive reviews. Properties further away from the beach within coastal overlay zones often have quicker, more manageable requirements and reviews.
To give you a better idea, anticipate an extra 2 – 4 months to permit an ADU in a more straightforward part of the coastal overlay zone. For ADUs in trickier spots, often closer to the beach, you could be looking at an additional 1 – 1 ½ years. While this may be shocking, it is absolutely not unheard of to have a 2-year review of an ADU with the coastal department within these zones. Keep in mind that this excludes any time needed for your building department review.
Permitting costs are definitely worth noting, as well. Coastal overlay zones typically have additional permitting fees on top of the regular building permit cost. These fees can run anywhere from a few extra thousand to an additional $16,000. This wide range usually has everything to do with how close you are to the beach.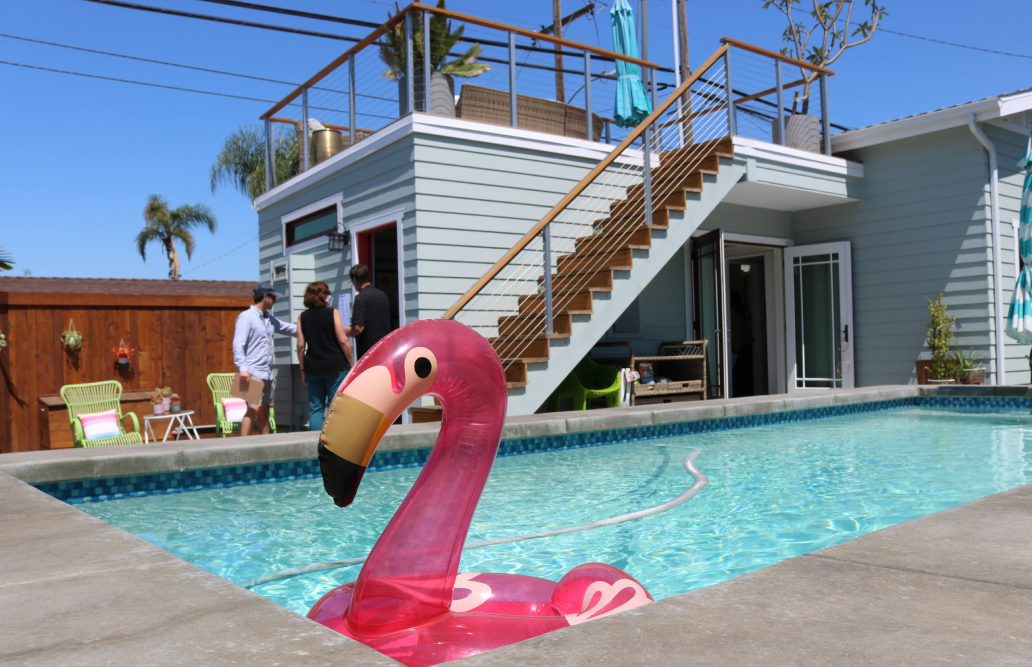 Step 3: Double Check Your ADU is in Compliance
Lastly, ensure that your ADU is in compliance with coastal overlay zone regulations that are specific to your municipality, such as setbacks, height limits, and floodplain requirements.
All in all, time is the biggest consideration for anyone thinking about building an ADU in a coastal overlay zone. If the lengthy timeline isn't a big deal, then trust us when we say that your seaside ADU will be well worth the wait!
Choosing the Right Materials and Design for Your Coastal ADU
There are certain smart building techniques, materials, and design choices to consider when building a coastal ADU.
A great place to start is to first determine your goal for the ADU, like if you plan to rent it or use it to house family members. Depending on your vision, the ADU design will go down one of two paths.
For instance, say you want to rent your ADU in San Diego near Pacific Beach, where there are many younger people with roommates. This could easily drive certain design choices, like the number of bedrooms and bathrooms you choose to include. Or if you'd like to rent your ADU in a very densely populated area, adding parking could be a huge amenity to draw interested tenants.
Any time you're designing a coastal ADU, find ways to maximize the idyllic, coastal aesthetic of the environment. This might mean using coastal colors and natural materials, or creating peaceful, outdoor living spaces. Also, take advantage of the location whenever you can! Line up any living room windows to optimize the most stunning, million-dollar views the moment you walk into the space.
When it comes time to build your ADU, it's important to implement building materials and techniques suitable for the environment. Have a professional come to your property to analyze the wind load calculations in the area. Low slope and hip roof systems do a great job at reducing wind loads on your ADU, and installing shutters to protect any windows and doors can also help protect it against strong winds. For peace of mind, have a professional engineer vet your ADU to guarantee that it's structurally sufficient.
As for appropriate building materials, opt for options that will tolerate constant exposure to salt air, such as decay-resistant woods (e.g., cedar) or composite materials (e.g., concrete) that require little to no maintenance. These are also good water-resistant materials.
Ideally, all exterior trim and siding should be made of non-wood composite materials like fiberglass and non-cellular PVC plastic to ensure maximum water resistance. Also, the best windows for withstanding strong wind pressure and debris are those with laminated glass and impact-resistant coating. And if you can shell out the extra cost, standing seam metal roofs provide excellent wind and corrosive protection. And an added bonus? They look quite aesthetically sharp!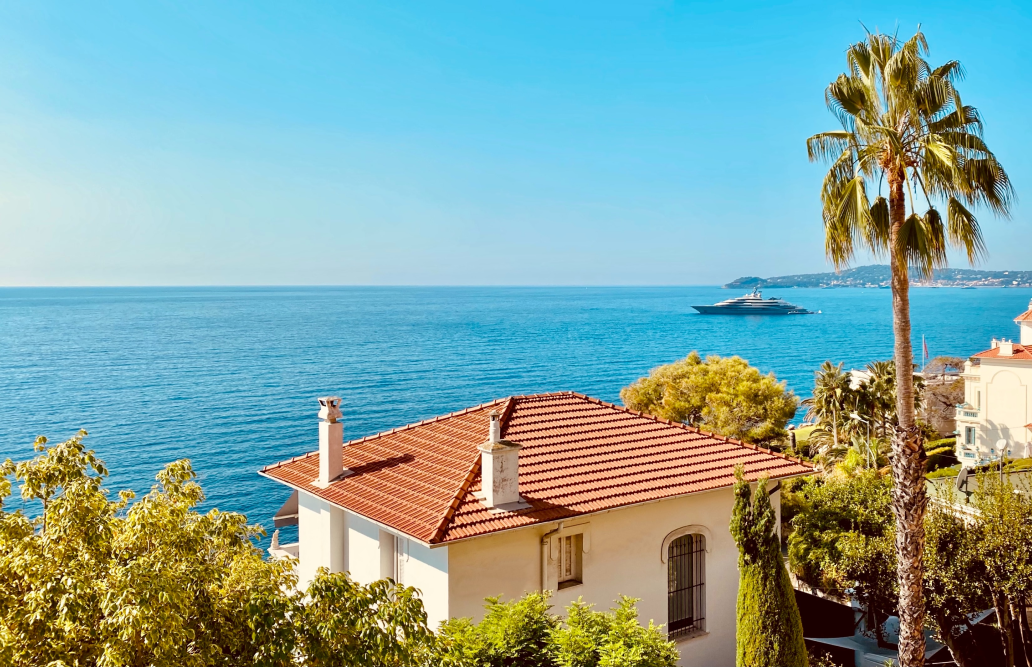 Tips for a Successful ADU Building Project in a Coastal Overlay Zone
The best way to kickstart any coastal ADU project is to hire a knowledgeable and experienced team. They should be well-versed in designing and building within coastal overlay zones. There are many regulations, restrictions, and factors to juggle, so you'll want a team who is comfortable doing so. That way, they don't make avoidable mistakes that cost you time and money.
Communicating effectively with all parties involved, like contractors, design professionals, and neighbors is another way to ensure a successful ADU building experience. It's important to make sure that everyone is on the same page with regard to your budget, overall vision for the space, and how your ADU will fit in amongst other nearby properties.
With an already lengthy timeline, it's also important to stay organized and on schedule as much as possible. Any project is bound to have some bumps in the road. So, set yourself up as best as you can to weather any delays in the process and keep everything on track.
Lastly, always anticipate and address any challenges or issues that may arise. Building an ADU in a coastal overlay zone is not for the faint of heart. At times, it can even feel like a test of perseverance. But it is more than doable and worth the effort it takes to get it done!
Main Takeaways for Building an ADU in a Coastal Overlay Zone in California
When it comes to building an ADU in a coastal overlay zone, some key takeaways to remember are the extended timeline, additional permitting fees, and wise building strategies and design choices to use in a coastal environment.
It is also crucial to follow your local laws and regulations. Familiarize yourself with them ahead of time. That way, you won't have to backtrack during the design phase or spend money correcting costly mistakes.
Plan, hire, and manage your ADU project with Maxable!
Building a coastal ADU is quite an undertaking with a lot of moving parts, largely to preserve the integrity of California's beautiful coastline. But fortunately, you don't have to tackle it alone!
Maxable is your go-to for everything from professional guidance to vetted designers and contractors in your area with coastal overlay zone knowledge and experience. We'll make sure the process is as seamless and stress-free as possible from start to finish.
Tell us about your project here and we'll get started building your perfect ADU dream team to get started.