Can a basement become a living space?
The answer is YES. Housing regulations in California allow you to convert your basement into a fully functional living space, or apartment, known as an ADU (accessory dwelling unit).
While basements aren't very common in California, the lucky few homeowners that do have them have an incredible opportunity right under their noses.
Much like how garages have great bones for converting into an ADU, basements do as well!
What is an ADU?
An accessory dwelling unit (ADU) is an additional housing structure built on a property that already has a residence. They're also referred to as granny flats, guest houses, casitas, or in-law suites. ADUs can be built on lots with a single-family house, duplex, or multi-family residence (like an apartment complex), and even on lots with more than one detached home.
An accessory dwelling unit has its own entrance separate from the primary house, as well as a kitchen, bathroom, and living space.
ADUs are different from tiny homes in that they are permanent structures. In many states, tiny homes are mobile: they're on wheels, even if you plan on leaving them in your backyard for years.
Maxable is your one-stop-shop for planning and managing your accessory dwelling unit project. We match you with designers and builders ideal for your project and research your property so you can make educated decisions every step of the way.
Check your address and connect with an ADU expert here!
What are the regulations for converting a basement into an apartment?
As we mentioned before, basements aren't very common throughout California. Therefore, there isn't a whole lot of information out there in regard to regulations.
What we do know for certain, however, is that the apartment will have to follow basic state and local regulations for an ADU.
Your basement ADU must have its own bathroom, full kitchen, electricity, plumbing, insulation, and private entrance.
A common hurdle that basement conversions have is that the bedroom or living space must have an exterior egress no more than 44 inches from the floor (usually a window). A lot of basements will have clerestory windows, but these will not fill the exterior egress requirement. The window must be openable in the event of a fire or other emergency to allow the occupant to escape.
An easy solution is installing a window well. A window well is a u-shaped piece of metal, plastic, or wood. A hole is dug around the window and the window well is placed to keep the space in front of the window clear.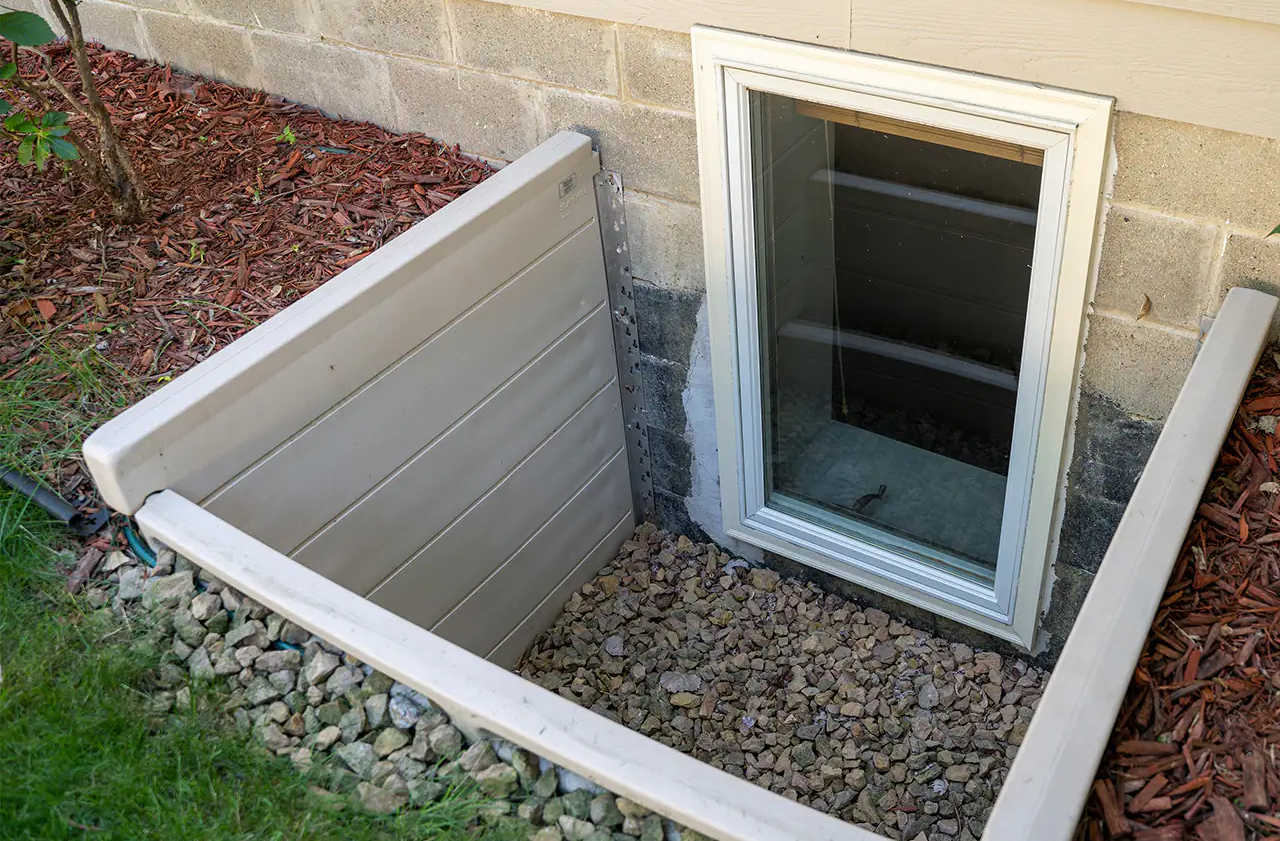 Do you need a permit to convert your basement into an ADU?
Yes, you will need a building permit to convert your basement into an ADU. However, your designer should take care of getting those approved for you. If all goes well, it should take 3-4 months to obtain your permits after you submit your plans to the city.
How much does a basement conversion cost?
Costs for converting your basement into an ADU will start at about $120,000, similar to a garage conversion.
Notice how we don't mention cost-per-square-foot numbers? That's because there are a lot of factors that can skew this number. Just because your neighbor spent $400 per square foot for their ADU doesn't mean your project will be in that same ballpark.
Keep in mind:
The cost per square foot for an ADU goes down as the square footage goes up.
You're paying for all the infrastructure of a larger home (like plumbing, heating, bath, and kitchen) without nearly as much "cheap" square footage (bedrooms, halls, big living rooms) to offset the price per square foot.
There are fixed costs associated with permitting and design fees.
Margins are smaller for general contractors, subs, and architects, so they charge more per square foot compared to larger homes.
How do you convert a basement into a living space?
You'll want to start by defining your short-term and long-term goals. You may have a specific purpose for your ADU in mind, like passive rental income, but have you thought about 10 years from now? What if, in the future, you decide to downsize and move into the ADU yourself? These types of decisions are going to heavily influence the design decisions you make in your ADU.
Once you have everything figured out, you'll want to meet with a designer that has successfully designed and permitted at least a handful of ADU projects in your area. This is crucial.
An ADU designer with experience is going to have a much easier time pulling your permits. Check out our blog on how to source a designer for your ADU project.
While your designer deals with the city, this is a great time to start looking for a general contractor. GCs are in high demand right now, so getting on their schedules as soon as possible is going to be a smart move.
We highly recommend getting bids from at least three GCs so that you can get a ballpark idea of construction costs and you can weed out builders who try to under or overbid. We have a complete guide on sourcing a general contractor for your ADU project here.
Maxable is your go-to source for San Antonio ADU info!
Got a taste for more ADU intel? Maxable has been educating homeowners and helping them design and build ADUs since 2017. Check out our blogs, ADU Tours, and Youtube channel to find all the tips and tricks you need to get your project off the ground. Start learning more today!