A garage conversion is the most cost-effective accessory dwelling unit you can build. No wonder they're so popular! By using the existing framing and roof of your garage, you can save thousands on construction.
So exactly how much does a garage conversion cost?
It's the age-old question we get asked again and again. If you want the short and sweet answer, a garage conversion cost will start at about $120,000.
Huh?
You're probably wondering: Why is the cost so high?
That's where the long answer comes in.
When we first launched Maxable, homeowners often thought it would cost about $50,000 to turn their garage into a livable little house with a kitchen and bath.
We've seen hundreds of these garage conversions come to life, so believe us when we say that a $50,000 garage conversion in California likely won't be possible.
And since every garage, property, homeowner, and city is different, it's near impossible to give a ballpark figure right off the bat. Even the time of year you decide to build is going to heavily influence the cost of your garage conversion.
What we CAN do, however, is break down the costs so you can get an idea of how your money will be allocated during the process.
Garage conversion cost depends on your location
The entry level cost for a nice but no-frills ADU including design, permitting and construction is $120,000 in Southern California and $140,000 in the Bay Area. The prices are so different largely because of labor costs and availability.
Is there some wiggle room? Definitely! In every element of construction, the decisions you make will impact the budget.
Garage conversion cost breakdown
The design itself is only about 6% of the overall garage conversion cost. Building permits are usually much less than that. Construction is where most of your money will go.
Construction includes:
In this blog we'll take a deep dive into these areas so you can see how the money is spent and which unexpected costs might arise.
We'll also answer some common homeowner questions about: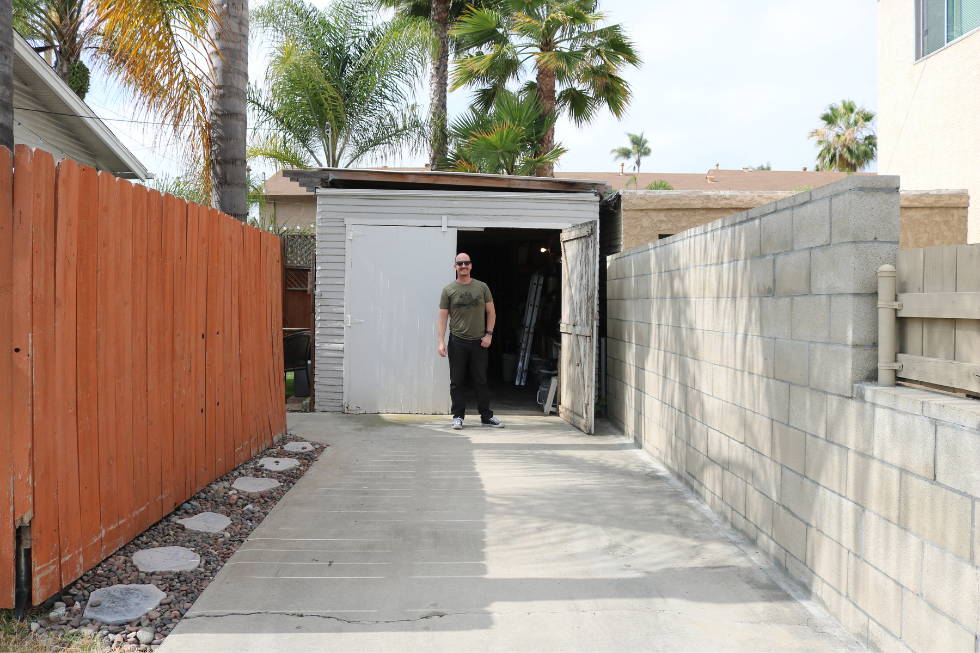 The cost of raw materials fluctuates throughout the year
A major reason costs are hard to pin down is that the price of raw materials is always changing.
That's why contractors' proposals usually have a 30-day expiration date.
The time between hiring a designer and getting your approved building permits from the city can be between four and six months, depending on the city's backlog.
So there isn't any way to guarantee that the price your contractor quotes when you first begin to design an ADU will be exactly what you end up paying.
Lumber is a good example of how raw materials fluctuate. The National Association of Homebuilders reports that between April 2020 and March 2021 lumber prices rose 180%. Reasons included reduced domestic production due to Covid 19 and tariffs on Canadian softwood.
Ask your general contractor about where they see prices going and how much extra you should budget as a buffer. At the very least, add an extra 10% over the estimated construction cost.
Ready to learn more about converting your garage? Call us for a free ADU Planning Phone Call.
A rental unit and a custom dream home:
garage conversion cost comparison
To get a sense of how your decisions about design, construction, and finishes can impact the garage conversion cost, let's consider two nearly identical garage conversions.
The garages were both the same size: 450 square feet. Both were attached to the main house.
One cost $125K to build. The other cost $200K. Almost twice as much!
Maxable design/build partner Sidekick Homes bid on the construction for both projects. Founder Florentine Christian walked us through the bids, explaining why they were so different.
A nice and affordable rental unit
First we looked at the rental unit. The homeowners wanted to build an accessory dwelling unit that would appeal to tenants. "They used inexpensive but not super-cheap finishes," says Florentine.
The ADU had luxury vinyl flooring, shaker-style cabinets, and quartz countertops—but nothing was custom, all of it came off the shelf at the suppliers'.
The windows were a decent quality, but there weren't a lot of extra windows. The other finishes, such as door handles and paint, were off the shelf as well.
The original bid for the build was $110K, but some items got added during construction:
Separating the utilities from the main house
Removal of an old stairwell in the garage
Converting the stairwell to a storage area
Hardscaping to create a fenced patio out of a portion of the driveway
This is why you budget an extra 10% of your construction estimate as a contingency. There are always unexpected expenses in home construction!
A custom dream home
Across town, a different client wanted a much more custom garage conversion.
Florentine reports, "This woman had just sold a 4000-square foot home in the Midwest and was moving to Los Angeles to be near her daughter. She had to choose between buying a condo, which would have been well over $500K in her desired area, or designing a 450-square foot ADU to exactly fit her lifestyle and tastes."
She chose the accessory dwelling unit. Her construction bid included:
Custom cabinetry on nearly every wall of every room, estimated at around $50,000
High-end custom finishes: paint, tile, flooring, lighting fixtures, sink and tub
Lots of large windows and two French doors
An enclosed patio with a pergola featuring a remote-controlled awning
…and last but not least, a pony wall with a retractable TV
Over-the-top?
Not to this client.
"She gets to live next to her daughter's family and the grandkids, and to design her dream home, all for much less than the cost of a condo," says Florentine.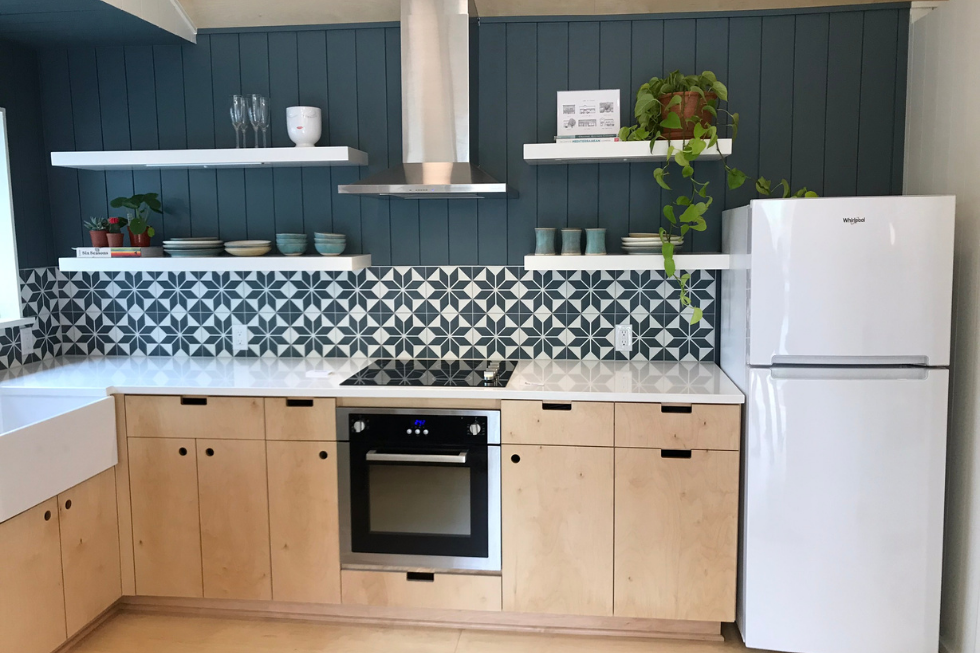 Raw materials impact your garage conversion cost
Lumber for your accessory dwelling unit
Lumber is the biggest raw material expense in most ADUs.
That's why a garage that's in good condition can save you so much money: you use the existing framing, and if you're lucky, the roof as well.
But even if your garage is in great shape, you'll still need lumber for:
Reinforcing ceiling joists (the beams that support the roof)
Reinforcing other parts of the frame that may not be up to code
Creating walls for the bedrooms, bathroom, closets, and other structures within the ADU
Expanding the garage, if you choose to do that
Building stairs, decks, or other outdoor structures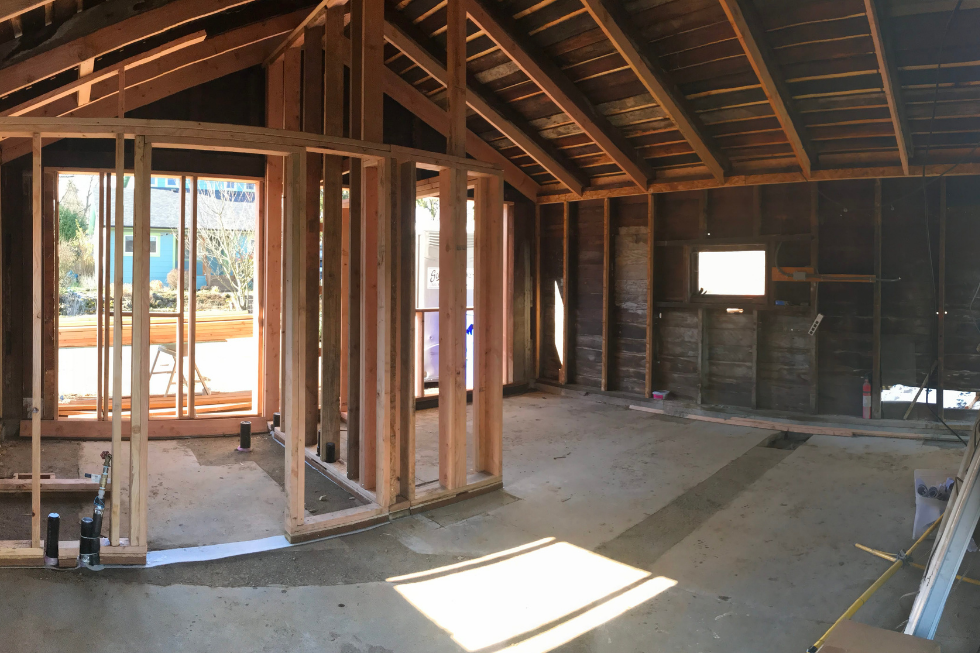 Interior wood finishes add to the expense as well. Think it through with your designer. If you end up having to demo siding or other wood in the garage, you may be able to recycle it as decorative or structural elements elsewhere in the ADU.
Concrete for your accessory dwelling unit
If the foundation of your garage is sturdy and you're not expanding the unit, you may not spend a lot on concrete. But you could still need it for things like:
Replacing parts of the foundation that get trenched for utilities
Reinforcing the foundation
Hardscaping areas around the ADU
Adding a driveway or walkway
Keep in mind that part of the cost of concrete is the labor and equipment required to install it.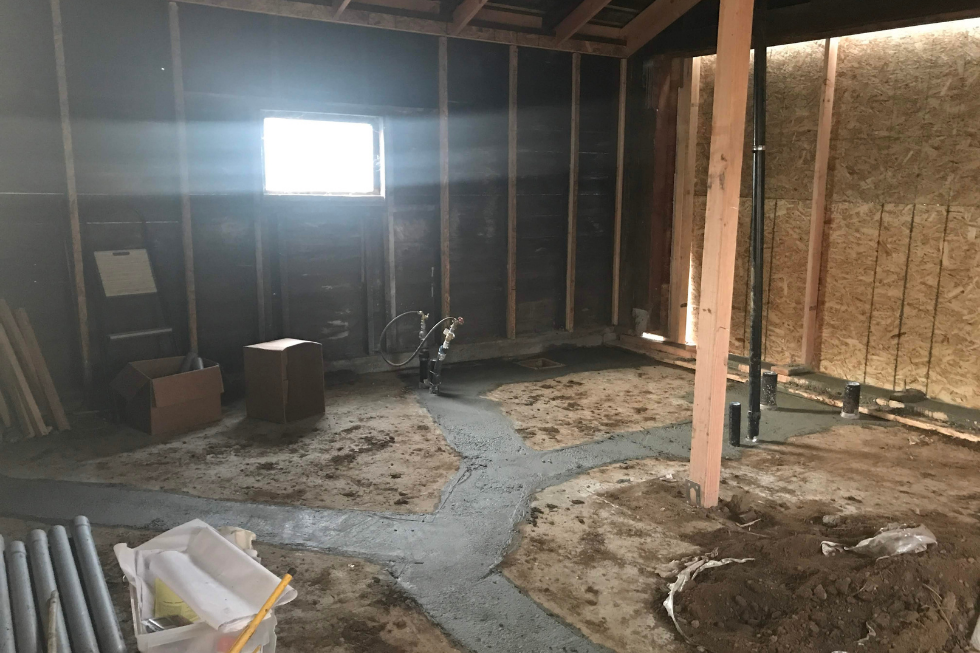 A designer who's experienced with garage conversions is essential because they'll know whether you can use the foundation as is or you'll have to reinforce it or replace it altogether.
Steel for your accessory dwelling unit
Steel is more expensive than wood and is not commonly used in ADU construction. It may be necessary to fortify the second story if you're adding a unit over your garage.
Brick, masonry, and stone for your accessory dwelling unit
Raw materials like brick and stone are optional in most ADU projects–they're used as design elements.
You can save money by using thin brick pavers or manufactured stone veneers. In addition to being less expensive than real stone, manufactured stone is lighter weight and easier to install.
Plumbing's impact on your garage conversion cost
The sewer line will have the biggest impact on your plumbing budget. It will depend on:
1. The location of your main home's lateral sewer line in relation to your ADU
Your home's sewer pipe connects to the city sewer line, which is usually in the street in front of the main house. Occasionally it's in a back alley. The sewage pipe that runs from under your main house through your front- or backyard and connects with the city line is called the "lateral line."
You're not allowed to tie the ADU's sewer line into your home's lateral line UNDER the main house.
But you CAN tie it into the lateral line in your front or backyard. The distance between your ADU and the place in your yard where you can tie its sewer line into your home's lateral line will affect your budget.
The farther you have to trench to lay the ADU's sewer line, the more expensive the build, as trenching involves a lot of labor as well as the cost of the pipe.
2. Trenching through concrete
If the foundation of your garage is in good condition, that's great! But it also means you'll be cutting through some of the concrete to lay plumbing beneath the foundation.
Where it can get costly is if you also need to cut through concrete to get to the main home's lateral line–for example through a patio, driveway, or paved side yard.
Your general contractor will help you plan the least expensive trenching route through your property.
3. Condition of the lateral line
If your property is old and you can't recall replacing your home's lateral sewer line, we advise getting a plumber to run a camera through the line and assess it.
If the line is in poor condition, you might want to replace it before you put even more stress on it with the sewage from the ADU.
Some jurisdictions require a video before they'll issue a permit for the plumbing.
4. Sewage ejector pump
If your accessory dwelling unit is on a downhill slope from the main line, you'll need a sewage ejector pump. The cost of the pump depends on how powerful it needs to be to pump the sewage upward.
5. Wet walls
To save money, your designer can put all the plumbing on one wall, consolidating labor and material expenses. The kitchen and bathroom fixtures are aligned on the same wall.
Don't worry, a good designer won't have your bathroom opening directly into the kitchen area!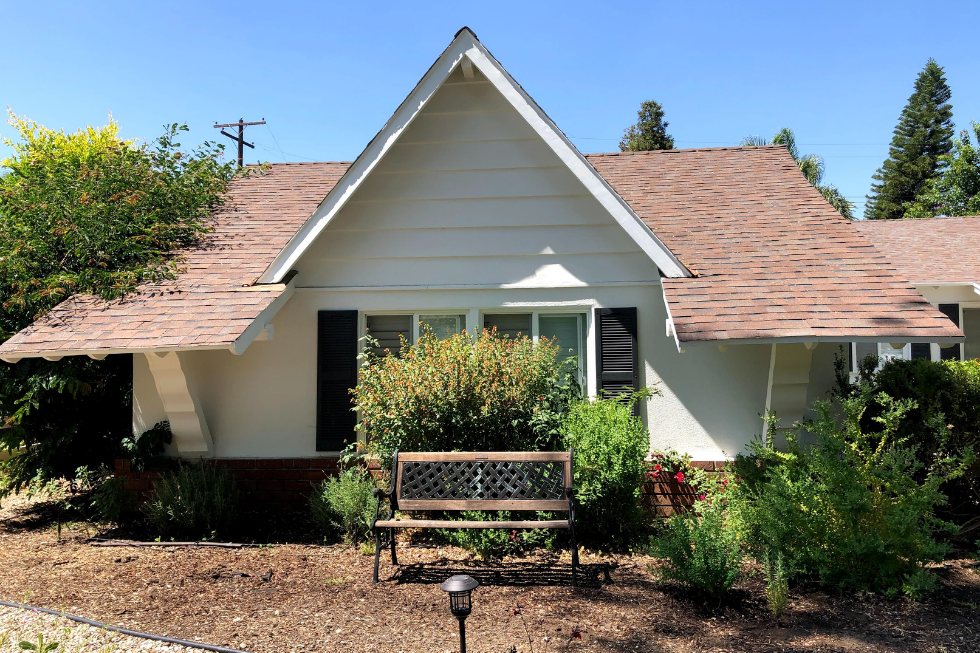 Electric power and your garage conversion cost
The power capacity of most single-family properties is not adequate to support an accessory dwelling unit as well as the main house. Many homes have electric panels rated for 100-125 amps and need to be upgraded to 200 amps, which is an added expense.
Another factor is whether you want one meter for both houses or separate meters. Separating the meters can run you several thousand dollars. But your ADU tenant will then get their own bill from the power company, and for a lot of homeowners that makes it worthwhile.
One advantage to separating the meters is that because power companies charge electricity by the tier, two separate meters means both bills are more likely to stay in the lower tiers. This will save you and your tenant money over time.
Some jurisdictions require you to separate the electric meters. If your city requires your accessory dwelling unit and your main house to have separate addresses, there's a good chance it will also require separate utility meters.
Natural gas: proceed with caution
Natural gas is a fossil fuel that contributes to climate change, so there is a broad movement to eliminate it from construction.
The rules around natural gas are evolving and each jurisdiction decides for itself how to regulate it. Some cities have "reach codes" that prohibit its use in new construction. In San Jose the reach code applies to ADUs but not JADUs. Your jurisdiction could be different.
To avoid confusion at the planning office, you need an experienced ADU designer who's aware of the codes as they apply to accessory dwelling units.
Otherwise you'll waste time and money revising the plans and Title 24 energy calculations.
After-market submeters for your garage conversion's utilities
You have an option other than spending a lot of money to get separate meters from the utility company. After-market submeters are available for water, gas, and electricity.
These submeters are installed by an electrician or plumber, not the utility. The submeter goes between your home and the accessory dwelling unit, and measures how much gas, water, or power is going to the unit. That information is relayed to an app.
Your ADU tenant won't get a separate bill from the utility company, but you'll be able to figure out how much of the bill is theirs and to show them on the app.
A little overwhelmed by all the details? We're here to help! Call for a home evaluation.
Roofing and your garage conversion cost
In most garage conversions you'll be using the existing roof structure, even though you'll need to reinforce it. Not having to build the roof is part of what makes garage conversions so affordable.
But some homeowners decide they want to change or replace the roof. Maybe they're expanding the garage or they want a higher pitch or different roofline.
In that case, ask your designer about using prefabricated trusses instead of stick-built rafters. Prefabricated trusses are supportive structures that are built off-site and installed by the contractor.
According to the experts at roofingcalc.com, using prefab trusses costs 30%-50% less than building traditional rafters.
If you're able to keep your roof structure, there's still a chance the shingles are old and will need to be replaced. The price will depend on the cost of labor in your area and the type of material you choose, from simple asphalt shingles to expensive slate or tile.
Finishes are 30 percent of your garage conversion cost
When we talk about finishes, we mean things like:
Cabinets and countertops
Plumbing fixtures
Lighting
Flooring
Windows
Appliances
Interior doors
Wall and ceiling treatments
Finishes are where many homeowners figure they can save money, and they're right! The secret is to order finishes that are available off the shelf at building supply companies.
This means being flexible about your choices. If the supplier is having a sale on vinyl plank flooring in Heirloom Pine but not in the Burnt Oak you like better, you buy the Heirloom Pine anyway. Same with bathroom tile, countertops, handles, and all the finishes.
When you have your heart set on one specific item or color, you're going to pay more.
People who are building an accessory dwelling unit for rental income generally have no problem sticking to their budget for finishes.
Who cares if it's Heirloom Pine, as long as the style and quality are acceptable?
But if you're building an ADU for yourself or your family, there's a good chance you'll change your mind during construction and choose more expensive finishes. At least that's what we've seen among our clients.
Maybe you have a will of steel and will resist the temptation to go outside your budget! Just be prepared to hear that siren song of the perfect tile or window or bathroom vanity, and plan a bit extra in your budget in case you decide to splurge.
Expanding your garage conversion ADU
What if your existing garage isn't big enough for your needs—are you allowed to expand it? The answer is usually yes. And this is where value engineering is critical.
Value engineering means approaching every detail of the design with cost-effectiveness in mind, from the first drawings to the final finishes.
At Maxable we value engineer all our accessory dwelling units, including our custom stand-alone ADUs. Whatever your budget, you deserve to know where you can save money.
If you want to expand your garage, here are a few things to discuss with your designer:
If at all possible, expand in the direction of the garage door or on the side opposite the garage door. The other two walls are load-bearing and will be costlier to expand. The best option is to expand where the garage door was–there's already a large open area you won't have to demo.
Consider putting your wet wall in the expanded area, since you'll be pouring a new foundation there anyway.
Have your designer explain how the roofline will work with the expansion.
Think about storage for all the stuff you used to keep in your garage. If you're expanding, is there also room to add a storage area you can access from the exterior of the unit?
The more you modify a garage conversion, the less money you save and the closer you get to the cost of a new-built unit.
That said, it can make sense to expand the garage even if it's just to gain an extra 30 or 40 square feet. In a small space, every square foot counts.
Building an accessory dwelling unit on top of the garage
A popular choice among homeowners is to build an ADU on top of their existing garage.
This is for people who have a healthy budget, and it instantly takes the garage conversion out of the "most affordable ADU" category.
The main reason is that you can't use any of the existing framework for the ADU, including the roof. It's like building a brand-new unit, only more expensive because you have to fortify the garage so it can support the weight of the ADU.
You'll also need to build stairs and run all the utilities up to the second floor.
Homeowners with the funding love their over-garage units because it's the best of both worlds: keep your garage with all its storage space and also get an ADU! If you're curious, see Granny Flat Over the Garage: Is It Right for You?
What if I have to demo my garage?
A lot of the housing stock in California was built in the last century, beginning in the 1920s. If your garage was built before 1930, there's a good chance the foundation will not be usable for an accessory dwelling unit. The framing may also be in poor condition.
At a certain point, contractors will not warranty their work to bring these older garages up to code for a habitable dwelling. In that case you'll need to demo the garage and build a new unit.
But there's a silver lining: as long as you're using the footprint of the original garage, the state still considers these ADUs to be garage conversions and they get all the regulatory benefits, including:
The accessory dwelling unit can sit exactly where the garage did, even if it's on a property line. Extended portions have to abide by the standard 4-foot rear and side setbacks.
No replacement parking is required.
Solar panels are not required.
Nailing down your garage conversion cost
Forty to 80 percent of the homeowners we talk to want garage conversions. And many who originally planned to build a stand-alone unit end up building a garage conversion instead because it's so much more affordable.
So you're in good company as you begin the journey from mere garage to fabulous, flexible ADU!
We've covered the main construction elements here, but every property is different.
If your lot is on a slope, that will affect your budget. Or if you need to upgrade the electric panel or move some power lines. Or if you live in a historic district.
None of these are deal-breakers, you just need to plan for them. And of course, the region where you live will affect the cost of labor and materials.
The first step to converting your garage to an accessory dwelling unit is educating yourself. We have lots of materials to help you, including an ADU Master Class e-course that explains the entire design, permitting, and construction process.
So go ahead–learn a little more! A year from now you could be welcoming guests to your own beautiful garage conversion ADU. It all begins with a free ADU Planning Phone Call. Talk to you soon!