With home prices skyrocketing in San Diego, many homeowners are thinking hard about adding a granny flat in the backyard. But misconceptions abound. What's the real cost of building a granny flat in San Diego?
When you're considering a granny flat (also called an accessory dwelling unit, or ADU), you need to think not only about the cost of design, permitting, and construction but also the overall return on your investment.
In California, it's proven to be outstanding for most homeowners.
Download our free tool kit, which includes an ADU cost estimator, to give you a better idea what you will pay for your granny flat.
Cost Per Square Foot is Deceiving
Granny flats cost more per square foot than typical single-family homes for several reasons.
There are fixed costs associated with permitting and design fees.
Margins are smaller for general contractors, subs, and architects.
ADUs require new foundations, new walls, plumbing, electric, heating and cooling, and a separate roof, just like a regular house.
There are no economies of scale. You know how you get a significant discount if you buy groceries from Costco because you're buying in bulk? Building a granny flat is the opposite.
Granny flats still require a bathroom and kitchen, which are 'expensive' square footage.
Because the units are smaller, the cost per square foot isn't offset by the extra bedrooms, large living rooms, and hallways you find in larger homes. This space is considered 'cheap' square footage and brings the average cost per square foot down.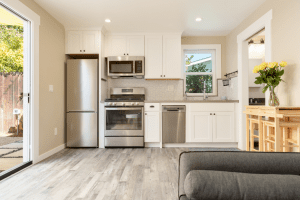 Size and Structural Form Impact the Cost of a Granny Flat
The cost per square foot of a granny flat can differ dramatically depending on its size and form. Keep in mind:
The larger the unit, the cheaper your cost per square foot will be. Detached units can be up to 1,200 square feet unless specified by a local ordinance. A 1,200 square foot unit will probably be cheaper per square foot to build than a 450 square foot unit.
Building up is more expensive. Most people instinctively want to build an accessory dwelling unit above their garage, yet few end up doing so because of the price. If your budget is tight, stick to single-story.
A garage conversion is the cheapest way to convert space into a granny flat. If your budget is modest, keep the existing envelope of the garage, meaning don't expand the current footprint. This will add extra cost.
We've found other hidden costs of building ADUs. With this knowledge you can save money from the very beginning of your project!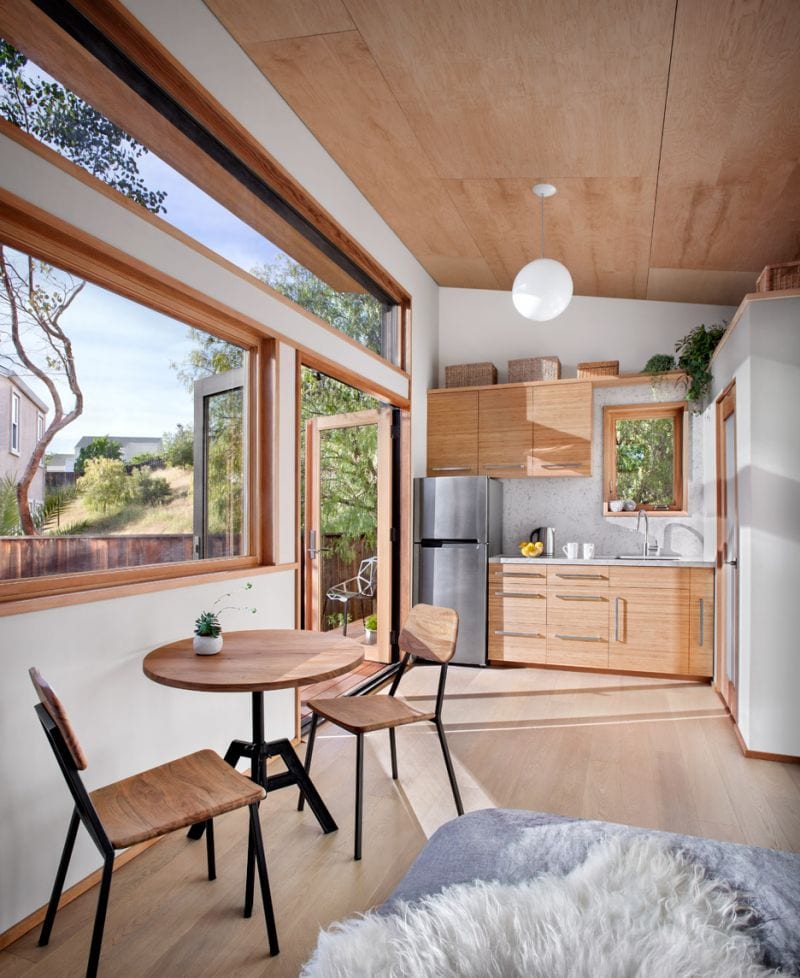 Cost to Build a Granny Flat in San Diego
Most people's units cost between $325-$436 a square foot for design, permitting, and construction.

Construction Only
Garage conversion: $120,000
550 SF 1-bedroom: $230,000
750 SF 2-bedroom: $305,000
1200 SF 2-3 bedroom: $420,000
How to Assess Your Granny Flat Investment
The price tag on an accessory dwelling unit can scare people, but here's a smart way to assess your investment.
Look up the median value per square foot in your neighborhood on realtor.com. As an example, a recent search for North Park revealed a median price per square foot of $820
Let's say you build a 550 square foot granny flat in North Park for $436/sq ft.
You may spend $240,000 to build your unit, but you're gaining $451,000 in property value.
In addition to gaining equity, you'll have the option to rent the granny flat and collect passive income each month.
In North Park, a 1-bedroom apartment can rent for up to $2,350 a month.
Suddenly, the $240,000 price tag seems a lot more manageable, even savvy.
Passive Income from Your Granny Flat
To maximize your return on investment, those who build a granny flat should plan to own their property for an extended period. The value passive rental income brings is undeniable, especially in a city like San Diego, which boasts soaring rental prices.
We've calculated that even a $100,000 garage conversion, maintained over a 30-year period, can bring 1.5 to 2 million dollars in value between gross rental income and property value increases. That's a 15x return on investment.
Maximize Your Investment
If you do decide to build a granny flat, build as large as your lot and budget will allow. If you can comfortably fit 800 square feet in your backyard, I advise our clients to do so.
Why?
The fixed cost.
Relative to what you're already spending, adding 200 square feet won't dramatically impact your budget, but it could significantly increase what you can charge for your rental. It could be the difference between renting to a couple instead of a single person, or having a two-bedroom instead of a one-bedroom granny flat.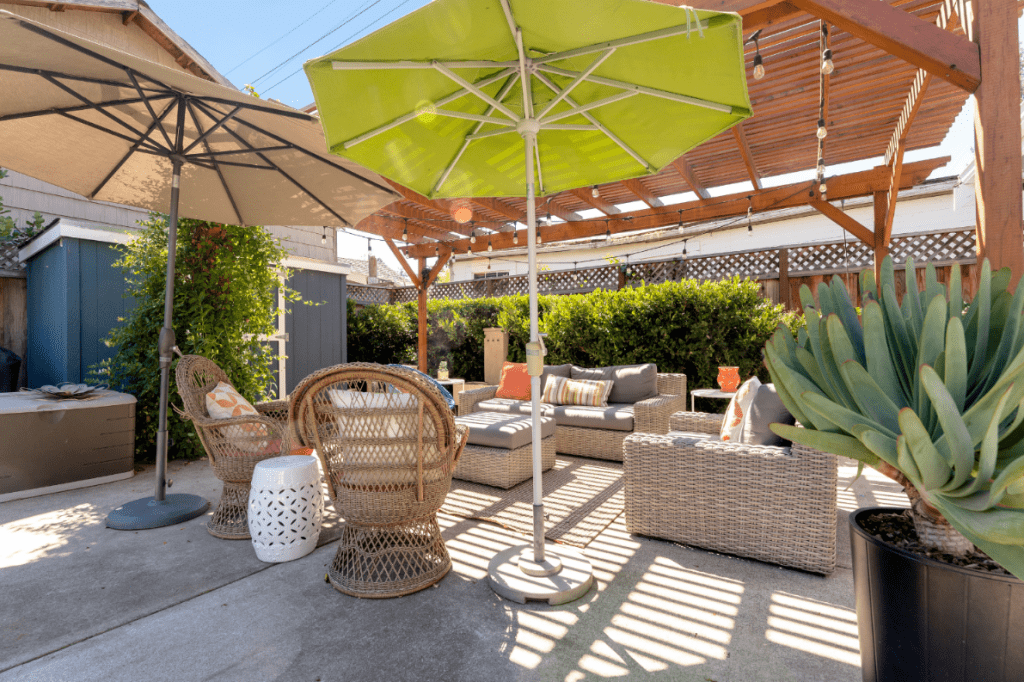 Another way to maximize your granny flat investment is to create a garden space. Gardens and patios are luxuries most renters don't have access to. In San Diego, a patio with an outdoor table can feel like a second living room and be used all year long.
This is a very inexpensive space to create but it can make your property much more desirable.
For more tips and tricks on granny flats, download our free tools or talk to one of our granny flat experts.