ADUs are soaring in popularity ever since California passed new, friendlier regulations in 2020. If you want to rent out your granny flat, the return on investment is phenomenal. If you're planning to house a family member, the ADU costs of a monthly loan payment are typically much smaller than rent would be on a similar-sized apartment.
But ADUs are a significant investment. And some of the expenses may come as a big surprise, even if you have previous experience remodeling a home.
We don't want you to be blindsided! So here are 5 hidden ADU costs to watch out for as you plan your granny flat.
1. ADUs larger than 750 square feet must pay development and impact fees.
What are development and impact fees? They are fees that support public improvements, services, and facilities. Almost every structure has had to pay them at some point. But thanks to the new laws, you can avoid paying D&I fees by keeping your ADU under 750 square feet.
That's an important number to remember, because the state says anyone with a single-family residence can build an 800-square-foot ADU. People focus on "800," but the extra 50 square feet could raise your ADU costs by thousands of dollars in D&I fees.
If your ADU is larger than 750 square feet, your jurisdiction will calculate your D&I fees based on what the fees for your primary house would be if it were built today. The price per square foot is what your ADU will be charged per square foot.
One little problem: it's very hard to find out what your main house would be charged. The process in many jurisdictions is not transparent. So most homeowners building larger ADUs just wait until the city reviews their plans to get the D&I bill.
"If you're not prepared to possibly pay $10,000 in D&I fees, don't build larger than 750 square feet," advises Jared Basler with the Casita Coalition.
So if you're on the fence between 800 and 750 square feet and you're on a tight budget, we highly recommend staying under 750. You'd be surprised how much you can pack into a space that size!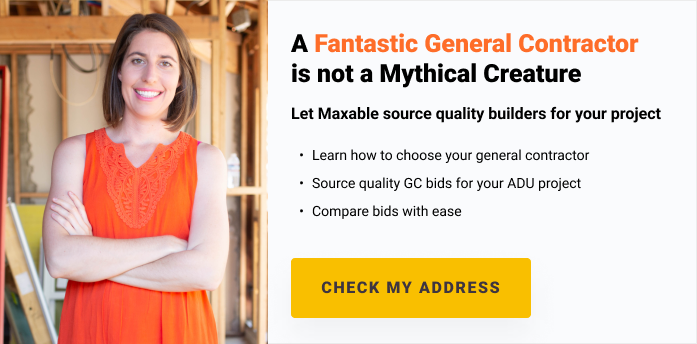 2. Direction of expansion matters!
Here's something a lot of people don't know. Expanding out the side of your garage is a lot more expensive than expanding the front and back. Why?
There are two main reasons:
#1. Most garages have a simple pitched roof. In this type of structure, the side walls are load-bearing. To extend through a side wall, you'll need to reinforce that wall a great deal to sustain its load-bearing strength. Expand to the front, where the garage door is, and you don't have that problem. You'll also save money because a large opening already exists, so you won't have to demo a wall.
Expanding out the back of the structure is also easier and cheaper than to the side. While you will have to demo part of the wall, it is not load bearing.
#2. If you expand to the side, you'll need to replace part of the existing roof with a gable addition. That's costlier in both materials and labor than simply extending the pitched roof in the same direction. To keep your ADU costs down, try to expand through the front or back.
An experienced ADU designer will be able to show you the smartest options. Get connected to vetted and reliable ADU designers in your area with Maxable. Over the years, we've built a vast network of ADU professionals to help homeowners eliminate the stress and risk of hiring the wrong person for the job. Get connected to an ADU Agent for an ADU Planning Call here.
3. Separating utility meters is expensive.
If you're going to rent out your ADU, it's nice to have the utilities on separate meters so your tenant's bills will not be combined with yours. This is even more important if you plan on someday renting out both the main house and the ADU. But installing separate meters for the utilities can add several thousand dollars to your ADU costs. A separate electric meter alone can run $2000-$5000 or more.
The simplest alternative is to estimate the average extra cost of the ADU's utilities and roll that into your tenant's monthly rent. This option comes with some risk, however. When the pandemic forced everyone to work from home in 2020, landlords who rented out ADUs with utilities included saw their utility bills shoot up and had to cover the increase out of their own pocket.
A great new option is to install an aftermarket sub-meter that uses an app to show you exactly how much water, power, or gas the ADU tenant is using. The tenant won't get a separate bill from the utility company, but you will be able to show them the data and add the appropriate cost to their rent each month.
4. New-build ADUs must have solar panels.
Many ADUs are garage conversions. Garage conversions are not required to have solar panels. But new builds are. The only exception is if the site is too shady for solar panels to be effective (the building inspector will be checking on that).
The good news is that in 2021 there is a 26% federal tax credit for solar panels. Even if you're not required to install solar, now would be a good time to take advantage of the credit. It's guaranteed through 2022 but not beyond. Costs related to installing and maintaining the system, such as roof repair, storage batteries, and electrical panel upgrades, may also qualify for the rebate. Solar will shrink your ADU's utility bills, especially if you install a mini-split heating and cooling system. They're more energy efficient too!
Where is the best spot on your property for an ADU? Let our experts help you figure it out! Click here to learn more.
5. The cost of materials fluctuates.
Year to year, the price of things like lumber, cement, and steel can change. For instance, in 2020 the cost of lumber fluctuated wildly. The new administration may ease tariffs on Canadian lumber, stabilizing it somewhat. Meanwhile, what can you do to protect your budget and keep your ADU costs down?
While there is no way to control the price of materials, you can confer with your contractor about timing and get their sense of how things are moving. If your financing is in place and you have a complete set of construction drawings for the contractor to review, you'll be in the best position to negotiate with different contractors and get a fair bid for labor and materials. Remember, contractor bids have expiration dates.
Bonus Tip!
Always add an extra 10% to the construction budget as a contingency. It's your safety net should something unexpected come up during the build–or if you want to upgrade to that gorgeous tile you've been craving!
The surest path to peace of mind is to hire a designer and general contractor who are experienced with ADUs. The 2020 regulations are still unfamiliar to many city planners, especially since the pandemic disrupted business as usual. ADU plans that reflect and fully notate the new laws have the best chance of moving swiftly through the city's submittal process. Luckily, at Maxable we have a full network of ADU professionals who have studied the regulations and have hundreds of ADU projects under their belts.
ADUs are a wonderful investment. Designing and building them can be a great experience, as long as you're working with a team who can spot the hidden costs and help you make the most of your budget!
Plan, hire, and manage your ADU project with Maxable.
At Maxable, we believe that building an ADU should be fun and exciting. We'll be by your side every step of the way and connect you to experienced designers and general contractors in your area to make sure your project goes as smoothly as possible. It all begins with an ADU Planning Phone Call. Talk to you soon!