1200 square feet! That's how large you can build a detached ADU in most California cities. It's plenty of room for multiple bedrooms, two baths, and lots of living space.
This is no tiny house, it's a full-sized home. Although if you want to build smaller, of course, you can do that too.
The San Diego ADU pictured here, designed by Maxable partner Kevin Bussett, has four bedrooms and two baths. The property owner who built it now rents it to college students, earning himself some impressive passive income each month.
Whether you take it to the limit like this investor did or build a smaller unit, there are lots of advantages to a stand-alone ADU.
The trick is to brainstorm all the ways you can optimize your unit before you start designing it—and then hire the right team to get you to the finish line.
Maxable is your one-stop-shop for planning and managing your accessory dwelling unit project. We match you with designers and builders ideal for your project and research your property so you can make educated decisions every step of the way!
Design your detached accessory dwelling unit for a flexible future
After talking with thousands of ADU homeowners, there's one thing we know for sure: your detached ADU will end up serving more than one purpose.
People who originally build their ADU as a home office later turn it into a vacation rental when they need extra income. Then a college graduate returns home for a year or two and wants to live in the unit.
That's the beauty of owning an ADU! It can be anything you need it to be. So design flexibility into your unit from the beginning.
Privacy
It may be your yoga studio today, but strangers could be renting the space a few years from now. Think about where you'll want the doors and windows if you don't know the people who are staying there.
Storage and washer/dryer
So you're building a vacation rental and figure your guests won't need much storage? Your kid will need plenty if they end up living there! You can never have too much storage space in an accessory dwelling unit.
The same goes for a washer/dryer. Unless there's a common area outside your house (like a garage) where you can install it later if you need to, put a washer/dryer inside your ADU. A washer/dryer combo that fits under the kitchen counter works well for a tight space.
Universal design
What if it's not your kid living in the ADU but your mother-in-law, and she uses a walker? We're deeply committed to universal design, the term for design that accommodates all ages and abilities. It's smart and it looks amazing! Learn more about it at Universal Design: The Most Critical Design Element You Didn't Know About
Solar panels
Detached accessory dwelling units are required to have solar panels unless there's too much shade on the site for solar to be feasible. So consider designing with solar in mind.
Electric appliances, an electric tankless water heater, and a mini-split HVAC system will save you money if your ADU is powered by solar. Best of all, it's good for your carbon footprint!
Private yard or patio
Even a small side yard can be an extremely desirable addition for guests and long-term tenants. Don't disregard a space that's only a few feet wide. If you can screen it from the main house, even better.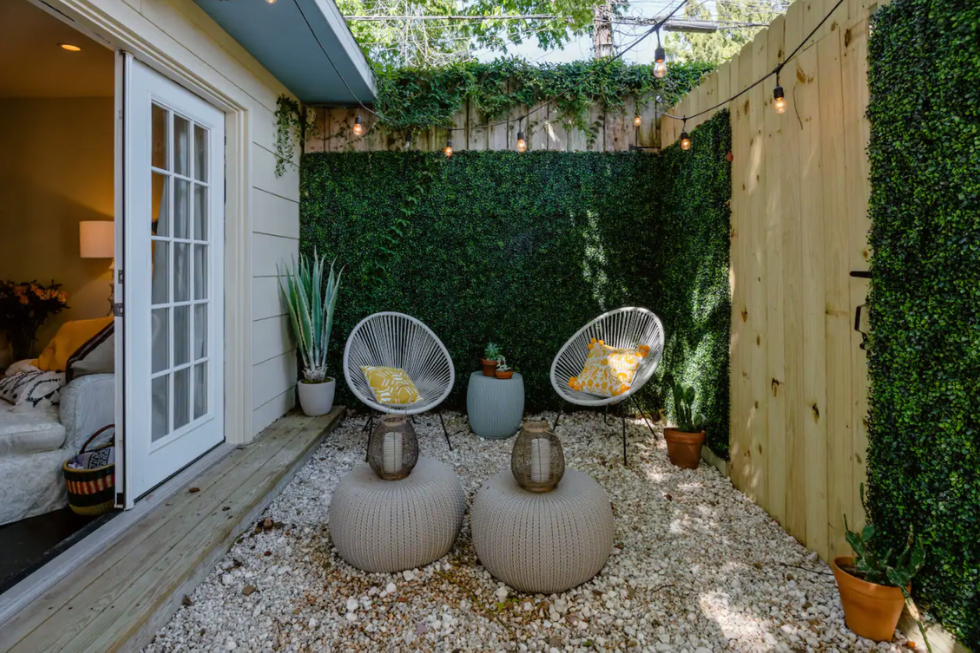 Want a crash course in designing your detached accessory dwelling unit? Check out our youtube Tips and Tricks to Designing Your ADU.
How big can a detached accessory dwelling unit be?
California ADU law sets the maximum size for ADUs at 1200 square feet. That's what most jurisdictions go by.
The law does allow cities to pass ordinances putting a few size restrictions on detached ADUs, but state law limits how restrictive they can be. In other words, regardless of any ordinance, your city passes:
You must be allowed to build a one-bedroom ADU of at least 850 square feet, as long as you are not in violation of other development codes.
You must be allowed to build an ADU with two or more bedrooms of at least 1000 square feet, as long as you are not in violation of other development codes.
Even if building an ADU will not comply with development codes, such as exceeding your property's floor-area ratio (FAR), you must be allowed to build an ADU of at least 800 square feet.
How many bedrooms for your detached accessory dwelling unit?
Bedrooms equal cash!
If you're building an ADU for rental income, the market rate you can expect will depend on the number of bedrooms in the unit.
In California, a bedroom must be at least 70 square feet and 7 feet in height. There must be an operable window that's large enough and near enough to the floor (not more than 44 inches) to allow for escape in case of an emergency.
Here's a cozy bedroom in a 400 square foot ADU. Although the wall is open to the ceiling, it's still a separate room for which the owner can charge more rent.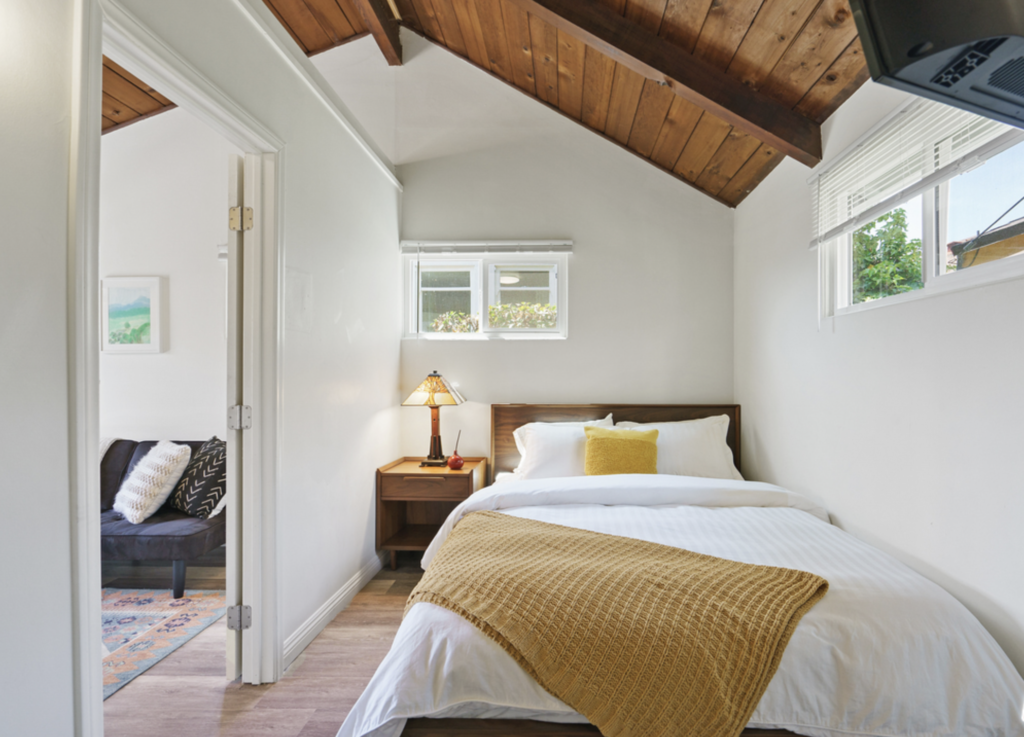 In a large detached accessory dwelling unit, like the one the San Diego investor built for college students, having four bedrooms instead of three means significantly more income each month.
Stay under 750 square feet and pay no D&I fees!
Development and Impact (D&I) fees support public improvements, services, and facilities. All developers pay them when a primary residence is first constructed. Before 2020, some cities would slap hefty D&I fees on ADUs as a way to discourage people from building them.
No more!
California did ADU owners a huge favor by changing the laws so that you won't be charged if your ADU is less than 750 square feet. If you go over 750 you're still protected because the D&I fees must be "proportional" to the primary residence.
That means the ADU will be charged the same price per square foot that your main house would be if it were built today. However, those fees can run as high as $10,000 or more, depending on how pricey your location is. The fees include the first 750 square feet of the ADU.
The takeaway: if you're on the fence between 750 square feet or a little bit more, and you're on a tight budget, you might want to stay below 750.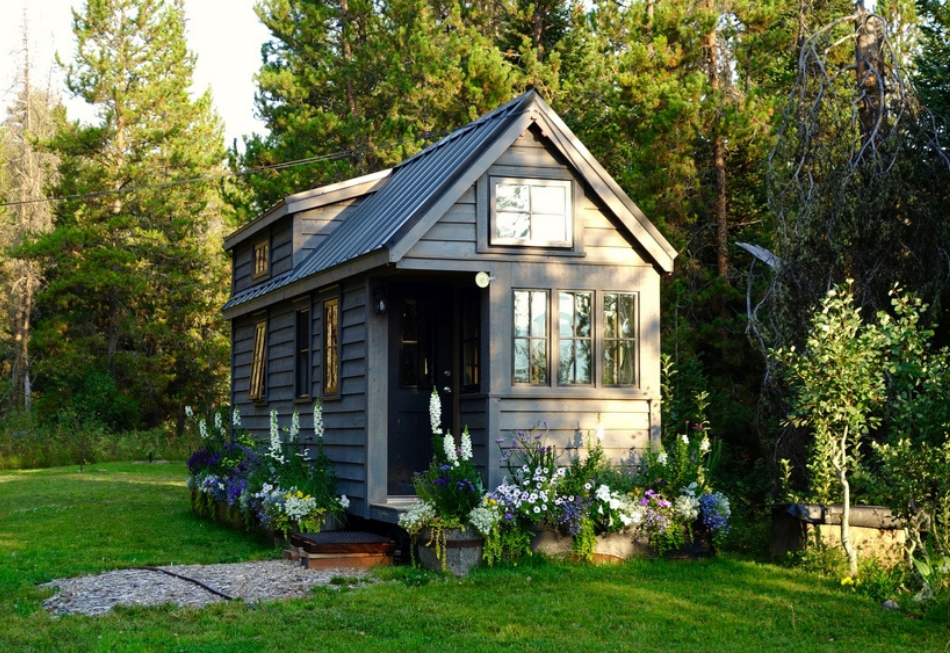 A detached accessory dwelling unit will increase your property value more than other ADUs
As you're crunching the numbers for your ADU budget, keep in mind that while any ADU will likely increase your property value by 20-30%, a detached accessory dwelling unit offers the biggest boost.
Detached ADUs tend to be larger than attached units or garage conversions, so they're more valuable.
When you build a garage conversion you lose the garage, which detracts a bit from the overall value of the property. Building an ADU over the garage gets around that problem but they're expensive to construct.
Detached ADUs can be placed anywhere on your site, so you can pick a spot that offers lots of privacy, access to a separate driveway, or perhaps a stellar view. All of these add to its value.
Even on a relatively small urban lot, a detached ADU will probably offer you more opportunities for privacy and customization—and increased value—than an attached ADU or garage conversion.
Ready to get started?
Since the major overhaul of California ADU laws in 2020, the state and many cities have launched incentives for homeowners to build accessory dwelling units. There are grants, programs to allow you to more easily legalize un-permitted units, and accelerated permitting guidelines.
In the private sector, the federal guidelines around construction loans for ADUs have changed for the better as well.
As demand grows for skilled and knowledgeable ADU designers and contractors, it's more important than ever to hire people who know what they're doing and have proven experience in the industry.
At Maxable we're proud of our track record as California's leading ADU marketplace. After writing state laws, educating thousands of homeowners, and completing hundreds of site evaluations and ADU projects, we know accessory dwelling units better than anyone else.
When you're ready to move forward with your detached accessory dwelling unit, we'll do the research on your property and assemble the perfect ADU team, customized for you.
Your backyard can't wait to show you its full potential!
Maxable makes planning, hiring, and building your accessory dwelling unit simple
Wanting to explore your options on how to get your detached ADU started? Our team is here to help connect you to the best local designers and builders for your ADU project. It all begins with a free ADU Planning Phone Call. Talk to you soon!