Universal design is on everyone's mind these days, as more homeowners build ADUs to house their parents. "Universal design" loosely means construction and interior design with a focus on accessibility. It makes life easier not just for older and differently abled folks but for all of us.
A new way of thinking about universal design is "visitability": designing your ADU so that it's comfortable for everyone to visit. Little kids like the lower light switches and lever door handles. Adults appreciate wider doorways and roomier bathrooms. It's an intergenerational approach.
Best of all, universal design will probably have very little impact on your overall budget. It's not about costlier choices, just different choices.
The Difference Between Universal Design and "ADA Compliant"
Maxable's clients often tell us they want "ADA" design, referring to the Americans with Disabilities Act. In public structures and spaces, there are ADA regulations that ensure accessibility.
For ADUs, no such regulations apply. There is no ADA inspector who is going to come around to make sure you've installed the correct type of ramp or grab bar. Universal design in private homes and ADUs is voluntary.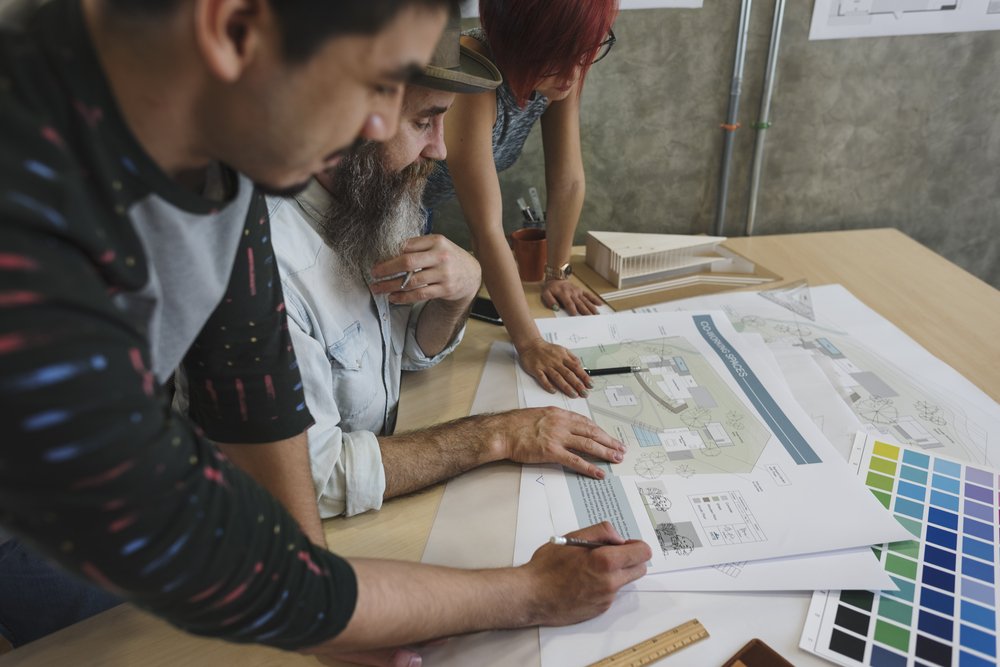 Thinking Ahead about Accessibility
Although dwellings can be retrofitted to be made more accessible, it's ideal to build accessibility into your ADU from the very first drawings.
When you meet with your Maxable designer, begin by considering how people will enter the ADU. You may not build a ramp right away, but where will you put one if you someday need to?
Mary, a Maxable client, was excited to retire and downsize into an ADU in her backyard. She had always dreamed of a cottage-style home with a raised foundation and a wraparound porch. But recalling her mom's struggles with mobility in later life, she thought adding steps wouldn't be the best idea.
She mentioned this to our designer and much to her surprise, he told her a wraparound porch was most definitely possible. He came back with the designs and showed her that by leaving a bit of extra room on the side of the porch and a larger landing, she could easily add a ramp if the time came for her to use a walker or wheelchair.
Mary was thrilled that she could have her dream ADU after all.
Universal Design at the Front Door
Other elements our designer mentioned to make the entryway accessible:
A wide front pathway or steps made of non-slip stone, cement, or other material.
A landing large enough to accommodate several people or a wheelchair and one able-bodied person.
An awning or other covering over the entryway.
A low (or no) threshold into the ADU.
A wide front door.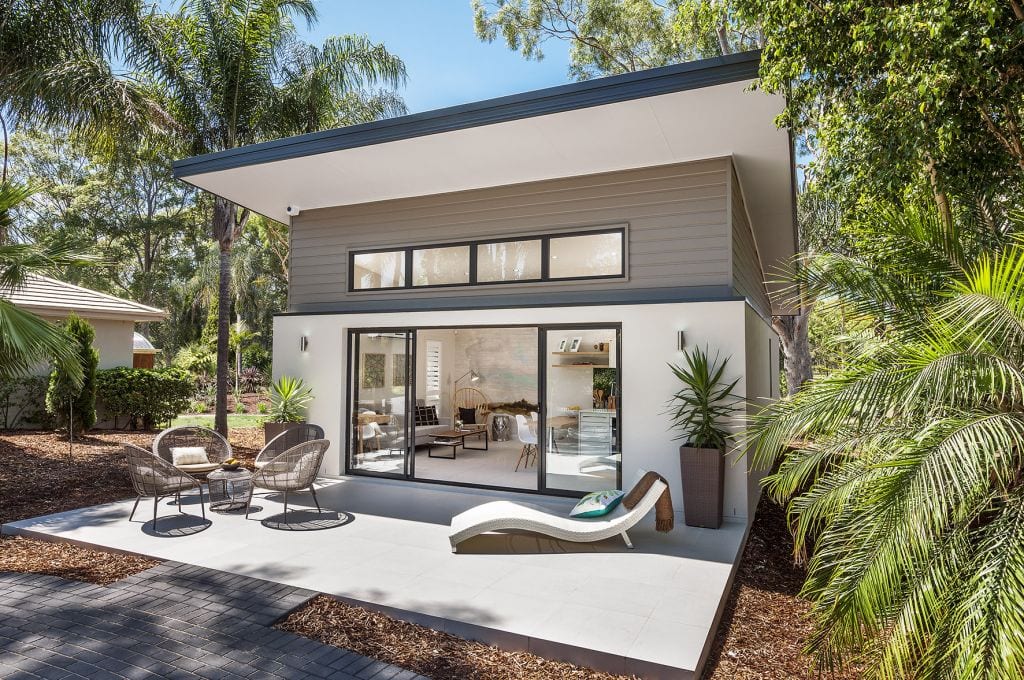 When framing the ADU, anticipate where you might someday need to install grab bars, for instance in the shower or next to the toilet. Add extra wood behind those parts of the walls. You can tile or drywall over it now, and if you later need to add grab bars, they will be able to handle the weight of someone grasping them for support.
The bathroom should be as roomy as possible. For a wheelchair to make a 180-degree turn, it requires a space that's at least 60 inches in diameter—5 feet. Without that, the person will have to back out of the bathroom without turning around.
No-threshold showers are a must. The trendiest look in shower design is no-threshold and at least partly open to the rest of the bathroom, which happens to be ideal for accessibility!
Planning an ADU for your parents? Maxable designers will help you pinpoint their needs. Call us for a free ADU Planning Phone Call.
Doors and Windows
Doorways in the typical home are 32 inches wide. The standard for universal design is 36 inches. But many builders prefer 42 inches for interior doors as well as the front door. If you're in a wheelchair, using a walker, or need some assistance, that gives you plenty of room to pass through.
The doors should be lightweight and easy to open. Pocket doors are popular in universal design because they slide open and the door doesn't take up any floor space. The more open floor space the better for accessibility, and in an ADU every inch counts.
Windows should meet the same basic criteria as doors: Lightweight and easy to open, including handles, locks, and latches. Remote-controlled window coverings are an excellent choice.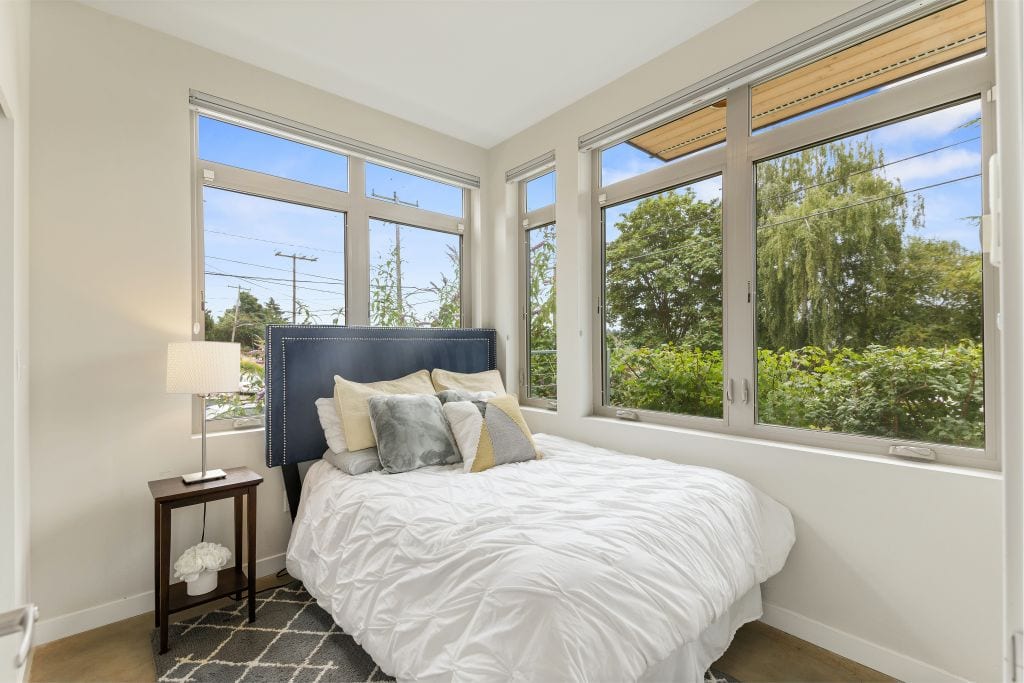 Light Switches, Door Handles, and Cabinets
With the framing and basic construction finished, you can turn your attention to design details inside the ADU. Certain choices will blend in seamlessly and feel comfortable for everyone:
Light switches mounted at 42 inches (instead of the typical 48-52 inches) are handy for adults and accessible to folks in wheelchairs. Switches with large, flat panels are better than those with small toggles. Add a dimmer, and the ADU occupant can leave the lights turned low at night, making the space safer should they need to get out of bed.

"Smart home" products allow you to program your lighting with your phone. But remember, some seniors are not comfortable with apps. A dimmer switch is simple to use.

Lever door handles in place of knobs are great for everyone, whether you're in a wheelchair, have arthritis in your hands, or are juggling bags of groceries. Digital locks are easier than fumbling with a key.
Cabinet height in the kitchen and bathroom requires more thought. The preferred height for those in a wheelchair is 30 inches, which is not practical for the average adult. Standard cabinet height is 36 inches.
Thoughtful design doesn't have to break the bank! Splurge vs. Save: Designing Your ADU with Your Budget In Mind will open your eyes to the possibilities.
Flooring
Accessibility isn't just about moving, it's also about being able to see where you're going. And not tripping or getting stuck on your way there. So when selecting flooring and finishes, you'll want to consider color, texture, and whether the surface is shiny or matte.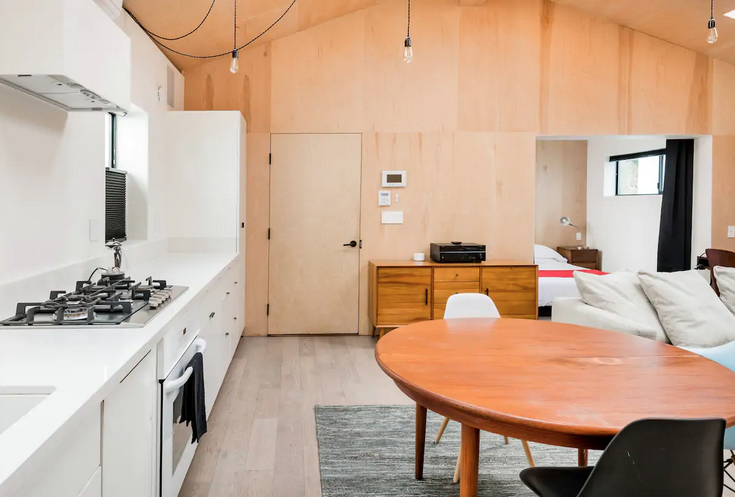 Floors should be smooth enough for a wheelchair to glide across while also being "grippy" enough for someone to walk on without slipping. If you're using tile, larger squares with very thin grout lines are best. The tile should be matte, not shiny, because light reflecting off a surface can confuse the eye.
Vinyl flooring is an excellent choice. It comes in a huge array of styles, is easy to clean, and has more give than tile. A dropped dish is less likely to shatter on vinyl. Low-pile carpet is also a good option.
Finishes
When choosing a countertop, make it matte and a solid or near-solid color. That way, items on the counter will clearly stand out. A solid surface, as opposed to tiles, is easier to keep clean. Formica is a super cost-effective choice for countertops. It's not Italian marble, but don't knock it until you've seen it: there are some amazing new designs!
The colors for your ADU's flooring, walls, and counters should be easy to distinguish from one another. Don't choose white cabinets and walls and a light beige carpet. People with impaired vision need to be able to see where the wall ends and the floor begins, or where the edge of the counter is.
Universal design will make your ADU flexible and welcoming. If you plan to use it as a short- or long-term rental, it will be desirable to more guests. If there's one thing we've learned about ADUs, it's that they end up serving all sorts of functions as the years go by. Universal design isn't just cool and kind, it's smart!