There's a lot of misinformation out there about how much an accessory dwelling unit costs. For example, if you search how much it costs to convert your garage you might see this pop-up claiming you can complete it for $20,000-50,000.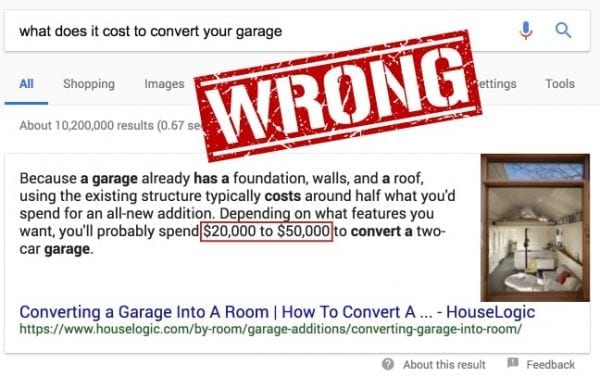 That may be true for a home office, but for a legal garage conversion accessory dwelling unit that includes a kitchen and bathroom, costs typically start at $90,000 and quickly move up from there.
For a stand-alone accessory dwelling unit, expect the cost to start at $150,000 and increase from there. There are many examples of accessory dwelling units featured in this blog that cost $300,000 or even $400,000.
Homeowners are often shocked at the cost of permitting, which is why there are so many illegal accessory dwelling units out there.
Development Impact fees can make up a big part of the permitting cost, but there's some good news on that front. States with ADU-friendly laws, such as California, have limited the amount cities can charge for DI fees. In states without such laws, homeowners can expect to pay upwards of 20K .
If you want a better understanding of the costs, download our ADU Starter Kit with Project Cost & Cash Flow Estimator. This will give you an idea of costs for a garage conversion, small and large stand-alone unit, and an over-garage conversion.
It also lists typical mortgage costs, the cash you can expect to generate from renting out the ADU, and the resulting return on investment (ROI).
How Much Does an Accessory Dwelling Unit Cost?
A stand-alone accessory dwelling unit starts at around $150,000 in Southern California and around $230,000 in the San Francisco Bay Area.
The cost of a garage conversion begins at around $90,000 in SoCal and $130,000 in the Bay Area.
The wide range is mostly due to differences in the availability and cost of labor.
Around the rest of the country, costs will depend on location.
In all regions, the price of raw materials such as lumber can fluctuate dramatically. Some of it is seasonal and sometimes it's due to unforeseen forces, like the Covid pandemic, which affect the production and flow of materials.
That's why contractors' proposals usually have a 30-day expiration date.
The total cost of building an ADU comes down to "soft costs" (the design and permits) plus "hard costs" (construction.)
We've found 5 hidden costs of building an ADU everyone should know about when they start planning their accessory dwelling unit.

Items that Your Construction Budget Should Include:
Your construction budget includes all the materials needed for your accessory dwelling unit plus the labor to have it installed or built.
This includes things like:
Excavation
Foundation and flatwork
Frame
Roof
Flashing and gutters
Windows, shades, doors
exterior trim
Decks
HVAC
Plumbing
Electrical
Insulation
Drywall
Millwork
Paint
Tile
Hardware
Mirrors
Fireplace
Handrails
Appliances
But it also includes things you might not have thought about like:
Portapotty rental
Site security
Specialty tools, staging, shipping
Debris removal
Final conditions
Sales tax
Construction management or general contractor's fee.
Items that Your Project Budget Might Include:
Architectural fees (these are typically 8-15% depending on project type and scope)
Design Consultants (surveyors, structural engineer, energy engineer, etc.)
Permit fees
Utilities
Demolition or site prep
Hardscaping or landscaping work
This list thanks to Build LLC.
Why Do Accessory Dwelling Units Cost So Much?
Accessory dwelling units are akin to designing and building a house. They come with all the same challenges.
From an architect's point of view, it's the same amount of work as designing a 2,500 square foot house, and since most architects are paid as a percentage of the total build cost, it often earns them much less.
You may wonder what draws architects to this type of project?
Typically it's a desire to solve problems.
How can you make something functional and beautiful with major size and design constraints? That's a worthy challenge that appeals to a specific subset of architects.
How Big Should You Build?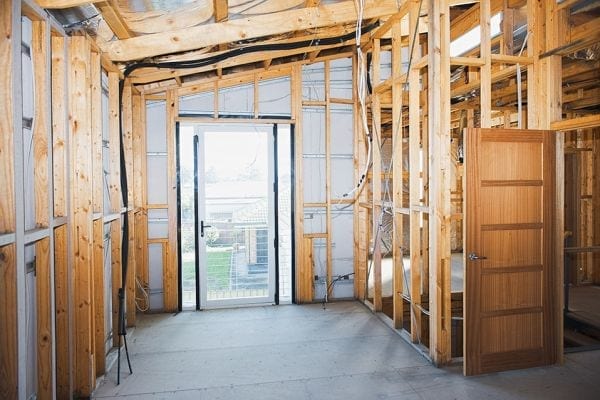 When calculating building cost, you'll typically see things measured as a cost-per-square-foot average.
When building a more substantial house, there is a lot of "cheap" square footage, like closets, bedrooms, and hallways that help offset the cost of expensive square footage like bathrooms and kitchens.
For this reason, people who are building an accessory dwelling unit should consider constructing to the maximum size allowed by local regulations (and their budget!).
Often people think shaving 150 square feet off the blueprint will save them money, but it's not proportional.
Your price per square foot will go down the larger you build because there are so many set costs, like permitting fees.
How Can You Save Costs?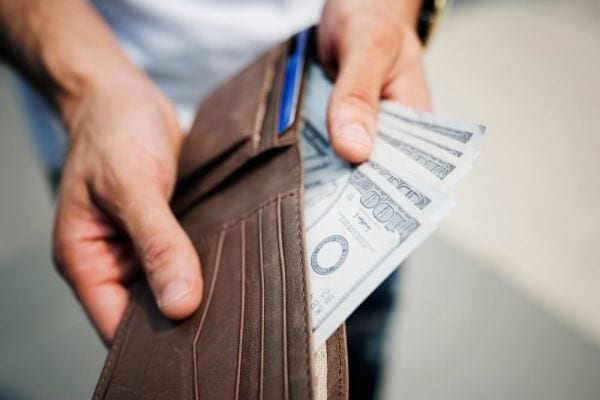 Some people are tempted to try and play the role of a general contractor to save money. It's true that a general contractor represents a significant expense, but unless you have a lot of remodeling experience and are great at organizing, project managing, and keeping things moving on a schedule, we recommend that you hire a professional.
Subcontractors can be notoriously flaky, and there's an order of operations in which everything must happen based on your city's inspection schedule. So if your drywall guy (or gal!) skips an appointment, it can throw off the next two weeks.
Where You Can Save Money
If your budget is tight, working on some of the finishing yourself can save you some Benjamins.
Things like installing sinks, painting, and tile work are within many people's DIY repertoire. There are a lot of helpful YouTube videos out there.
Remember, though: pros can probably do it four times more efficiently than you can! So you're trading money for time. Whether that's a good trade largely depends on your level of expertise—do-overs can be expensive in terms of materials and hours, not to mention stress.
Check Craigslist and Habitat for Humanity Restore for used items.
Finding a tub or farmhouse sink on Craigslist can save you hundreds of dollars. Facebook Marketplace can be a great source for deals. Also, look for a local "scratch and dent" appliance supplier.
But be wary of buying used appliances on Craigslist or Facebook Marketplace. A fridge or microwave might be a safe bet, but be careful of buying a used dishwasher, for example. Their lifespan is usually much too short to warrant buying used. Check that everything works well and inspect carefully.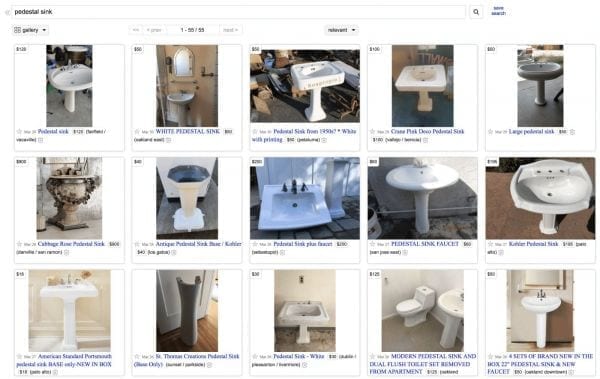 The Level of Finish
Typically finishes account for 30% of the overall budget. There are three basic levels of finish:
Low-end
Mid-range
High-end (Luxury)
The appropriate level of finish for your accessory dwelling unit depends on your future use of the home. Do you plan to live in it eventually or to have tenants? These decisions can impact the quality of the materials you purchase. You should also think about the neighborhoods you live in. Going with mid-high range appliances in a place like San Francisco, which will dramatically increase the amount you can rent monthly, makes a lot of sense if you can afford it.
Not sure how much an accessory dwelling unit costs you? Download the free Project Cost & Cash Flow Estimator here.
Plan, hire, and manage your ADU project with Maxable.
At Maxable, we believe that building an ADU should be fun and exciting. You shouldn't have to be the one to deal with confusing obstacles like permitting snafus or ever-changing regulations. We'll be by your side every step of the way and connect you to experienced designers and general contractors in your area to make sure your project goes as smoothly as possible.
Leave the headaches to us! Check your address and see what Maxable can do for your home during a free ADU Planning Call.