Austin has some seriously cool ADUs, and with new regulations on the horizon, your options may be about to get even better. Wondering how to build an ADU in Austin? Read on!
Home values in Austin have increased 99% over the past five years. With housing so scarce, homeowners are eager to build ADUs, whether to house a family member or to earn passive income. Although Austin passed a forward-thinking ADU ordinance in 2015, there are still a few outdated rules around what you can build on your property.
Fortunately, the Austin City Council is working hard to revise those antiquated laws (scroll down for more info). If you've ever thought about adding an ADU to your property, now's a great time to start learning!
How much does it cost to build an ADU in Austin, Texas?
$125,000-$350,000 is the general price range to build an ADU in Austin, whether it's a custom stick-built ADU or a prefab. Currently $125K would be on the very low end of the spectrum, possibly for a prefab. Most ADUs are likely to cost more.
The price of your ADU will depend on:
The size of the ADU
The number of bedrooms and baths
The quality of the finishes
The type of construction (over-garage ADUs are generally the most expensive to build, while garage conversions are the cheapest)
Your lot characteristics
The price will also be affected by the availability of materials and labor and the impact of other regulations, like whether you'll need a separate water meter, which costs around $30,000. ADUs with only one bathroom may not need a separate meter. Austin Water has the last word on the water meter decision for your property.
With its flat lots, Austin properties are potentially good candidates for prefab ADUs. Panelized modular prefabs would work especially well, because on many Austin lots the construction materials must be delivered by way of a five-foot setback at the side of the main house. Read our crash course on prefab ADUs here.
Scott Turner of Riverside Homes, who's been building ADUs in Austin for 20 years, reports: "If you're going to build an ADU that's the maximum size, 1100 square feet, it's probably going to be at least $300,000."
Caitlin, our CEO, breaks down why ADUs cost what they do in this video:
Why ADU cost per square foot is deceiving
Cost per square foot isn't a useful way to think about the price of an accessory dwelling unit, for several reasons.
Fixed Costs: Design and Permitting
Certain ADU costs are fixed, that is, they can't be altered or avoided. Regardless of whether you build a 1100 SF ADU or one that's 300 SF, you'll be paying for a design and for city fees and building permits.
Infrastructure
Infrastructure is the foundation, utility hookups (plumbing, sewer, electricity, natural gas), and HVAC system. The cost of some of these items depends not on the ADU's square feet so much as characteristics unique to your lot and situation—like whether you'll need that extra water meter, or if you'll need to trench a long way from your ADU to the city sewer system.
"Expensive" square feet versus "cheap" square feet
Kitchens and baths are expensive square feet because they require pricey elements such as cabinets, countertops, tile, appliances, fixtures, waterproofing within walls, and more.
The rest of a home, such as the living room, bedrooms, and halls, are considered cheap square feet because those rooms consist of empty space plus heating/AC and electricity. The first 400 square feet of an ADU are the most expensive to build because so much of it is taken up by the kitchen and bath.
If you're building a 500 SF ADU, its cost per square foot will be much greater than that of a 1100 SF ADU. And if you're comparing the price per square foot to that of a 3000 SF home, the difference will be tremendous.
Where can I build an ADU in Austin?
You can build an ADU if:
You live in a Family Residence (SF-3) zone (There are a few exceptions, but most lots in SF-3 can have an ADU.)
Your property does not have deed restrictions
Your lot is at least 5,750 square feet
The ADU and the main house combined will not cover more than 40% of the lot
You don't have trees or utilities in the way
An ideal lot for an ADU will also have little to no sloping, no overhead power lines, and of course, space!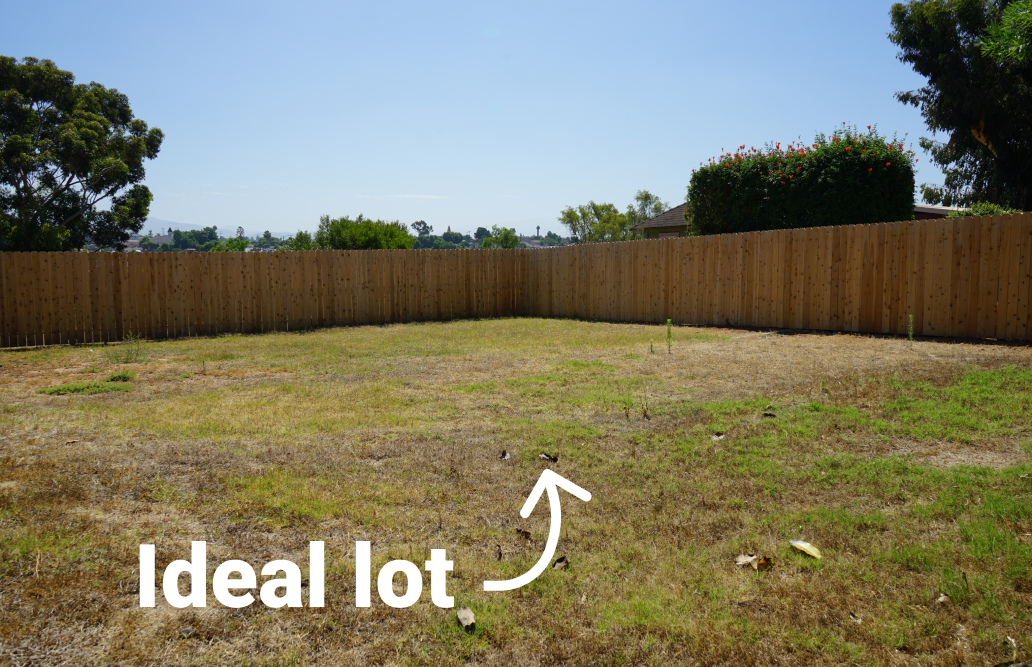 The first thing you should check on are deed restrictions. In Texas, deed restrictions override local building ordinances. Deed restrictions are private, contractual covenants that govern the use of a lot or parcel of land. Although deed restrictions are more common in subdivisions, you need to know your property's status wherever you live.
Proposed changes to Austin ADU regulations (yay!)
The Austin City Council is considering the following changes to ADU policies, and hopefully they'll vote on them before the end of 2022 or at the beginning of 2023. The recommendations include:
Allow ADUs on properties that are in Single Family Residence-Large Lot (SF-1) and Single Family Residence-Standard Lot (SF-2) zones. These zones currently do not allow an ADU. To discourage tear-downs, the ADU will only be allowed if the existing home is left intact. Deed restrictions will still apply.
Remove occupancy requirements for ADUs that are attached to the house or are "internal," that is, created out of existing space within the house. Currently these ADUs must be occupied by someone who is over 60, disabled, or a family member.
Allow garage conversion ADUs to be used as secondary dwellings.
These new regulations would be huge! The garage conversion update alone would be a game changer. Garage conversions are the least expensive type of ADU, and on many properties they're the obvious best choice for building an accessory dwelling unit.
If you want to see these changes, contact your city council member! Let them know you care about ADUs and urge them to take action soon. Find your council district on this map.
How big can my ADU be in Austin?
A maximum of 850-1100 square feet depending on your lot size. If you need help visualizing what various ADU sizes look like, check out our playlist of ADU tours on Youtube. We have tours of ADUs ranging from 360 sq ft to 1,200 sq ft, including the 800 sq ft ADU pictured above!
You can build a two-story ADU but the second story can be no larger than 550 square feet.
Your accessory dwelling unit can be a maximum of 1100 square feet, or 15% of the lot size, whichever is smaller. For example, if your lot size is 8000 square feet, 15% of your lot size is 1200 square feet. 1200 is larger than the maximum 1100 square feet allowed, so the max you can build is 1100 square feet. If your lot is the minimum allowed for ADUs—5,750 SF—your ADU could be 862 SF max.
An accessory dwelling unit in Austin must be less than 30 feet in height.
You cannot build an accessory dwelling unit taller than two stories. If you construct a second story, the second story must be less than 550 square feet.
Your main house and the accessory dwelling unit must be separated by 10 feet front to back and side to side.
The ADU cannot be located in front of the main house.
If there are power lines on your property, your ADU must be 15 feet away from them. This 15-foot easement was increased from 10 feet in 2021.
Do I need a permit for my ADU?
Yes. An ADU is permitted the same way a new house is in Austin. You'll need a professional designer to create construction drawings that meet Austin's building code. With those plans, you'll be able to get your building permits. At this time, permits are usually approved in about four months.
City inspectors will visit the site to approve the different phases of construction, and when the unit is complete the city will issue you a Certificate of Occupancy stating that the ADU is legally habitable.
How long will it take to design and build my ADU in Austin?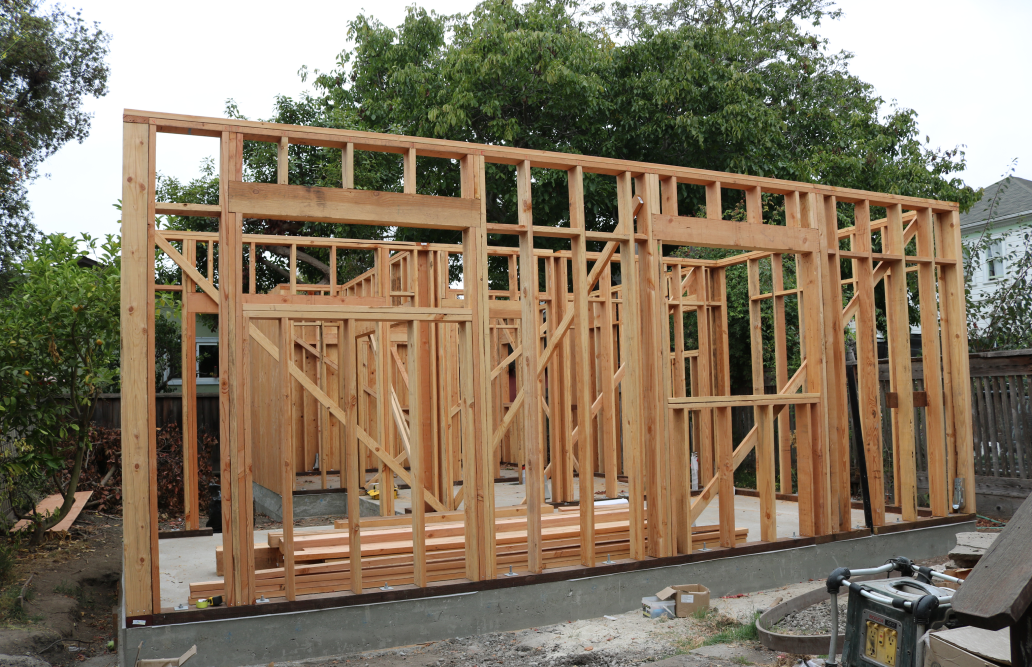 Accessory dwelling units are currently taking between 12-18 months starting from design to construction completion. Why does an ADU take so long? Permitting may account for some of that time. As ADUs become more popular, many cities are struggling to get through the incoming slew of permit applications, however, we predict that they will streamline the process soon.
Will my ADU need a parking spot in Austin?
You must provide one parking space for your accessory dwelling unit in addition to the parking you already have on your property for your main house. But if you live within ¼ mile of a transit stop, you do not need to provide additional parking for the ADU. To explore whether parking is required in your neighborhood, use this interactive map.
As of 2022, the city does not allow a separate driveway for an ADU. There must be just one driveway leading to both dwellings. However, you can apply for a waiver to this rule at Austin Transportation.
I have a tree on my lot. Can I build my ADU next to the tree?
Austin reveres its gorgeous trees and the building code protects them. If you have a tree on your lot with a trunk diameter of 19 inches or more, you'll need a tree review from the city arborist in order to find how close to the tree you can build. The Austin tree ordinance includes info about what qualifies as an Austin Heritage Tree and other rules about construction near trees.
What kind of ADU can I build in Austin, Texas?
Detached ADU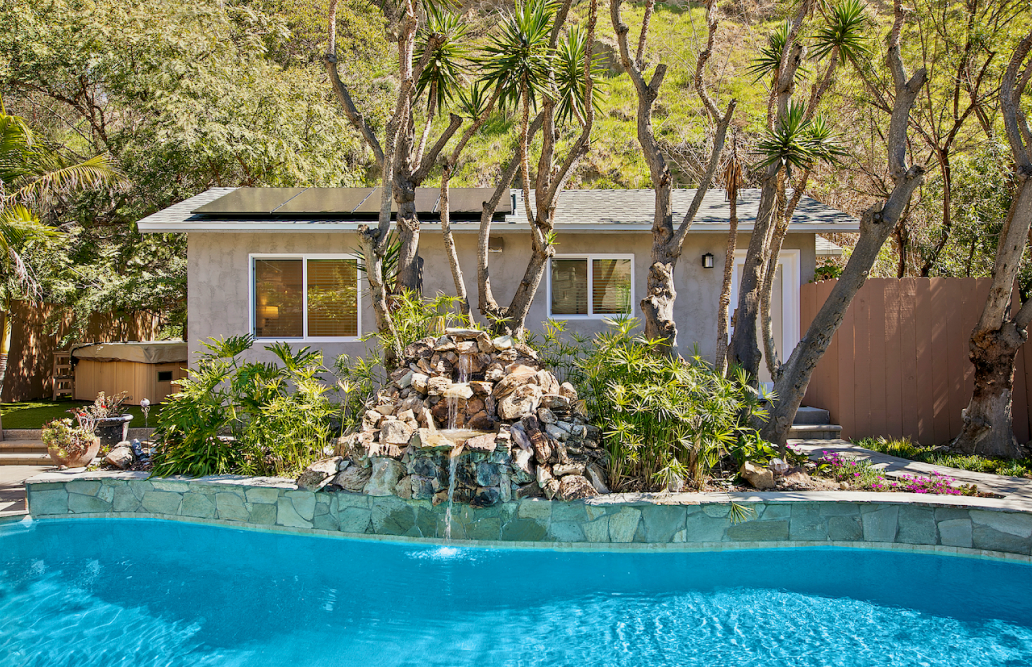 Your detached ADU can be a maximum of 1100 square feet (if it meets the lot-size criteria) and two stories, up to 30 feet in height.
These are most popular if you plan on renting your ADU for passive-rental income as you can build the unit as far back on your property as regulations allow to maintain privacy for you and your renters. For extra privacy, we've seen homeowners get pretty creative with landscaping to create separation between the ADU and the main home.
Over-garage ADU
Since an ADU over the garage is on the second story, these are limited to 550 square feet. That's plenty of room for a one-bedroom ADU or a very spacious studio. Of course, you can also build a two-story ADU with part of the unit on the first floor (next to the garage). That'll give you more ADU square footage.
Keep in mind, an above-garage ADU is the most expensive option. Most garages were not built to hold a second story, so your general contractor will have to do some additional work on the garage to make it structurally sound before they can build above it.
Nevertheless, they are a great option for homeowners with limited space on their property, or those who want to keep their backyard.
Attached ADU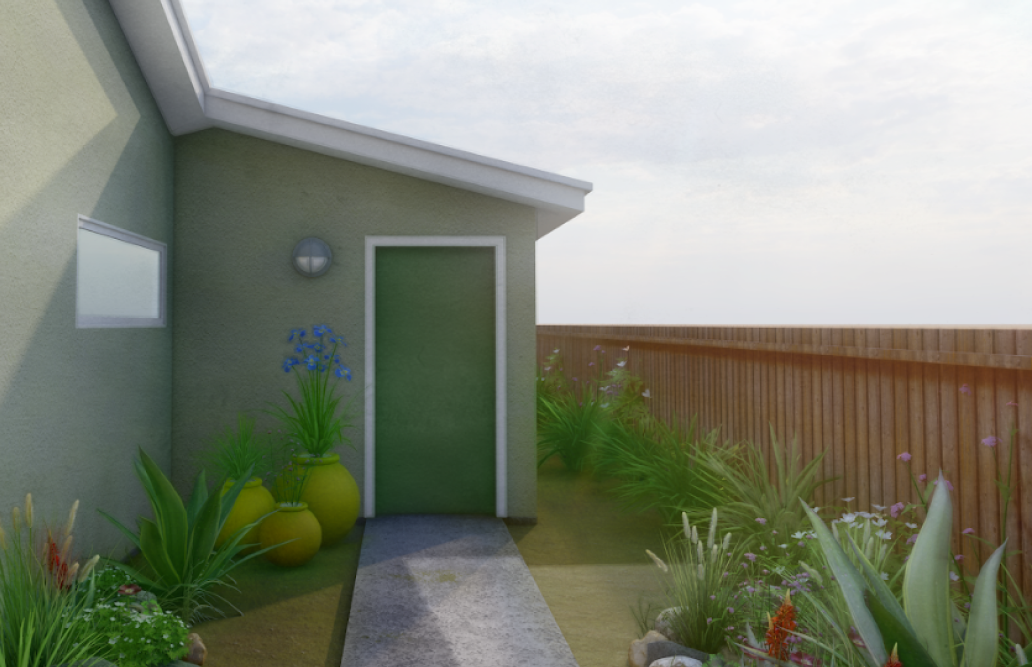 These accessory dwelling units are currently legal in Austin only if they're occupied by someone who is over 60, disabled, or a family member. If that rule changes, along with the rule allowing garage conversions, you'll be able to convert an attached garage to an ADU that can be occupied by anyone.
Garage conversion ADU—soon legal as a second dwelling, we hope!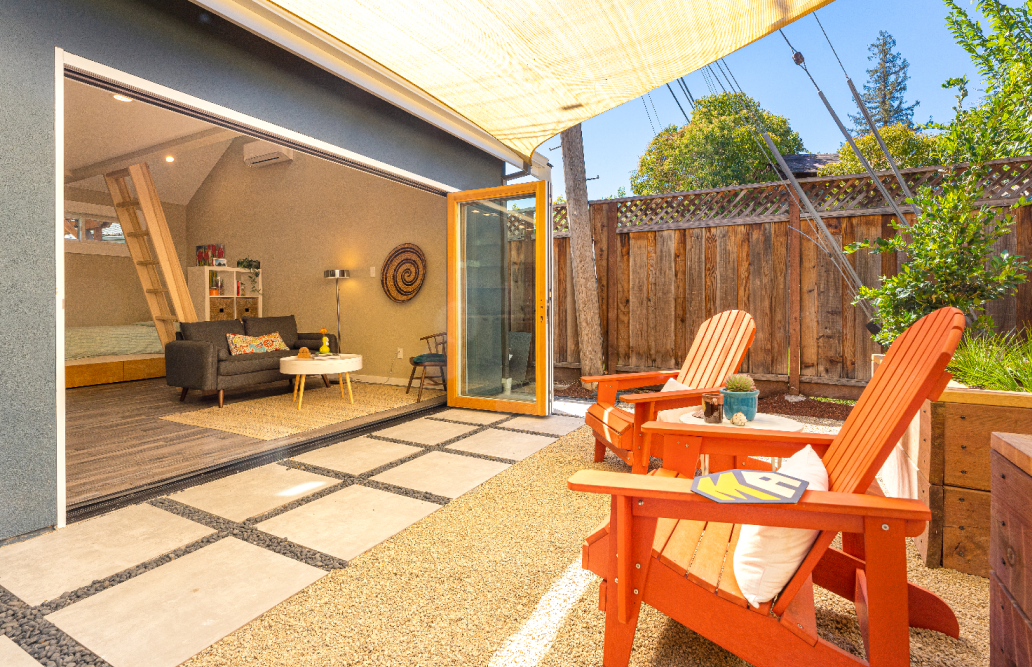 Homeowners love garage conversions! If the garage is in good shape, you can save thousands on construction by using the existing foundation, framing, and roof. In many cities, you can add square footage to build an ADU that's larger than the garage's footprint.
According to the current permit application in Austin, you are allowed to convert your garage to a habitable structure but it can't be used as a secondary dwelling. Other restrictions, such as not being allowed to build outside the footprint of the original garage, will, hopefully, be updated soon.
Here's a link to the garage conversion application. It's on the austintexas.gov Residential Plan Review page.
Can I rent out my ADU in Austin?
Yes! You can rent your ADU to long-term tenants. You can't rent it to short-term tenants (on sites like AirBNB) for more than 30 days in a calendar year if you built the ADU after October 1, 2015. To rent short term you must also live in either the main house or the ADU and have an STR permit.
Are accessory dwelling units legal in Texas?
ADUs are legal in all major Texas cities, with many jurisdictions in the process of making ADU regulations more favorable to homeowners. Check with a local designer, your city's planning department, or the city council to learn which rules are evolving. You may be allowed to build much more in a few months than you are today.
Scott Turner of Riverside Homes has noticed the shift in attitude: "Cities are starting to say, 'Hey, this is actually not a bad idea. They meet a lot of needs and add to our housing supply.' It's a form of gentle density everyone can agree on."
How much does it cost to build an ADU in Texas?
ADU costs start at about $125,000. That includes design, permitting, and construction.
The prices in Houston, Dallas, and San Antonio are less than Austin because they have fewer regulatory barriers. In rural areas the cost will depend on local regulations, permit fees, and the availability of labor and materials. Prefab ADUs are worth considering if you're running into trouble finding what you need locally.
Maxable is your go-to source for Austin ADU info!
Got a taste for more ADU intel? Maxable has been educating homeowners and helping them design and build ADUs since 2017. Check out our blogs, ADU Tours, and Youtube channel to find all the tips and tricks you need to get your project off the ground. Start learning more today!