Designing for small spaces is challenging and the details matter. Before you build your own granny flat make sure to bone up on these design tips for small spaces.
Design Tip #1: Let There Be Light
Not all views are created equal. Think about site lines when placing windows. Work with your designer or architect to strategize to avoid ugly views and instead maximize views of the sky and trees.
Skylights, transoms and clerestory windows are your friends. These windows are higher up on the wall so they let in light and maintain privacy. Installing clerestory windows is a smart solution for granny flats positioned in alleys or in high traffic areas where privacy is key.
Natural light makes any space brighter and more pleasant — the more, the better.
To maximize natural light, it should ideally come from at least two directions inside your accessory dwelling unit.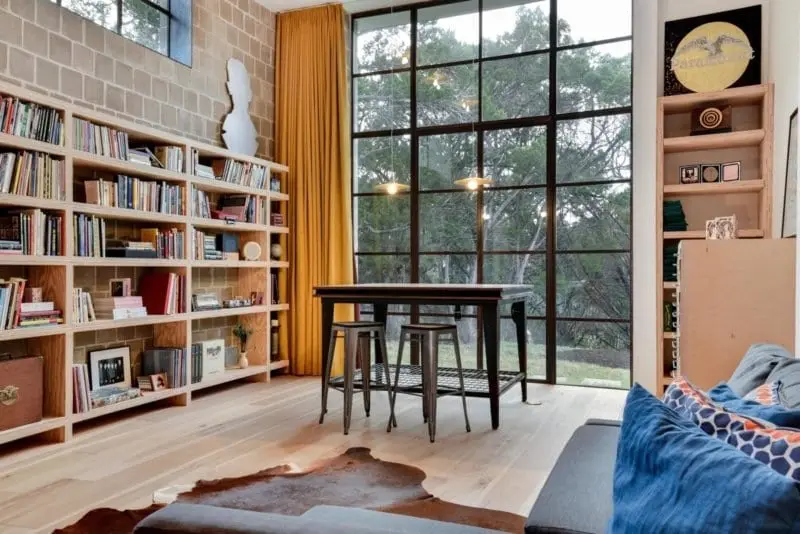 Here is a photo of a 3.1 Million dollar property in Austin. They built a granny flat to be used as a guest house on their property. Note the lovely the floor to ceiling windows. Moreover, the architect designed the space to include these open view with the windows facing away from the main house for maximum privacy.
Design Tip #2: Find the Right Expert
Look for an architect or designer who is familiar with ADU's and is intimate with design tips for small spaces.
Be aware that accessory dwelling unit construction is a niche project and many architects won't have experience.
Design Tip #3: Ceiling Height
Maximize the height of your ceiling. It will make your space feel bigger and more spacious.
Vault your ceiling if possible.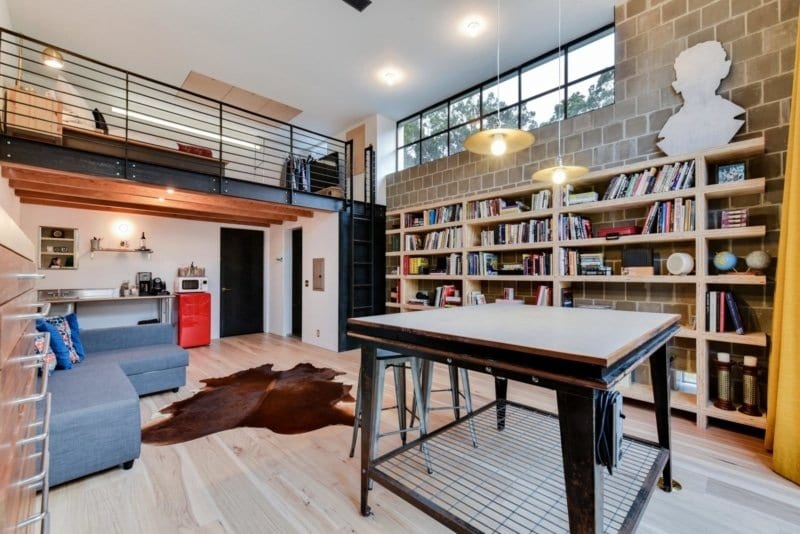 Here's that same granny flat in Austin. Notice how with the really tall ceilings they were able to loft the bed above the kitchen? This doubles the amount of usable space in that part of the home. Plus, the really tall ceilings in the living room give a large and expansive feel.
Also, note the clerestory windows on the right side of the granny flat.
Here's another great example of how vaulting a ceiling can create so much more space and openness.
Design Tip #4: Upcycle
Designing for small spaces can incorporate creative uses of salvaged materials.
Finished materials like cabinets, fixtures, doors, tubs, windows, and sinks can be found for a song. Save money and check out your local Craigslist.
Plan your salvaged materials ahead of time so you can work it into your plan. It's easier to incorporate this early.
Upcycled materials can make for an interesting focal point to a room and a wonderful design element.
Design Tip #5: Elements to Incorporate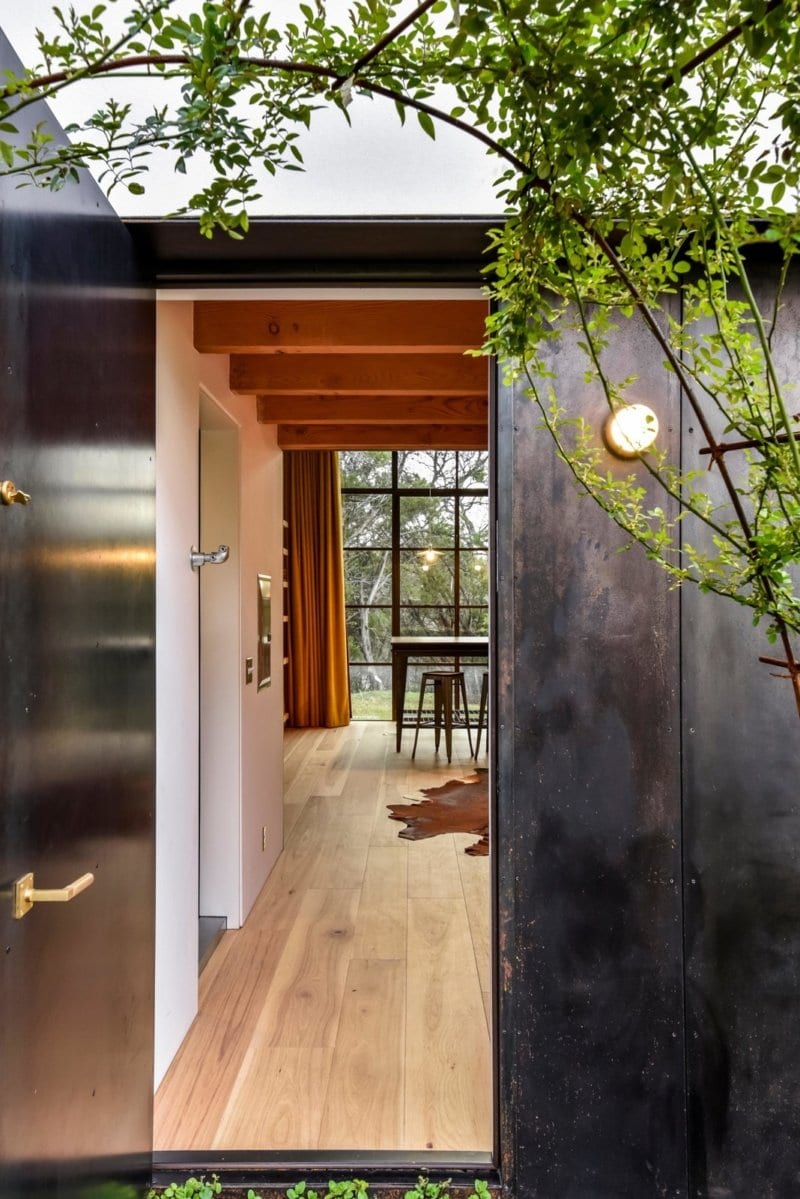 Exposed Beams: In addition to providing a lovely design element, exposed beams give you extra headroom when you're constrained by height.
Pocket doors: These save a lot of space, especially in bathrooms, and are very functional. Include your electrician in the planning process, because pocket doors can consume space needed for plumbing lines or electrical.
Innovative Storage: Maximize storage where you can. Think about how to use strange corners or spaces below stairs. Think about where you'll keep your vacuum.
Design Tip #6: Maximize Outdoor Space
Where the weather is pleasant year-round, a patio can serve as a second living room.
Think about building a deck or outdoor space with access to your ADU.
Use French or sliding glass doors to maximize light and create a direct connection to nature.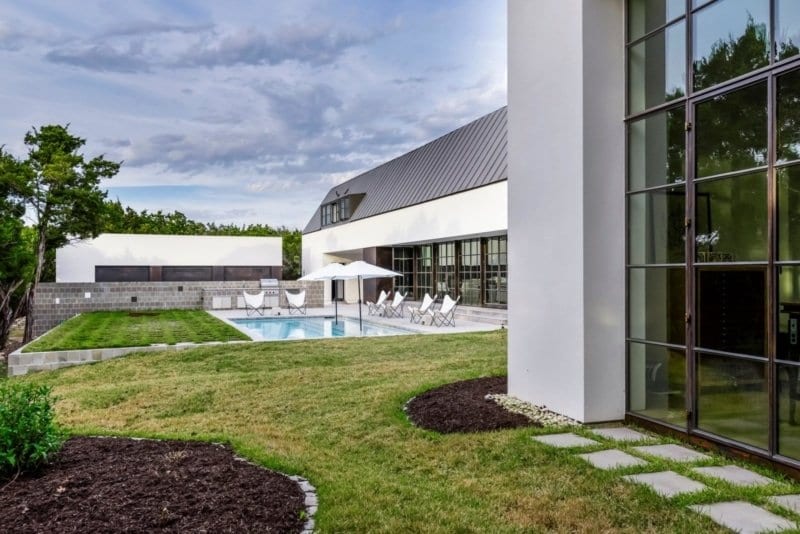 Notice how this granny flat opens to a beautiful backyard and pool? When the weather is nice, it expands your usable space. Outdoor furniture can transform your backyard into a giant living room.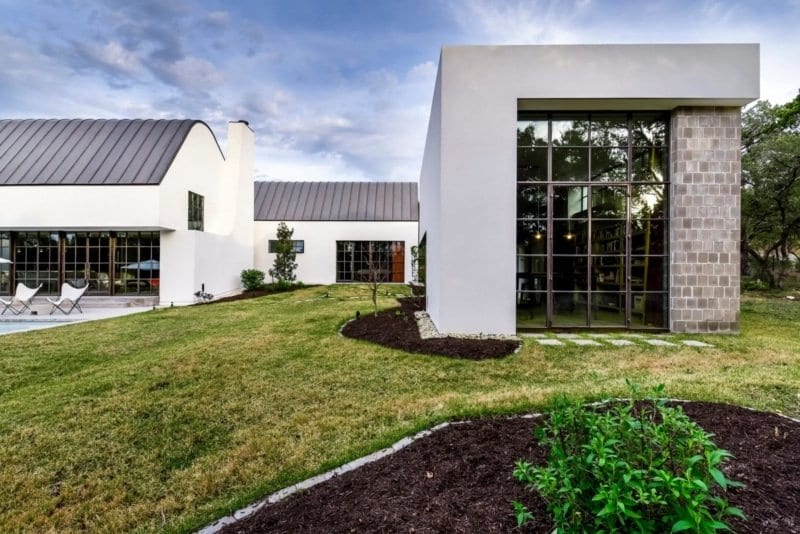 Or take a look at this cute back patio nook.
Image via.
Design Tip #7: Create Long Views
Avoid doors and stairwell walls which block views.
Minimize furniture and clutter to create a more spacious look.
The further your eyes can roam the more it will give the impression of spaciousness.
Plan, hire, and manage your ADU project with Maxable.
At Maxable, we believe that building an ADU should be fun and exciting. You shouldn't have to be the one to deal with confusing obstacles like permitting snafus or ever-changing regulations. We'll be by your side every step of the way and connect you to experienced designers and general contractors in your area to make sure your project goes as smoothly as possible.
Leave the headaches to us! Check your address and see what Maxable can do for your home during a free ADU Planning Call.