Let's be real for a moment.
Most of us don't have an unlimited bank account for our ADU project.
But, we still want our unit to look like the beautiful Instagram-worthy ADUs we see online.
So when does it make sense to pinch pennies and where should you splurge?
Are vaulted ceilings out of the budget? What about that quartz countertop or the hand-painted Moroccan tiles?
How do you know what to choose for that WOW factor?
Defining what features you must have versus the details you could do without can really help you stay true to your budget. Here are just a few splurge vs save comparisons that you can look over.
Vaulted Ceilings vs High Ceilings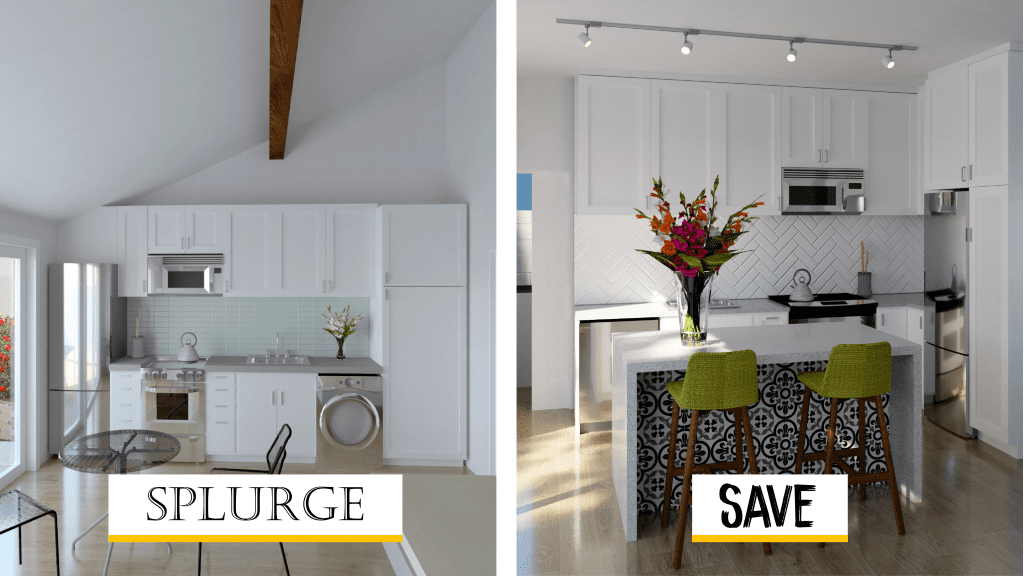 Vaulted ceilings look amazing in most homes and it's something a lot of our clients are interested in. They can make your space look larger but they're definitely a splurge item.
When a designer adds a vaulted ceiling to your unit it makes it a little more complicated to build. For one, you still have to factor in room for insulation, there's more material cost, as well as added complications for structural engineering.
So what's a good alternative?
If a vaulted ceiling is out of the budget, our designers recommend raising your ceiling height.
You can still achieve that spacious airy feeling without as much added expense.
It's still going to cost a bit more than a standard height but you'll definitely be spending less than if you went with vaulted ceilings.
When does the splurge make sense?
We had a client converting her garage and expanding the footprint to make it around 600 square feet.
She had a tall garage and she loved the idea of a vaulted ceiling.
Since she was planning to use the unit for her family it was really important to her that it felt like home.
So our designer, Jared Basler, designed a vaulted ceiling and exposed beams, but because the garage had been built in 1945 the structure wasn't up to current structural code. The general contractor had to add in a large support beam to get the plan approved.
Fast forward, 1 year later and the homeowner adores her ADU and thinks it was well worth the additional cost.
Check your address and see what Maxable can do for your home during a free ADU Planning Call.
Accordion Doors vs French Doors
Indoor-outdoor living is something that we can't stress enough for our California homeowners (take advantage of that sunshine!), and your door can make a big impact.
You've probably seen photos of those unbelievable glass walls that fold into the wall?
They are gorgeous but expensive.
In fact, on an ADU tour in Portland, we saw one that was 30' long and cost a whopping $24,000.
OUCH!
These accordion doors are definitely on the pricey side and start at ~$8,000. Our clients love them because when opened, they expand the space of your ADU to make the perfect space for gatherings or just enjoying the outdoors.
But, what if you're not ready to splurge $8,000 (or more!) on a glass door?
French doors are a great cost-effective alternative. They don't have the same "wow factor" as accordion doors, but they do the job and look stunning. A french door will cost only around $600 for a simple one. Quite the cost difference, isn't it?
Loft vs Attic Space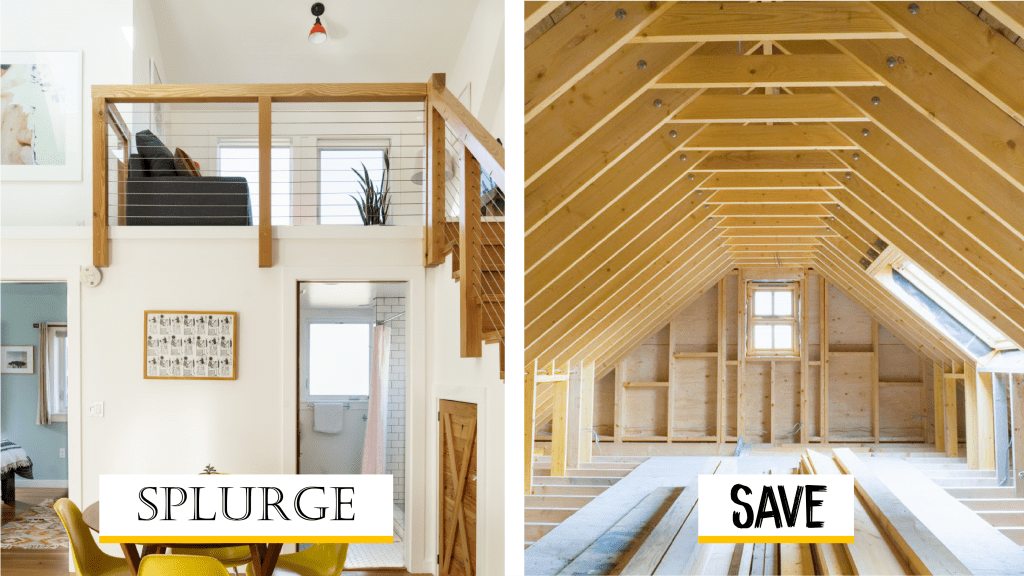 A lot of our clients come to us with inspiration pictures of lofts.
We love the way they look, but there are a lot of misconceptions about lofts and one of the major ones to call out is cost.
What a lot of people don't realize is that you're essentially building a second story, but more complicated because a wall and part of the structural support is missing. This means your ceiling needs to follow height regulations and will need a staircase.
So, let's put it this way.
Is your dream of having a loft in your ADU worth an additional $50,000?
Your answer might be a resounding yes, in which case, that's great and we have lots of clients with lofts.
If you're on the fence we can make another recommendation…
Attics!
Ok, it's not quite as sexy, but hear us out.
When designing a small space, extra storage space is absolutely crucial and you'll definitely appreciate having it down the line. An attic, if added into the plans from the beginning, is an affordable way to add additional functional space. Your designer can incorporate attic trusses into the roof plan of your unit.
Adding attic space means you also can expand your bedroom or living space since you won't have to sacrifice square footage for storage.
We dive into more space-saving and splurge vs save ideas like these in our ADU E-course.
Smaller Kitchen Appliances vs Standard Size Appliances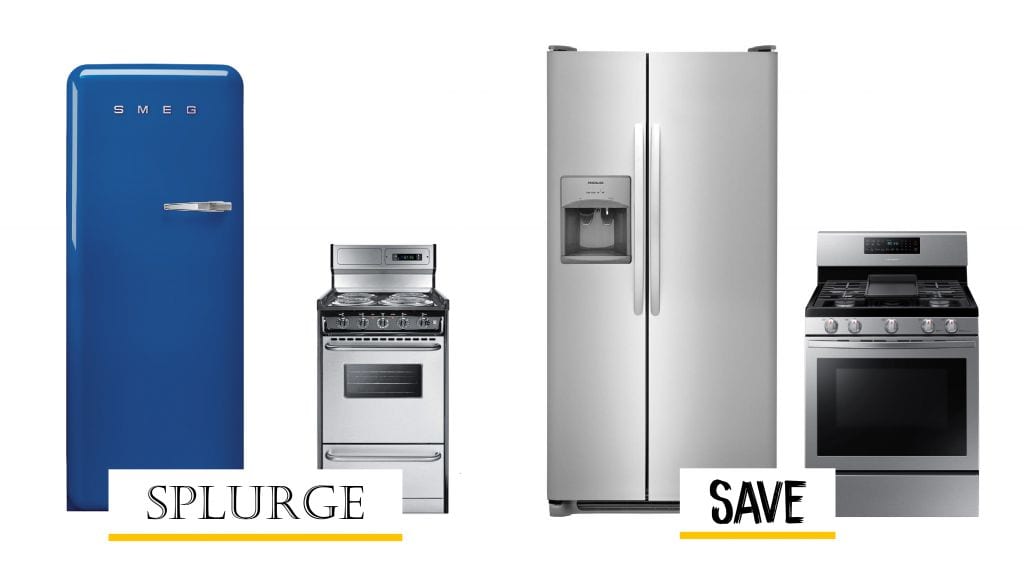 Here's the reality of small appliances.
They tend to be a lot more expensive than their full-sized counterparts.
They're great if you're more concerned about preserving storage and counter space. Plus, they just fit better in a smaller sized kitchen where standard-sized appliances would look clunky and odd.
However, this is one of those scenarios where we recommend our clients pick and choose which appliances to size down and which to keep full size. A common combination we see is going full size with the stove and downsizing the refrigerator, but you can always do it the other way around if fridge space is more important to you.
This goes for other appliances around your home as well.
Wood Windows vs Vinyl Fiberglass Windows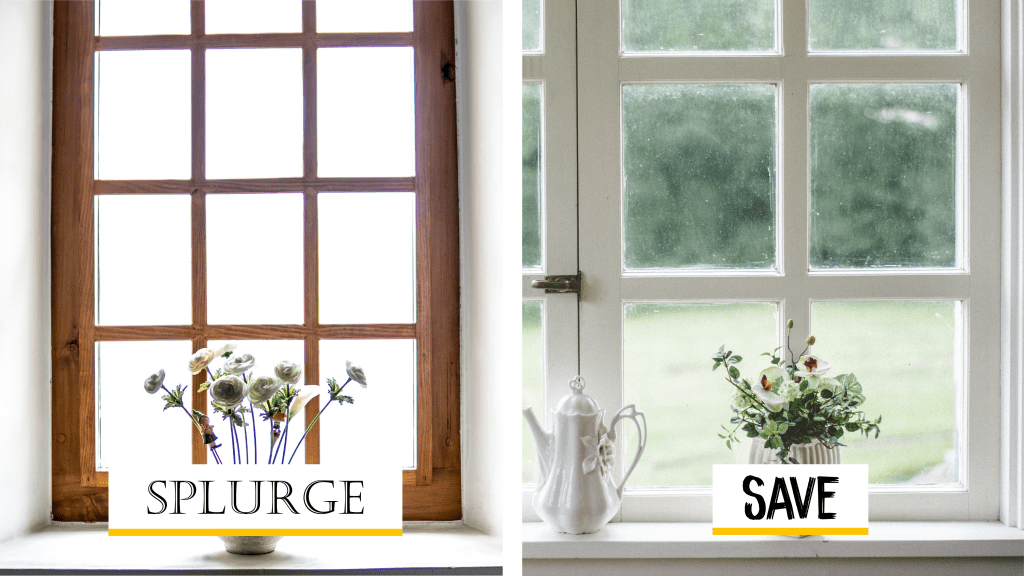 Windows might not be top of mind for your ADU build, but they represent a significant material cost and are worth taking a minute to consider.
If you're going for a rustic look to your ADU, wood-framed windows are the way to go. They give a beautiful classic look to your space, but when it comes to splurge vs save, they're also on the high end on price. With that being said, they also last up to 60 years so your dollar stretches by quite a bit.
However, if you prefer to save on windows, vinyl ones with fiberglass are always a great option. The fiberglass adds durability and the white vinyl gives it a nice look that fits in with most designs.
To get started on your next steps in your ADU project, book a free ADU Planning Phone Call with us.
Vinyl Laminate vs Engineered Hardwood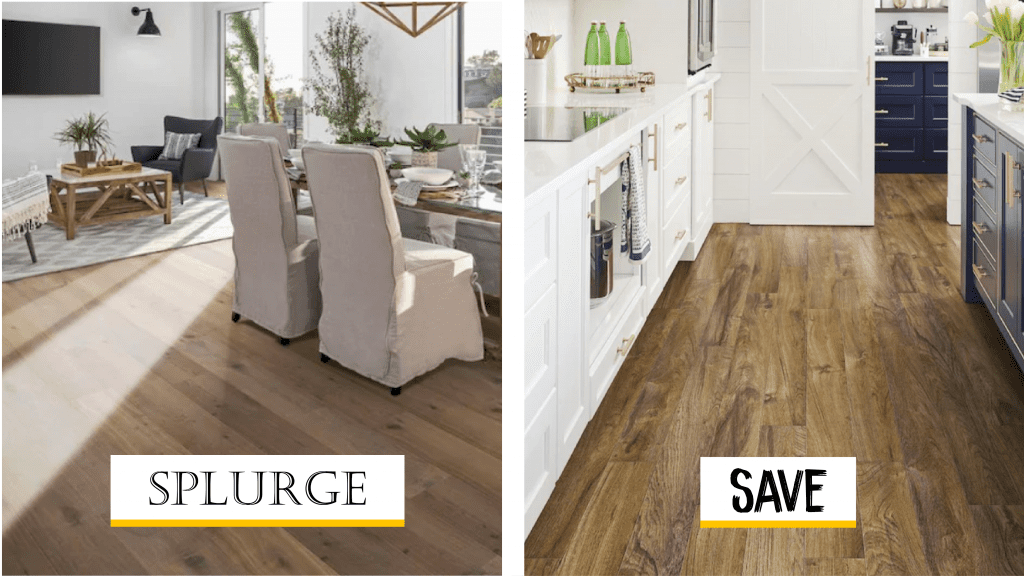 Flooring is like the frame of your painting so this decision is crucial.
Laminate flooring is going to be your cheapest option but just because it's cheap doesn't mean it's not a great option. It looks great and is popular flooring for rentals. At $3-5 per square foot, it's definitely a cost-effective choice.
On the high end is engineered hardwood which will typically cost around $8-12 per square foot. It feels really solid, looks great, and the best part is that after facing some wear and tear, it can easily be sanded down and refinished.
*Bonus* A great in-between option is luxury vinyl flooring, which will cost around $5-7 per square foot. The great thing about luxury vinyl flooring is that it's completely waterproof making it perfect for the bathroom and kitchen.
Custom Shower vs Prefab Shower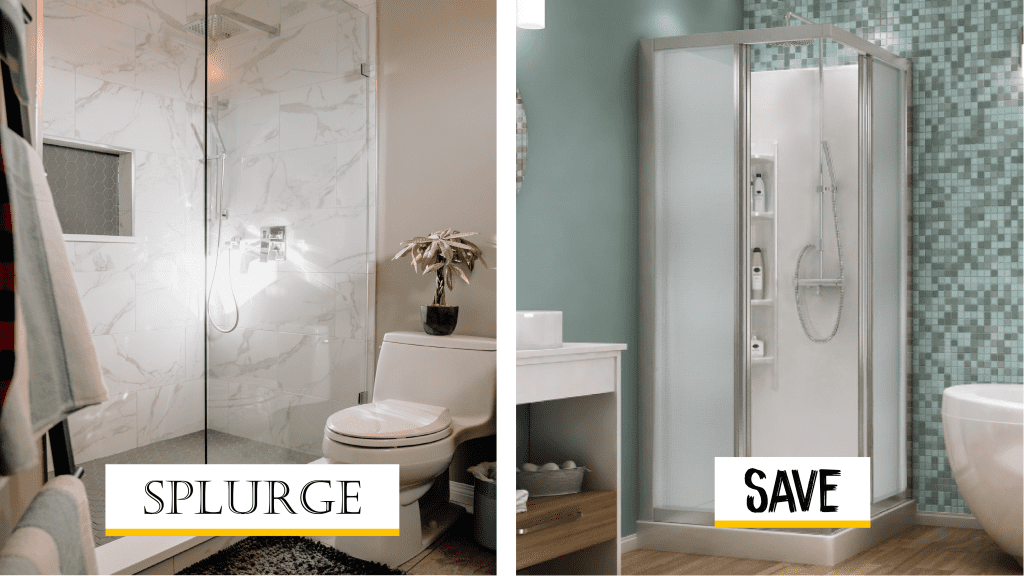 The bathroom is a place of relaxation and rest for a lot of people, so splurging on this room of your ADU isn't a bad idea. Especially think about the shower. We've seen some amazing custom showers, but keep in mind that it can get pretty pricey. The bulk of the cost is going to be for labor and if you have a lot of tile to install, it can rack up quickly.
Nonetheless, the results can be stunning.
If you want to scale it back, prefab showers can look great too especially since it's so easy to install. Expect to pay between $300 to $800 for a great looking shower.
Special thanks to Paul Dashevksy, founder of GreatBuildz, and Lead Maxable Designer Jared Basler, for their contributions to this splurge vs save blog.