Close your eyes and visualize your garage. If you see something dingy, cramped, and cluttered, you're definitely not alone. But that doesn't mean it has to stay that way! Fortunately, garages have loads of potential to become fantastic, usable spaces.
The secret to success? Garage conversions!
Here are five small garage conversion ideas to heighten your garage's true potential.
Can I convert my garage into a living space?
Yes! In the state of California, you can legally convert your garage into a living space. This is known as an ADU and must contain a full kitchen and bathroom.
Typically, garages are about 500 square feet.
Seem too small to fit all of that in there? Think again!
Even though this doesn't sound like a lot of space, you'd be surprised at what can fit into a footprint this size. With the right design, there are ways to maximize the square footage and accomplish quite a lot! By the time everything is said and done, you'll never guess that the space is as compact as it is. Check out our ADU Tours page to view tours of real garage conversions.
Benefits of converting your garage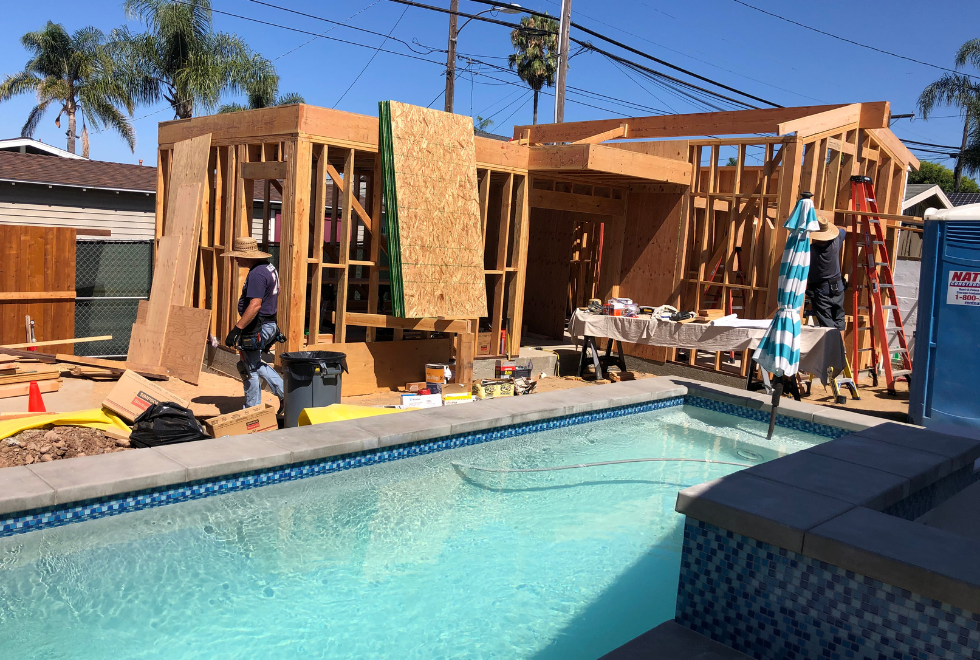 Garage conversions offer many unique benefits and possibilities for potential. Two of the biggest advantages are cost and time.
Since garage conversions utilize an already existing space, they typically sidestep a decent amount of the construction costs and can also shorten the project timeline. But keep in mind that if the garage isn't deemed structurally sound enough, it may need to be reinforced or demolished entirely, which can be pricey and time-consuming.
Maxable Hot Tip: Even if your garage has to be torn down, the city will still view it as a garage conversion if you build your new ADU within the original footprint. This means you can still reap some of the regulatory benefits of garage conversions in California.
Garage conversions can also take many forms. Think of them as a blank slate just waiting to come alive with innovative designs and purposes!
There are an abundance of options, so it really all depends on what you're looking to gain from the space. At the same time, they add value to your property and have a great return on investment (ROI) for homeowners looking to sell the property one day. We'll discuss this in more detail later.
Let's take a dive into what each of these options will cost.
1. Garage to living space
Did you know that you can legally rent out your garage as a long-term living space?
As mentioned before, this is called an ADU, or accessory dwelling unit. ADUs are different from guesthouses – which aren't rentable in the long term – because they have a full kitchen. For all intents and purposes, ADUs are fully functional living spaces that many people call home!
Even with just 500 square feet of space or so at your disposal, garage conversions include all the elements of any ordinary house: a kitchen, living room, bathroom, bedroom, etc. Fitting all of these essentials inside such a tight footprint can be challenging, but it's more than possible!
Moreover, garages that convert to living spaces provide fantastic housing for visiting or long-term family members. Despite the close proximity to the primary house, they provide a generous amount of privacy and autonomy.
Cost to convert your garage into a living space
So, the million-dollar question remains: What does this type of garage conversion typically cost?
The starting cost is roughly $130,000. Location definitely contributes to varying starting costs.
Surprised by that number? You're not the first.
Many homeowners often underestimate the price tag for this type of project. But the reality is that there are a number of moving parts and requirements with a garage conversion, much like any ordinary house, except with the added challenge of a tighter floor plan. To gain a deeper sense of everything involved, read more about what a garage conversion costs.
As mentioned earlier, the price tag for your garage conversion is contingent on its existing structural quality. But that's not all! The cost can also fluctuate depending on what you plan to do with the space and where it's located.
Things like your level of finishes, sloping on your lot, and design features will impact your final cost of the project.
Fortunately, garage conversions still remain the most affordable type of ADU you can build, contributing to their continual popularity!
Return on Investment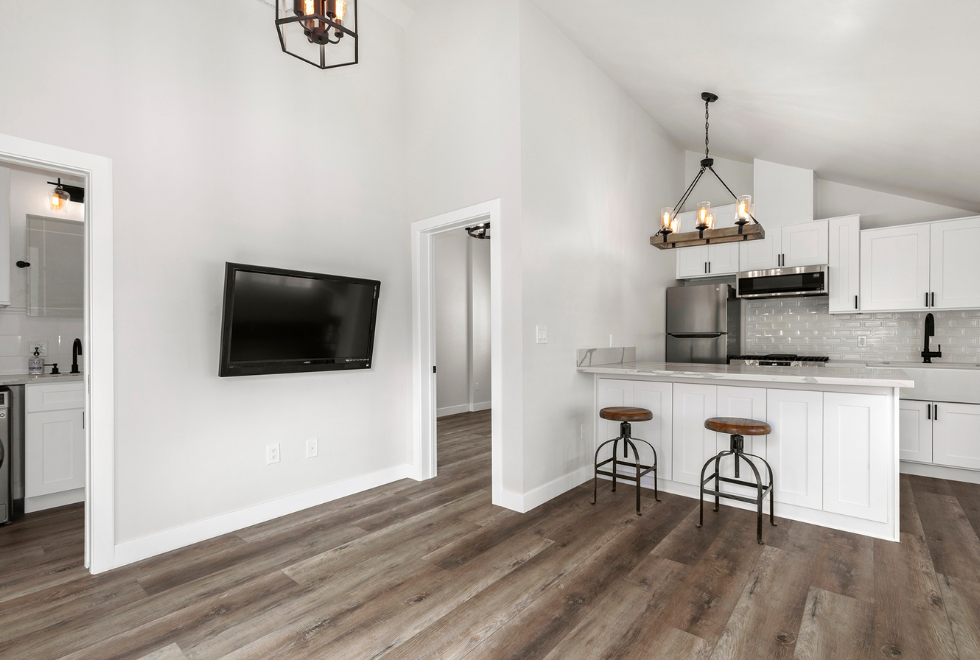 Now that you have an idea of the starting price, let's talk about some financial advantages.
Transforming your garage into a living space offers many unique benefits, predominantly for those interested in renting out the unit. Renting out your ADU to tenants looking for more affordable housing can translate into significant passive income for the homeowner. In particular, the return on investment (ROI) can be quite impressive for long-term homeowners.
Let's look at the numbers for a one-bedroom ADU built in Denver, CO. A one-bedroom ADU can be rented for around $1,462 monthly, which comes out to roughly $17,544 annually. Talk about some serious passive income! And remember, this is just for a one-bedroom unit!
Maxable Hot Tip: As a general rule, the longer a homeowner owns their property, the greater the ROI. So, if you're thinking about adding an ADU to your property, make sure you're committed to keeping the property for at least 10 years.
So, even though the price tag may seem high, don't forget the ROI that comes with it. Down the road, you could have your ADU entirely paid off with money left over for early retirement, a trip abroad, or something else exciting!
Intrigued and ready to learn more? Check out our comprehensive E-course, The ADU Blueprint! We'll walk you through the entire process and discuss what an ADU would look like for your property, all led by some of the top ADU professionals in the industry.
Click here to check out the first two lessons for free!
2. Garage to entertainment space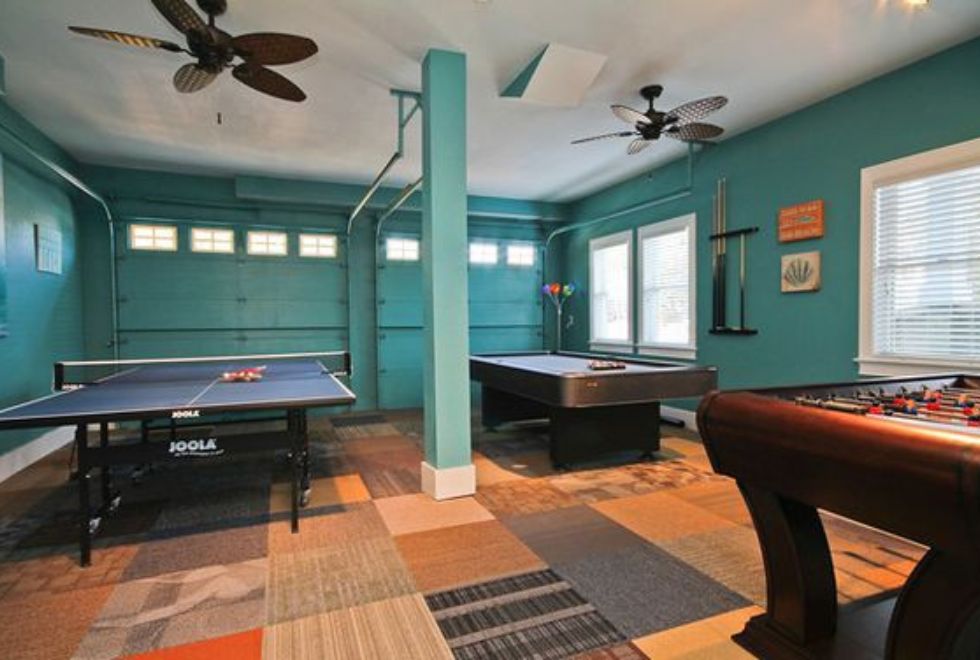 Ever wanted to host friends and family, but you feel short on space? Garage conversion to the rescue!
Turning your garage into an entertainment space is another popular choice for homeowners. With an open floor plan and close proximity to the house, it's the perfect place to gather friends and family alike for holidays, birthdays, and more! Forget cramming everyone inside your living room or disturbing the order of your home. This bonus space provides the perfect, multi-purpose solution!
It's important to know that an entertainment space won't bring you the same passive income that a rentable living space will. But don't worry! It will still add value to your home for those looking to sell their property later on.
Cost to convert your garage into an entertainment space
The starting cost for an entertainment space is about $20,000. The price for this type of garage conversion is significantly lower than a living space since you're not required to add plumbing, insulation, and so on.
But the downside? The payoff is much lower, as well.
When everything is said and done, ADUs have the advantage of being much more flexible spaces with the option to rent them out for passive income. While the future for your garage wholly depends on your decision for the space, this is definitely something to keep in mind.
3. Garage to home office
When the pandemic hit back in 2020, millions of Americans found themselves working from home with no idea when they might return to the office. Flash forward to today, and millions of people continue to work from home as remote work becomes the new normal nationwide.
Working from home offers tons of benefits. Want to put in a load of laundry? No problem! Need a quick bathroom break? It's only down the hall!
But here's the caveat: endless distractions. Rowdy kids, snacks close by, TV noise in the background, needy pets…Working from home can certainly test the patience and concentration of even the best of us!
Converting your garage into a home office is a great solution. It's close to the primary residence but offers the necessary peace and quiet for productive work to get done. Forget renting out an expensive office space or struggling to focus amidst a chaotic house. A garage conversion is the ideal getaway merely steps away!
Take Walter's experience, for example. As a psychologist, Walter was paying over $3,000 a month, or upwards of $36,000 annually, to rent out an office space in a busy area for his clients. Parking was also pricey and a constant hassle. So, Walter and his wife decided to do what any reasonable person would do: They built an ADU right in their backyard!
Now, Walter has the perfect office space for all of his clients, with hassle-free parking, thick walls for privacy, and a gorgeous ground-level and rooftop garden space! With only a $500 increase to his mortgage, Walter has noticed a dramatic decrease in his monthly finances. And when the time comes for him to retire, he now has the perfect space to house his adult kids or family members. Check out a video tour of their stunning, backyard ADU!
There's no denying that home offices can be total game-changers. But similar to an entertainment space, they simply don't add as many dollar signs as a rentable ADU to your property. But they will still add value! The potential ROI for those who decide to convert it to a rentable space in the future is phenomenal. So, if a home office separate from the primary residence is just what you need, go for it!
Cost to convert your garage into an office
Just like with an entertainment space, the starting cost for a home office garage conversion is roughly $20,000. The price is right, but it's important to make sure the space is, too. Know the limits that come with an office space as opposed to an ADU that is a rentable living space.
4. Add a loft
This takes some work, but you'll reap the rewards they offer in no time.
According to the state of California, an ADU loft is considered a second story. This means that the ceiling of the loft has to be at least 7 feet high. So, unlike many preconceived notions, you can't just put a loft anywhere.
As with any second story, you'll also need stairs to access the loft. This comes with another set of regulations to be mindful of. At first glance, a staircase may seem like a square footage stealer, but they can serve double duty! Building a closet, shelving, even a desk underneath helps remedy the loss of space that they take up.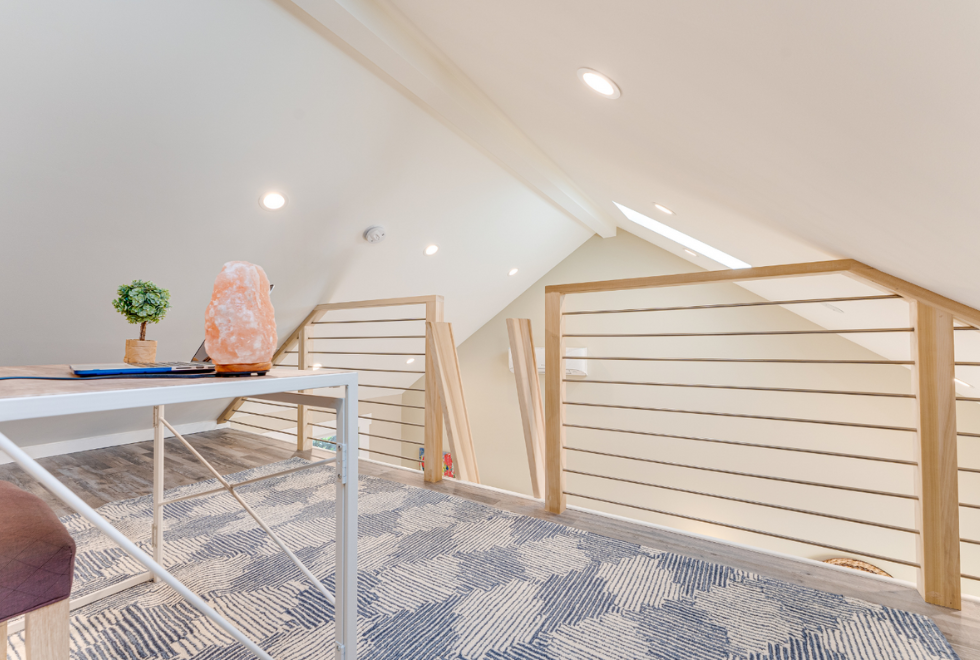 Unsurprisingly, adding a loft isn't cheap. But it's a worthy investment! They supply valuable space to sleep, work, entertain, and more! Trust us when we say that you won't regret your decision to add one.
Learn more about how to build an ADU with a loft.
5. Add a rooftop deck
Sometimes, garage conversions can look somewhat bland from the outside. So, if you have a view worth taking advantage of, consider adding a spark of character by including a rooftop deck!
Not only can you appreciate some pretty cool panoramic views from up there, but it provides the perfect hangout area or simply a peaceful spot to drink your morning coffee and relax. They're a great way to add a beautiful and unique outdoor space to your property without taking up precious yard space. Check out this adorable ADU in San Diego with a rooftop deck to see what this can look like.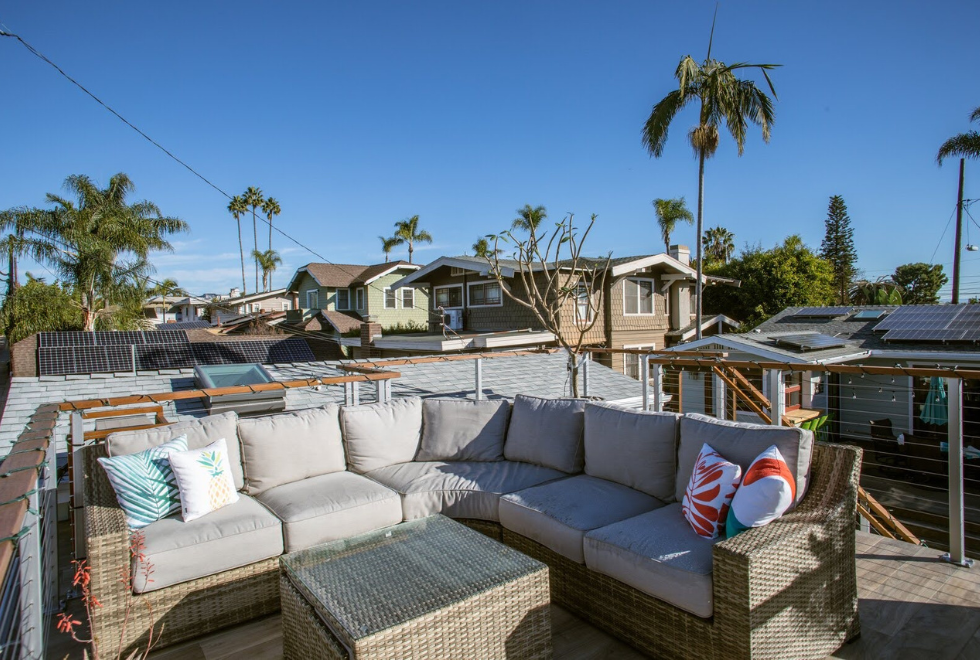 You'll have to make sure that your garage's structural integrity is up to the job before you begin. But a peaceful rooftop deck is a worthwhile investment to make when you consider the hours of entertainment they provide.
Plan, hire, and manage your ADU project with Maxable!
These five ideas are just the tip of the iceberg for what garage conversions have in store. For even more creative inspo from real homeowners like you, check out our ADU Tour page. Your garage will go from dreary to desirable in no time!
And as always, don't forget to register here for a monthly webinar hosted by Maxable's CEO. Say goodbye to any uncertainties or questions you may have about the process, and say hello to a glamorous ADU just waiting on the horizon!