If you're interested in building an ADU your number one question is what does it cost to build an ADU in San Diego? You're not alone! With the supply chain throwing everything in flux and inflation causing a surge in various material prices it's important to understand a realistic cost before you start your project.
Cost per Square Feet In San Diego
A typical ADU project costs between $300-$500 a square foot.
That's a big range!
So, for example, if I want to build a 600-square-foot one-bedroom ADU you're saying it could be between 180,000-300,000 in construction costs?
That's not particularly helpful.
The problem is the cost per square foot is a terrible way to look at the costs of an ADU. I'll explain why.
The larger your accessory dwelling unit is (generally) the cheaper your cost per square foot will be. So if you build a 1200 sq ft ADU it's going to be less expensive cost per sq ft than a 400 sq ft ADU. This intuitively makes sense. As your build grows in size you can tap into economies of scale.
The first 400 square feet will be the most expensive. There are lots of fixed costs within an ADU project. For example, your permit fees and the design fees don't vary that much if you build a 400 sq ft ADU or a 1200 sq ft ADU. Plus, there's expensive square footage, like your kitchen and your bathroom that's always required no matter the size. This makes it more cost-effective to go bigger if you can afford to.
Cost of Finishes matters…a lot! Believe it or not, the level of finish on an ADU project can represent up to 30% of your construction budget! So there are some huge cost differences between entry-level finishes and high-end finishes even if the floor plan is identical.
Building for family costs more. We've seen on nearly every ADU project we've been involved in that if a homeowner is building for themselves or a family member the finish cost is higher than for a rental because people want nicer things for their family members.
The site and your individual property can impact the cost. Sites on a steep hillside can add tens of thousands of dollars to the cost of a project! So, suddenly that 600-square foot ADU jumps from $350 an sq ft to $500 a sq ft.
So you can see why cost per square foot numbers can be exceptionally unhelpful when you're trying to figure out the true cost of your project.
Cost Breakdown of Building an ADU
Better than guessing at what an ADU costs in San Diego let's look at some examples of three construction bids that we helped source for a homeowner.
As a heads up, Maxable offers to source designers and builders for your ADU project! To access this service, you can click here, and we'll ask you a few simple questions to learn a bit more about your project and start our research!
This homeowner is based in Escondido and is doing a garage conversion.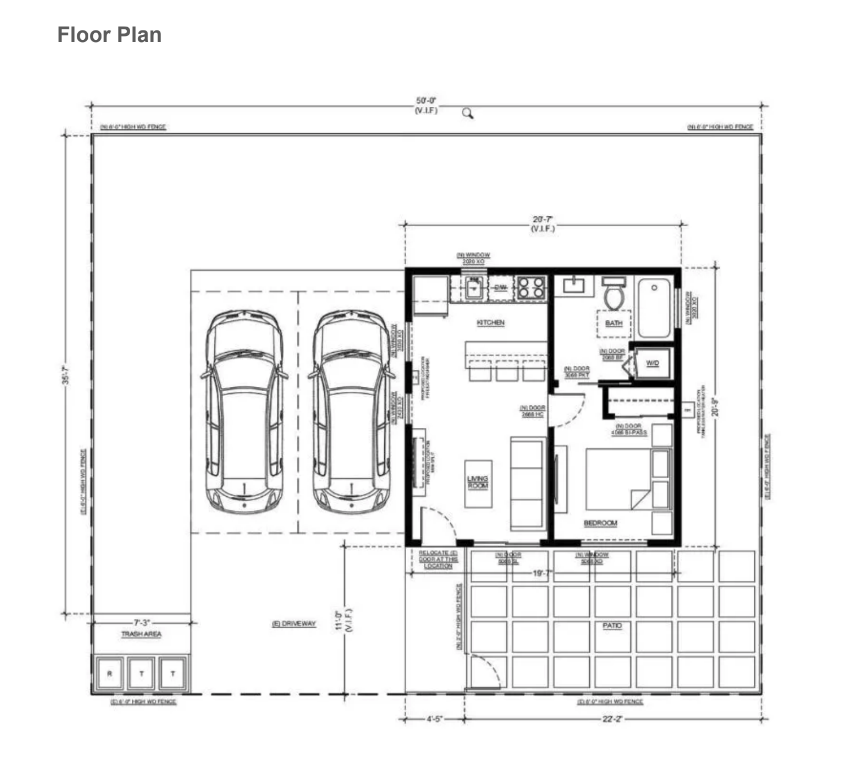 Homeowner's Bid: $163,732
This was a bid the homeowner sourced on her own.
Maxable then sourced three bids for her ADU project which ranged from 128-149K (Ultimately, saving her nearly $20,000, not too shabby!)
ADU Bid #1: 128,300
ADU Bid #2: 145,200
ADU Bid #3: 149,600
Let's take a look at the breakdown of the cost to build an ADU in San Diego. We'll explore the middle bid line by line.
As a reminder, all the contractors that Maxable sources have been heavily vetted by our team, including looking at their license information, adequate insurance coverage, ADU experience, minimum 3 years in business, residential ground-up construction experience, flawless track record, and a history of happy clients.
Site Work $8,786.26
Dumpster / Waste Removal
Equipment Rental
Portable Restroom Facilities
Demolition
Site Security-Fencing
Framing and Concrete $14,277.67
Concrete foundations and wood framing for ADU
Excludes building reinforcements that may be required due to the age of the existing building
Doors, Windows, and skylights $11,202.48
Purchase and install:
5 windows ($500 allowance per window)
1 exterior door – (allowance of $1200 per door)
1 interior – (allowance of $250 per door)
1 pocket (allowance of $350 per door)
1 closet (bypass) (allowance of $300 per door)
1 bifold (allowance of $250 per door)
Electrical $15,134.33
Rough and finish electrical
Includes sub panel installation, electrical and lighting fixtures
Includes electrical up to 5 ft from the unit- does not include underground to the main house
Excludes main panel upgrade and solar panels
Plumbing $13,728.53
Rough and finish installation of plumbing
Includes tankless water heater and plumbing fixtures
Includes plumbing up to 5ft from Unit- does not include underground to main house or sewage
ejector pump.
Excludes separate water meter or upgrade
Exterior $3,294.85
Patch siding where necessary
Insulation $4,832.44
Insulate walls and ceiling per plans
Heating, Venting, Air Conditioning $8,566.60
Minisplit Heating, venting, and cooling system – 1 register unit
Venting of dryer, Kitchen range hood(or Microwave) and exhaust fan
Excludes QII or HERS testing
Drywall $9,994.37
Painting $10,653.34
Interior and exterior painting
1 color for walls
1 color for ceilings
1 color for trim work and doors
2 coats ( 1 primer and 1 paint)
Cabinetry $11,608.85
****estimated****
16 Linear ft of Cabinets in the Kitchen
3'0″ Bathroom Vanity
38 sq ft of stone countertops with 4 in the backsplash
Tile $8,786.26
Tile shower and bathroom floor (160 sq ft)
Includes tile material allowance of $2/sqft
Flooring + Finish work $8,303.02
Laminate vinyl plank flooring (includes overage)
Includes flooring material allowance of $3/sqft
Job Costs and Operating Expenses $16,102.55
Supervision
Insurance
Worker's compensation
Fuel costs
Accounting
Overhead
Total $145,271.55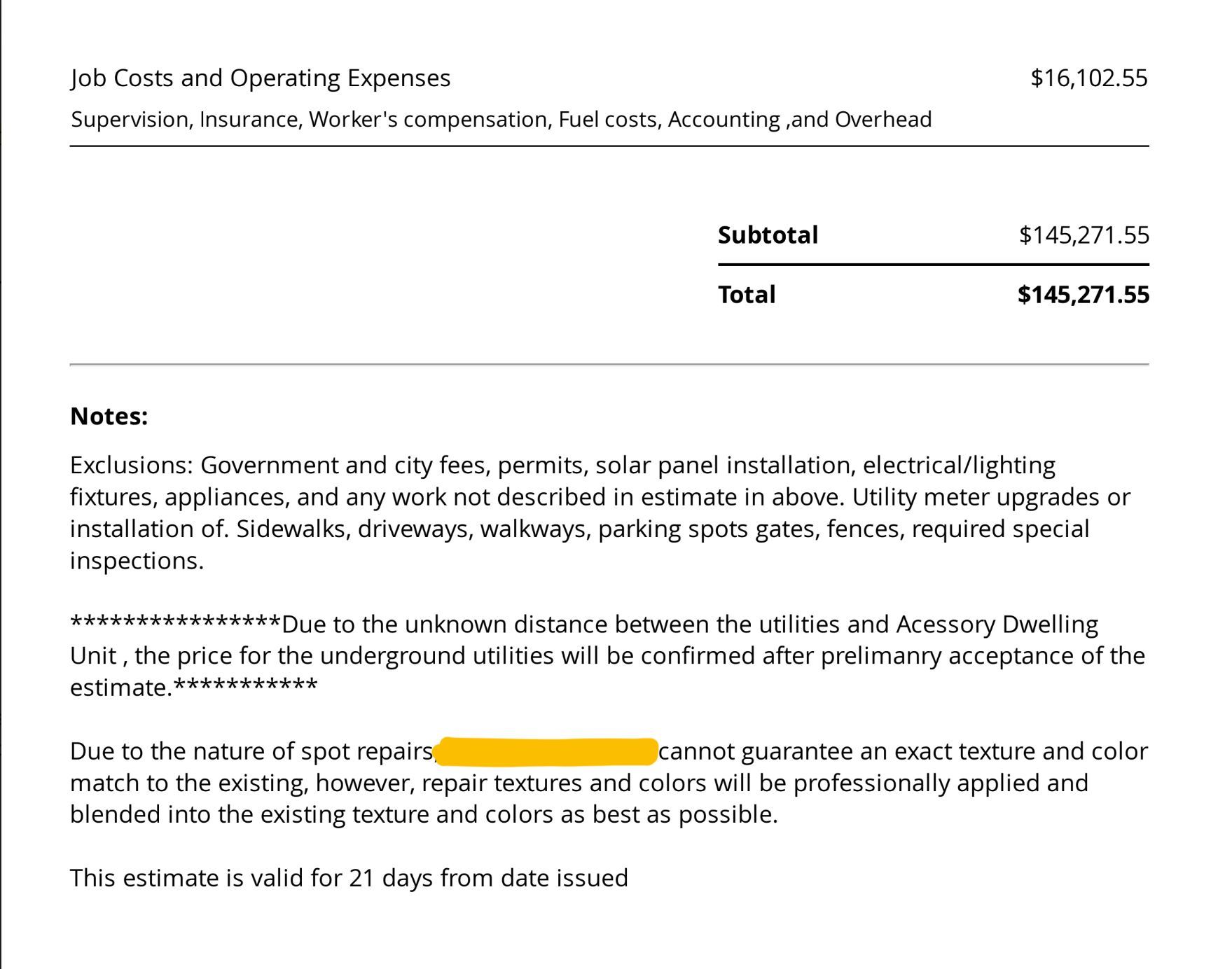 Why is it so expensive to build an ADU in San Diego in 2022?
Supply chain backup and inflation have absolutely impacted prices. Three years ago, we expect this project would have been ~$20,000 cheaper.
Remember, there is a LOT that goes into building a house and an ADU is no different. Although a lot of homeowners balk at the initial price point, we encourage homeowners to explore the return on investment (ROI) and the cash flow that a unit provides.
Going back to the example above, this homeowner went with the middle quote of 145,000.
She took out a loan for the full construction amount through a HELOC she has secured for her home. With rising interest rates her monthly payments on that loan are $960/month.
Her plan is to rent her unit out to traveling nurses in between Airbnb rentals. She can get $2,500/month renting this unit out for 3-month stays and roughly, $120 a night or $3,600 a month for Airbnb.
Suddenly the cost to build an ADU in San Diego doesn't seem so expensive.
Monthly loan payments = $960
Monthly gross income = $2600
Month Profit = $1,640-2,640
Now, this doesn't take into account the value increase of the property!
In a national housing survey done by Porch, where they looked at millions of home listings they found that properties, located in urban cities, that had an ADU were priced 35% higher on average!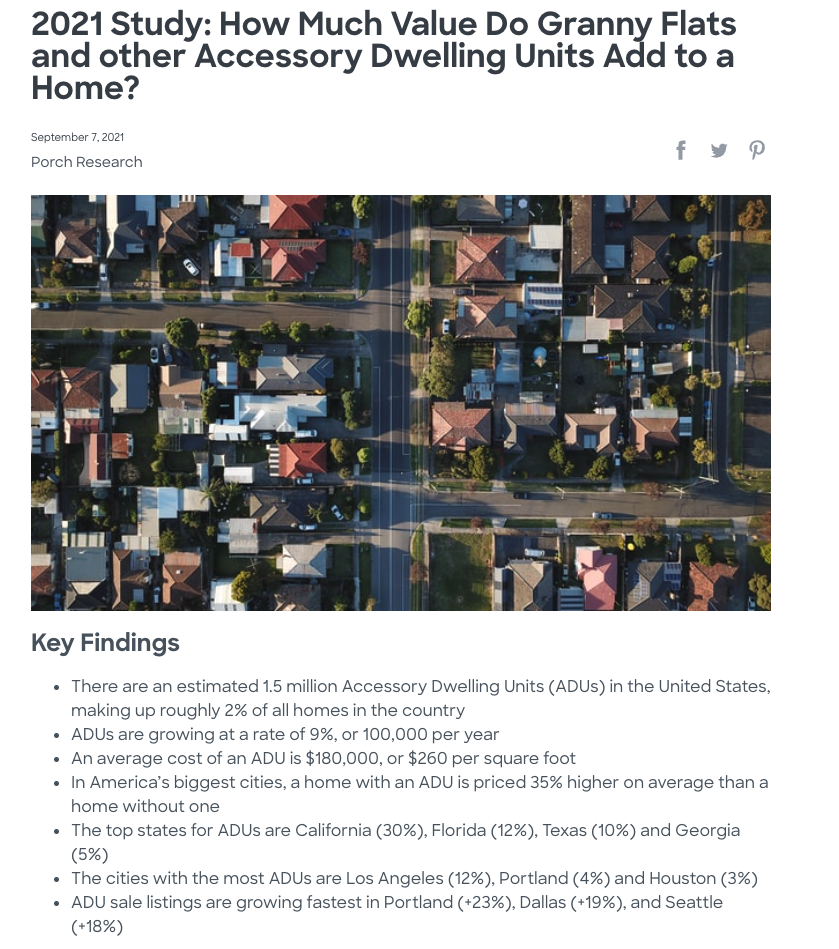 That's astounding.
The Redfin on this existing home is $659,000.

If we apply the logic in the Porch article that would take the value of this home to 889,000!
So, not only will this homeowner get the massive benefit of offsetting their mortgage by generating fantastic monthly cash flow, but they can expect a sizeable uptick in property value.
Now, that's a MAJOR financial win.
Remember, we can help you achieve this level of financial freedom too. As part of our service, we source talented local designers and builders for your ADU project. All you need to do to take advantage of that is spend two minutes filling out this quick form.
How much does a prefab ADU cost in San Diego?
Funny enough, prefab ADU prices aren't that different from stick-built ADUs. The big advantage of going with prefab is time and convenience. You can read all about the pros and cons of prefab here.
How do I pay for my ADU in San Diego?
With interest rates climbing so quickly, most homeowners are rightly no longer interested in refinancing and taking cash out of their existing property.
That's smart.
Instead, you can explore a HELOC or if you're fortunate, pay in cash.
If you do want to take out a construction or renovation loan talk to your lender to see if there are options for a second position loan. That will allow you to keep your current mortgage rate and negate the need to refinance at the end of the project.
We also see homeowners pooling resources with family members to pay for an ADU.
For example, your mom sells her home in Phoenix and you use the proceeds from that to build her a swanky ADU in your backyard so she can help out with the grandkids. Win, win for everyone!
PS: Did you know California is giving away 40,000 in free grant money to help offset the cost of an ADU? You can read up on that here.
Despite the upfront costs of an ADU in San Diego they still offer huge financial upsides, which is why so many homeowners are motivated to start their projects.
At Maxable, we've helped more than 320 families source designers, architects, builders, and prefab companies for their projects. We'd be happy to analyze your property Just click here. Check out some of our happy clients' ADU projects here.