Every ADU starts with accessory dwelling unit floor plans. Usually many, many drafts of a floor plan! But…
Accessory dwelling unit floor plans are different
Maybe you've googled something like "400 square foot floor plan" and gotten a screen load of images. The problem is, these generic floor plans are often for apartments, not houses.
There's a big difference!
Accessory dwelling units are small houses (typically between 350 and 1000 square feet) that are usually situated close to a primary dwelling. There are challenges to designing and siting these units that are distinct to ADUs.
Maxable has educated thousands of homeowners and helped connect them to the tools, designers, and builders they need to complete their projects. We've come across every ADU floor plan imaginable!
Here are four of our favorite floor plans for the main types of ADU:
Detached
Garage conversion
Over-garage
Attached (to the primary residence)
We've created a full downloadable packet of all of the floor plans featured here. Enter your information below to receive the full packet in your email!
After you've checked them out, scroll down to learn what design elements you can't afford to ignore when you're planning your accessory dwelling unit.
Detached accessory dwelling unit
Designer: Maxable | Construction: ADU Builder Pros
Size: 1144 square feet
Bedrooms: 2
Baths: 2
Special feature: roof deck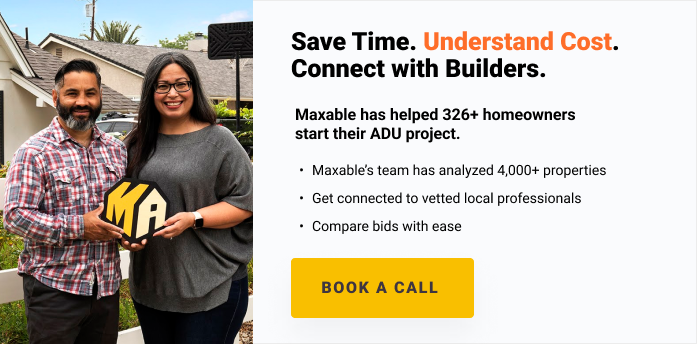 Maxable designed this massive two-story accessory dwelling unit for Damian and Victoria of San Diego. Victoria's mom (and grandma to their five-year-old son) now happily resides there!
The state of California sets the maximum size for a detached accessory dwelling unit at 1200 square feet. Your local jurisdiction may limit this—see "Accessory Dwelling Unit California: 10 Things You Need to Know" for more about size regulations.
Garage conversion accessory dwelling unit
Size: 432 square feet
Bedrooms: 1
Baths: 1
Special feature: cathedral ceiling
Los Angeles couple Tony and Gloria struck gold with their storybook-style garage: its steep roof allowed for an awesome open ceiling that makes the space feel luxuriously large.
Maxable partner Sidekick Homes knocked this one out of the park.
A popular choice in many urban areas, garage conversions are the most cost-effective way to build an accessory dwelling unit. "What Does a Garage Conversion Cost?" breaks it down for you and compares low-end and high-end garage conversions.
Over-garage accessory dwelling unit
Size: 650 square feet
Bedrooms: 2
Baths: 1
Special features: treetop views, laundry room
Tom and Kate of San Diego created this spacious ADU for their college-grad son.
Over-garage accessory dwelling units are highly desirable for city-dwellers or anyone who wants to conserve yard space. For a deep dive into this type of ADU, see "Granny Flat Over the Garage: Is It Right for You?"
Attached accessory dwelling unit
Size: 400 square feet; 550 square feet
Bedrooms: Studio; 1 bedroom
Baths: 1
Special feature: private patio created out of driveway space
In this Maxable design, we're showing you two-floor plans: one at the attached garage's original 400 square feet and a second with an additional 150 square feet that was used to create a bedroom.
Most attached accessory dwelling units are converted from attached garages, but you're allowed to build a larger attached ADU, as long as it is not more than 50% the size of your main house.
An exception: you are always allowed to build an 800 square foot ADU, even if your main house is smaller than 1600 square feet.
"How to Convert Your Garage to an ADU: 15 Crucial Questions" gives you a crash course on garage conversions that also applies to attached ADUs.
Download all of these floor plans for free!
Enter your information below and we'll send you all of these floor plans to your email in one convenient PDF.
Before you design your accessory dwelling unit, read this!
Whether you're sketching your ADU floor plan on a napkin or meeting with a designer, think about these important factors.
Location on your lot
Wherever you site your ADU, know that its purpose may change over the years and at some point you may want to maintain a lot of privacy between you and whoever is staying in the unit. That will affect door and window placement.
Will your ADU be next to an alley? You'll need to think about safe access and window placement for the alley side of the unit.
If you're renting the ADU, how will your tenants access the unit? Will they walk through your driveway, or past another side of the main house? This will affect the placement of the entryway and main living space.
Windows
Windows add light, increase the airflow, and add visual space to an ADU because your line of sight is drawn outside.
The size of your windows will also also affect Title 24 energy calculations required by the state of California.
Every bedroom must have a window large enough for safe exit in an emergency. It must be no more than 44 inches from the floor.
If you're doing a garage conversion, the garage can stay on its original footprint even if that's on a property line. But you are not allowed to put a window or door on a wall with less than a 4-foot setback from the property line. Those walls must be solid.
If you can't have many windows, consider a tubular or traditional skylight.
Put a window—even a small one—over the kitchen sink. It will hugely improve the quality of life for whoever is washing the dishes!
Doors
Think about privacy when deciding where the front door should be.
Inside the ADU, consider sliding doors. They save precious wall space.
We also recommend doors wide enough for differently abled people–at least 36 inches, and wider if there's room.
Plumbing
We try to design a "wet wall" in our ADUs, especially the smaller ones. We align the kitchen and the bathroom along one wall to save on plumbing construction costs. If possible (and it isn't always), do not have the door to the bathroom opening right next to the kitchen.
Storage
It's easy to overlook the need for closets and other storage space when you're drawing floor plans. We have just one piece of advice: More is better!
Get creative and try not to waste a centimeter of space in your accessory dwelling unit floor plan. Furniture can serve double-duty as storage, but don't rely too much on that. Include cabinets and closets wherever you can.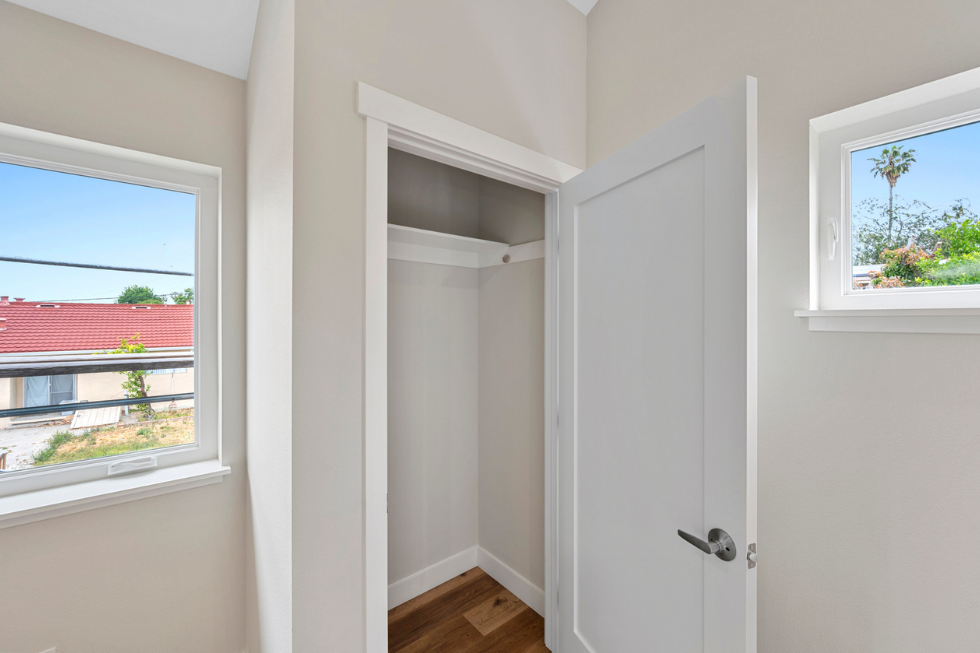 Can you put an accessory dwelling unit on your property?
Dreaming about floor plans is fun, but before you get too far into the fantasy you might want to check to see what type of ADU you can put on your specific lot.
Plan, hire, and manage your ADU project for free with Maxable.
While all properties with single-family homes are allowed to build an ADU, different jurisdictions may have slightly different rules for how large and how high you can build.
Maxable is California's leading ADU marketplace. After writing state laws, educating thousands of homeowners, and completing hundreds of site evaluations and ADU projects, we know accessory dwelling units better than anyone else! Get in touch when you're ready to find out the next steps for your project. It all begins with an ADU Planning Phone Call. Talk to you soon!