We won't deny it: ADUs are expensive projects! And most of us don't have unlimited budgets to build the fanciest one possible. (We can all dream, right?) But that doesn't mean your affordable ADU can't still be magazine-worthy! At the end of the day, it's all about balance and compromise.
Okay, so maybe you don't have the budget for vaulted ceilings with complex rooflines. But a high ceiling might be doable, and it achieves the same lofty effect you're going for!
If you haven't already, check out our first edition of Splurge vs Save here.
Spend some time thinking through your ADU must-haves as opposed to other areas where you could be more flexible. In other words, what are some parts of your ADU that you are willing to cut costs on, and what areas are you willing to shell out extra money for?
To help you get started, here is a handful of splurge vs save comparisons to consider.
Pocket doors vs Barn doors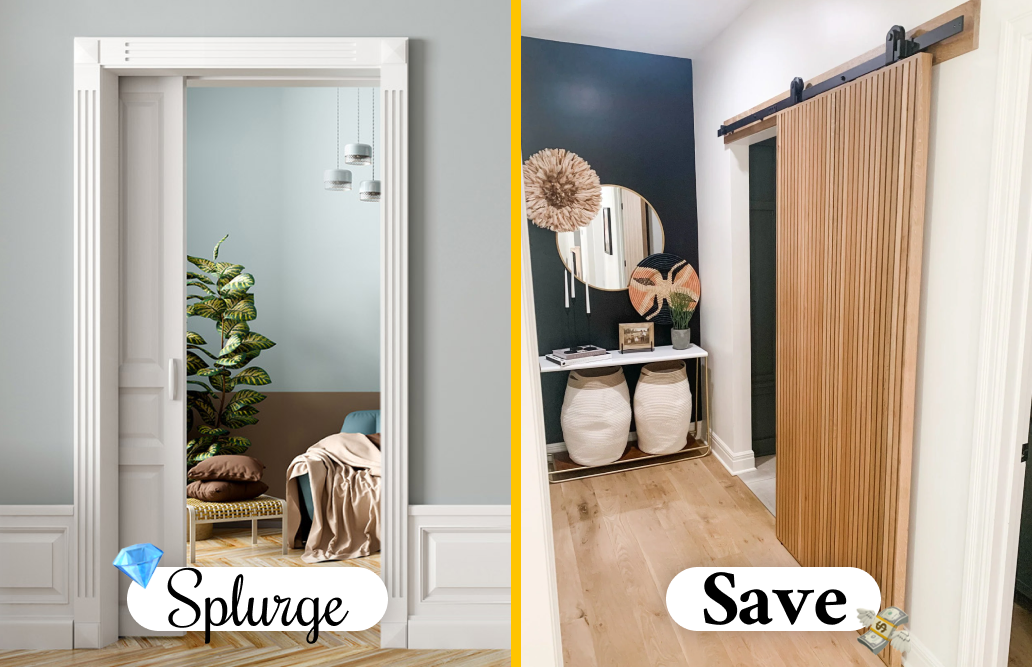 At first glance, you might not think that doors take up much space in a room. But a lot more gets taken up than you think when they are ajar!
There are two popular alternatives to sidestep the issue: pocket doors and barn doors.
Pocket doors are doors that slide into the wall. When they're slid open, they're out of sight, out of mind, and you preserve the wall space for extra decor or furniture. However, installing one of these requires some difficult engineering, and maintenance can be tricky, making these a splurge item.
The other alternative is barn doors, which fall in the same vein as pocket doors. They slide open and closed on a track that is installed on the wall rather than inside. Since the hardware is on the exterior of the wall, it's much easier to install and maintain. A small drawback is that you sacrifice the wall space where the barn door will slide open.
Although pocket doors are the splurge item, we personally have a slight preference for barn doors for reasons other than cost. Barn doors come in all sorts of designs and styles, so there's a unique opportunity to make your door a gorgeous focal point. We've seen clients get really creative with colors, textures, and patterns to match the aesthetic they're going for, taking their affordable ADU from average to marvelous.
New furnishings vs Thrifted furnishings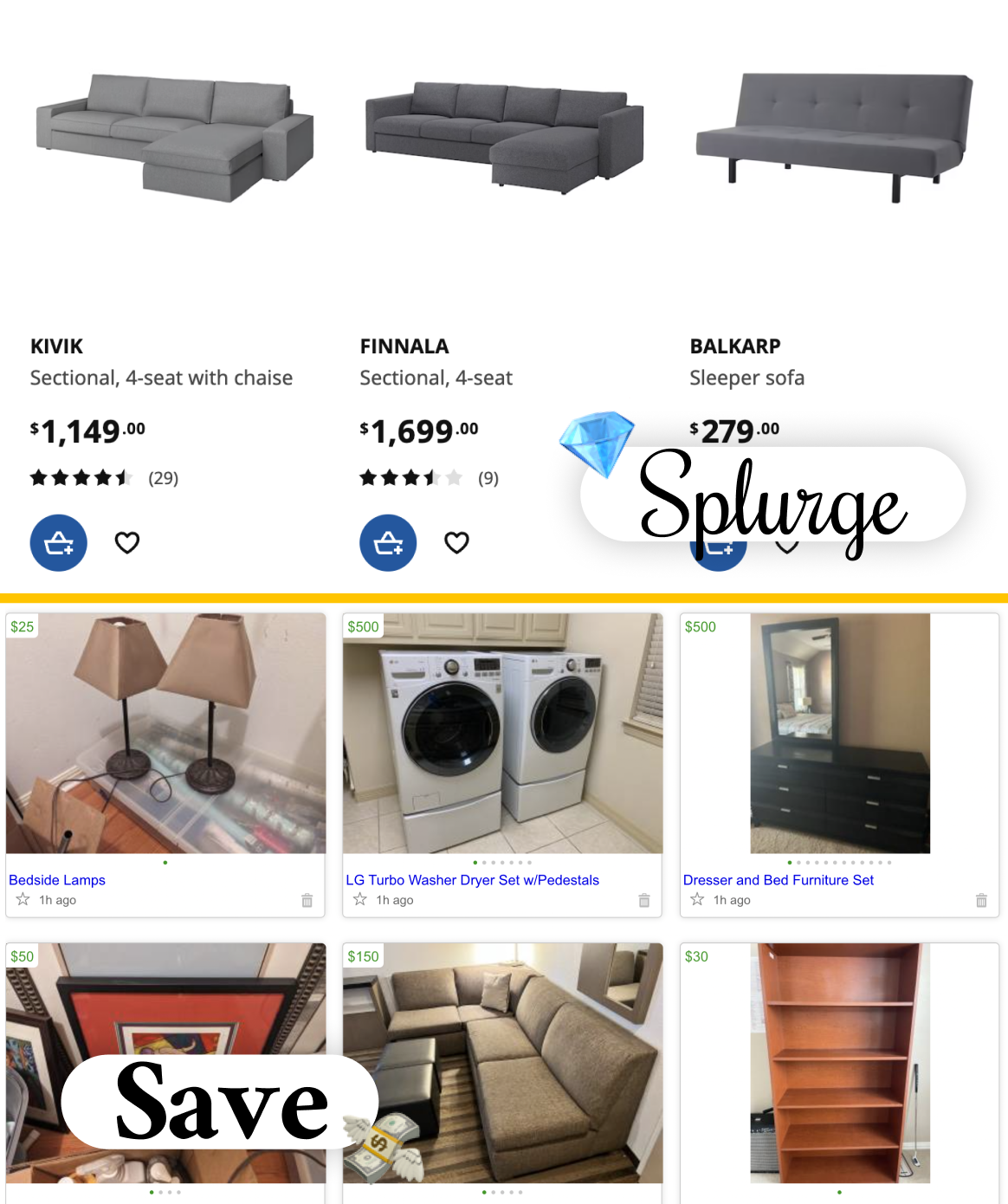 Most people are eager to run to the store or shop online for brand-new appliances, furniture, and other decor to furnish their ADU. But the dollar signs on all those new items can really add up quickly, especially for high-end brands.
Instead, you might want to consider checking out your local thrift stores, flea markets, Facebook groups, Offerup, and eBay for gently used alternatives. There are often lots of fun, unique options to choose from that just need some mild TLC. Or sometimes you can stumble upon a genuine diamond in the rough that is practically (or actually) new or even a brand name!
And the best part? The price tags. Plus, shopping secondhand is not only good for your budget, but it helps out the environment, too. At any rate, give it a shot, and don't knock it 'till you try it!
Have your doubts? Check out this unique tractor barn conversion ADU that was almost completely furnished with thrifted items. It turned out gorgeous enough to win our coveted Maxable Choice Design Award ;)
Kitchen island vs Kitchen trolley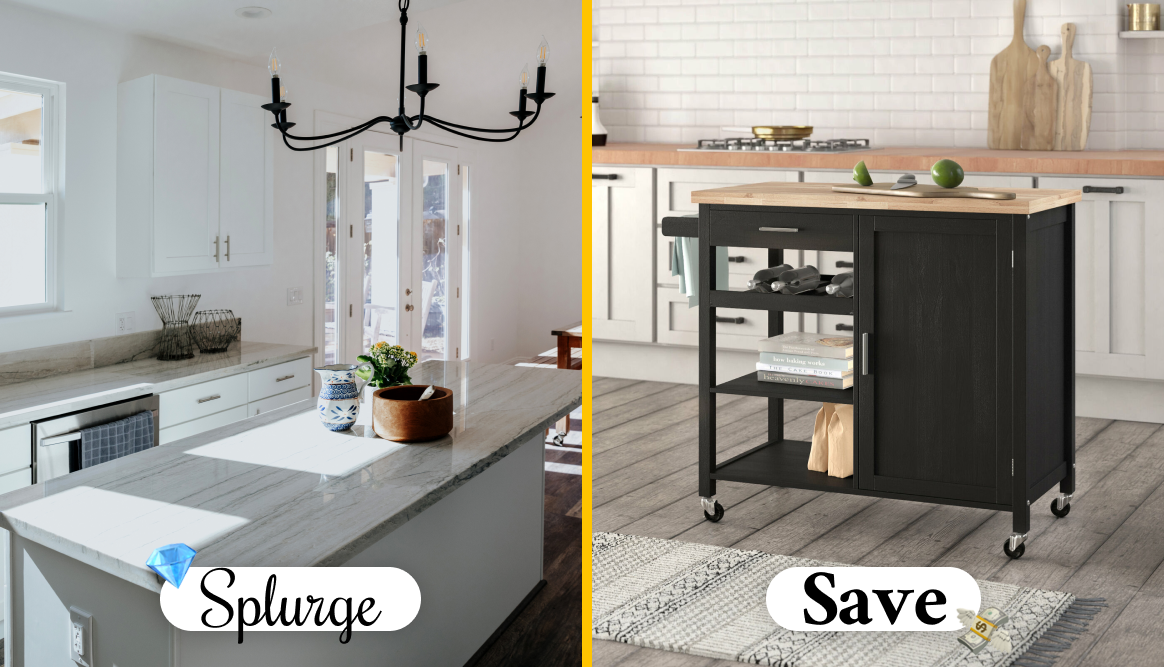 Let's talk about those highly-desirable kitchen islands.
Most everyone envisions their show-stopping kitchen with a giant center island, and we don't blame them! They are not only practical, but they add a lot of aesthetic charm and appeal to the space.
But there's a caveat. This extra storage and food-prep space equals more dollar signs, especially with higher-end countertops like granite or marble.
To save on costs without losing the value kitchen islands have to offer, consider purchasing a kitchen trolley instead! In essence, they offer many of the same advantages as kitchen islands do but for a fraction of the cost. Think thousands of dollars cheaper.
And here's another huge bonus…They are extremely flexible! First of all, kitchen trolleys are moveable. You can place them in different parts of the kitchen or remove them entirely to free up floor space. They can also double as a bar area or serving station for guests in your ADU.
Cabinets vs Open shelving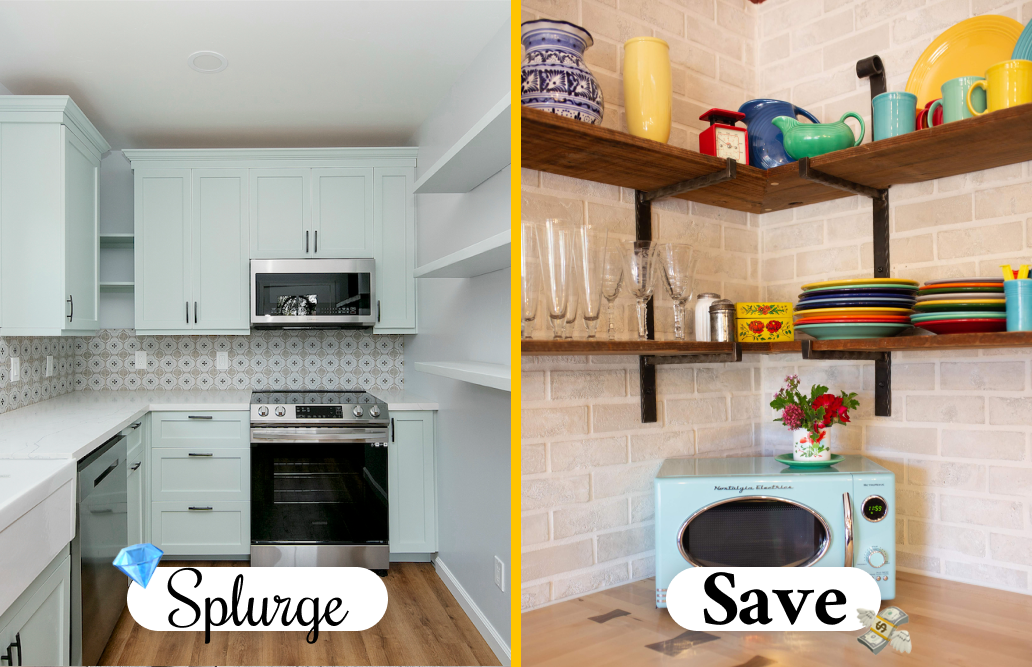 Cabinets are a classic staple in most kitchens and they serve a lot of functions, like hiding that unsightly old crock-pot that is too essential to your cooking routine to part with. But, as these require some installation, these are going to be a splurge item, especially if you decide to go with custom.
The cost-effective option for storage in your affordable ADU kitchen is open shelves. These are super trendy at the moment and they're easy to install yourself! You can pick up some simple shelves from Ikea (or you can thrift some), spruce them up with some paint or stain to match your style, drill some holes, and you're golden.
Just note, part of the charm of the open shelves you see on Pinterest comes from the kitchenware to match. A mishmash of mismatched dishes, kitchen gadgets (remember that crockpot?), and cans of food might not look that great when they're on full display, so you'll have to be mindful of what you stock up there. These items are usually hidden away in cabinets.
Bonus tip: You don't have to pick one or the other! You can always do a 50/50 split of cabinets and open shelves to balance the cost and storage capabilities in your kitchen.
Natural stone vs Engineered stone countertops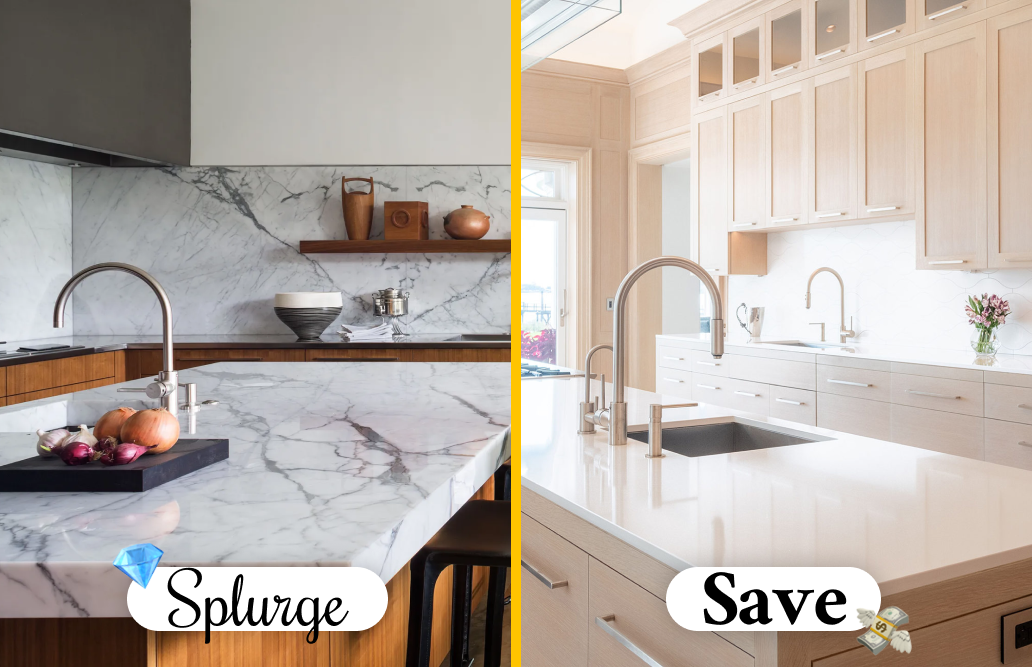 Understandably, no one gets excited about Formica countertops anymore. The "WOW factor" for most kitchens is often their glossy marble or granite countertops. But as gorgeous as they are, they are definitely a splurge item. Granite and marble countertops can run up to $100 – $150 per square foot! Major yikes.
Instead of natural stone countertops, consider engineered quartz ones for your affordable ADU. They typically cost about $50 – $75 per square foot. And not only are quartz countertops financially superior options, but they are durable (e.g., hard, stain-resistant, etc.), easy to maintain (e.g, no sealing required), and very attractive-looking. Oh, and they're even eco-friendly!
If we're being honest, natural stone countertops are usually not worth the extra cost. Trust us when we say that quartz countertops are every bit as stunning as their natural stone counterparts.
Plan, hire, and manage your ADU project with Maxable
When it comes time to design and build your affordable ADU, we want you to have the most fun possible.
At Maxable, we're committed to making sure that your ADU project is smooth sailing. Let us handle the headaches so you don't have to.
To kickstart your project the best way possible, we'll start by connecting you to experienced designers and contractors in your area. That way, your ADU is in good hands from the start.
Click here to tell us about your project and we'll find your perfect designer or builder match in your neighborhood.