An accessory dwelling unit design is much more than a floor plan. It's got to take into account your needs, the square feet you want, the characteristics of your lot, state and local ADU building codes, your budget—and let's not forget your style! Your ADU designer is the magician who must balance all these desires and limitations.
The design of an ADU typically makes up about 8 percent of the project's budget, but it has a huge effect on the cost of construction. That's why it's so important to understand everything a good designer should be doing when they're working on your ADU.
We've connected nearly 300 ADU designers and homeowners, with more signing up each month. If you'd like to jump ahead and find out if we can source a designer for you, click here to check your address!
What are your ADU design dreams?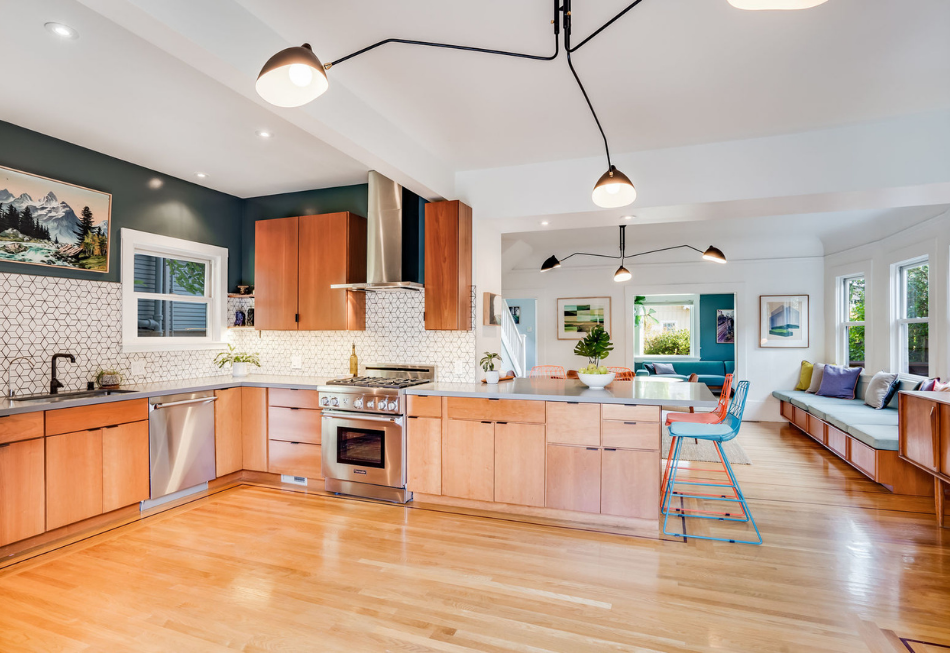 The first meeting with your ADU designer is all about brainstorming the type of ADU you want. The designer should already have done preliminary research on state and local ADU regulations, which can impact things like the maximum size you can build, whether or not you can have a second story, and whether you'll be required to install solar panels on the unit.
During this meeting the designer should ask questions like:
Who or what are you building for?
What are your short- and long-term goals for the ADU?
Where do you want the ADU situated?
Which features do you absolutely want? What can you live without?
What architectural style do you like?
And crucially…
What is your construction budget?
An experienced ADU designer will be aware of current construction costs and will let you know if your wish list is doable given your budget. They'll also be able to suggest design changes to bring the costs down, so you can start making those dreams a reality!
Our site has lots of blogs about ADU costs, including info about garage conversions, prefab vs. custom ADUs, and cost by region. Keep in mind that the price of materials and labor can vary dramatically depending on your location.
The ADU design site measure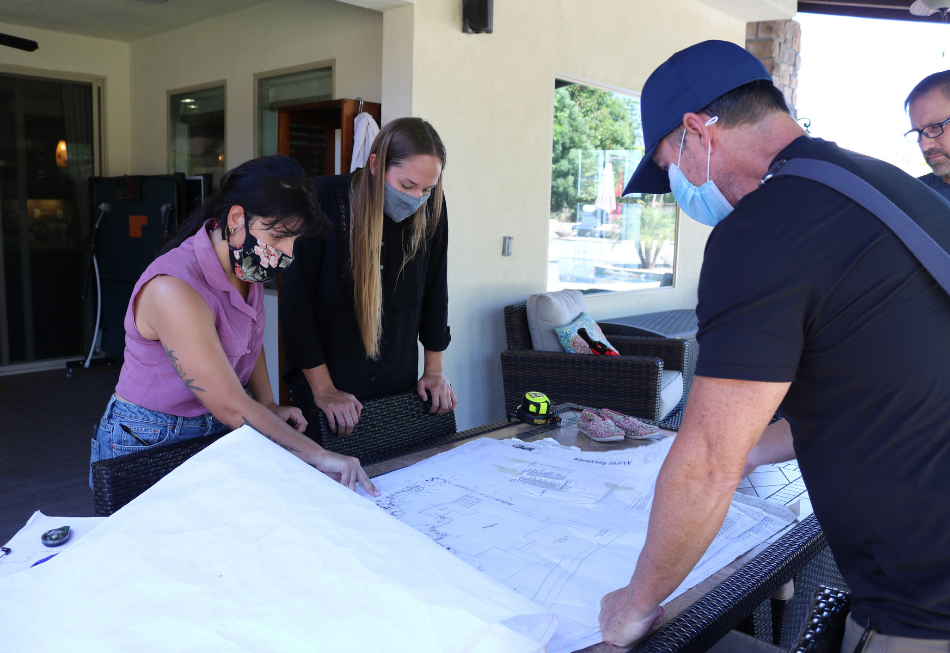 Before putting pencil to drafting paper, your designer or someone who works for them will visit your property and analyze every inch of it, including inside your primary house. This is called a site measure.
They're looking for:
Feasibility of building the sort of ADU you want
Location of sewer and water lines
Electrical capacity
Potential complications due to power lines
Lot characteristics such as hillsides and water drainage
Unpermitted work on existing structures
Easements
Exact measurements of your property
Depending on what they find, the designer may need additional reports. These most often include a soil engineering report, a topographical survey, or a survey to identify the legal property boundaries.
Our blog about Boris and Dorothy's site measure explores the issues that may come up. Be sure to check it out so you'll understand what the designer is investigating when they come to your property.
Your ADU design!
With the precise measurements of your property in hand, your designer will start working on a floor plan of your ADU, sometimes called a schematic.
The secret to creating a brilliant ADU design is simple. It's talent plus experience. ADUs are small but must contain everything a full-sized house does: kitchen, bathroom, storage, sunlight, security, and ambiance. Hopefully some private outdoor space as well!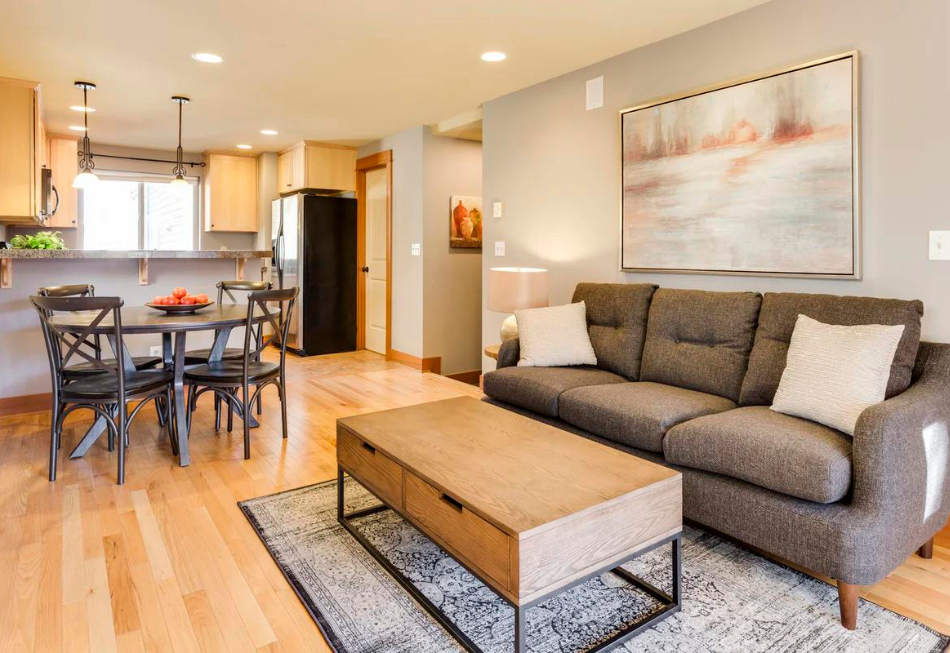 What makes a really great ADU designer is their ability to achieve all this in the limited space of your backyard and the limited square feet of the proposed ADU. You'll have several meetings with the designer to give feedback and see the design evolve from the floor plan to elevations (views of each side of the ADU) to possibly 3D computer renderings of the final design. Each designer has their own preferred method of sharing their plans.
To get a sense of the process, read about Boris and Dorothy's schematic design meeting.
Maxable design partners are experienced with ADUs and know how to make the most of both the available space and your budget. They make sure to value-engineer their designs, meaning the design might include things like a common wet wall for the kitchen and bath, roofs supported by prefabricated trusses, and inventive storage space.
If you've got a big budget and are looking for a one-of-a-kind ADU, of course, our design partners can deliver that too! We've found that most homeowners appreciate being given money-saving options even if in the end they choose something pricier.
The ADU designer submits plans to the city
Designing the ADU is the fun part. Generating a permit set of construction drawings is not as thrilling but every bit as important. This is where the designer's knowledge of ADU regulations is essential.
After consulting with nearly 1000 homeowners at different stages of the ADU process, we've unfortunately seen that many city planners aren't up-to-date on ADU regulations.
"I went to the city three or four times to ask questions. Talk about a run-around! There was maybe one nice person out of the ten I spoke to and I left even more confused than when I first got there." – Denny P.
"It's safer to say no than yes," one designer explained. The city planner won't get into trouble for rejecting a plan but could get grief from their boss for mistakenly approving one.
If the city planner doesn't know all the rules, your designer has to be prepared to diplomatically educate them. Another designer told us that dealing with the city usually takes more hours than designing the ADU.
ADU permit sets contain detailed notes about every aspect of the design, including energy requirements (Title 24 in California), structural engineering, and dozens of other specifications relating to the project. Here's a set of ADU construction drawings with explanations of each page.
The more familiar your ADU designer is with the regulations, the more likely it is that their plans will be quickly approved. If plans are returned with a few requests for minor changes, don't worry, that's normal.
A poorly designed ADU can get stuck in the planning department for months or be returned with demands for major changes. That's a big waste of your time and money.
Building permits for your ADU
Once the plans are approved, your designer can get the building permits you need to start construction. You or a general contractor can also get the permits, but Maxable design partners will do it for you as part of their agreement.
The ADU designer and your general contractor
When your designer first submits plans to the city, they'll give you a set as well. You'll need these to interview general contractors. At Maxable we refer three local, vetted GCs to our homeowners, and then we help them compare the bids.
It's not at all unusual for the general contractor to have questions about the construction plans. Building a house is complicated, with thousands of moving parts. If you've chosen a good designer, they'll be able to communicate with the GC and explain the design. If you're working with us, you'll be able to track the entire design/permit/build process through your online account. Easy!
So where do you find a qualified ADU designer? Right here!
Maxable's mission is to make the sometimes overwhelming prospect of building an ADU simple and fun. You should be able to enjoy this process, and our ADU consultants are here to make sure that happens!
Sourcing the right designer for your project is key to a great experience. We love playing matchmaker and seeing how our homeowners react when they first step inside their sparkling new ADU. Interested? Schedule an ADU planning call—let's see what an ADU designer can create for you!