Rents are going up, up, up, and that's a silver lining for ADU owners this year.
The rent you can charge for your accessory dwelling unit (ADU) largely depends on your location, but rising interest rates have resulted in higher rents just about everywhere.
Why? Because prospective homeowners are being priced out of the housing market. They're staying in their current rentals or seeking new places to rent since they can't afford to buy. The rental market gets tighter, and landlords can charge more for rent.
We don't necessarily like to see high rents—we got into the ADU business to create more affordable housing and help ease the crisis!
But if you're thinking about building an ADU, you should know that although financing may be more expensive than it was in 2021, you're also looking at considerably more potential rental income. For many homeowners, that's going to make a huge difference when crunching the numbers and estimating ROI.
Maxable is your one-stop shop for planning and managing your accessory dwelling unit project. We match you with designers and builders ideal for your project, and research your property so you can make educated decisions every step of the way. You can check your address here to find out the ADU potential of your property!
The rent you'll be able to charge for your ADU will depend on whether you offer it as a vacation spot, a medium-term rental, or as long-term housing.
Long-term ADU rental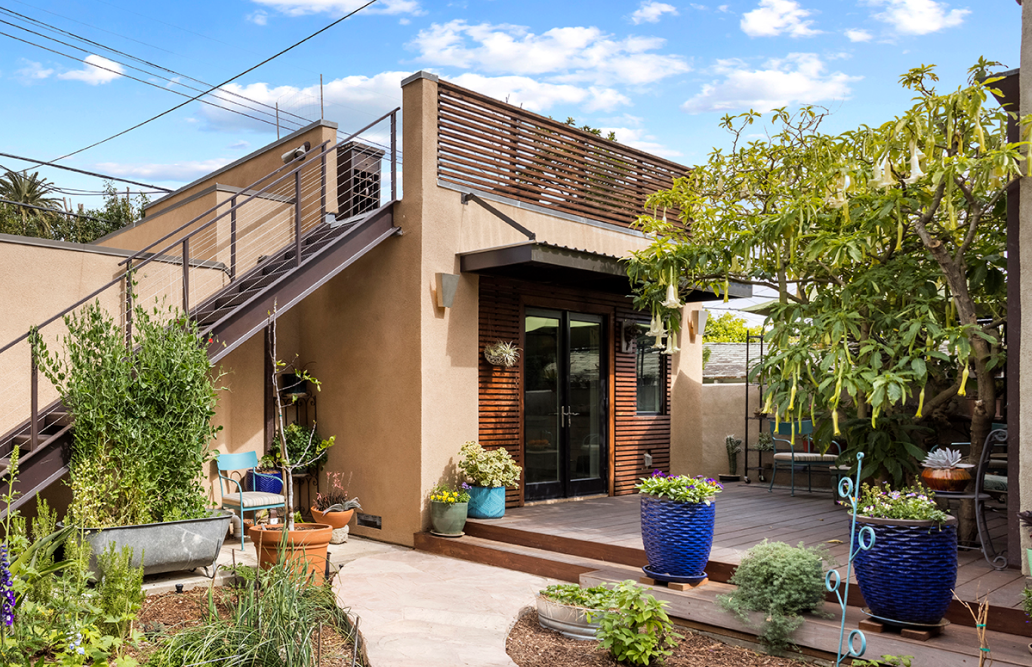 Much to our excitement, this is the most common rental type for ADUs. ADUs are a big piece of the solution to our nationwide housing crisis. When you rent your ADU to a long-term tenant, you're doing a good deed, making money, and adding "gentle density" to your neighborhood.
Long-term rentals last anywhere from a year or longer. This is the easiest rental type out of the three for ADU owners. Once your tenant is locked in, you won't have to worry about finding another tenant for at least a year. If you keep your tenant happy, you may be able to put off finding another tenant even longer! However, keep in mind that being a landlord isn't just about collecting rent checks every month. You have a few responsibilities as a landlord, like handling maintenance problems and general upkeep, so make sure you read up on those in our blog, Landlord Essentials.
One drawback is that you lose some the flexibility of your ADU. For example, if you have family or friends visiting, your ADU will likely be occupied already, but in our minds, this is just a small tradeoff for the steady income you'll get from renting your ADU long-term.
Pros of a long-term ADU rental:
Steady income!
The ADU does not need to be furnished.
No need to keep interviewing new tenants. Vet your tenants carefully, then relax and collect rent for years (ideally).
Someone will be on your property when you're not. This can be reassuring when you go on vacation.
Someone will be on your property when you're home! It's nice to have a neighbor you've hand-picked.
Cons:
Possible problems with the tenant. It's hard to evict people, especially in California. Even though ADUs are not usually held to the same eviction standards as apartment complexes, it still can be challenging to remove a tenant that is causing issues, like damaging property, or violating your rules on the lease. Carefully check prospective tenants' references from former landlords, employers, and financial institutions.
Rent increases may be determined by your jurisdiction or the state. Many cities have some form of rent control. These may or may not apply to an ADU; it depends on your jurisdiction.
If you plan on renting your ADU long-term, consider building as large as possible. Long-term tenants need more storage space and will be more concerned with the number of bedrooms and the overall square feet. This California Cost Breakdown will help you determine how big you can afford to build in your region.
How much can I rent my ADU for, long-term?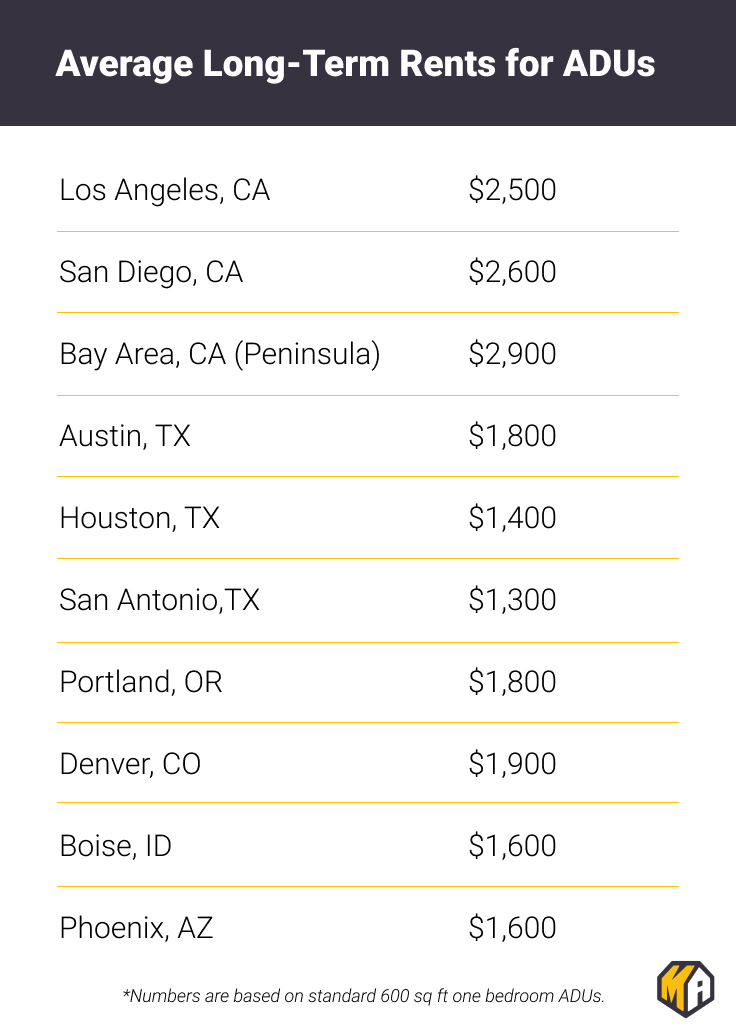 The numbers shown above are averages we've seen in these regions, but different neighborhoods within these cities may yield higher or lower, so it's important to do your homework.
Comparing your ADU to similar-sized apartments on the sites listed earlier is a good place to start. Rentometer.com is another great source for looking up averages in your neighborhood. But keep in mind that for many people, an ADU is much more appealing than a unit in a large apartment complex!
Think about everything your ADU will offer that an apartment may not: more privacy, a neighborhood feel, maybe a private yard or patio, easier parking. And don't forget, your new ADU will be fresh and clean. Factor all this into your rent. If it's too high, you'll find out soon enough and can lower it.
Medium-term ADU rental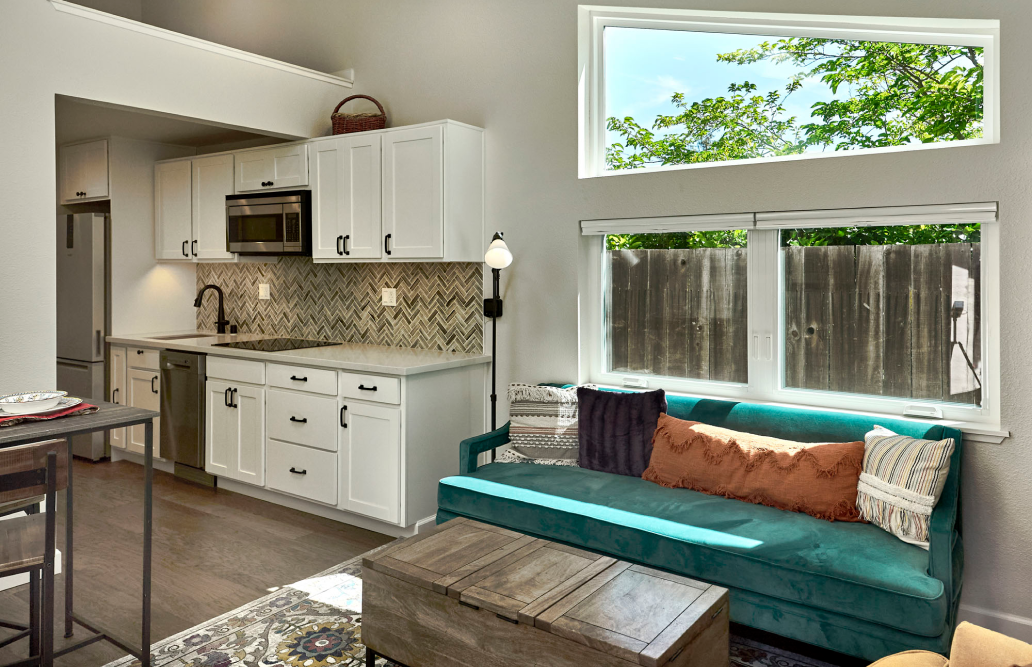 Here's the sweet spot for many landlords. Medium-term rentals appeal to tenants who will be in your area for anywhere from a month to a year or so. Traveling nurses, doctors doing internships, visiting professors, post-doctoral researchers, students and graduate students—they all need a place to stay for a set period of time.
You'll get the flexibility of a short-term rental with the ease of a long-term rental. The only big drawback is that your ADU will likely have to be furnished to draw in these medium-term tenants, so make sure you select durable furniture (don't forget the desk!) Check out how these Maxable clients furnished their 500 sq ft ADU in San Diego. These homeowners were flooded with rental applications for their ADU as soon as it was posted.
Pros of a medium-term ADU rental:
Your tenant will leave within a year or two, at which point you can adjust the rent.
When the tenant leaves you can change the terms of the rental agreement—for instance, you may decide to allow pets or to have your next tenant pay their own utilities.
You can maintain the ADU on a regular basis, preventing it from getting run down.
If you don't get along with the tenant, you know there's an end in sight.
Cons:
You'll regularly need to find new tenants.
Many medium-term tenants prefer a furnished place. That's not necessarily a bad thing, but it does mean a larger investment up front.
How much can I rent my ADU for, medium term?
Your rent will depend somewhat on how near you are to the place your prospective tenants will work, which is usually a university or hospital. If the ADU is furnished, you'll probably be able to get a higher rent than a similar unfurnished place.
To compare rents, check out sites that cater to temporary tenants, such as sabbaticalhomes.com and furnishedfinder.com. You'll probably see a wide range of rents on these sites and lots of different types of accommodations. From that you'll get a sense of where your ADU fits in and what you can charge for it.
You can also look at sites like rent.com and apartments.com for a grasp of market rates for unfurnished apartments in your area.
Vacation rental ADU
Vacation (short-term) rentals charge per night, and over the course of a month that nightly fee will usually add up to much more than you could make renting the ADU by the month or year. However, keep in mind that they're also time-consuming and labor intensive. If you're managing the ADU on your own, you'll have to be quick to respond to your visitors and make sure they're comfortable and happy to maintain a good rating.
Furthermore, many jurisdictions have limits on short-term vacation rentals. "Short term" typically means less than 30 days. Your city may require you to reside in the primary home at least six months a year, or it may limit the number of days a year you can rent short-term. Some cities, like San Diego, restrict you from using your ADU as a short-term rental altogether. Be sure to verify all the state and local regulations before you sign up on a home-share site.
If all of that checks out, you can make a pretty penny off of your ADU as a vacation rental, like this gorgeous basement ADU in Portland, Oregon! Despite having to have a more hands-on approach with your ADU, a lot of homeowners are drawn to the short-term rental route as it allows for more flexibility if they ever need the ADU for visiting friends and family.
Pros of a vacation rental ADU:
The ADU will generate income without the need for year-round tenants.
You can charge any nightly fee you want and change it whenever you want. If you're in an area with a popular annual event (like Palm Springs Modernism Week or the Rose Bowl Parade) you can charge a lot during those times.
Sites like AirBNB and VRBO make it easy to advertise and find visitors.
No risk of long-term "problem" tenants.
More flexibility.
Cons:
Lots of visitors coming in and out of your backyard.
You'll need to keep the unit sparkling clean, either by cleaning it yourself or hiring a service.
Being a host means interacting with every set of visitors. You and your ADU will be rated on the home-share site, and a bad rating can hurt your income.
The ADU will need to be furnished and routinely re-stocked with everything vacationers need.
How much can I rent my ADU for, short-term?
There is no definitive number or range as it can vary wildly depending on your location, ADU type, amenities, etc. For example, a 500 sq ft ADU in Portland, Oregon may rent for $100 a night whereas a similar ADU in Santa Monica, California can rent for $300+ a night.
Go on AirBNB or VRBO and compare similar units in your immediate location. Location is a top priority for vacationers! Are you near public transit that will take them where they want to go? Near the city center, the beach, Balboa Park, Disneyland?
If you're trying to estimate short-term rental income as part of your financial planning to build an ADU, remember that your unit will be brand new. Vacationers love to stay in new, clean units, so price yours accordingly. These Splurge vs Save design tips are great for vacation rental ADUs, which have to look cool and also be extra-durable.
Crunch the ADU numbers with Maxable and we'll brainstorm your rental options!
We've been helping homeowners plan, manage, and build their ADUs since 2017. In that time we've seen how ADUs are incorporated into a family's life—we know the opportunities and the pitfalls. Check out our blogs, ADU Tours, and Youtube channel, and or tune into one of our monthly webinars with Maxable's CEO where we cover how to source your ADU general contractor. The best time to lay the foundation for passive rental income may be today.