At Maxable we've toured a lot of scary-looking garages. Garages that look like they could collapse at any minute, like this one or this crazy project. But, this garage conversion might take the cake. I actually cringe to show the before photos on this one because the client is someone I know very well. My mom.
She's given me permission to show you how insane the before photos on this project were. For those of you who have been following along on the progress, you can read up on how the project started here.
Here's a quick recap of the garage conversion:
The plan was to convert my mom's garage and attached guest quarters into a 600 square foot ADU. We also wanted to add some adorable extra features like a front deck and curved archway connecting the main home to the ADU.
The project took 9 months from start to finish. The design took 2 months, permits took 3 months, and the construction took an additional 4 months.
We put solar panels ($16K) on the main home, which powers the ADU and the primary house. The main home is ~1,400 square feet.
The unit will be used as a vacation exchange and a rental. The vacation exchange is a fun concept. You can swap your house (or ADU!) for someone looking to vacation in your neighborhood. In popular cities like San Diego, Los Angeles and San Francisco you can save a lot of money traveling to very cool vacation destinations.
Garage Conversion Budget Break Down
So what's the budget break down on a project like this? There were a lot of factors on this project that made it more expensive than a typical garage conversion.
This garage is on a slope, so the backside of the garage is completely underground. For years the garage hadn't been leaking and wasn't watertight because of the hillside behind it. When you're storing old camping gear it doesn't matter as much, but when you're putting in fancy finished water leaks are a massive headache!
Lynn spent $17,000 waterproofing the garage.
Here are some other big-ticket expenses that drove the cost up and might not apply to everyone:
$17,000 waterproofing (most garages won't be built into a slope. They had to excavate part of the hill and build a retaining wall as well as run french drains below the flooring)
$16,000 solar panels (for ADU and main house. This is post rebate)
$7,000 creating a faux exposed brick wall (this is the whitewashed brick behind the kitchen and perpendicular wall)
$3,000 on beautiful, but pricey tile
Other costs:
$10,000 on design plans
$6,700 on permits
This project cost was $170,000. 
Before Photos of The Garage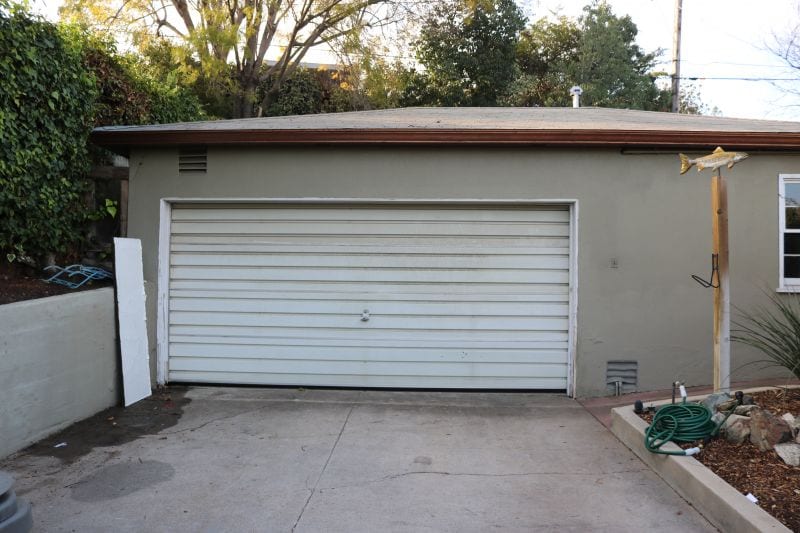 Are you ready to see the inside of the garage? This is after we did a lot of "cleaning".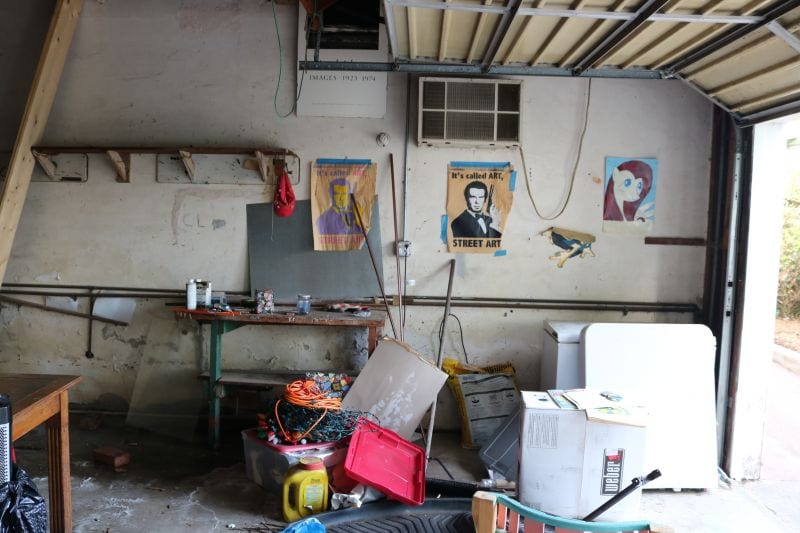 This garage, over the years, became less about car storage and more of a long-term storage solution for random pieces of furniture, camping equipment no one was planning on using again, Christmas decorations, and childhood memorabilia my mom was long to part with. It was challenging going through all of that. Most of the items were donated to a local thrift store.
If you need some inspiration on downsizing watch a couple of episodes of Marie Condo on Netflix.
This garage conversion was special because it also had an already existing attached guest quarters. It was basically just a tiny little room with a bathroom. There was no interior connection and my mom had used this room as her home office for years.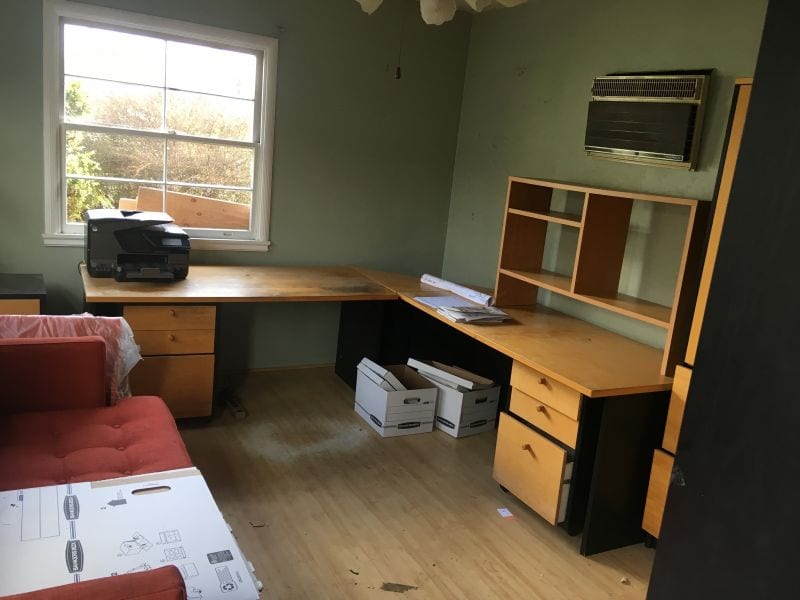 This room hadn't been remodeled since the house was built in 1946. When looking at the tax assessors records we realized that this square footage was never counted in the official property assessment. That was awesome for us because this conversion would officially add 600 square feet of livable space to the home.
Here's a look at the existing bathroom, which was also being used for storage. In fact, in the 18+ years I lived here I don't ever remember this bathroom being in use! Wait till you see the after photos of this space….
Here's the last image of the guest quarters. Ok, let's get to the good stuff… the after photos!
After Photos of the Garage Conversion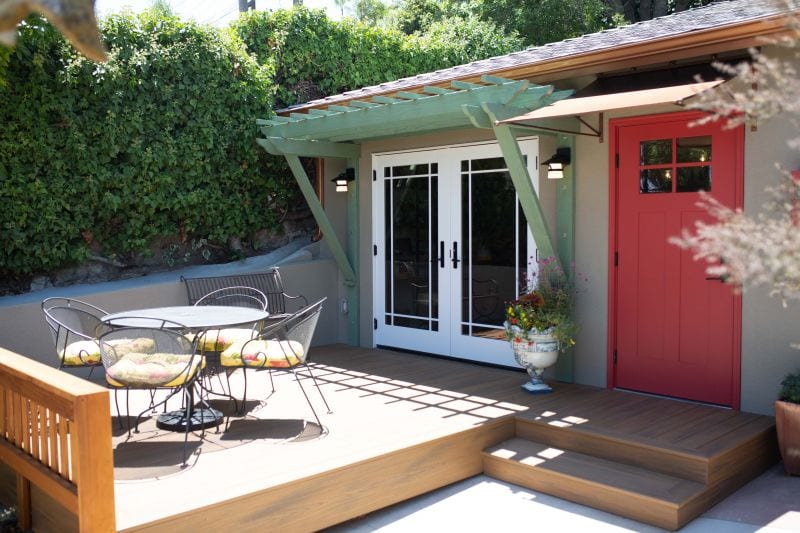 We added a deck and trellis to match with a deck in the front yard of the main house and the architectural style.
These beautiful pendant lights are by ColorCord. I love that you can buy them in every color imaginable.
What do you think of all the bright colors? I always try and encourage people to break the "white and gray" mold that's so popular right now. This is especially true if you're trying to appeal to short-term renters or vacation exchanges. People want to stay in a quirky cool place.
Bedroom Photos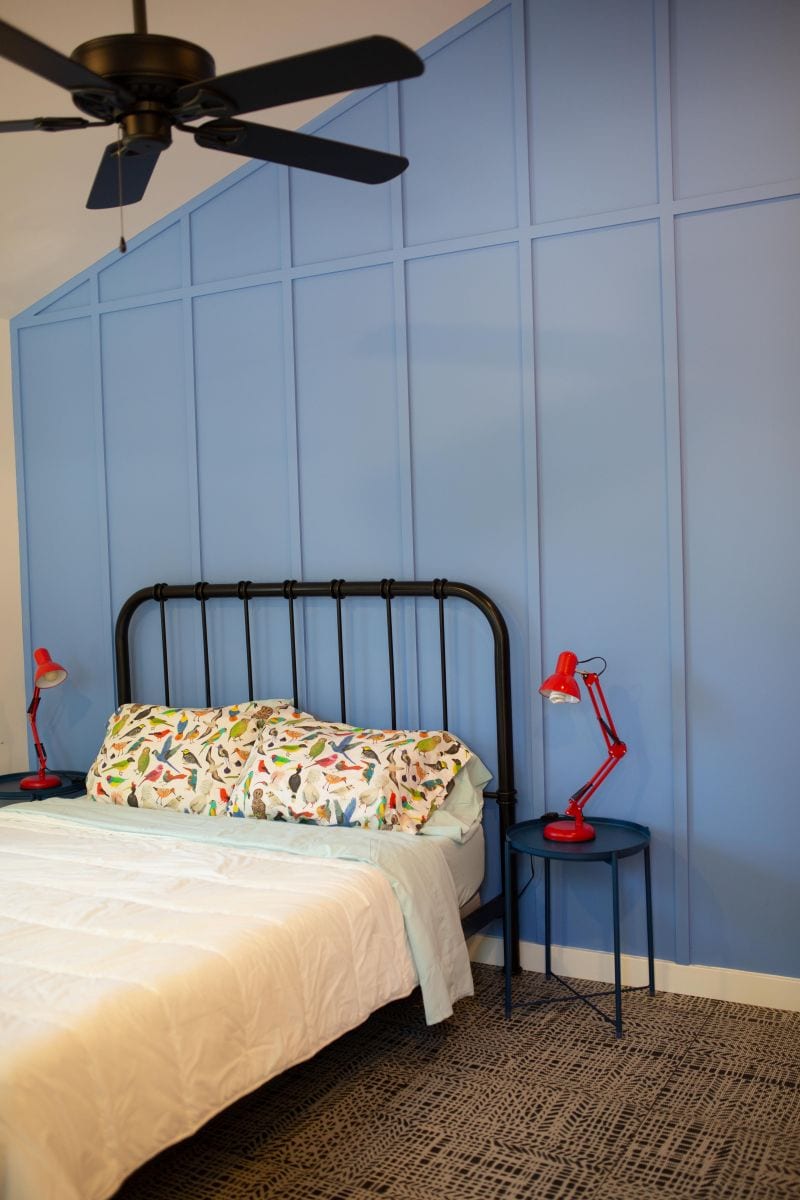 That's not a rug you see on the floor. It's African mud cloth tile! It's only $3.50 a square foot and I love the textural element it brings to the room.
Bathroom Garage Conversion Photos
I love this tile, which is from Tango Tile.
Ready to convert your garage into a beautiful living space?
It all begins with a free ADU Planning Phone Call. Talk to you soon!
Have questions?
Leave them in the comments below and make sure to take a look at the video walkthrough at the top.