Is an ADU a good investment?
Absolutely! 
If you're looking for a long-term investment, you can't go wrong with building an accessory dwelling unit. Not only do they add immensely to your home's resale value, but they provide great passive income! Let's look at some numbers. 
According to a 2021 Porch Survey, ADUs in the Pacific region of the U.S. boosted resale values by roughly 35%, as opposed to homes without an ADU. Better yet? When simply renting out the property, ADUs can generate a cash flow of hundreds of dollars or more per month! 
As housing prices continue to soar, so will demand for the affordability ADUs offer. The cost to build one may seem high, but the financial benefits considerably strongly outweigh the price tag. 
Discover more reasons why ADUs are smart investments!    
How much does an ADU cost?
In California, the cost to build an ADU starts at about $130,000.
Given the level of customization and moving parts involved in building an ADU, there is really no one-size-fits-all price tag. Here's why.
The type of ADU you choose can make a big difference in total cost. Above garage conversions are the priciest option, starting at around $300,000. On the other end of the spectrum, garage conversions are the least expensive option with a starting cost of around $130,000. That's quite the price difference!
Keep in mind that location can cause these starting costs to fluctuate, as well. For example, a garage conversion can range from $130,000 in Southern California to $159,000 in the Bay Area due to differences in availability and cost of labor. Cities outside of California, like Houston, Texas will likely have starting costs of around $100,000
Lastly, while ADUs are a fun way to express your unique style, keep in mind that adding complicated designs, custom finishes, or other bells and whistles, will raise the final total.  
There's a lot to consider. Take a more in-depth look at the cost to build an ADU. 
What can I use my ADU for?
Before you start building, it's important to consider your long-term goals for the ADU. Your ADU will be around for many years, so it's only natural that its function may change over time. Fortunately, with the multipurpose potential ADUs offer, the possibilities are almost endless!
Let's explore some of the top reasons homeowners decide to build an ADU. 
Rental
Another huge reason homeowners take the leap of building an ADU is to have an income-producing property. Renting out your ADU can generate significant passive income. How significant? Let's say you rent out your garage conversion in Southern California for roughly $1,900 a month. Even with a monthly loan payment of $830, you'd still net $1,070 monthly! Before you know it, your ADU will have paid for itself!
If you're unsure of how much to rent your ADU for, here are some tips and suggestions.
Let's look at a real example:
After hearing about the great investment opportunities ADUs can bring, Miles decided he wanted his own ADU on this property in Los Angeles. He decided on an above garage/garage expansion design that clocks in at 1,000 sq ft with two bedrooms and two baths. Check out the result below.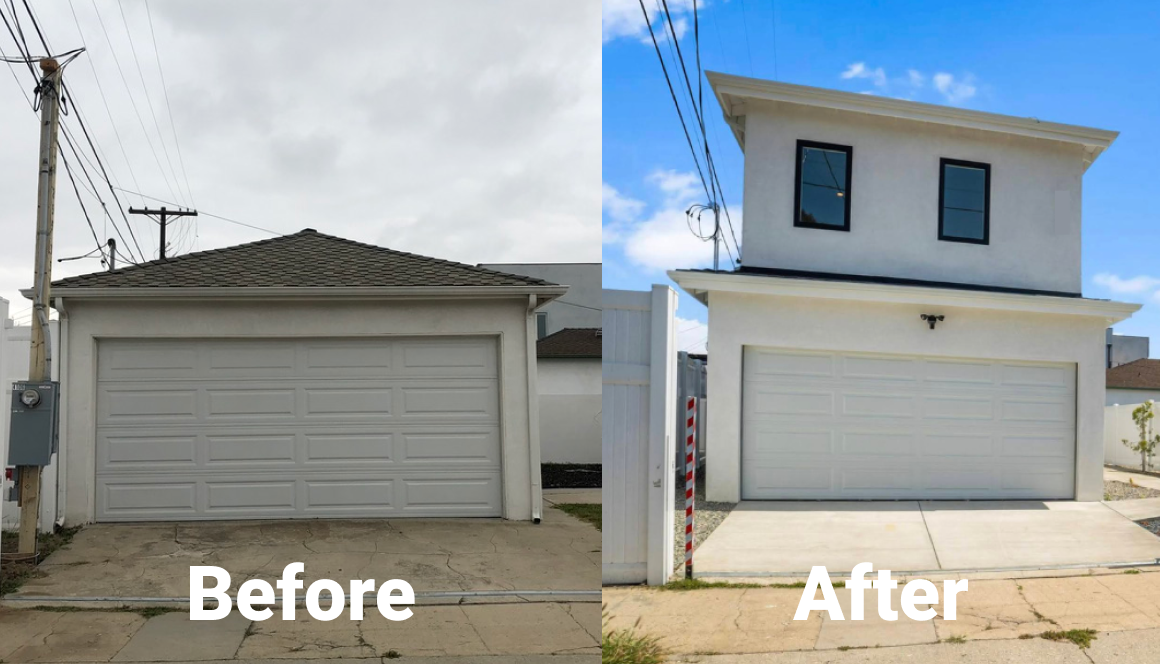 Looks great, right? Just wait until you see the interior photos here. 
The final total for this ADU project including design services, permitting, fees, etc, came out to just over $400K. Sounds pricey, we know. But, let's crunch the numbers.
At the time of starting this project, interest rates were at around 5%, bringing his monthly payments to $2,147. Since his property is close to the beach, a hot commodity in Los Angeles, Miles listed his ADU for $4,500 a month!
That brings his monthly passive rental income to $2,353. Not bad!
Even if your ADU isn't close to a prime beach location, you'll still be able to price your ADU a bit higher than what other apartment rentals are offering in the area. A lot of renters will happily pay a bit extra for the added privacy and outdoor space that an ADU can offer.
Housing family
One of the most common uses ADUs serve is for housing family members, such as aging parents. According to a survey conducted by Senior Living (2022), the average cost per month for a semi-private room in a California nursing home is $9,794.
That number quickly becomes $117,528 per year! 
For those interested in a private room, that cost jumps to $12,167 per month or $146,004 per year! 
Now consider this. In ten years, that comes out to almost $1.1 million for a semi-private room or nearly $1.4 million for a private room. That is a staggering amount of money! Building an ADU for $130,000 would have a much smaller price tag. Plus, you would have the added benefit of keeping a beloved family member close to home.
ADUs are great for housing family members for the short term, as well. They offer the perfect, private space to retire to at the end of a long day of visiting.
Office space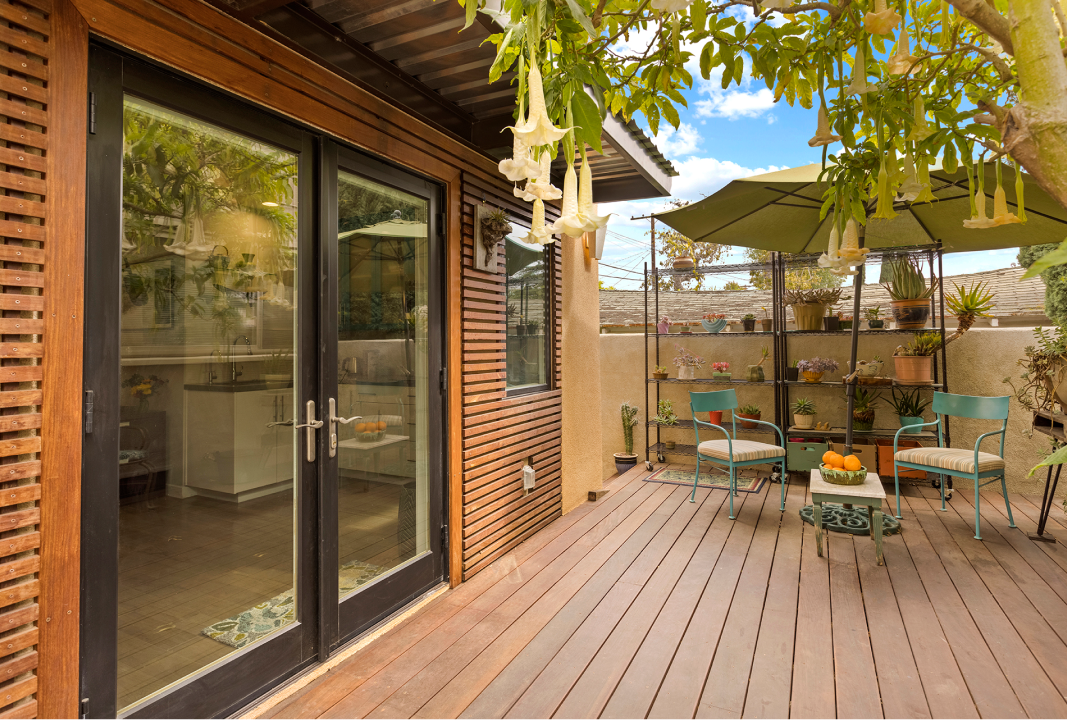 With the significant rise in remote positions following the pandemic, more and more homeowners are working from home. In fact, a recent Upwork report revealed that a third of U.S. workers will likely work from home in the next five years. That's over 36 million Americans!
Walter, a clinical psychologist, was paying $3,000 a month for his office in downtown Los Angeles, and that's not including what he paid for parking either!
He decided to build the perfect office space in his backyard, complete with soundproof walls and a serene outdoor waiting area. The cost of this small 300 sq ft ADU only added about $500 a month to his mortgage. That brings his expenses down by $2,500!
You can check out more photos of Walt's office ADU here. 
Avoid the costs of renting out an expensive office space each month. ADUs offer the ideal solution for a quiet work space right in your very backyard. Talk about convenience!
How much value does an ADU add to my property?
That depends on the type of ADU you build. A detached ADU adds the most value to your property, with an attached ADU coming in as the second-best option. 
Homeowners considering a garage conversion are often worried about their property losing value since they'll be losing valuable storage or parking space, but after helping over 300 homeowners complete their ADU projects, we have never seen a property lose value after building an ADU.
On average, properties with ADUs are typically priced 35% more than properties without, even those that have garage conversions. This is backed by Porch's Survey in 2021.
Have more questions you'd like our team to answer? Consider joining one of our monthly webinars! One of our ADU experts will sit down with you and discuss how to source your ADU general contractor. You'll have the opportunity to ask your questions as well, and our team will do our best to answer them.