Think about the last time you went apartment hunting or house hunting. Chances are that you only considered options that made sense for you, whether they had a certain number of bedrooms, bathrooms, square footage, and so forth.
Well, the same strategy applies to anyone looking to build an ADU!
When it comes time to design your ADU, ask yourself:
Who will be occupying it (e.g., renters, family members, etc.)
How long they will be there (e.g., short-term or long-term)
What features of the ADU would best accommodate them
Once you're ready to get started, Maxable can help connect you to experienced designers in your area who understand how certain occupant groups should impact overall ADU design.
Speaking of which, let's take a moment to examine some different occupant scenarios and the ideal design features that best match them.
ADU design for an elderly family member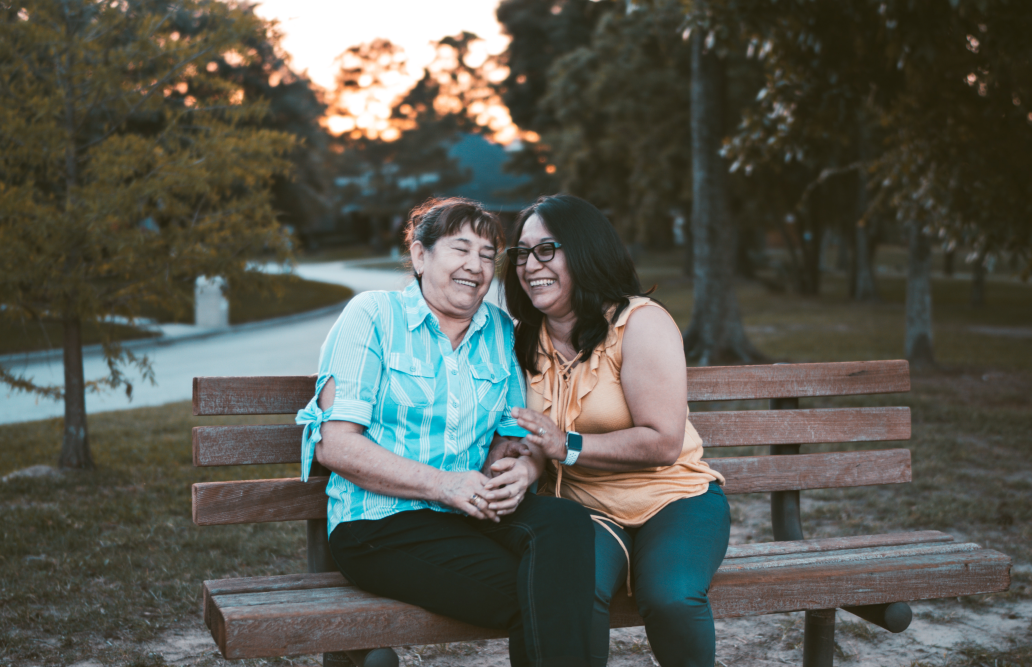 Many homeowners choose to build an ADU to house an elderly family member, like a parent or grandparent. In fact, it's the most common reason homeowners decide to add an ADU to their property. However, it's worth noting that designing an ADU for them will look drastically different than designing one for a college-aged student or young family. So, here are some important design features to consider!
First, chances are an older family member is moving into an ADU to be closer to family who can help care for them. That means that the ADU should be designed within close proximity to the primary residence, so it's easy to pop in and check on them!
Designing an ADU with either low thresholds or no thresholds at all is another smart move. Doing so provides ease of mobility around the space for anyone in a wheelchair and prevents tripping hazards for those without them.
And don't forget sometimes overlooked spots like inside the shower! Installing a no-threshold shower can be a good idea for really any age group to prevent tripping or slipping injuries.
To best accommodate a wheelchair or walking chair users, you should also design your ADU with extra wide doorways. For anyone who is strictly wheelchair-bound, it's also a good idea to install low countertops throughout the ADU (e.g., kitchen and bathrooms) so they can easily go about their daily functions (e.g., cooking).
A lot of homeowners are tempted to incorporate the latest technology like smart thermostats and voice-activated lights, but it's important to first discuss these things with your elderly family member and make sure they are comfortable using them. While tech can be great for accessibility in a lot of cases, we've found that some struggle to get the hang of using them, and this can lead to more trouble than ease.
This San Diego resident learned this firsthand when she had an ADU constructed for her 95-year-old mother-in-law. Only after the ADU was built and her mother-in-law began to struggle with some of the tech features did she realize that she had overlooked its potential downsides. Given how available and regularly implemented technology is in homes nowadays, remember to keep this in mind! You can view photos and read more about this family's ADU project here.
Another small but important design feature to include would be lever handles for an easier grip on objects. Opening and closing drawers and doors without them can sometimes be challenging, especially if an elderly resident has arthritis.
And last but certainly not least, no one knows how best to design a desirable and accommodating ADU than the occupant themself! So, make sure to include your family member(s) in the design process whenever possible.
Oregon residents, Bud and Dani, did just that when they built a stacked ADU for Dani's mother in their backyard. It was really important that Dani's mother had a say in the design features of the space, and the final result was just the sort of place she could quickly call home!
ADU design for long-term rental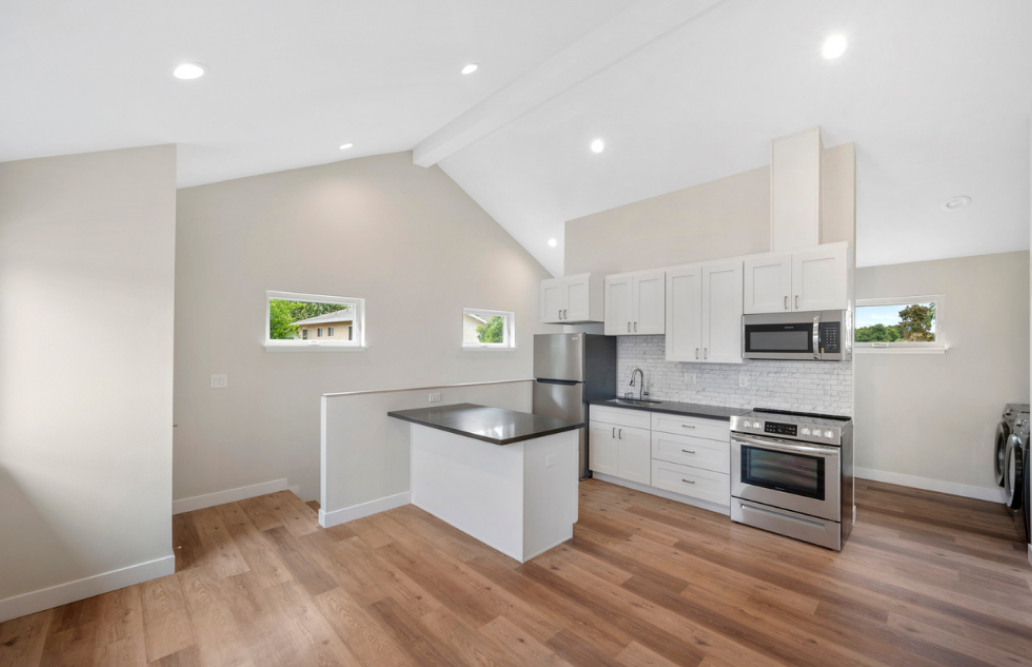 Time to delve into design tips for ADU rentals, specifically those for the long-term (30+ days)!
Since long-term rentals essentially function as the tenant's primary residence, it's a good idea to incorporate design features that most anyone would look for in a permanent home. Like a surplus of storage, for instance!
Long-term tenants will greatly appreciate an ADU that fits all of their belongings and doesn't seem cramped. Remember, you want them to feel at home in the space, almost as if the ADU was built just for them!
Some advice? Avoid carpet! Luxury vinyl is recommended for its durability and ease of maintenance. If a tenant spills something on the carpet or they have pets, things could get messy quickly. Set yourself up for success by choosing design features that are in it for the long haul and can easily accommodate several rounds of new tenants.
You will also want to select durable finishes. Again, the more high-quality and durable you go, the longer your ADU will stay in tip-top shape for as many long-term tenants as you have over the years.
When it comes to rentals of any length, don't forget to factor in privacy. You want the occupants to feel comfortable and separate from the main house. You'll want to maintain your privacy too! So, make sure there aren't any direct sightlines from the primary residence into the ADU.
A few ways to tackle this are strategically placed windows or even outdoor privacy screens. Both are quick and easy ways to block the line of vision between the ADU and the main home.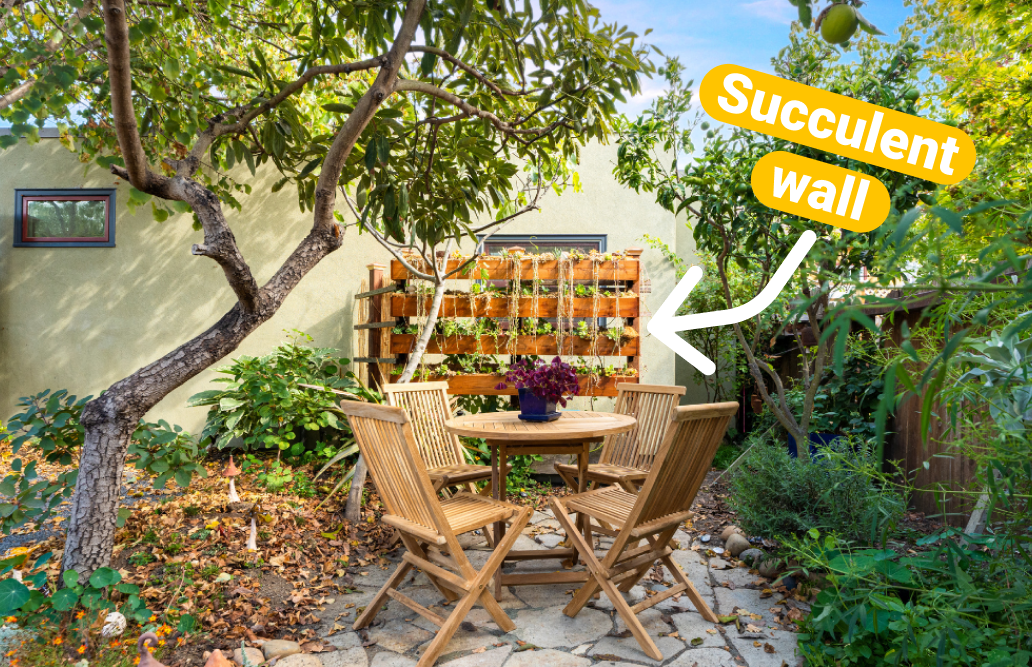 These homeowners with green thumbs had an excellent idea of adding a succulent wall surrounding the ADU's bedroom window. Now the tenant has a beautiful view of greenery, and the homeowners don't have to worry about impeding on their privacy when they're enjoying the backyard.
You should also plan to direct the ADU's entrance away from the primary residence so that the tenants feel entirely discrete from the rest of the property with no shared spaces.
Look no further than Cecilia's ADU as a model example! They maximized privacy with their smartly positioned entrance into their garage conversion ADU. Not only does it face away from the main home, but they were also able to add a small patio for their tenant to enjoy their own outdoor space.
Make sure you think about the necessary amenities a long-term rental would require, too. For starters, you'll definitely need a washer and dryer, dishwasher, and a convenient parking space nearby.
And some more advice? If you ever need to pick between a washer/dryer and a dishwasher for the ADU, always opt for the washer/dryer. After all, it's much easier to hand wash dishes than it is to handwash clothes!
You may also want to consider separate metering. This means that the ADU utilities will be discrete from those of the primary house. This makes billing a heck of a lot easier! Otherwise, you have to calculate the usage from the ADU and figure out the amount they owe.
Another desirable feature for a long-term rental ADU is a workspace. A quiet, designated office space is a huge advantage given the already limited square footage for privacy inside an ADU. And since the ADU is functioning much like any other permanent residence, this can be a huge perk for remote workers.
And here's a bonus tip! If you're thinking about medium-term rentals for traveling nurses or professors, consider furnishing your ADU. This is helpful for anyone staying long enough that they need furniture, but not so long that it makes sense for them to move their own belongings there. To keep costs down, check out thrift stores or flea markets for hidden gems and bargains!
ADU design for short-term rental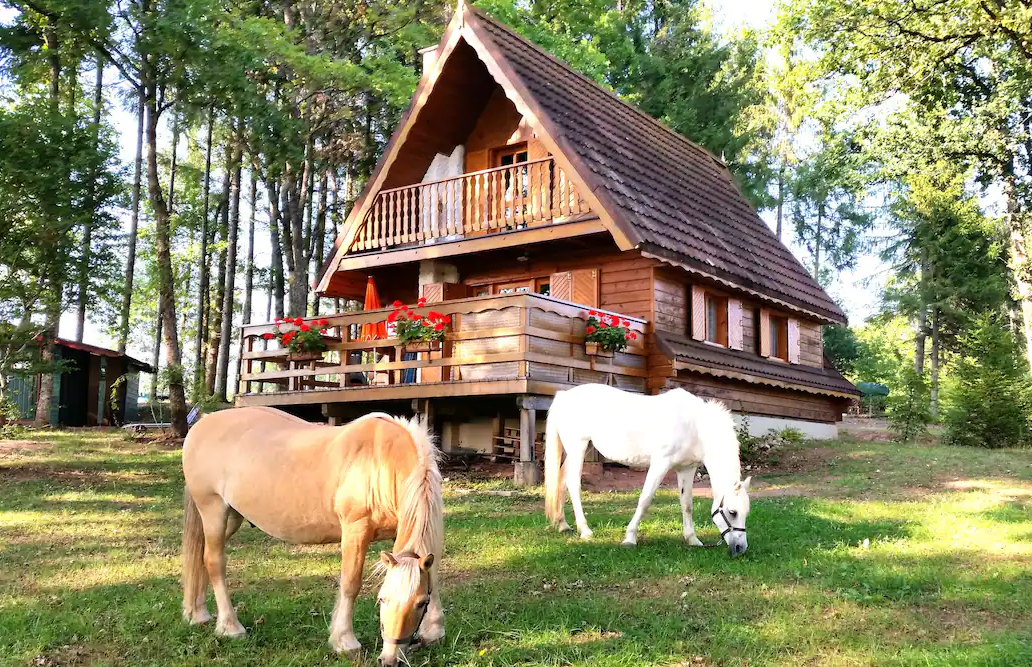 Now, let's focus on short-term rentals!
One key tip is not to be afraid to get creative with interior design. Think about it! If the ADU is for a short-term rental, then the occupants are probably viewing it as an exciting vacation spot. Therefore, it's in your best interest to have fun with colors, patterns, furnishings, and the overall design of both the indoor and outdoor space!
Look at the top listings on Airbnb. You'll notice that most of them are very well-decorated and show a lot of flair. Make your ADU feel like a vacation for your visitor. In other words, don't forget to bring the pizzazz to the space!
If you can swing it, definitely incorporate an appealing outdoor space. Temporary tenants on vacation will likely pounce on renting a place that feels fun and entertaining. A cozy outdoor area with some comfy chairs, a fire pit, or even just a nice view will go a long way!
In a similar vein, get creative with amenities whenever you can! A hot tub, outdoor shower, or a rooftop deck can really appeal to short-term tenants looking for a good time!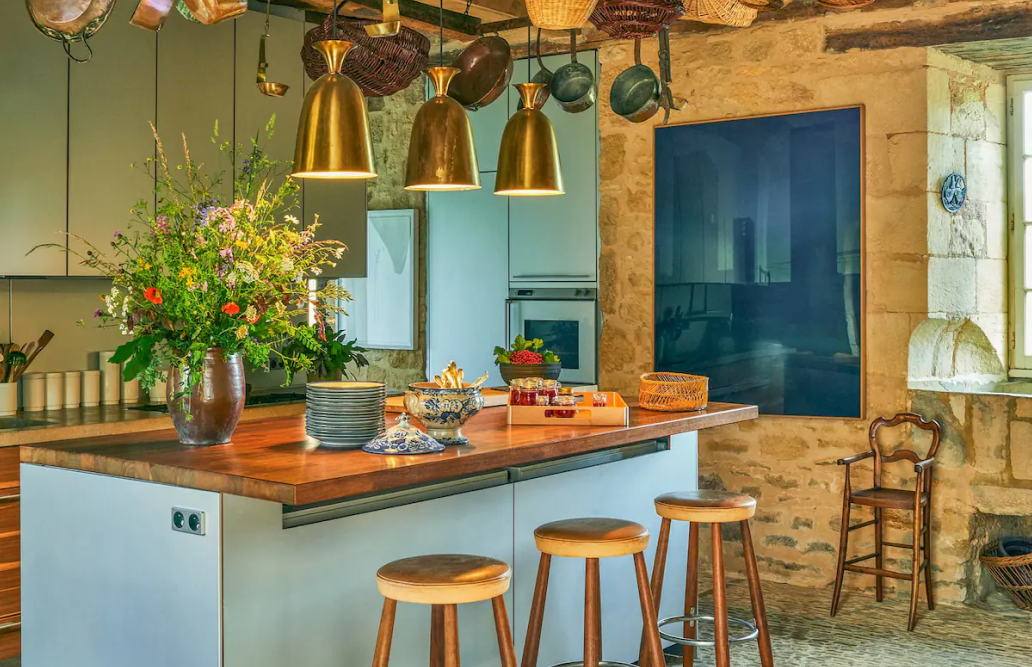 Also, don't worry about having large appliances. Since the tenants are only staying for a brief period of time, it isn't necessary for them to have full-sized appliances that a permanent resident would need for day-to-day living. Smaller stoves and refrigerators will do just fine, and you can also save little money in the process!
Just like with long-term rentals, keep privacy in mind. Block any sightlines into the ADU with conveniently placed windows, shrubbery, and entrances. When in doubt, design the ADU to feel like a separate residence rather than anything accessory to the primary home.
Designing an ADU for yourself
There's no better investment than yourself. If you intend on downsizing and moving into your ADU, this is no place to cut corners on ADU design.
You'll likely be living in your ADU for decades, so you want to make sure it feels like home and then some.
Always dreamed of a loft? Here's your chance.
Lavish imported tiles in your bathroom on your wishlist? Time to hit checkout.
Does a craft room sound like your jam? Tell your designer!
Don't be afraid to get creative and incorporate the aspects you've always dreamed of. Avid travelers, Terri and Jerry went all out on their energy-efficient 800 sq ft ADU and the results are stunning. Their new home comes complete with a loft for extra storage, a gorgeous kitchen, and even a sauna to sink into when they come back from their adventures.
If you're worried about things getting pricey, there are easy ways to balance your budget. Check out our Splurge vs Save blogs to get some ideas. Edition 1 and Edition 2.
We recommend clients write out a list of everything that is important to them and discuss these ideas with their Maxable-matched ADU designer. Privacy and storage are at the top of most people's lists, but what are some other things that mean a lot to you?
Plan, hire, and manage your ADU project with Maxable.
Designing your ADU should be one of the most fun and exciting aspects of the entire process! You should never have to feel unsure or overwhelmed with any choices to make.
That's why Maxable is dedicated to connecting you with expert guidance and support during the entire process. When you sign up for our monthly webinar hosted by Maxable's CEO, we'll recommend experienced ADU contractors in your area who are worthy of taking on your project!
We hope to see you there!